Editor-in-Chief
Aneta Kostadinova, Bulgarian Academy of Sciences, Bulgaria​​​​​​​

Aims and scope
Parasites & Vectors publishes articles on the biology of parasites, parasitic diseases, intermediate hosts, vectors and vector-borne pathogens. Manuscripts published in this journal will be available to all worldwide, with no barriers to access, immediately following acceptance.
Founding Editor
Chris Arme, Keele University, UK

Kinetoplastid Biology & Disease and Filaria Journal
Parasites & Vectors painting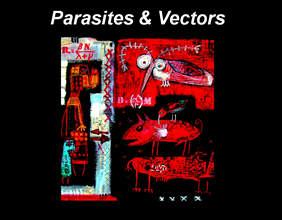 When the journal launched in 2008, Founding Editor, Chris Arme, commissioned this abstract painting to represent the journal scope. The artist is Dr Frederic Thomas, Parasitologist at CNRS/IRD, France. You can download a copy of the painting here.
Collections - open for submissions
New articles released in the LCNTDR Collection
Introducing graphical abstracts
Parasites & Vectors is happy to announce the introduction of graphical abstracts for all new submissions as of 1 August 2019 as a mandatory feature. A graphical abstract serves to attract readers' attention to the article and will appear underneath the abstract on the website, greatly enhancing the visibility of research. See the journal Submission Guidelines for more information.
Contacting Parasites & Vectors
Journal sections and Editors
Helminths and helminthic diseases
Subject Editor: Hesham Al-Mekhlafi, Jazan University, Saudi Arabia
Parasites of veterinary importance
Subject Editor: Emanuele Brianti, University of Messina, Italy
Vector-borne zoonoses and One Health
Subject Editor: Agustin Estrada Peña, University of Zaragoza, Spain
Dipteran vectors and associated diseases
Subject Editors: Indra Vythilingam, University of Malaya, Malaysia and David Weetman, Liverpool School of Tropical Medicine, UK
Protozoan biology and diseases
Subject Editor: Frank Katzer, Moredun Research Institute, UK
Parasite genetics, genomics and proteomics
Subject Editor: Xing-Quan Zhu, Chinese Academy of Agricultural Sciences, China
Article collections
Subject Editor: Aneta Kostadinova, Bulgarian Academy of Sciences, Bulgaria​​​​​​​

A Blog for the community, by the community
Visit the blog website to view all posts.
From Blog Network

Primers on parasites and vectors
Submit a Primer article to 'Primers on Parasites and Vectors'. This article collection provides short, authoritative and accessible accounts that explore the basic and applied biology of selected parasites, intermediate hosts, vectors and vector-borne pathogens. Find out more here.


Follow