Observations on Neotricula aperta (Gastropoda: Pomatiopsidae) population densities in Thailand and central Laos: implications for the spread of Mekong schistosomiasis
Parasites & Vectors
2012
5:126
Received: 25 April 2012
Accepted: 21 June 2012
Published: 21 June 2012
Abstract
Background
The snail Neotricula aperta transmits Mekong schistosomiasis in southern Laos and Cambodia, with about 1.5 million people at risk of infection. Plans are under consideration for at least 12 hydroelectric power dams on the lower Mekong river and much controversy surrounds predictions of their environmental impacts. Unfortunately, there are almost no ecological data (such as long term population trend studies) available for N. aperta which could be used in impact assessment. Predictions currently assume that the impacts will be the same as those observed in Africa (i.e., a worsening of the schistosomiasis problem); however, marked ecological differences between the snails involved suggest that region specific models are required. The present study was performed as an initial step in providing data, which could be useful in the planning of water resource development in the Mekong. Snail population density records were analyzed for populations close to, and far downstream of, the Nam Theun 2 (NT2) project in Laos in order to detect any changes that might be attributable to impoundment.
Results
The population immediately downstream of NT2 and that sampled 400 km downstream in Thailand both showed a long term trend of slow growth from 1992 to 2005; however, both populations showed a marked decline in density between 2005 and 2011. The decline in Thailand was to a value significantly lower than that predicted by a linear mixed model for the data, whilst the population density close to NT2 fell to undetectable levels in 2011 from densities of over 5000 m-2 in 2005. The NT2 dam began operation in 2010.
Conclusions
The impact of the NT2 dam on N. aperta population density could be more complex than first thought and may reflect the strict ecological requirements of this snail. There was no indication that responses of N. aperta populations to dam construction are similar to those observed with Bulinus and Schistosoma haematobium in Africa, for example. In view of the present findings, more ecological data (in particular population density monitoring and surveillance for new habitats) are urgently required in order to understand properly the likely impacts of water resource development on Mekong schistosomiasis.
Keywords
Schistosomiasis
Equivalence Region
Water Resource Development
Snail Population
Snail Density
Results
Model fitting and parameter estimation
Initial examination of the data revealed that the population density at MHX is clearly much greater than at BKL (over 10 times), with no overlap between the data sets over the time series (Table
1
). The observed 2011 population density was an outlying value in both the BKL and MHX field surveys; the observed density in April 2011 at MHX fell to undetectable levels (from 5190 m
-2
in 2005) and that at BKL fell from 318 m
-2
in 2005 to 140 m
-2
in 2011. The effect of inclusion of the outliers can be seen in the much lower standard deviation (among temporal samples) after their removal from the data sets (Table
1
). Simple linear regression did not detect any significant correlation between population density and time (i.e., no significant trend) at BKL, either with or without the 2011 observation; however, a significant trend was found at MHX with the outlier excluded (Table
2
). Attempts to fit a Poisson GLM failed in all cases except for the BKL data after removal of the outlier (Table
2
). A positive trend (i.e., population growth) was found in all cases with these basic models, when the 2011 observations were excluded. At Thathot the population density was also seen to fall in 2011, although only two samples were available (864 m
-2
28 March 2004 and 169 m
-2
27 April 2011).
Table 1
Summary statistics for the time series observations of Neotricula aperta population density
| Population | Sampling period | No. of observations in time series | Mean population density m-2 ± SD |
| --- | --- | --- | --- |
| BKL (full) | 1991 - 2011 | 8 | 289.75 ± 59.88 |
| BKL (w/o outlier) | 1991 - 2005 | 7 | 310.86 ± 5.05 |
| MHX (full) | 1992 - 2011 | 7 | 4057.00 ± 1840.08 |
| MHX (w/o outlier) | 1992 - 2005 | 6 | 4734.00 ± 470.34 |
| Thathot | 2004 - 2011 | 2 | 516.50 ± 491.44 |
Table 2
Fit of conventional linear models to the population density estimates for Neotricula aperta
Population

Simple Linear Regression

General Linear Model (Poisson)

Equation (Density =)

Student's-t

P

Null deviance

Residual deviance

AIC

P

BKL (full)

−0.1055 t + 342.7367

−1.8540

0.113

104*

72.59

136.4

<0.0001

BKL (w/o outlier)

0.0096 t + 306.7542

1.4520

0.206

0.4918

0.3456

57.39

0.997

MHX (w/o outlier)

1.8038 t + 4056.1090

5.017 *

0.007

241.9 *

38.49

104.30

<0.0001
Independent runs of REML searches were found to converge on the same parameter estimates and REML values, regardless of the starting parameters (which were either the output of a run of ML searches (each based on the output of the previous search) or random variants around the LLR and SEG estimates). Consequently, it is likely that the parameter estimates reported (Table
3
) are the best estimates or close to them. As with the SLR and GLM models, the population growth rate at MHX appears to be greater than that at BKL (Figure
2
), and the error terms at BKL are both lower than those at MHX.
Table 3
REML parameter estimates for the "best-fit" GSS model found by SAN. Outlier values were excluded for the analyses
| Population | mu | ssq | tsq | exp(X0) | ln(REML) |
| --- | --- | --- | --- | --- | --- |
| BKL | 5.6178e-05 | 3.6003e-06 | 3.7835e-05 | 305.1172 | 32.4920 |
| MHX | 4.1704e-04 | 1.4548e-05 | 7.7833e-04 | 3925.056 | 22.8641 |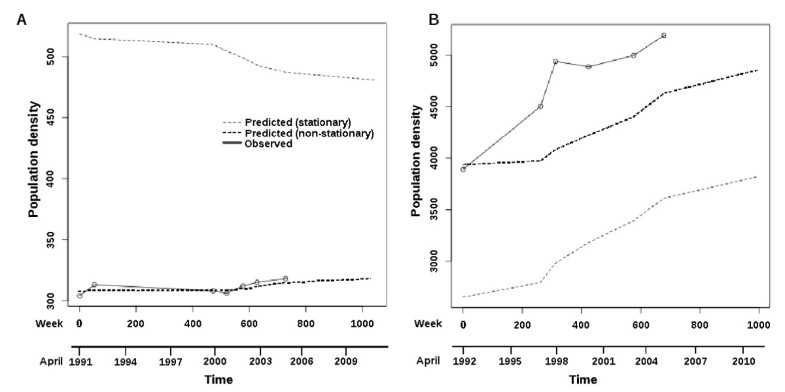 The positive likelihood values although unusual are not necessarily problematic. The SAN and Nelder-Mead functions used in the optimizations involve a normal probability density function (pdf) that can be very narrow and so go to very high values (i.e., > 1). It is conceivable that a tall, narrow, continuous pdf can cause the positive likelihoods here.
Hypothesis testing
Frequency distribution plots were made for the simulated and bootstrap mu values to confirm symmetry, and thus the validity of our C.I.s, which assume a symmetrical distribution for mu. The C.I. for MHX (whether based on empirical data or on bootstrapped data) did not overlap the equivalence region, but in fact lay entirely above it (Table
4
). Consequently, the hypothesis of non-equivalence could not be rejected (at α = 5 %) and a substantial positive growth trend appears to be present (at least between the years 1992 and 2005). In contrast, although the hypotheses of non-equivalence can also be rejected for BKL, the trend present could be either positive or negative because the equivalence region (i.e., that corresponding to a true mu value of zero) is entirely encompassed by the C.I.s for the estimated mu.
Table 4
Confidence intervals (95 %) for estimates of mu, with the "best-fit" GSS model, based on the original (empirical) data set, from bootstrapped data sets and from simulations (where mu = 0)
| Population | mu (empirical) | C.I. for mu (empirical) | C.I. for simulations | C.I. bootstrapped data |
| --- | --- | --- | --- | --- |
| BKL | 5.6178e-05 | −1.1812e-04 to 2.3048e-04 | −1.2157e-07 to 1.1975e-07 | −1.0721e-05 to 1.2234e-04 |
| MHX | 4.1704e-04 | 1.5234e-05 to 8.1885e-04 | −3.9497e-06 to 3.9043e-06 | 1.3536e-04 to 5.3538e-04 |
Predictions
Using the REML parameter estimates, and under the GSS model, the Kalman filter was employed to predict the 2011 population density for both the stationary and non-stationary cases (Table
5
). This prediction is based on observed densities up to and including the 2005 observation, and assumes the same growth trend operates from 2006 to 2011 as operated between 1991/2 and 2005. Similar predictions were also made using the SLR and GLM (Poisson) models, where statistically appropriate. The predictions for all sample years, including 2011, are plotted in Figure
2
along with the original observations. At both BKL and MHX the population density changes appear best described by a non-stationary GSS model, particularly at BKL (e.g., much narrower C.I.s for the 2011 predictions in Table
5
). The stationary GSS model for BKL indicates population decline rather than growth, but failed to model observed population changes between 1991 and 2005 very closely (Figure
2
A). In all cases (including the SLR and GLM models) the observed densities at BKL and MHX in 2011 lay far below the lower tail of the 95 % C.I.s; this suggested that the population densities observed in 2011 are significantly less than those expected based on past population trends.
Table 5
Model-based predictions of the 2011 population densities
| Population | SLR | GLM (Poisson) | GSS (non-stationary) | SS (stationary) |
| --- | --- | --- | --- | --- |
| BKL | 316.8257 ± 16.5514 | 316.8899 ± 42.3489 | 307.6708 ± 2.9599 | 480.8264 ± 31.3784 |
| MHX | 5854.6060 ± 851.7450 | 5995.6860 ± 268.7633 | 4394.885 ± 188.748 | 3822.493 ± 558.468 |
Discussion
The results of the study indicate relatively stable population growth through the 1990s and early 2000s with a significant decline in population density between 2005 and 2011 at Mahaxai. Similarly at Thathot, near to the regulating pond of the NT2 dam, N. aperta population densities in 2011 were observed to have fallen to around 20 % of their 2004 levels. Unfortunately, no data for the period from 2006 to 2010 are available so that it is not possible to determine when the decline began, and in particular if it began only after the NT2 dam was closed in 2010. Nevertheless, together with other factors the impact of the NT2 impoundment should be evaluated as a potential cause of the decline in snail populations.
The eradication of N. aperta populations from the Xe Bang Fai river may have occurred before 2010; however, the river at, and downstream of, Mahaxai is no longer a suitable habitat for this snail (Additional File 1: figure S1). The mean flow rate in the river during the dry season (March to May) has been calculated to show an increase from 13 m3/s to around 140 m3/s after operation of the dam. In addition, the concentration of suspended solids during the low water period is expected to have increased from 45 to 95 mg/l. The diversion of Nam Theun waters into the Xe Bang Fai (via the downstream discharge channel) has led to increases in dry season river depth of 3.5 to 5 m above pre-impoundment levels [39]. The combination of increased current, turbidity and water depth would prevent N. aperta from becoming established in the Xe Bang Fai river downstream of the NT2 discharge channel. The impact of back-flow also appears to have eliminated habitats at least 5 km upstream, but areas further upstream have not been surveyed.
The decline in N. aperta population density at Ban Khi Lek, Northeast Thailand, 400 km downstream of the NT2 project may be part of a natural cycle or fluctuation because a drop in population density was seen in 2004, although this was not as marked as in 2011. The GSS model predicts a slight but steady decrease in population density from 1992 to 2001 with an upturn and population growth thereafter. In view of this, the population could be in a natural growth-decline cycle, but the density observed for 2011 is significantly less than that predicted by the model and much less than the observed 2001 value. The NT2 project could effect population reductions in the Mekong river, far downstream in Thailand in two main ways. First, the Xe Bang Fai river had much higher levels of calcium than the Nam Theun river (about one order of magnitude higher), with a total hardness of 131–149 mg/l (as CaCO3) recorded in February 1995 [40]. Consequently, the influx of Nam Theun waters, further diluted by rain water collected in the reservoir of the dam, will have lowered considerably the calcium content of the lower and middle Xe Bang Fai. Three main rivers, which drain central Laos, enter the Mekong upstream of Ban Khi Lek. The northern most is Nam Kading, then the Xe Bang Fai 150 km further South, and finally the Xe Banghieng about 2 km upstream of Ban Khi Lek and 200 km South of the confluence of the Mekong and Xe Bang Fai (Figure 1). Of these three rivers only the Xe Bang Fai drains a limestone platform and so this river is the main source of hard water flowing down the Mekong river through Ban Khi Lek. The snail N. aperta requires hard water to provide the calcium needed for rapid shell growth as populations re-establish in the Mekong river each year following the annual flood [32]. In view of this, it is possible that the dilution effect of the NT2 discharge into the Xe Bang Fai could be responsible for the decline in snail populations at Ban Khi Lek.
The NT2 project could also impact snail populations at Khemmarat through its effects on snail colonization. Past studies have indicated considerable gene-flow or genetic affinity between N. aperta populations of the lower Mekong river and the Xe Bang Fai river [10]. In addition, it has been proposed that N. aperta populations in the lower Mekong river are replenished following the annual flood by colonists from source populations in the lesser rivers of southern Laos. The hypothesis supported by the fact that the annual spate is less severe in these rivers and they tend to show greater snail population densities earlier in the dry season than habitats in the Mekong river itself [41]. The higher calcium levels, shallower waters and less severe spate may explain the much higher population densities at Mahaxai than at Ban Khi Lek. Consequently, the decline in population density at Ban Khi Lek could be due to a reduction in the upstream sources of snails from tributaries draining into the Mekong (i.e., the loss of the Xe Bang Fai populations).
Alternatively, the fall in population density could be attributed to operations of the sand dredging industry at 16°02′09′′; 105°16′55′′; this activity has led to increased silting at Ban Khi Lek and might lower snail population densities there. Sand dredging at Ban Khi Lek began around 2000 and it is unlikely that its activity would have a sudden and marked effect in 2011. Other factors that could explain the present observations are, an unreported snail control experiment at Ban Khi Lek in 2011, or some unknown polluting event such as a chemical spill from a factory in Laos or in Khemmarat. Snail population densities at Thathot also fell markedly between 2004 and 2011. Thathot is not directly affected by changes in flow caused by the NT2 project; this suggests that N. aperta populations in the region are declining for some reason unconnected with the NT2 project. Thathot is, however, close to the regulation pond of NT2 and the area may have been affected during construction by increased human activity in the area, such as increased numbers of people using the stream where the snails live for laundry, washing vehicles and other polluting activities. The NT2 project itself supports more people living in the area, through economic opportunities, and this alone could lead to increases in pollution of water bodies.
At both Mahaxai and Ban Khi Lek the GSS model appeared to fit the data best if non-stationarity was assumed. The finding implies that at both sites the snail populations were still growing towards the carrying capacity of their habitat. The explanation for this could be a recent de novo colonization of the river at Mahaxai and Ban Khi Lek or recovery from some past population crash; the latter is the most likely. It may be that N. aperta populations in these rivers are not stable in the long-term and experience regular local extinctions followed by recolonization events. If so, this would make the impacts of HEPPs more difficult to determine, in that they must be extracted from a background of natural population fluctuations.
Conclusions
The present study did not find increases in N. aperta population densities downstream of the NT2 project as might be expected on the basis of experiences with schistosomiasis and HEPPs in other regions. In 2011 snail populations were observed to decline significantly, well below the levels predicted by trend analysis of the populations before the NT2 project went into operation. The NT2 HEPP could have caused this decline in snail abundance by increased river depth, current, silting and dilution of dissolved calcium. Falling snail population densities at Ban Khi Lek might also be linked to the loss of the Xe Bang Fai river populations, which may have been a source of colonists for recovery of the Thai Mekong river populations after the annual flood. Alternatively, the 2011 fall in snail density at Ban Khi Lek may have been due to sand dredging operations in the area or to pollution. The results also suggested that local population extinction and re-colonization may be a normal feature of N. aperta populations in these rivers, thus the fall in snail population density in the Mekong river of Thailand might be a result of natural population cycles present before the NT2 HEPP was initiated.
The findings show that the effects of HEPPs on N. aperta are certainly more complex than first thought and that much more data are required before reliable predictions can be made about the effects of these dams on Mekong schistosomiasis. The same data are also vital for the safe planning of new HEPPs in the region, so that the negative impacts of such water resource development on schistosomiasis control can be minimized.
Data which are most urgently required include, further monitoring of N. aperta populations in these and additional areas (such as upstream of Mahaxai) so that longer time series will become available, thus enabling the use of more conventional models that will improve predictions. Areas of the Nam Theun river (and associated water courses), which were not habitats for N. aperta prior to the NT2 HEPP, should also be surveyed because changes in water depth may have created new suitable habitats. In addition, more data are required on levels of turbidity and dissolved calcium in the areas affected in order to evaluate hypotheses regarding the impact of NT2 on population density. Finally, studies of the impact of other HEPPs (such as the Nam Theun-Hinboun project or the Pak-Mul Dam in Thailand) on N. aperta need to be improved and expanded to provide comparative data. The present report is based on a small set of observations, but it is the first step in providing much needed but currently lacking data of use in planning of HEPPs in the lower Mekong.
Declarations
Acknowledgements
Sampling for this work was supported by Wellcome Trust project grant No. 068706 to SWA until 2006. The 2011 sampling was supported by China NSF grant number 30972565. Thanks are due to the Natural History Museum (London) for providing access to library facilities.
Authors' Affiliations
(1)
State Key Laboratory of Biotherapy, West China Hospital, West China Medical School, Sichuan University, Chengdu, People's Republic of China
(2)
Department of Zoology, The Natural History Museum, London, United Kingdom
(3)
Department of Biology, Faculty of Science, Mahidol University, Bangkok, Thailand
(4)
Faculty of Allied Health Sciences, Burapha University, Bangsaen, Thailand
Copyright
© Attwood and Upatham; licensee BioMed Central Ltd. 2012
This article is published under license to BioMed Central Ltd. This is an Open Access article distributed under the terms of the Creative Commons Attribution License (http://creativecommons.org/licenses/by/2.0), which permits unrestricted use, distribution, and reproduction in any medium, provided the original work is properly cited.