Biology and pathogenesis of Acanthamoeba
Parasites & Vectors
2012
5:6
Received: 22 July 2011
Accepted: 10 January 2012
Published: 10 January 2012
Abstract
Acanthamoeba is a free-living protist pathogen, capable of causing a blinding keratitis and fatal granulomatous encephalitis. The factors that contribute to Acanthamoeba infections include parasite biology, genetic diversity, environmental spread and host susceptibility, and are highlighted together with potential therapeutic and preventative measures. The use of Acanthamoeba in the study of cellular differentiation mechanisms, motility and phagocytosis, bacterial pathogenesis and evolutionary processes makes it an attractive model organism. There is a significant emphasis on Acanthamoeba as a Trojan horse of other microbes including viral, bacterial, protists and yeast pathogens.
Keywords
Contact LensKeratitisHuman Brain Microvascular Endothelial CellAcanthamoeba KeratitisChlamydophila Pneumoniae
Background
Acanthamoeba
is an opportunistic protist that is ubiquitously distributed in the environment.
Acanthamoeba
has two stages in its life cycle, an active trophozoite stage that exhibits vegetative growth and a dormant cyst stage with minimal metabolic activity. It is a causative agent of cutaneous lesions and sinus infections, vision-threatening keratitis and a rare but fatal encephalitis, known as granulomatous amoebic encephalitis [
1
–
3
]. The ability of
Acanthamoeba
to (i) produce serious human infections associated with a rise in the number of immunocompromised patients and contact lens wearers, (ii) their potential role in ecosystems, (iii) ability to act as a host/reservoir for microbial pathogens, and (iv) model organism for motility studies has led to a significant interest in this organism over the years (Figure
1
). Furthermore,
Acanthamoeba
may have veterinary significance as demonstrated by the presence of amoebae in diseased or dead cows, dogs, pigs, rabbits, pigeons, sheep, reptiles, fish, turkeys, keel-billed toucan,
Ramphastos sulfuratus
, horses [
4
–
6
].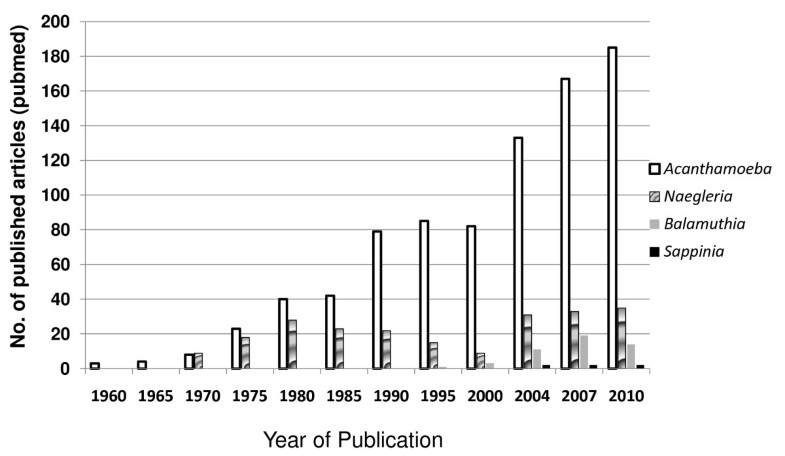 Conclusions
Acanthamoeba has gained increasing attention from the scientific community studying cellular microbiology, environmental biology, physiology, cellular interactions, molecular biology, biochemistry and the evolutionary studies. This is due to their versatile roles in the ecosystem and their ability to capture prey by phagocytosis (similar to macrophages), act as vectors, reservoirs and as a Trojan horse for microbial pathogens, and to produce serious human infections including a blinding keratitis and fatal encephalitis. This unicellular organism has been used extensively to understand the molecular biology of cell motility. Being a eukaryote, Acanthamoeba presents an excellent model for cell differentiation studies. The recent availability of the Acanthamoeba genome, together with the development of transfection assays and the RNA interference methods [86] will undoubtedly increase the pace of our understanding of this complex but fascinating organism.
Declarations
Acknowledgements
The authors would like to stress the fact that the work presented in this review is the results of the dedication and insights of many scientists who contributed considerably to our understanding of this fascinating organism. The work is partially supported by the Royal Society, The Nuffield Foundation, British Council for Prevention of Blindness, University of Nottingham and Aga Khan University.
Authors' Affiliations
(1)
The Aga Khan University, Karachi, Pakistan
(2)
School of Veterinary Medicine and Science, University of Nottingham, England, UK
Copyright
© Siddiqui and Khan; licensee BioMed Central Ltd. 2012
This article is published under license to BioMed Central Ltd. This is an Open Access article distributed under the terms of the Creative Commons Attribution License (http://creativecommons.org/licenses/by/2.0), which permits unrestricted use, distribution, and reproduction in any medium, provided the original work is properly cited.