Twenty two cases of canine neural angiostronglyosis in eastern Australia (2002-2005) and a review of the literature
Parasites & Vectors
2012
5:70
Received: 9 November 2011
Accepted: 5 April 2012
Published: 5 April 2012
Abstract
Cases of canine neural angiostrongylosis (NA) with cerebrospinal fluid (CSF) evaluations in the peer-reviewed literature were tabulated. All cases were from Australia. A retrospective cohort of 59 dogs was contrasted with a series of 22 new cases where NA was diagnosed by the presence of both eosinophilic pleocytosis and anti-Angiostrongylus cantonensis immunloglobulins (IgG) in CSF, determined by ELISA or Western blot. Both cohorts were drawn from south east Queensland and Sydney. The retrospective cohort comprised mostly pups presented for hind limb weakness with hyperaesthesia, a mixture of upper motor neurone (UMN) and lower motor neurone (LMN) signs in the hind limbs and urinary incontinence. Signs were attributed to larval migration through peripheral nerves, nerve roots, spinal cord and brain associated with an ascending eosinophilic meningo-encephomyelitis. The contemporary cohort consisted of a mixture of pups, young adult and mature dogs, with a wider range of signs including (i) paraparesis/proprioceptive ataxia (ii) lumbar and tail base hyperaesthesia, (iii) multi-focal central nervous system dysfunction, or (iv) focal disease with neck pain, cranial neuropathy and altered mentation. Cases were seen throughout the year, most between April and July (inclusive). There was a preponderance of large breeds. Often littermates, or multiple animals from the same kennel, were affected simultaneously or sequentially. A presumptive diagnosis was based on consistent signs, proximity to rats, ingestion/chewing of slugs or snails and eosinophilic pleocytosis. NA was diagnosed by demonstrating anti-A. cantonensis IgG in CSF. Detecting anti-A. cantonensis IgG in serum was unhelpful because many normal dogs (20/21 pound dogs; 8/22 of a hospital population) had such antibodies, often at substantial titres. Most NA cases in the contemporary series (19/22) and many pups (16/38) in the retrospective cohort were managed successfully using high doses of prednisolone and opioids. Treatment often included antibiotics administered in case protozoan encephalomyelitis or translocated bacterial meningitis was present. Supportive measures included bladder care and physiotherapy. Several dogs were left with permanent neural deficits. Dogs are an important sentinel species for NA. Human cases and numerous cases in tawny frogmouths were reported from the same regions as affected dogs over the study period.
Keywords
IvermectinPeripheral EosinophiliaMoxidectinContemporary CohortCrude Antigen
Background
Angiostrongylus cantonensis is a metastrongyloid nematode that normally lives in the right ventricle and pulmonary arteries of rats, its definitive (permissive) host [1]. While many species of rats can carry patent infections, the Norwegian rat (Rattus norvegicus) and the black rat (Rattus rattus) are considered the most important definitive hosts. In wild populations of rats, A. cantonensis infections cause little disease, as expected for an efficient parasite [1–3]. Dogs, humans, horses, Australian native mammals (e.g. possums, macropods, macrobats) and birds (e.g. tawny frogmouths), and various zoo animals are non-permissive "accidental" hosts that become infected after ingesting third-stage larvae (L3) in intermediate hosts (molluscs) [1, 4] or transport hosts (such as planarians, frogs, fish and crustaceans) [5–7]. Tawny frogmouths and Australian marsupials are highly susceptible to clinical neural angiostrongylosis.
In rats, following digestion, L3 migrate from the gut to peripheral nerves, nerve roots, spinal cord and brain [8]. A. cantonensis shows obligate neurotropism, i.e. larvae must migrate through the central nervous system (CNS) before taking up residence in the pulmonary arteries, where they subsequently mate and produce eggs which embolise in the pulmonary capillary bed. Larvae migrate up the trachea, then are coughed up, swallowed and passed in the stool, where they access intermediate mollusc hosts (slugs or snails). Virtually all species of native and introduced terrestrial molluscs in Australia are suitable intermediate hosts [1].
Larval neurotropism dominates disease pathogenesis in non-permissive hosts like dogs and people. In human patients, signs of NA include headache, fever, nausea, vomiting, neck stiffness, paraesthesia, face or limb paralysis, photophobia, diplopia, coma, seizures and even death [9–11]. Canine NA usually results from ingestion of slugs, snails or paratenic hosts containing infective L3[12–15]. After ingestion, larvae leave the gut, typically via intestinal veins and lymphatics. They then travel up peripheral nerves and nerve roots, subsequently moving cranially within the spinal cord parenchyma or via the subarachnoid space. They damage CNS tissues via two mechanisms. Firstly, there is neural injury and haemorrhage (mechanical damage and cavitations) consequent to the migration process [16, 17]. Additionally, intense eosinophilic meningo-encephalomyelitis is triggered by larval antigens, most likely metabolic, excretory or moulting products [18–20]. Thus, combinations of pathomechanisms injure the CNS in various locations and through different processes, resulting in a range of neurologic signs. The use of anthelmintics (e.g. levamisole, benzimidazoles, avermectins) cause larvae to die, which ends the mechanical damage but greatly increase parasite-derived eosinophilic inflammation, due to sudden release of cytoplasmic metazoan antigens and cessation of production of parasite-derived immunosuppressant molecules.
Three elements are required for infection to occur: (i) the presence of rats, (ii) the presence of a suitable intermediate mollusc hosts and (iii) the opportunity for the potential host to eat (or chew) infected definitive, intermediate or paratenic hosts. In Australia, the disease in dogs (especially pups) was well known in south east Queensland as a result of seminal studies by Ken Mason and colleagues in the 1970s [21, 22]. As a result, cases are commonly diagnosed and treated in general practice. Although some of this work is published, the actual Master's dissertation [14] contains additional pertinent information. Subsequently, the disease was reported in an increasing variety of native and domestic species, initially in Queensland and later in Sydney. The expansion of disease was likely attributable to extension in the geographic range of some critical mollusc host. In the early 1990s, disease in pet dogs was reported for the first time in Sydney, and subsequently has been seen increasingly as a life-threatening cause of neurologic disease in dogs, horses, macropods, possums, macrobats, birds (tawny frogmouths) and animals in zoological collections (especially monkeys) throughout its geographic range along eastern Australia. It has likewise become a cause of life-threatening neurologic disease in humans over the same range, especially in infants (who have a propensity to eat slugs and snails) [11] and inebriated adult males (typically inebriated young men who eat a snail for a dare, typically at a "buck's night").
In 2003, two of the authors (JL & RM) encountered the disease in a young dog [23]. This provided the impetus to utilise a relatively specific serological test, thus permitting more definitive diagnosis of NA based on detecting Ig directed against A. cantonensis rather than making a presumptive diagnosis based on consistent signs and an eosinophilic pleocytosis. The further refinement and validation of ELISA and Western blot assays for NA permitted the authors to re-examine the range of clinical findings in dogs with eosinophilic meningoencepalomyelitis/encephalitis, to determine whether there was a wider spectrum of neurologic sequelae to infection with A. cantonensis.
This article has two components: a review of the canine literature and a new series of cases collected prospectively with the help of colleagues in practice and veterinary pathologists. The findings of this contemporary study are examined in relation to the human and experimental literature concerning NA.
Methods
A. Literature review of documented cases
Relevant papers concerning NA in dogs were identified by searching Commonwealth Agricultural Bureau (CAB) and OVID Medline databases using the key words "cantonensis" and "dog or dogs or canine". Data concerning clinical findings, CSF cytology, necropsy observations and serology were collated. Only cases with CSF analysis were included in the study cohort. In the largest recorded case series of NA, a grading scale was used to divide patients into groups based on the severity of clinical signs [14]. Grade 1 cases had hind limb involvement and were mildly affected, Grade 2 cases progressed to involve the forelimbs and occasionally the cranial nerves, while Grade 3 cases progressed rapidly to severe generalised paralysis and hyperaesthesia, and were euthanased on humane grounds.
B. Contemporary case series
Case recruitment
Hospital records and clinicopathologic data from dogs with suspected NA were recruited from practices in the vicinity of Sydney and Brisbane between January 2001 and May 2005. A letter was sent to all registered Small Animal Specialists and Veterinary Pathologists in Queensland and New South Wales outlining the study aims and samples desired from suspect NA cases (Additional file 1: Appendix 1). After contact with the primary clinician, a questionnaire (Additional file 2: Appendix 2) was sent to determine the onset of the signs, disease features, clinical course, administration of parasiticides and exposure to intermediate hosts. Data including signalment, presenting complaints, clinical pathology (including necropsy findings) and treatment outcomes were collected. CSF and/or serum specimens were obtained, where possible, for serological studies. Samples were stored at -80°C prior to analysis.
Inclusion criteria
Case inclusion was typically based on a presumptive diagnosis of NA, i.e. cases with progressive neurologic signs, a history of ingesting rats, snugs or snails, proximity to rats and eosinophilic pleocytosis in CSF. A more definitive diagnosis was based on identifying nematode larvae within the CNS at necropsy or detecting specific Ig against A. cantonensis in CSF. Of 30 dogs considered initially, only 22 had CSF cytology data (and thus CSF available for ELISA and/or Western blot testing for anti-A. cantonensis Ig). These 22 dogs were recruited into the study. No cases in this prospective group were confirmed at necropsy. Dogs with an atypical presentation were included only if they were positive for Ig against A. cantonensis. Six dogs (a litter of greyhound pups) had strong epidemiologic support for a diagnosis of NA, including positive necropsy in one pup and were only included as a footnote. CSF findings were unavailable for two presumptive cases, which were therefore not included.
Treatment
All dogs were treated with analgesic and supportive care, as required, plus glucocorticoids (dexamethasone [initially in some cases] and/or prednisolone). Supportive care included opioids, intravenous fluid therapy, urinary catheterisation or manual expression of the bladder, antimicrobials and passive physiotherapy. Pred-nisolone dosage ranged from 0.5 to 2 mg/kg (divided daily); the dose was subsequently tapered over an extended period, typically 6-12 weeks. A minimum of 4 weeks glucocorticoid therapy was given in all instances. No dogs were given anthelmintics as part of the treatment regimen, although some had been administered prior to diagnosis as part of routine heartworm/flea prophylaxis.
C. Detection of anti-A. Cantonensis antibodies
Results
A. Cases recorded previously
Signalment
The literature contained descriptions of 59 dogs with naturally-occurring NA based on CSF cytology, clinical findings or necropsy data [
13
–
15
,
32
]. Published case details are summarised in Additional file
5
: Appendix 5. Of the 59 cases, only 38 met the inclusion criteria (i.e. availability of CSF data). Thirty-seven were published by Mason [
14
] from south-eastern Queensland, with only one by Collins
et al.
[
32
] from Sydney.
A
The median age of this retrospective cohort was 10 weeks (range 6 to 28 weeks). The month in which cases were seen is shown in Figure
3
and Additional file
6
: Appendix 6; cases tended to present between April and July. Of the 38 cases, 23 had siblings affected (i.e. two or more members of a litter affected simultaneously or sequentially). Breeds represented are listed in Table
1
. Of the 38 cases, 31 (82%) were large or giant breed dogs and 14 (37%) were racing greyhounds. There were 23 males and 15 females, none of which were desexed.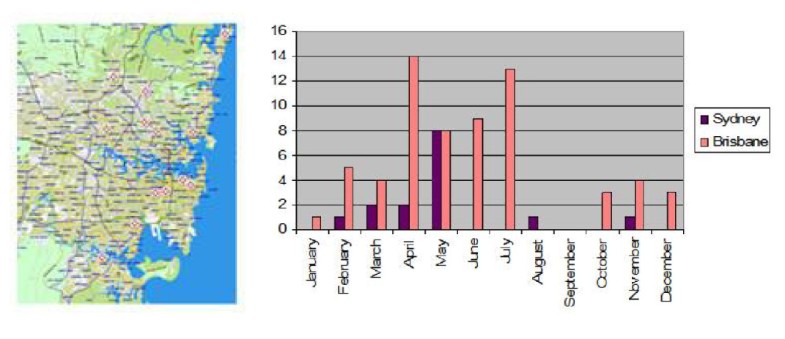 Table 1
Signalment and CSF cytology in 38 cases of NA from the literature (retrospective cohort)
Case No.

Breed

Age (weeks)

Gender

Month

CSF Protein (g/L)

CSF Nucleated cell count (cells/μL)

CSF Eosinophils

Necropsy confirmed (NA larvae present)

Number (cells/μL)

% nucleated cells

Mason a

Case 2

Border Collie

9

M

October

0.12

4200

3696

88%

?

Case 3*

Daschund

14

M

January

N/A

7125

6056

85%

No

Case 13*

Kelpie

6

F

December

N/A

3680

2760

75%

No

Case 14*

Kelpie

7

M

December

N/A

1300

1053

81%

No

Case 15*

Labrador

8

F

April

N/A

2307

2030

88%

No

Case 16*

Greyhound

10

F

July

0.43

4600

3404

74%

Yes

Case 17*

Greyhound

8

M

July

N/A

2700

1782

66%

Yes

Case 18*

Greyhound

10

M

July

1.62

7750

6743

87%

Yes

Case 19*

Greyhound

9

M

July

0.13

284

244

86%

No

Case 20*

Greyhound

10

F

May

N/A

265

98

37%

No

Case 21*

Corgi

9

F

April

2.3

1350

1053

78%

No

Case 22*

Labrador

7

M

December

N/A

90

55

61%

No

Case 27*

GSD

7

F

February

N/A

1250

1025

82%

Yes

Case 28*

GSD

7

M

February

0.2

2264

1449

64%

No

Case 29*

Greyhound

8

M

April

0.25

2812

2418

86%

No

Case 31*

Greyhound

10

F

June

0.32

1280

1139

89%

No

Case 32

Greyhound

11

F

June

0.18

3250

2633

81%

?

Case 33

Greyhound

11

M

June

0.19

1465

1231

84%

?

Case 34

Greyhound

11

F

June

0.23

240

226

94%

?

Case 35

Labrador

11

M

April

N/A

20

20

100%

?

Case 36

Afghan

11

M

June

0.43

2300

1702

74%

?

Case 37

Beagle

10

M

May

0.12

83

59

71%

?

Case 38*

OESD

9

F

July

0.4

2376

1925

81%

Yes

Case 39

OESD

10

M

July

0.11

7106

6680

94%

?

Case 40

OESD

9

F

July

0.12

1197

1029

86%

?

Case 41

OESD

9

M

July

0.12

2510

2309

92%

?

Case 42

Borzoi

8

F

November

N/A

512

435

85%

?

Case 43*

Daschund

12

M

October

N/A

2800

1652

59%

Yes

Case 44

Greyhound

8

M

July

0.92

700

462

66%

?

Case 45*

Greyhound

10

M

May

N/A

1760

1390

79%

Yes

Case 46*

Greyhound

9

M

July

2.1

450

95

21%

Yes

Case 49

Labrador

12

F

November

N/A

406

256

63%

?

Case 50

Great Dane

20

F

April

0.9

1590

350

22%

?

Case 51

Great Dane

28

M

February

0.6

2750

2063

75%

?

Case 52

Poodle

14

M

May

2.4

250

150

60%

?

Case 53*

Weimaraner

12

F

April

0.5

490

441

90%

?

Case 54*

Greyhound

16

M

May

N/A

2880

2304

80%

Yes

Collins et al. * b

Bull Terrier

9

M

May

0.54

886

886

100%

Yes

Median

10

June

1185

81%
History and clinical presentation
All cases had bilateral hind limb paresis, hind limb muscle wasting, urinary bladder paresis/incontinence, tail paresis and hyperaesthesia. Less common findings included gastrointestinal signs (vomiting, diarrhoea) and various neurologic deficits (cranial nerve palsies, faecal incontinence, convulsions or coma).
Clinical pathology
Haematology was performed in most instances. The only consistent finding was peripheral eosinophilia. CSF demonstrated an eosinophilic pleocytosis (Figure
4
; Table
2
). The median eosinophil count within CSF was 1,185 cells/μL (range: 20 to 6,743 cells/μL). The median percentage of eosinophils was 81% (range: 22% to 100%).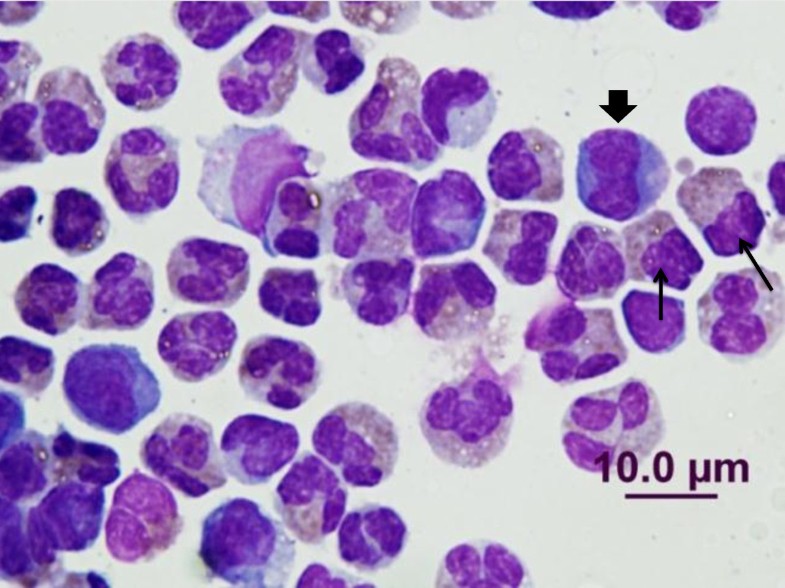 Table 2
Signalment and CSF cytology of contemporary cases of NA
CSF Data

Case No.

Breed

Age (weeks)

Gender

Month

Protein (g/L)

Nucleated Cells (× 10 6 /L)

Eosinophils

cells/μL

%

1

Labrador

24

M

May

0.3

270

232

86%

2

Golden Retriever

20

F

May

0.5

4660

3,821

82%

3

Kelpie

24

F

May

0.28

182

173

95%

4

Golden Retriever

16

F

March

0.55

458

412

90%

5

Boxer

16

F

May

0.55

458

389

85%

6

Miniature Poodle

16

M

May

1.35

332

282

85%

7

Cross Bred

16

M

June

1

146

145

99%

8

Beagle

20

F

July

0.61

3651

3,505

96%

9

Australian Cattle Dog

48

F

February

0.55

5952

4,940

83%

10

Staffordshire Terrier

8

F

February

1.07

1,800

1,134

63%

11

Labrador

32

F

April

1

6,970

5,576

80%

12

Labrador

192

F

August

0.86

1782

1,550

87%

13*

Boxer

48

M

May

0.28

182.2

173

95%

14

Kelpie

96

F

July

1

4683

4,449

95%

15

Staffordshire Bull Terrier

400

F

November

1.28

6825

6,279

92%

16

Cross Bred

192

F

April

0.11

4.5

0.23

5%

17

Maltese

96

M

March

0.4

1746

1,397

80%

18

Dobermann

44

F

June

2.82

6.2

1

13%

19*

German Shorthaired-Pointer

288

M

March

3.3

7860

4,716

60%

20

Rhodesian Ridgeback

32

F

March

0.31

351

260

74%

21

Cross Bred

10

M

May

0.86

132

125

95%

22*

English Bulldog

16

M

November

0.23

15

14

95%

Median

28

401

86%
Treatment outcomes
All dogs received supportive care viz. manual expression of the urinary bladder and passive range of motion exercises. Many cases received empiric antibiotic therapy (details not available). Betamethasone (1 to 2 mg/kg) was administered subcutaneously or orally for 3 to 7 days. The mortality rate was 58% (22/38 dogs not surviving). The initial severity of the clinical signs did not appear strongly associated with outcome; 9 of the 20 dogs (45%) classified as Grade 1 were euthanased, 5 of the 11 (45%) Grade 2 dogs were euthanased or died, while all of the Grade 3 cases were euthanased. Only one dog received anthelmintics (Case 3; Grade 3) but it was euthanased soon after treatment commenced. Of the remaining 16 cases that survived, at least 3 cases (Cases 2, 50 and 51) had permanent neurologic deficits.
B. Contemporary study
Signalment
Samples of serum and or CSF from 22 dogs with presumptive NA were collected between January 2002 and May 2005. There were 8 males (4 castrated) and 14 females (7 spayed). No breed predisposition was detected, although 13 (59%) of the dogs were large breeds. Specifically, there were 3 cross breds, 3 Labrador retrievers, 2 each of Boxers, Kelpies, Golden Retrievers and Staffordshire Bull Terriers, and one each of Maltese, Cattle Dog, Beagle, British Bulldog, Dobermann, German Shorthair Pointer, Miniature Poodle and Rhodesian Ridgeback. The median age of cases was 28 weeks (range: 8 weeks to 10 years). None of the cases had litter mates affected.B Most (64%) of cases were presented between April and July (Figure 3; Additional file 4: Appendix 4). Figure 3 shows the geographic distribution of cases in the Sydney metropolitan area, suggesting that the parasite is not concentrated in particular suburbs.
History and presenting complaints
Only one dog (Case 5) was observed eating slugs and snails. The route of infection for the remaining 21 cases was not identified, although several clients mentioned rats in their immediate area. The most common signs at presentation were hyperaesthesia (14 cases), posterior proprioceptive ataxia (10), hind limb weakness (7), cranial nerve dysfunction (e.g. lack of a menace response, facial twitching or ocular signs) (7), urinary incontinence (6), UMN hyperreflexia (5), altered mentation (4) and muscle atrophy (1). These results are summarised in Table 2. History and physical findings for each case are described in detail in Additional file 7: Appendix 7. Two dogs received avermectins for heartworm prophylaxis in the two weeks prior to signs of NA emerging (Cases 2 and 20), although signs were probably unrelated in time to dosing in these instances.
Clinical pathology
Of the 22 dogs, 21 had eosinophilic pleocytosis in CSF (Figure 4); the remaining dog had an eosinophil count of 1 cell/μL, with 10% of the count comprising eosinophils. A diagnosis of eosinophilic pleocytosis in humans requires greater than 10% eosinophils of a total CSF cell count, and also greater than 10 eosinophils/μL, [7, 33] and this definition has been adopted for dogs. Samples were obtained from the cisterna magna in all dogs except Cases 16 and 20, which had CSF collected via lumbar puncture immediately before a caudal myelogram. The median eosinophils count of CSF was 401 cells/μL, while the median percentage eosinophils was 86%. CSF results are summarised in Table 2. Haematology was performed concurrently in 10/22 dogs, of which eight (80%) demonstrated peripheral eosinophilia. No significant biochemical abnormalities were noted within the study cohort.
Diagnostic imaging
Myelograms performed in Cases 16 and 20 did not reveal abnormalities apart from diffuse spinal cord swelling in both instances and rapid clearance of iohexol from the subarachnoid space in Case 20. Case 18 had computed tomography (CT) of the head and neck (before and after intravenous iohexol), with no abnormalities detected.
Treatment outcomes
On the whole, the prognosis was good to excellent, with death or euthanasia in only 3/22 cases (14%). The length of prednisolone administration varied from 4 weeks to 3 months. All but four dogs (Cases 13, 18, 19 & 22) improved rapidly over the initial 48 h and went onto make a complete recovery. Some dogs received antibiotics prior to administration of glucocorticoids, usually with a view to "covering" the alternative diagnosis of protozoan myelopathy (neosporosis or toxoplasmosis); accordingly, clindamycin, trimethoprim-sulpha and pyrimethamine were the most commonly chosen drugs. Two dogs (Cases 13 and 22) were euthanased due to ongoing, unresponsive behavioural problems. Case 13 improved at first but deteriorated over the subsequent 4 months and was euthanased due to inappropriate aggression. Case 22 was treated for 4 weeks with no improvement and euthanasia was elected because of aggression. Case 19 had a two weeks history of anisocoria, cervical pain and altered behaviour; cervical pain resolved with glucocorticoids but ocular signs progressed to blindness and the dog was euthanased. Unfortunately none of these dogs were examined at necropsy following euthanasia. Case 18 presented with head tremors that proved unresponsive to treatment; its quality of life was considered adequate and the owners declined further investigation or treatment.
ELISA data
Controls
Of the 21 dogs in Group A (young pound dogs), 20 (95%) had a measurable titre of anti-
A. cantonensis
IgG in serum (Table
3
). There was, however, no demonstrable anti-
A. cantonensis
IgG in CSF specimens in 20/21 dogs. The single dog (Control A15) with an antibody titre in CSF of 100 had the highest serum titre (6,400). This specimen, along with specimens from Control A8 and Control A13, were contaminated with blood during collection and this likely accounted for the low CSF antibody titre detected. Within Group B, 8/22 dogs (36%) had measurable serum anti-
A. cantonensis
IgG (Table
3
); CSF was not available from these individuals. The antibody titres in control group A (young pound dogs) were substantially higher than titres in the older hospital patients.
Table 3
ELISA for control dogs i.e. dogs without NA
Control Group A

Control Group B

Case

Serum

CSF

Case

Serum

1

1:800

Negative

1

1:800

2

1:400

Negative

2

Negative

3

1:800

Negative

3

1:100

4

1:800

Negative

4

1:100

5

1:200

Negative

5

Negative

6

1:1,600

Negative

6

Negative

7

1:1,600

Negative

7

1:100

8

1:200

Negative

8

Negative

9

1:800

Negative

9

1:100

10

1:800

Negative

10

Negative

11

Negative

Negative

11

Negative

12

1:200

Negative

12

Negative

13

1:100

Negative

13

Negative

14

1:800

Negative

14

1:200

15

1:6,400

1:100

15

Negative

16

1:100

Negative

16

1:400

17

1:800

Negative

17

Negative

18

1:800

Negative

18

Negative

19

1:100

Negative

19

Negative

20

1:400

Negative

20

Negative

21

1:400

Negative

21

Negative

22

1:100
Contemporary NA cases
Of cases where CSF was available for testing, 19/21 (90%) were positive for anti-
A. cantonensis
IgG using the ELISA. Of these 19 cases, serum was available for 16, of which 12 were positive also using the ELISA. Thus, four cases with negative serum titres had positive IgG titres in CSF. In eight patients, the titre in CSF exceeded that in serum, whereas in two cases the opposite was true, while in one further patient the titres in serum and CSF were equal. Two patients (Cases 1 and 3) had serum samples tested one year after the initial sample (Figure
2
). Both were positive, with titres of 1:100 and 1:200, compared to 1:100 and 1:800 at first admission. Both cases that were negative for CSF antibodies using ELISA were also negative for serum antibodies. These results are summarised in Table
3
and Figure
5
.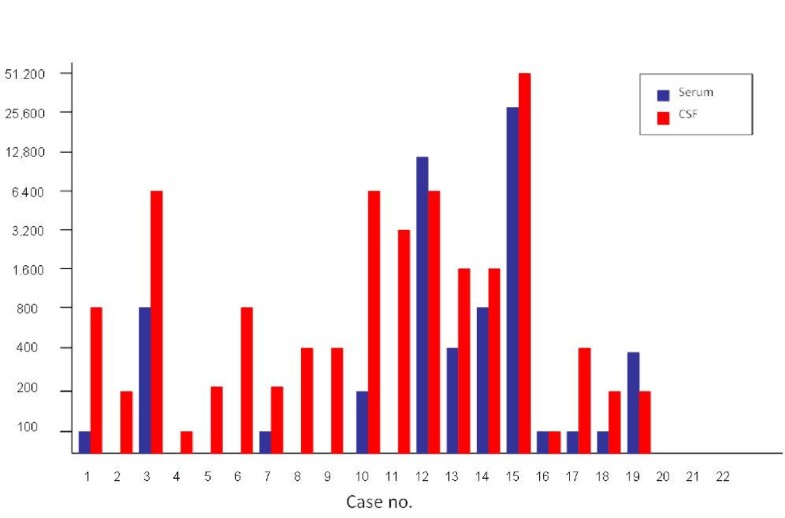 Western blot data
Fifteen cases had serum and or CSF submitted for Western Blot assay and all reacted to the 31 KDa antigen band, including one case that was negative on CSF and serum (Case 20). None of the dogs demonstrated antibodies to the 204 kDa antigen. The results are summarised in Table
4
.
Table 4
ELISA and Western Blot assay results for the Contemporary Group
Case

ELISA (actual titre)

ELISA (positive v negative)

Western Blot

Serum

CSF

Serum

CSF

1

1:100

1:800

Positive

Positive

Positive

2

Negative

1:200

Negative

Positive

Positive

3

1:800

1:6,400

Positive

Positive

Positive

4

Negative

1:100

Negative

Positive

Positive

5

N/A

1:200

N/A

Positive

N/A

6

Negative

1:800

Negative

Positive

Positive

7

1:100

1:200

Positive

Positive

Positive

8

Negative

1:400

Negative

Positive

Positive

9

N/A

1:400

N/A

Positive

Positive

10

1:200

1:6,400

Positive

Positive

N/A

11

N/A

1:3,200

N/A

Positive

N/A

12

1:12,800

1:6,400

Positive

Positive

Positive

13

1:400

1:1,600

Positive

Positive

N/A

14

1:800

1:1,600

Positive

Positive

Positive

15

1:25,600

1:51,200

Positive

Positive

N/A

16

1:100

1:100

Positive

Positive

Positive

17

1:100

1:400

Positive

Positive

Positive

18

1:100

1:200

Positive

Positive

Positive

19

1:400

1:200

Positive

Positive

N/A

20

Negative

Negative

Negative

Positive

Positive

21

Negative

N/A

Negative

N/A

Positive

22

Negative

Negative

Negative

Negative

N/A

Positive (%)

63%

90%

63%

90%

100%
Endnotes
A Four additional cases in Collins et al.[32] from Sydney had adequate clinical and demographic data, but CSF was not collected. Two 12-week-old German shepherd pups were presented for generalised hyperaesthesia and hind limb weakness. They developed pyrexia and diarrhoea and were treated with flunixin and an anti-diarrheal mixture and made a complete recovery. Three weeks later, two more puppies, aged 5-weeks, presented for generalised hyperaesthesia, diarrhoea and hind limb weakness and died soon thereafter. A. cantonensis larvae were recovered from the spinal cords and cerebellum of both puppies in association with eosinophilic granulomatous inflammation.
B
A litter of six greyhound puppies with NA did not meet the entry criteria as CSF specimens were unavailable. Five developed hind limb paralysis, urinary and faecal incontinence and severe hyperaesthesia. Four died within three days of developing signs. At necropsy, one pup had granulomatous encephalitis with the occasional nematode within the granulomas (Figure
6
). The dogs had been moved to a new kennel, which was near a former rats nest, and there were many snails around the dogs' run.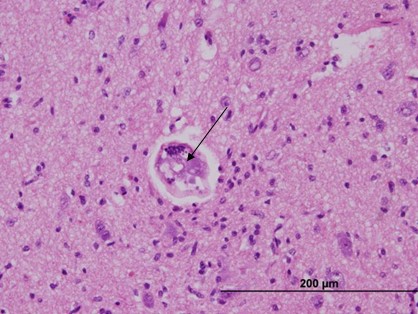 Declarations
Acknowledgements
The authors wish to thank the many colleagues who referred patients for treatment. Ken Mason generously provided material form his Masters thesis for inclusion in the manuscript. Julian Lunn was supported by the Loxton Bequest and Richard Malik was supported by the Valentine Charlton Bequest.
Authors' Affiliations
(1)
Faculty of Veterinary Science, The University of Sydney, Sydney, Australia
(2)
ICMPR, Westmead Clinical School, Westmead Hospital, Westmead, Australia
(3)
Veterinary Specialist Services, Underwod, Australia
(4)
Centre for Veterinary Education, The University of Sydney, Sydney, Australia
Copyright
© Lunn et al; licensee BioMed Central Ltd. 2012
This article is published under license to BioMed Central Ltd. This is an Open Access article distributed under the terms of the Creative Commons Attribution License (http://creativecommons.org/licenses/by/2.0), which permits unrestricted use, distribution, and reproduction in any medium, provided the original work is properly cited.