Pet roundworms and hookworms: A continuing need for global worming
Parasites & Vectors
2012
5:91
Received: 16 February 2012
Accepted: 22 April 2012
Published: 10 May 2012
Abstract
Ascarids and ancylostomatids are the most important parasites affecting dogs and cats worldwide, in terms of diffusion and risk for animal and human health. Different misconceptions have led the general public and pet owners to minimize the importance of these intestinal worms. A low grade of interest is also registered among veterinary professions, although there is a significant merit in keeping our guard up against these parasites. This article reviews current knowledge of ascarids and ancylostomatids, with a special focus on pathogenicity, epidemiology and control methods in veterinary and human medicine.
Keywords
PraziquantelMoxidectinEmodepsideFaecal ExaminationPyrantel
Conclusion
Given the clinical importance of intestinal nematodes affecting pets, their ubiquitous presence and the zoonotic impact some of them have, public education is crucial for reducing risk exposure in both humans and companion animals. At the same time pet owners and, in general, the public opinion should maintain a self-confidence that keeping a pet is safe and a positive experience. This is also true when close-contact occurs between the pet and the owner, even when some behaviour can be questionable (Figure
5
). Actually, it is established that direct contact with infected pets presents no relevant risk in the transmission of intestinal nematodes and there is no association between pet ownership and infection occurrence [
78
,
79
]. Owners should have confidence that ownership of any companion animal is beneficial and safe as long as their pets are healthy [
18
]. Pet owners enjoy a plethora of advantages by living with dogs and/or cats. For instance, children, the elderly and disabled persons particularly benefit from their contact with a beloved pet. Companion animals represent a way of life for a lot of the people and this relationship provides socialization, mental health, and physical well-being: those who own a pet have been shown to display reduction in blood pressure and cholesterol levels, require less medical care, and it has also been reported that there is an improvement of life quality and quick recovery after heartbreaking events [
209
–
213
]. Therefore, owning companion animals is vital for the majority of families, especially when children and the elderly are present [
212
,
214
]. However, the potential risks of pet-originating zoonoses should always be kept in mind. This has become even more so in recent years, when several sociological changes have influenced the relationships between physicians and veterinarians. In fact, the major goal of the re-discovered "One Health Program" (i.e. "
the collaborative work of multiple disciplines to help attain optimal health of people, animals, and our environment
") highlights the crucial role of a tight tie between the human health operators, vet practitioners, and the general public [
213
].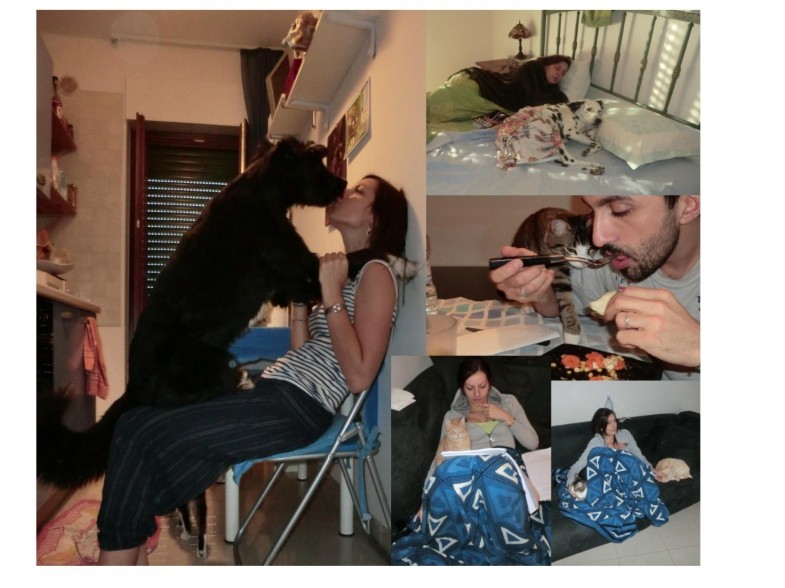 For instance advances in chemotherapy for AIDS and new possibilities of organ transplants, and the prolonged life expectancy, have increased the number of immunocompromised patients in human communities. These subjects need to be aware of possible zoonotic parasites and of all measures to prevent infections for their pets and for themselves. It is worth highlighting that immunocompromised individuals should not give up their animal, as it has been demonstrated that pet ownership minimizes depression and that standard hygiene measures reduce at minimum the risk of acquiring zoonotic infections in this particular category [215, 216].
A desirable goal for effective control programs would also be to understand which are changes and trends in terms of prevalence of infection by ascarids and hookworms in canine and feline populations, with the simultaneous aim to track incidence of human cases caused by each of the single aetiological agents. This would be a basic step to cope with current weaknesses in prevention approaches and to establish where to intervene with focused plans. In fact, updated information on prevalence of parasites of dogs and cats and the risk factors associated with infection, as well as reinforcing veterinary and public health concerns, is of crucial relevance because common awareness is non-existent or often based on outdated information.
The cornerstone to control intestinal parasitoses of pets is a combination of strategic worming methods (especially puppies, kittens and dams), wearing footwear when needed, supervising playing children and their interactions with pets, breaking faecal-oral routes by washing hands and removal and disposal of faeces from public and private grounds and litter trays, alimentary habits [216–218].
Ten years ago it was perceived that veterinary parasitology was becoming irrelevant in routine clinical practice [219]. Regrettably, after more than ten years this perception is practically a reality in several settings. The involvement of practitioners in a worming control program is no more than the administration of one of the several broad-spectrum parasiticides available on the market, even in the absence of evident parasitosis or without a copromicroscopic examination. Such a fallacy comes from the misconceptions that a deep knowledge of epidemiology and biology of certain parasites is superfluous and that control of major helminths can be achieved just with a periodic medication. Nonetheless, roundworms and hookworms remain today the most diffused nematodes affecting pets around the world and they still cause zoonotic infections in humans. There is, therefore, the evidence, that scientists, pet owners and veterinarians should re-consider their approach on parasitology and foster their interest not only in emergent parasites like cardio-pulmonary nematodes or water-borne protozoa, but also in "old-fashioned" intestinal worms.
Given that parasitic zoonoses are too often neglected or underappreciated, and may be mismanaged or underdiagnosed by both veterinarians and physicians [213], a strong education outreach by veterinary and medical practitioners should be accomplished [214, 220]. Veterinarians must keep their guard up against zoonotic parasitoses of pets and constantly provide advice and improve knowledge of their clients, with a special focus on those human categories, who are at higher risk of infection, in order to allow pets to remain integral members of household and families. Furthermore, owners should become aware of "invisible" beneficial effects of a lifespan control program based on routine faecal examinations and frequent worming.
New concepts for accurate preventative plans have been generated based on several individual and epidemiological circumstances. The role of the veterinarians and constant compliance of the owners are crucial for the success of worm control programs in pets. Additionally, the present climate changes and global warming supports the need for a continuous global worming, given that faster egg embryonation and increased over-wintering of infectious elements in the environment will likely increase the spread of helminths affecting companion animals and humans in several areas of the World, as recently hypothesized for sub-Arctic and Arctic regions [221].
Author contribution
DT conceived the intellectual content of the article and wrote the text.
Declarations
Acknowledgements
The author thanks Angela Di Cesare for the elaboration of bibliographic data, Riccardo Lia for Figures 1 and 3D, Asaf Kohane for Figure 2 and Antonio Frangipane di Regalbono for Figure 3C.
The author expresses his gratitude and devotion to his loves in Figure 5: Alessandra, Maria, Pata, Inca, Ruffi and Trizma.
Authors' Affiliations
(1)
Department of Comparative Biomedical Sciences, University of Teramo, Teramo, Italy
Copyright
© Traversa; licensee BioMed Central Ltd. 2012
This article is published under license to BioMed Central Ltd. This is an Open Access article distributed under the terms of the Creative Commons Attribution License (http://creativecommons.org/licenses/by/2.0), which permits unrestricted use, distribution, and reproduction in any medium, provided the original work is properly cited.