American Cutaneous Leishmaniasis in Panama: a historical review of entomological studies on anthropophilic Lutzomyia sand fly species
Parasites & Vectors
2014
7:218
Received: 21 February 2014
Accepted: 1 May 2014
Published: 11 May 2014
Abstract
We review existing information on the epidemiology of American Cutaneous Leishmaniasis (ACL) in Panama, with emphasis on the bionomics of anthropophilic Lutzomyia sand fly species. Evidence from Panamanian studies suggests that there are six anthropophilic species in the country: Lutzomyia trapidoi, Lu. panamensis, Lu. gomezi, Lu. ylephiletor, Lu. sanguinaria and Lu. pessoana (Henceforth Lu. carrerai thula). In general, these taxa are abundant, widespread and feed opportunistically on their hosts, which make them potential transmitters of pathogens to a broad range of wildlife, domesticated animals and humans. Furthermore, nearly all man-biting species in Panama (with the exception of Lu. gomezi) expand demographically during the rainy season when transmission is likely higher due to elevated Leishmania infection rates in vector populations. Despite this, data on the distribution and prevalence of ACL suggest little influence of vector density on transmission intensity. Apart from Lu. trapidoi, anthropophilic species seem to be most active in the understory, but vertical stratification, as well as their opportunistic feeding behavior, could vary geographically. This in turn seems related to variation in host species composition and relative abundance across sites that have experienced different degrees of human alteration (e.g., deforestation) in leishmaniasis endemic regions of Panama.
Keywords
Leishmania
Lutzomyia
Anthropophilic
Taxonomy
Bionomics
Vector control
Panama
Background
American Cutaneous Leishmaniasis (ACL) is a Neotropical infection caused by unicellular parasites in the genus
Leishmania
(Kinetoplastida: Trypanosomatidae) and transmitted by insect vectors in the genus
Lutzomyia
(Psychodidae: Phlebotominae)[
1
–
3
]. This disease persists endemically in forested areas of Panama where it represents a major health problem for children, who suffer severe skin lesions and face disfigurement following infection[
4
]. In addition, customs such as hunting and farming put middle-aged men at greater risk of transmission in non-endemic unstable settlements[
5
,
6
]. Epidemic cycles begin when a group of immunologically naïve people such as military personnel, school teachers, scientists or international tourists enter sylvatic foci[
6
–
15
] [Figure
1
].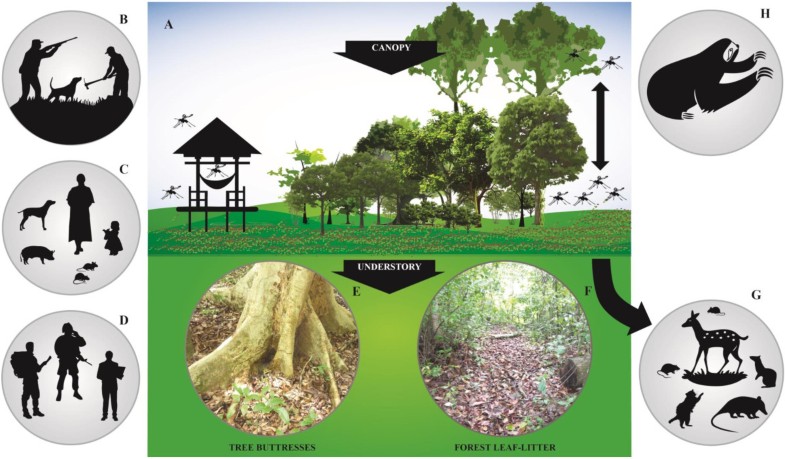 Entomological research on ACL in Panama dates to the beginning of the 20
th
century when the first occurrence records of sand flies (then known as
Phlebotomus
) were made in the country[
16
]. Graham Bell Fairchild and Marshall Hertig studied the natural history and systematics of sand fly species, describing several new taxa from various locales across Panama between 1941 and 1960. Led by Johnson T. Phyllis, Robert B. Tesh, Howard A. Christensen, Byron N. Chaniotis and Aristides Herrer research peaked in the next two decades, but shifted towards other areas such as
Leishmania
infections in the vectors, population dynamics, and interactions among parasites, vectors and hosts. These scientists and others put a great deal of effort into experimental and field work to disentangle the bionomics (i.e., the ecology and behavior) of
Lutzomyia
vector species and to identify the epidemiological determinants of the transmission cycle of ACL. During the next 30 years, research on ACL continued to focus generally on the same subjects but the rate of publication decreased gradually [Figure
2
].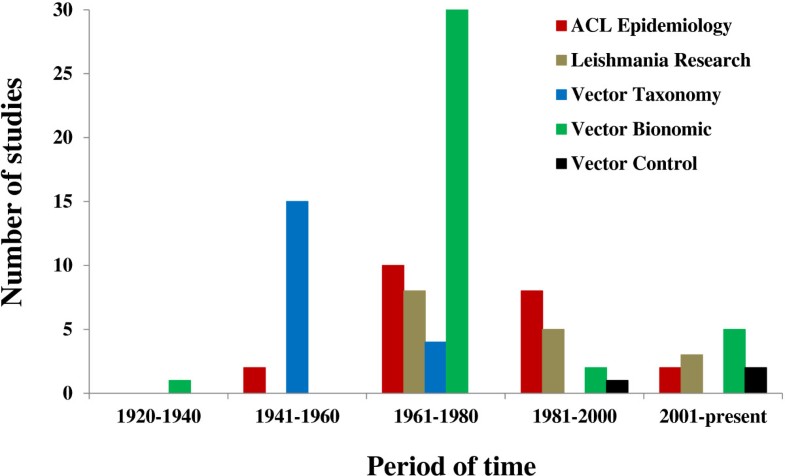 Collectively, the massive intellectual effort on ACL in Panama spanned roughly a century and resulted in approximately 100 peer-reviewed publications in international journals (Additional file1: Table S1). These efforts stand as one of the greatest scientific contributions to the understanding of ACL epidemiology in Latin America. Recently, however, Panama has undergone significant changes in land use and human demography, and the epidemiology of ACL is thought to have changed considerably[14, 17–24]. Surprisingly, few attempts have been made to summarize existing information about ACL in the country, despite its importance for predicting and controlling future epidemics[25]. In a review paper by Christensen et al.,[11], which dates back to 1983, the authors synthesized information on the ecology of ACL, sand flies, animal reservoirs and the available clinical data from endemic areas of Panama. However, their review included all Lutzomyia sand fly species, rather than focusing on the anthropophilics. If effective vector control measures are to be implemented in Panama, information about the ecology and behavior of epidemiologically important Lutzomyia species needs to be synthesized[23–25]. Herein, we summarize the body of literature concerning the epidemiology of ACL and the bionomics of Lutzomyia sand flies in Panama, including information that was published after Christensen et al.,[11], putting special emphasis on the most common anthropophilic species. This information will improve our understanding of potential changes in the transmission dynamics of this infection and contribute to the development of control strategies to limit Leishmania expansion across the country.
Conclusion
The last review paper published about ACL research in Panama was written 30 years ago[11]. Since then the country has undergone significant changes in landscape and human demography, and more people are commonly in contact today with forest environments where the sylvatic focus of ACL takes place. As a result, more clinical cases are being reported in local human populations as well as in international visitors. This increase in clinical cases could also be due to underreporting in the past or improved Leishmania diagnostic tools and better access to health care at present. Advanced research about ACL epidemiology and Lutzomyia bionomics is still needed in Panama. These efforts will be greatly strengthened by the integration of modern technologies such as bioinformatics, modeling, and genomic markers to investigate population genetics and molecular taxonomy of anthropophilic Lutzomyia species. In addition, more sophisticated analyses using geographic information systems (GIS) and ecological niche modeling (ENM) techniques on vector species will be required to predict ACL transmission risk across the country. Finally, future research about ACL in Panama will benefit from adopting a more holistic approach, where integrated vector control strategies are planned based on information generated from scientific research. We hope that our review will contribute to this goal as it provides a synopsis of taxonomic and bionomic information of epidemiologically relevant Lutzomyia species in the country. This information, along with knowledge about the impact of human landscape modifications on ACL epidemiology, will help to predict and control future epidemics.
Abbreviations
ACL:

American Cutaneous Leishmaniasis
DNA:

Deoxyribonucleic acid
CO1:

Cytochrome C oxidase one
DEET:

N,N-diethyl-meta-toluamide
ULV:

Ultra low volume
EC:

Emulsifiable concentrate
GIS:

Geographic information system
ENM:

Ecological niche modeling.
Declarations
Acknowledgments
We want to thank Donald M. Windsor and Diana Sharpe from the Smithsonian Tropical Research Institute (STRI), who critically commented on an earlier version of this work. Rita Marissa Giovani and Ronnie Gavilán from the Instituto de Investigaciones Científicas y Servicios de Alta Tecnología (INDICASAT-AIP) helped to generate the sketch on Figure 1. William Lainhart from the Department of Biological Sciences at the University at Albany, New York (SUNY) helped to obtain the PDF files of several publications. The Secretariat for Science, Technology and Innovation of Panama (SENACYT) through a scholarship awarded to LCD and the National Research Investigator Board (SNI) prize granted to JRL financed this research.
Authors' Affiliations
(1)
Centro de Biodiversidad & Descubrimiento de Drogas, Instituto de Investigaciones Científicas & Servicios de Alta Tecnología, Clayton, República de Panamá
(2)
Department of Biotechnology, Acharya Nagarjuna University, Guntur, India
(3)
Programa Centroamericano de Maestría en Entomología, Vicerrectoría de Investigación & Postgrado, Universidad de Panamá, República de Panamá
Copyright
© Dutari and Loaiza; licensee BioMed Central Ltd. 2014
This article is published under license to BioMed Central Ltd. This is an Open Access article distributed under the terms of the Creative Commons Attribution License (http://creativecommons.org/licenses/by/4.0), which permits unrestricted use, distribution, and reproduction in any medium, provided the original work is properly credited. The Creative Commons Public Domain Dedication waiver (http://creativecommons.org/publicdomain/zero/1.0/) applies to the data made available in this article, unless otherwise stated.