History and complexity in tick-host dynamics: discrepancies between 'real' and 'visible' tick populations
Parasites & Vectors
2014
7:231
Received: 1 April 2014
Accepted: 6 May 2014
Published: 19 May 2014
Abstract
Background
Numerical responses of ticks to changes in densities of their hosts can be complex and apparently unpredictable. Manipulations even of deterministic models can produce counter-intuitive results, including tick populations that either rise or fall under increasing host densities, depending on initial conditions.
Methods
In this paper I use an established simulation model to demonstrate a wide range of numerical responses to different scenarios of host changes, and to examine the basic mechanisms that drive them.
Results
The rate and direction of change of host densities affects the extent to which questing tick numbers reflect those of their hosts. Numerical responses differ profoundly between dynamic tick-host systems and those allowed to reach equilibrium.
Conclusions
The key to understanding tick-host dynamics is to understand the difference between 'real' and 'visible' tick populations. An appreciation of the implications of this difference – and of the conditions that influence it - will benefit the effective interpretation of field data.
Keywords
Ticks
Tick-host dynamics
Population modelling
Demography
Background
Among the global suite of arthropod disease vectors that includes mosquitoes, tsetse flies and triatomine bugs, Ixodid ticks present a distinct challenge to epidemiologists. The substantial alterations necessary to adapt the R0 (basic reproductive number) equation for tick-borne pathogens from that for pathogens vectored by insects [1, 2] reflects the many ways in which ticks differ from most insects, including a relatively insignificant degree of mobility, a characteristic of parasitising only one (hard ticks) or very few (soft ticks) hosts per instar, and a long interval between the acquisition and transmission of infective agents.
Ticks transmit a wide array of human pathogens [
3
,
4
], and since the discovery and description of Lyme borreliosis in the 1970s – now regarded as the most common vector-borne disease of the northern hemisphere – a huge literature has emerged to describe and catalogue the effects of environmental factors on the abundance of
Ixodes
spp. vectors
inter alia
[
5
–
8
]. The potential for error when measuring tick abundance in the field is covered elsewhere [
9
]; this paper is concerned with the subsequent interpretation of such data. Unfortunately, the abundance of unfed, host-seeking ticks is not a parameter with a straightforward meaning, equivalent to (for example) the abundance of mosquitoes caught in a light-trap. Indeed, the density of questing ticks is merely the visible result of a number of bi-directional and much less visible influences on the 'real' density, as outlined in Figure
1
, such that the former is only a rough and somewhat variable proxy for the latter. Here, and throughout this paper, I define the 'real' population as the underlying baseline of reproductive potential; in this sense, a possible candidate parameter for the 'real' density would be 'the number of egg-laying females per year per unit-area'. Of course, it is extremely unlikely that this would ever be measureable in practice in the field, but insights may be gained from examining the relevant outputs from biological process-based population models, as in this paper. Similarly, I use the terms 'questing' and 'visible' interchangeably to describe that section of the tick population that may be measured in the field (allowing context to dictate which term is most appropriate).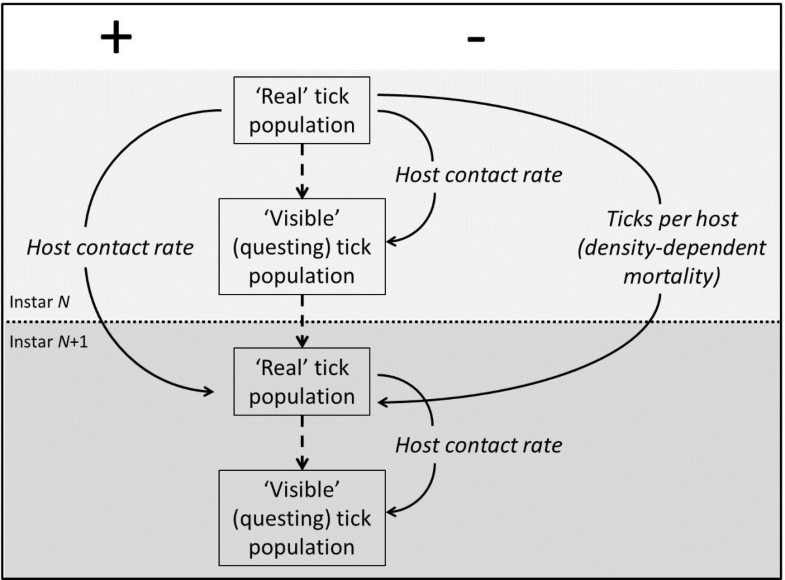 In short (and leaving aside all considerations of temperature and humidity), where hosts are abundant, ticks are more likely to complete their three blood meals and breed successfully - thereby augmenting the tick population - yet host abundance also determines the rate at which ticks are removed from the vegetation (and hence become unavailable for counting by biologists) [10–12]. The fact that host abundance drives both factors explains the otherwise potentially counter-intuitive observation that the wholesale removal of major host populations initially results in an increase in the questing tick population [13]. The 'momentum' of the population, derived from egg-laying females that fed successfully before the hosts were removed, causes the usual emergence of questing ticks, which are then removed from the questing population at a much lower rate than before [10, 14]. Regardless of the presence and/or prevalence of alternative hosts, the questing population of larvae in the proceeding generation will therefore be even higher than normal. If one or more of the principal hosts for larvae remain (for example, if deer were the only hosts removed), then some of this population momentum is likely to be maintained through to the nymph stage. The life-history of Ixodes ticks, protracted as it is by diapause, means that significant nymphal activity could occur three or even four years after the removal of a major host population. Elsewhere in this paper I shall refer to this surge of questing ticks following host removal as the 'latent questing population', and to the extent to which the questing population exceeds levels expected, given current host density, as the 'degree of latency'.
The contradictory forces of population augmentation (via the provision of meals to reproductive females) and questing tick removal – both imposed by hosts – will result in a variety of outcomes, in terms of questing ticks, under natural conditions. The relative influence of each pressure is likely to be determined by the density-dependent feeding success (perhaps more conveniently thought of as density-dependent mortality) of ticks. Here, density refers to the burden of ticks per host, rather than absolute density of ticks (or hosts) per se, since this mortality is mediated by the individual host's acquired immune response [15, 16] and/or grooming/avoidance behaviour [17].
The fact that density dependence operates at the level of ticks per host means that if a host population steadily increases, the tick population may increase in a similar manner without any great modulating effect of density dependence. Indeed, density-dependent mortality will not rise unless the ratio of ticks to hosts increases. Superficially, as long as the tick population increase is directly caused by a host population increase, the ratio should not be altered. However, in practice, the ratio does increase, because the proportion of ticks that successfully feed before dying from moisture stress, predation or disease also goes up, since opportunities to feed become more abundant. Each egg-laying female therefore gives rise to more successfully feeding immature ticks. Whether or not this per-capita increase in survival – and thus greater ratio of ticks to hosts – leads to increased density-dependent mortality will depend upon individual host responses.
Readers should also note the apparent existence of the opposite effect under certain circumstances – density-dependent facilitation, as reported for domestic sheep [18] – but I do not consider this further here.
Density-dependence causes there to exist – theoretically at least - a host-species-specific threshold of host density, above which the real tick population ceases to grow (and may thereafter even decrease, if density-dependence is more than compensatory). Meanwhile, however, the per-tick host-contact rate will continue to increase with increasing host density (unless hosts adopt avoidance behaviour of tick-infested areas, as observed in domestic cattle [19]). At this threshold, recruitment to the questing population is overtaken by removal from it, and the questing population – though not necessarily the real population - will decline [14, 20]. Ultimately, density dependence ensures that, for many host species, the relationship between host density and tick density will not be linear across all values of the former [14, 20, 21].
The processes described above may be summarised as three general phenomena of tick-host population dynamics:
1.

There is a difference between 'real' and 'visible' tick populations, wherein the former is a measure of the reproductive potential (e.g. the number of egg-laying females), and the latter is the number of ticks that are typically available for counting – i.e. the unfed, host-seeking individuals. Both are relevant to considerations of tick-borne disease, but only 'visible' populations are measured in the field.

2.

Density-dependent host responses to tick infestations may occur.

3.

The often-protracted life cycle of Ixodid ticks causes the existence of a temporal lag between changes in the biotic environment and the numerical response of tick populations. This lag ensures that the relationship between host density and tick density is very strongly dependent on the state of the system – i.e. whether the host density is static or changing.
The aim of this paper is to demonstrate the behaviour of tick populations under different scenarios of host density change, and to explain and discuss them with reference to the above three phenomena (which are interconnected to a large extent). The material herein pertains mainly to Ixodes ricinus, but many of the principles outlined will be more widely applicable, particularly to the free-living (as opposed to nidiculous) Ixodes species, especially I. persulcatus in Eurasia and I. scapularis and I. pacificus in North America.
Methods
In order to demonstrate a range of tick responses to host population change, outputs were produced from the model of Dobson et al. [22]. This deterministic population model is based around a modified stage-classified Leslie matrix [23], and simulates relative numbers of each tick instar (larva, nymph and adult) in each physiological state according to inputs of biotic and abiotic variables. Simple scenarios of host population change were applied, each of which comprised increasing, constant, then decreasing host densities. Initial host contact rates were taken from the model's validation site that had the lowest natural values (see [22]) in order to demonstrate the behaviour of the system across the widest possible range of this parameter, and to ensure that the maximum rates reached were still safely within biologically realistic limits. Rates were scaled for graphical purposes such that the initial rate was 1. Climate data from the same site were used.
Changes in large host density were simulated under the following conditions:
Scenario 1. Large host contact rate increasing daily over 20 years, reaching a maximum of twice the starting contact rate; holding constant for 20 years; decreasing daily back to the starting contact rate over 20 years; holding constant for 20 years.
Scenario 2. Large host contact rate increasing daily over 20 years, reaching a maximum of five times the starting contact rate; holding constant for 20 years; decreasing daily back to the starting contact rate over 20 years; holding constant for 20 years.
Scenario 3. Large host contact rate increasing daily over 5 years, reaching a maximum of five times the starting contact rate; holding constant for 20 years; decreasing daily back to the starting contact rate over five years; holding constant for 20 years.
Scenario 4. Large host contact rate increasing daily over 5 years, reaching a maximum of twice the starting contact rate; holding constant for 20 years; decreasing daily back to the starting contact rate over five years; holding constant for 20 years.
All scenarios were preceded by a ten-year run of initial conditions to 'bed-in' the tick population [
14
]. Results, including schematics of host change scenarios, are shown in Figure
2
.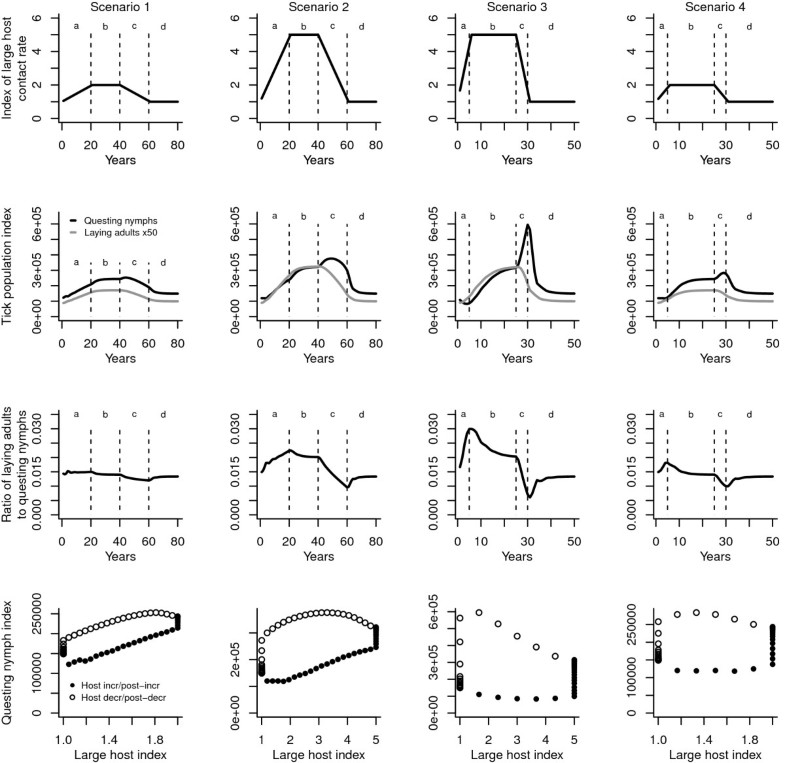 In these plots, the questing nymph index is calculated by summing the daily questing abundance across the year (described elsewhere as the area under the graph of questing ticks, or AUTG [9]). (Though I do not directly discuss the implications, the reader should note that individual ticks will be counted more than once in this metric – which is equivalent to the seasonal questing profile derived from field studies - and that the lower the host contact rate, the more times an individual tick will be counted, since there is a lower likelihood that it will have been removed from the questing population since the previous day).
One of the aims of this paper was to identify the difference in the tick-host relationship between dynamic (i.e. with changing host contact rates) and static (with constant host contact rates) systems. For this reason, simulations were also performed where the large host contact rate was held constant at levels of 2, 3, 4 and 5 times the starting rate, and the models were run until tick populations reached equilibrium. Selected results are shown in Figure
3
.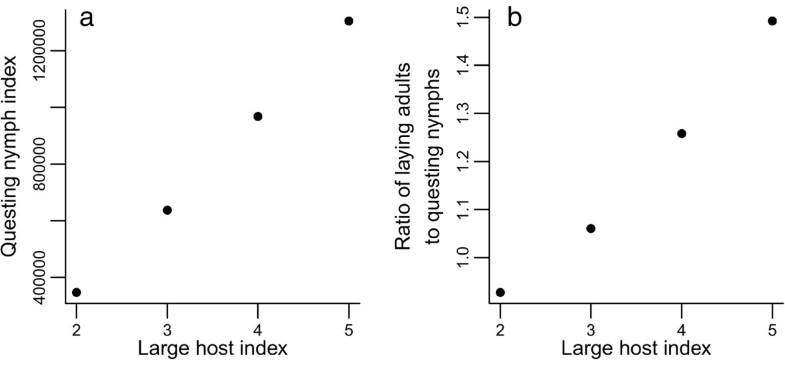 Results and discussion
The plots in Figure 2 illustrate various points of commonality and difference between the effects of the host-change scenarios, which are discussed in turn.
Conclusions
Tick population biology is complex. Changes in host density may have counterintuitive effects on the abundance of questing ticks; the key to understanding these numerical responses is to appreciate the difference between real and visible tick populations. An understanding of the suite of mechanisms that drive tick population dynamics – and the range of outcomes they may produce – will aid interpretation of data from field studies, and should warn against over-extrapolation from any particular set of results. Further research on epidemiological implications is required.
Declarations
Acknowledgements
I am very grateful to Sarah Randolph, who read several early drafts and made numerous essential suggestions. The comments of two anonymous referees led to a much improved final manuscript. The work was supported by an Impact research fellowship from the University of Stirling; development of the tick population model was funded by the UK Department of the Environment and Rural Affairs (Defra) (project SE4105), the Research Councils' Rural Economy and Land Use (RELU) Programme (funded by the Economic and Social Research Council, Biotechnology and Biological Sciences Research Council and Natural Environment Research Council, with additional funding from Defra and the Scottish Executive Environment and Rural Affairs Department) (project RES-229-25-0007) and EU grant GOCE-2003-010284 EDEN.
Authors' Affiliations
(1)
School of Biological and Environmental Sciences, University of Stirling, Stirling, UK
Copyright
© Dobson; licensee BioMed Central Ltd. 2014
This article is published under license to BioMed Central Ltd. This is an Open Access article distributed under the terms of the Creative Commons Attribution License (http://creativecommons.org/licenses/by/4.0), which permits unrestricted use, distribution, and reproduction in any medium, provided the original work is properly credited. The Creative Commons Public Domain Dedication waiver (http://creativecommons.org/publicdomain/zero/1.0/) applies to the data made available in this article, unless otherwise stated.