A review of malaria transmission dynamics in forest ecosystems
Parasites & Vectors
2014
7:265
Received: 30 September 2013
Accepted: 23 May 2014
Published: 9 June 2014
Abstract
Malaria continues to be a major health problem in more than 100 endemic countries located primarily in tropical and sub-tropical regions around the world. Malaria transmission is a dynamic process and involves many interlinked factors, from uncontrollable natural environmental conditions to man-made disturbances to nature. Almost half of the population at risk of malaria lives in forest areas. Forests are hot beds of malaria transmission as they provide conditions such as vegetation cover, temperature, rainfall and humidity conditions that are conducive to distribution and survival of malaria vectors. Forests often lack infrastructure and harbor tribes with distinct genetic traits, socio-cultural beliefs and practices that greatly influence malaria transmission dynamics. Here we summarize the various topographical, entomological, parasitological, human ecological and socio-economic factors, which are crucial and shape malaria transmission in forested areas. An in-depth understanding and synthesis of the intricate relationship of these parameters in achieving better malaria control in various types of forest ecosystems is emphasized.
Keywords
Forest malariaTransmission dynamicsDeforestationVector behaviorSocio-economic factorsTribal communities
Background
Stratification of global malaria
Malaria is an infectious disease caused by parasites belonging to the genus Plasmodium. It is endemic in 104 tropical and subtropical countries, comprising half of the world's population (3.4 billion people) [1], of which 2.57 billion are at risk for P. falciparum[2], and 2.5 billion for P. vivax[3]. P. malariae and P. ovale contribute a very small proportion of malaria infections but the population at risk of P. malariae is distributed all over sub-Saharan Africa, most parts of Southeast Asia, western Pacific islands, and Amazonian Basin [4, 5]. P. ovale is prevalent in Africa [5], and it is also reported from Asia-Pacific regions [6]. P. knowlesi, the fifth human parasite [7] is essentially a primate malaria species that is being reported from remote forested areas of Southeast Asian countries [8–11].
Forest malaria
Definition of "forest"
The 'forest ecotype' is defined by UNESCO as terrain with a tree canopy cover of more than 10% and an area of more than 0.5 hectares, including natural forests and plantations [12] with a minimum tree height of 5 m, including coffee, rubber, cork oak, and fruit tree plantations, wind break and shelter belts more than 20 m width [13]. Forest vegetation is categorized as rain forest, deciduous forest, scrub forest, highland rain forest, and highland alpine forest [14]. The former three are usually distributed in low to mid latitude and the last two are part of the high altitude biome.
Impact of forest malaria
Forest ecosystems are well known to support transmission of malaria, significantly contributing to the global disease burden. A global assessment reports that "closed forests within areas of malaria risk cover approximately 4.8 million km2"[12]. Almost half the malaria risk is estimated to occur among people living in forested areas (1.4 billion) accounting for 11.7, 18.7, 35.1 and 70.1 million population respectively from 1.5 million km2 in the Amazon region, 1.4 million km2 in Central Africa, 1.2 million km2 in the Western Pacific, and 0.7 million km2 in South–East Asia [15, 16]. Corresponding forest areas containing these malaria risk zones are 11.16 million to 15.71 million km2, 6.53 million– 7.80 million km2, 1.93 million– 5.19 million km2, 2.70 million–2.72 million km2[12, 15, 16]. Controlling malaria in these forested regions of the world has been a major challenge [17].
Summarizing hidden risks of malaria in forests
Most studies of forest malaria are focused on local factors associated with malaria transmission. These include distance from forest, impact of deforestation and reforestation, effect of forest on microclimate, vector bionomics, Plasmodium species survival, and human activities in forests. In this review we analyze the underlying factors influencing transmission of malaria in forests worldwide. Mosquito vectors vary according to forest locality and their behavior changes with the forest micro-climate [18], human population, and their social behaviors [19, 20]. Forest communities are generally tribal and cope with poor infrastructure. Certain practices like slash and burn cultivation, overnight stays within forests in order to collect forest produce, hunting, wide open household construction, and cattle ranching, increase vulnerability to malaria. It can be challenging to educate forest communities about malaria control, and without their cooperation it is difficult to control malaria [21]. Now, worldwide malaria communities are aiming at malaria eradication/elimination [22, 23], a proposition, which is impractical without prevention of re-introduction/re-emergence from hidden foci/uncontrolled forest malaria [22, 24]. Malaria had declined during the previous eradication era in many regions of the world, some of which subsequently experienced resurgence and suffered from its consequences [23, 25–27]. The problem of malaria in forests is compounded by hidden reservoirs of malaria infections that are not fully addressed [28, 29]. The origin and evolution of drug and insecticide resistance are often found associated with the forest and near forest areas [24, 30–32]. In addition to existing asymptomatic infections, the presence of primate malaria parasites and their zoonotic vectors might pose additional challenges to human health in the forest and forest fringe areas [33–35], where malaria surveillance is generally poor [33, 36]. Occasional focal outbreaks (unstable transmission) might occur when malaria transmission extends from the forest shade (nidus) to peri-urban and urban areas [37], where much higher density of human population and presence of vectors could fuel large epidemics.
Key factors which make forest different from other ecosystems
The major factors, that differentiate forest from other ecosystems in relation to malaria transmission dynamics, are the influence of forest on temperature buffering, rainfall [38], humidity [39–41], tree canopy [42], flora, fauna [43], high organic content in breeding pools [44], and lack of infrastructure [45]. It is difficult to develop infrastructure in forests due to their uneven land forms, presence of streams, and dense vegetation. Additionally, poor communication hinders malaria control activities particularly during the rainy season [21, 45]. Furthermore, forests with hilly land forms are more malariogenic, as their slopes form small rapid streams that facilitate breeding of efficient malaria vectors [46]. Forest influences vector distribution and bionomics, and also the distribution of the malaria parasites. Forested areas are primarily inhabited by tribes [47, 48], whose illiteracy and strong beliefs in age old traditions and practices and a fear of outside world leads to reliance on indigenous treatment for malaria [49].
These factors are discussed in detail in the following sections.
Conclusion
Strong links exist between various factors influencing malaria transmission dynamics in forest ecosystems. Slight change in any of the factors affects the others, culminating in a different transmission pattern. Change in the vegetation cover and deforestation alters the distribution and behavior of malaria vectors. Human ecological and socioeconomic traits also affect exophagy, anthropophagy, biting rhythm, and resting behavior of vectors. The genetic traits of communities residing in forest areas and their health-seeking behaviors are crucial for parasite prevalence and precipitation of drug resistance. Moreover, insurgence of human populations and developmental activities in forests are important in altering the transmission pattern. Thus malaria transmission in forest areas is a complex process involving interplay between topographical, entomological, parasitological and human factors (Figure
1
). Studies carried out in forested areas in different parts of the world generally focus on one or a few of the many factors which may not be adequate in understanding complexities of the malaria situation arising out of interaction of several factors. This review can help understand the complex interlinks between different factors acting simultaneously to influence malaria transmission. Predictive models of malaria transmission can be worked out for forest areas of different ecoregions by taking into account all relevant weighted factors. Based on in-depth understanding of the intricate relationship of various parameters, situation specific vector/malaria control strategies can be developed and implemented to address malaria problem in the forests. Although implementation of such strategies is primarily a responsibility of the government and local health authorities, NGO workers, local medicine practitioners and traditional faith healers would be important as these are acceptable to the communities residing in remote forested areas. At the same time establishing a good rapport through interaction between implementers and the communities is essential for the success and sustenance of malaria control programs in forest ecosystems.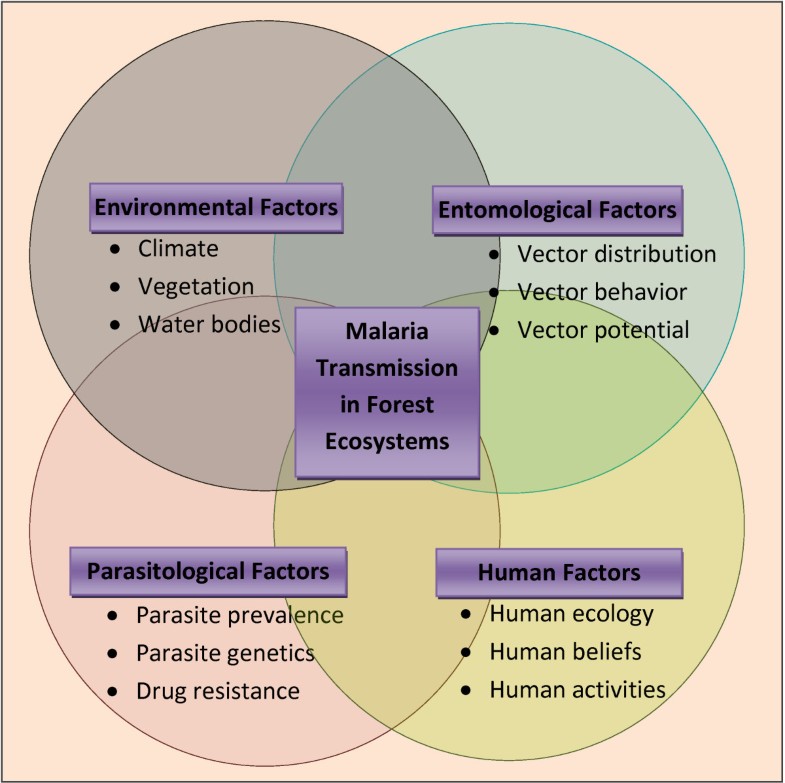 Declarations
Acknowledgements
The authors are thankful to the Director, National Institute of Malaria Research, New Delhi for providing necessary facilities to undertake this review. We thank Dr. Lalitha Ramanathapuram for making available full text articles referred in this review and Dr. Steven Sullivan for editing and proof reading. This study was supported by NIH/National Institute of Allergy and Infectious Diseases award U19AI089676, and by an NIH/Fogarty International Center Global Infectious Disease research training grant D43TW007884. The content of this manuscript is solely the responsibility of the authors and does not necessarily represent the official views of the Fogarty International Center or the National Institutes of Health. This manuscript bears the NIMR publication screening committee approval no. 001/2013.
Authors' Affiliations
(1)
Indian Council of Medical Research, National Institute of Malaria Research, New Delhi, India
(2)
National Institute of Malaria Research, Panaji, India
(3)
Department of Biology, New York University, New York, U.S.A
Copyright
© Kar et al.; licensee BioMed Central Ltd. 2014
This article is published under license to BioMed Central Ltd. This is an Open Access article distributed under the terms of the Creative Commons Attribution License (http://creativecommons.org/licenses/by/2.0), which permits unrestricted use, distribution, and reproduction in any medium, provided the original work is properly credited. The Creative Commons Public Domain Dedication waiver (http://creativecommons.org/publicdomain/zero/1.0/) applies to the data made available in this article, unless otherwise stated.