A lymphatic dwelling filarioid nematode, Rumenfilaria andersoni (Filarioidea; Splendidofilariinae), is an emerging parasite in Finnish cervids
Parasites & Vectors
2015
8:228
Received: 29 January 2015
Accepted: 31 March 2015
Published: 16 April 2015
Abstract
Background
Recent studies revealed expansion of filarioid nematodes into northern Finland. In addition to Setaria tundra, an abundant filarioid, Rumenfilaria andersoni, was found inhabiting the lymphatic vessels of reindeer. Our study explores the dynamics of the rapid geographic expansion of R. andersoni, defining prevalence and density of microfilariae among 4 new cervid host species in Finland while developing a context for host-parasite ecology in Fennoscandia and more broadly in the Arctic and boreal regions.
Methods
Blood samples were evaluated for presence of microfilariae from 1576 semi-domesticated reindeer, 8 captive reindeer, and free-ranging cervids including 105 wild forest reindeer, 862 moose, 114 white tailed deer and 73 roe deer in 2003–2006 (−2010). Additionally, the prepatent period and the efficacy of ivermectin treatment were investigated.
Results
Rumenfilaria andersoni was found to be a common and abundant parasite in reindeer (0-90%) and wild forest reindeer (41-100%). Also moose (0-12%), white-tailed deer (15-22%) and roe deer (3%) were revealed as definitive hosts. Ivermectin was not effective against adult parasites. The prepatent period was estimated to be about five months.
Conclusions
Rumenfilaria andersoni was identified in 3 endemic cervid species and the introduced white-tailed deer, all constituting previously unrecognized host species in the Palearctic. Among moose, the prevalence and intensity were substantially lower than levels observed among subspecies of reindeer. White-tailed deer had a relatively high prevalence and density of R. andersoni microfilariae (rmf), whereas our limited data for roe deer indicated that the nematode may not have been abundant. Density and prevalence of rmf in moose and white tailed deer suggests the nematode may be adapted to these species, and that these cervids may be among the primary hosts of R. andersoni and reservoirs for transmission in Finland. Our current data suggest that R. andersoni became established in Finland recently, coincidental with introduction of white-tailed deer from North America in 1935; subsequent invasion and emergence in the past 70–80 years appears driven by climate-related factors. An alternative hypothesis for a temporally deeper occurrence for R. andersoni in Fennoscandia, representing post-Pleistocene range expansion with moose tracking deglaciation, is not firmly supported.
Keywords
Lymphatic filariosis Rumenfilaria andersoni CervidsEmerging parasitesClimate change
Background
Worldwide, filarioses represent major health hazards with important medical, veterinary and economic implications [1]. There is recent evidence documenting the range expansion of filarioid parasites of free-ranging ungulates to subarctic areas including Finland, along with an array of diseases associated with these nematode pathogens [2,3]. At northern latitudes species of several filarioid genera are known circulating among ungulate definitive hosts and various hematophagous insects as vectors [2]. Each adult female filarioid worm produces thousands of larval stages, microfilariae (mf) daily [4]; for example, Setaria labiatopapillosa contains at least 50,000 [4] and Setaria tundra over 200,000 mf [5] in the uterus. Microfilariae occur in the circulatory system or in the skin of an ungulate host where they are available to arthropod intermediate hosts (vectors) during blood meals; in the latter host, the microfilaria exsheathes, penetrates the gut wall, migrates to the haemocoel and develops to an infective stage. Vectors of different filarioid nematodes include most of the major arthropod groups known to feed on the blood of higher vertebrates, i.e. biting midges, blackflies, horse and deer flies, mosquitoes, lice, fleas, mites and ticks [6].
Microfilariae can be demonstrated in definitive hosts from blood (or skin) samples and are thus a good means for establishing diagnostics of infection among free-ranging and domestic ungulates [6]. Occurrence of Setaria sp. mf has previously been reported in reindeer (Rangifer tarandus tarandus) blood from Alaska [7], and from Sweden [8]. In Finland these parasites were demonstrated among semi-domesticated reindeer and wild cervids during the last decade [3]. Notably, a maximum of over 4000 S. tundra mf/ml was found in samples of sub-adult reindeer blood during the seasonally defined peak period of microfilaraemia extending from the early June until mid-September [3]. Studies in Fennoscandia, apart from Finland, have not demonstrated the presence of mf from other filarioids in the blood circulation among cervids.
In 2003 an outbreak of parasitic peritonitis, caused by S. tundra, emerged in the Finnish reindeer population [2,3]. This outbreak was the third to have been documented, following events in 1973 among reindeer and 1989 among moose (Alces alces) [2,3]. The outbreaks were associated with warm summer weather conditions, specifically mean temperatures during the summer months exceeding 14°C [9].
Epidemiological studies of mf of
S. tundra
in reindeer blood [
3
] led to the discovery of a new/unidentified filarioid in January 2004. These mf (Figure
1
a) were abundant in blood samples from cervids, especially reindeer. Subsequently, adult parasites (Figure
1
b) were found inhabiting the lymphatic vessels adjacent to the rumen of adult hosts, based on necropsies performed in December 2006. Identity of these previously unrecognized filarioids was shown, based on comparative morphology, to be
Rumenfilaria andersoni
Lankester and Snider, 1982 (Splendidofilariinae), a species considered to be endemic to North America and which had not been documented in Eurasian hosts and localities [
10
]. This nematode was originally described in one moose (
Alces americanus
) from eastern Canada. The authors could not accurately describe the localization in the host but considered that adult nematodes were in the venous system [
11
]. In North America, for many years, the parasite was known only from the original description.
Rumenfilaria
was recently documented in Alaska where it occurs in over 70% of moose (based on mf), suggesting a broad geographic range in the Nearctic [
12
]. Interestingly, it has not been reported in subspecies of caribou or other high latitude ungulates, nor in other cervids including species of
Cervus
and
Odocoileus
in the temperate and boreal zone of North America, nor is it apparently known from other localities across Eurasia [
10
,
12
]. The detection of adult
R. andersoni
nematodes in reindeer represents the first lymphatic filarioid to be recognized in artiodactyles, which make our findings especially significant.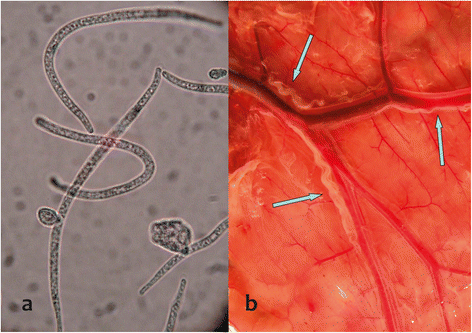 The main objective of our study was to monitor the dynamics of R. andersoni during a period of an apparently rapid geographic range expansion in Finnish Lapland. To achieve this, we explored basic biology of the parasite, including life history parameters such as host distribution, infection reservoirs, prepatent period, life span of adult nematodes and duration of microfilaraemia. One of the aims was also to collect an extensive data set about the prevalence of filarioid nematodes in cervids during an outbreak, which would serve as a reliable baseline for future monitoring. To achieve these goals, we collected and archived parasitological samples from reindeer and other cervid species over a large spatial and temporal scale. These data contributed to a developing understanding of the impact of this apparently new parasite for northern boreal ecosystems of Fennoscandia and also provide insights for faunal dynamics across the Holarctic.
Methods
Sampling of hosts and localities
Sampling was designed to explore the distribution of filarioid nematodes based on detection of microfilariae in blood samples acquired from reindeer and other potential cervid hosts in Finland and in some cases more broadly in Fennoscandia. Our sampling protocols included semi-domesticated reindeer, captive reindeer, and other wild, free-ranging cervids as outlined below.
Results
During 2004–2006, R. andersoni was found to be a common and abundant parasite in reindeer. We documented the distribution of the parasite in adults and calves of multiple reindeer herds, and demonstrated the presence of the parasite in all species of cervids, sampled in Finland. Based on comparison to samples from 1997, there has been an apparent broadening or expanding distribution for this filarioid in Finland consistent with previous introduction and invasion. We examine specific attributes of these data and infections.
Sampling of hosts and localities
Conclusions
Rumenfilaria andersoni along with Setaria tundra are prominent filarioid nematodes now recognized to be widespread in Finland among artiodactyle hosts. In addition to semi-domestic reindeer, lymphatic dwelling R. andersoni was identified for the first time in Europe among endemic moose, wild forest reindeer and roe deer and in the introduced population of white-tailed deer. The parasite appears to have been originally introduced and established in Finland coincidental with translocation of white-tailed deer from North America in 1935. Subsequent expansion, involving both geographic and host colonization, has to a large part been driven by accelerating climate warming. Shifts in temperature directly determine parasite development and opportunity for transmission mediated by interactions of swarming hematophagous insect vectors and ungulate definitive hosts in the context of increasingly permissive environments. A signature for south to north expansion in Finland is apparent with invasion and emergence over the past decade being related to both cumulative and extreme climate/weather events. Emergence of R. andersoni in reindeer occurred simultaneously with an outbreak of S. tundra, suggesting common factors of temperature and humidity although different vectors are indicated by the discrete circadian periodicity of microfilaremia associated with these filarioids.
We demonstrate that parasite life history is characterized by intense infections of adults and microfilariae in ungulate hosts, an extended prepatent period near 5 months, and considerable longevity for mature nematodes. A midsummer window for transmission is supported by the seasonally defined peak in rmf density observed in reindeer, and by the well-known attacks on herds of caribou/reindeer by massive swarms of blood-feeding insects. Among moose and white tailed deer the overall prevalence and intensity was substantially lower than that observed among reindeer. This suggests the nematode may be adapted to these Alceini and Odocoileini, and that these cervids may be among the primary hosts of R. andersoni; high intensity infections in reindeer may reflect a recent association with naïve hosts. The pathological impact of R. andersoni on reindeer health and well-being remains unknown, although it is highly probable that substantial density of rmf may have negative systemic effects, consistent with other filarioids in wildlife species and humans. Our study highlights the interactions of climate and host-parasite biology, providing a deeper understanding for processes of expansion and emergence and recognition of common invasion pathways in northern systems.
Declarations
Acknowledgements
The authors thank Ministry of Agriculture and Forestry (MAKERA) for funding the Reindeer Health Care Program, which constituted the basis of this study. We also thank the personnel of the Oulu University Experimental Zoo and the laboratory personnel of Evira in Oulu, for assistance, and Tomas Orro, who gave helpful comments on the analysis of the data. We are gratitude to reindeer veterinarian in Lapland and hunters all over Finland for cooperation and sample collection.
We thank also anonymous reviewers for the constructive criticism to improve the quality of this manuscript.
This work was partly done under the frame of EurNegVec COST Action TD1303 (European Network for Neglected Vectors and Vector-Borne Infections).
Authors' Affiliations
(1)
Finnish Food Safety Authority (Evira), Helsinki, Finland
(2)
Finnish Food Safety Authority Evira (FINPAR), Oulu, Finland
(3)
US National Parasite Collection, ARS, USDA, Animal Parasitic Diseases Laboratory, Beltsville, USA
References
World Health Organization, The Weekly Epidemiological Record (WER). 2007;82:361–80.Google Scholar
Laaksonen S, Kuusela J, Nikander S, Nylund M, Oksanen A. Parasitic peritonitis outbreak in reindeer (Rangifer tarandus tarandus) in Finland. Vet Rec. 2007;160:835–41.View ArticlePubMedGoogle Scholar
Laaksonen S, Solismaa M, Orro T, Kuusela J, Saari S, Kortet R, et al. Setaria tundra microfilariae in reindeer and other cervids in Finland. Parasitol Res. 2009;104:257–65. doi:10.1007/s00436-008-1184-0.View ArticlePubMedGoogle Scholar
Nelson GS. The pathology of Filarial infections. Helminth Abst. 1966;35:311–36.Google Scholar
Nikander S, Laaksonen S, Saari S, Oksanen A. The morphology of the filaroid nematode Setaria tundra, the cause of peritonitis in reindeer Rangifer tarandus. J Helminth. 2007;81:49–55.View ArticlePubMedGoogle Scholar
Anderson RC. The Superfamily Filarioidea in Nematode parasites of vertebrates; their development and transmission. 2nd ed. New York: CABI Publishing; 2000.View ArticleGoogle Scholar
Dietrich RA, Luick JR. The Occurence of Setaria in reindeer. J Wildl Dis. 1971;7:242–5.View ArticleGoogle Scholar
Rehbinder C. Some vector borne parasites in Swedish reindeer (Rangifer tarandus tarandus). Rangifer. 1990;10:67–73.View ArticleGoogle Scholar
Laaksonen S, Pusenius J, Kumpula J, Venäläinen A, Kortet R, Oksanen, et al. Climate change promotes the emergence of serious disease outbreaks for Filarioid nematodes. Ecohealth. 2010; doi:10.1007/s10393-010- 0308-z.Google Scholar
Laaksonen S, Saari S, Nikander S, Oksanen A, Bain O. Lymphatic dwelling filarioid nematodes in reindeer (Rangifer tarandus tarandus) in Finland identified as Rumenfilaria andersoni Lankester and Snider, 1982 (Splendidofilariinae). Parasite. 2010;17:23–31. doi:10.1007/s10393-010-0308-z.View ArticlePubMedGoogle Scholar
Lankester MW, Snider JB. Rumenfilaria andersoni n. gen., n. sp. (Nematoda: Filarioidea) in moose, Alces alces (L.), from northwestern Ontario, Canada. Can J Zool. 1982;60:2455–8.View ArticleGoogle Scholar
Kutz SJ, Ducrocq J, Verocai G, Hoar B, Colwell D, Beckmen K, et al. Parasites in ungulates of Arctic North America and Greenland: a view of contemporary diversity, ecology, and impact in a world under change. D. Rollinson and S.I. Hays (eds.). Elsevier. Adv Par. 2012;79:99–252.View ArticleGoogle Scholar
Georgi JR. Diagnostic Parasitology. In: Georgi JR, Georgi ME, editors. Parasitology for Veterinarians. 4th ed. Philadelphia: W.B. Saunders Company; 1985. p. 261–2.Google Scholar
Nieminen M. Suomen poronhoidon historia ja kehitys. (The history and developement of Finnish reindeer management). Poromies. 2006;6:26–9 [in Finnish].Google Scholar
Finnish Wildlife Agency: Riistaweb. http://riistaweb.riista.fi/riistatiedot/riistatietohaku.mhtml.
Hoberg EP, Brooks DR. A macroevolutionary mosaic: Episodic host-switching, geographic colonization, and diversification in complex host-parasite systems. J Biogeogr. 2008;35:1533–50.View ArticleGoogle Scholar
Hoberg EP, Brooks DR. Episodic processes, invasion, and faunal mosaics in evolutionary and ecological time. In: Rohde K, editor. The Balance of Nature and Human Impact. Cambridge: Cambridge University Press; 2013. p. 199–213.View ArticleGoogle Scholar
Agosta SJ, Janz N, Brooks DR. How generalists can be specialists: resolving the "parasite paradox" and implications for emerging disease. Zoologia. 2010;27:151–62.View ArticleGoogle Scholar
Sonin MD. Filariata of Animals and Man and Diseases Caused by Them. 1975. Part III. Filariidae, Onchocercinae. Osnovy Nematodologii Volume 24. Akad Nauk SSSR, Gel'mintologicheskaya Laboratoriia, Moskva. [English Translation, 1985, Amerind Publishing Company, New Dehli. 476 p].Google Scholar
Pryadko EI. Gel'minty Olenei [Helminths of the reindeer]. Akad Nauk Kazakskoi SSR Institut Zoologii. Izdatel'stvo Nauka Kazakskoi SSR, Alma Ata; 1976. p. 229.Google Scholar
Govorka IA, Maklakova LP, Mitykh IA, Pel'gunov AN, Rukovskii AS, Semenova MK, et al. Gel'minty dikikh koputnykh Vostochnoii Evropy [Helminths of wild ungulates in Eastern Europe]. Akademiia Nauk SSSR, Laboratoriia Gel'mintologii. Izdatel'stvo Nauka, Moskva; 1988. p. 208.Google Scholar
Nummi P. Suomeen istutetut riistaeläimet [Game animals introduced in Finland], p. 26–29. Julkaisusarjan 9. osa, 2. uudistettu painos. Helsinki: Helsingin yliopisto, Maatalous- ja Metsäeläintieteen Laitos; 1988. ISBN 951-45-4760-8. [in Finnish].Google Scholar
Niedziałkowska M, Hundertmark KJ, Jędrzejewska B, Niedziałkowski K, Sidorovich VE, Górny M, et al. Spatial structure in European moose (Alces alces): genetic data reveal a complex population history. J Biogeogr. 2014;11:2173–84. doi:10.1111/jbi.12362.View ArticleGoogle Scholar
Hoberg EP. Invasive processes, mosaics and the structure of helminth parasite faunas. Rev Sci Tech. 2010;29:255–72.PubMedGoogle Scholar
Agosta SJ, Klemens JA. Ecological fitting by phenotypically flexible genotypes: implications for species associations, community assembly and evolution. Ecol Lett. 2008;11:1123–34.PubMedGoogle Scholar
Hoerauf A, Satoguina J, Saeftel M, Specht S. Immonumodulation by filarial nematodes. Parasite Immunol. 2005;27:417–29.View ArticlePubMedGoogle Scholar
Kutz S, Hoberg EP, Molnár PK, Dobson A, Verocai G. A walk on the tundra: Host-parasite interactions in an extreme environment. Int J Parasitol Parasites Wildl. 2014;3:198–208.View ArticlePubMed CentralPubMedGoogle Scholar
Hoberg EP, Brooks DR. Climate change, biodiversity dynamics and emerging infectious disease. Theme Issue- Climate Change and Vector-Borne Diseases. Philos Trans R Soc Lond B Biol Sci. 2015;370:20130553. dx.doi.org/10.1098/rstb.2013.0553.View ArticlePubMedGoogle Scholar
Hoberg EP, Galbreath KE, Cook JA, Kutz SJ, Polley L. Northern host-parasite assemblages: History and biogeography on the borderlands of episodic climate and environmental transition. D. Rollinson and S.I. Hays (eds.). Elsevier. Adv Parasitol. 2012;79:1–97.View ArticlePubMedGoogle Scholar
Laaksonen S, Solismaa M, Kortet R, Kuusela J, Oksanen A. Vectors and transmission dynamics for Setaria tundra (Filarioidea; Onchocercidae), a parasite of reindeer in Finland. Parasit Vectors. 2009;2:3.View ArticlePubMed CentralPubMedGoogle Scholar
Bain O, Babayan S. Behaviour of filariae: Morphological and anatomical signatures of their life style within the arthropod and vertebrate hosts. Filaria J. 2003;2:16.View ArticlePubMed CentralPubMedGoogle Scholar
Finnish Meteorological Institute.http://ilmatieteenlaitos.fi/kesa-2008.
Mohan RN. Pathology of filarial infections with lumen dwelling parasites. J Com Dis. 1976;8:118–36.Google Scholar
Adcock JL, Hibler CP. Vascular and Neuro-ophtalmic Pathology of Elaeophorosis in Elk. Path vet. 1969;6:185–213.View ArticleGoogle Scholar
Laaksonen S, Oksanen O, Orro T, Norberg H, Nieminen M, Sukluara A. Efficacy of different treatment regimes against setariosis (Setaria tundra, Nematoda: Filarioidea) and associated peritonitis in reindeer. A Vet Scand. 2008;50:49. doi:10.1186/1751-0147-50-49.View ArticleGoogle Scholar
Brown KR, Ricci FM, Ottesen EA. Ivermectin: effectiveness in lymphatic filariasis. Parasitology. 2000;121:133–46.View ArticleGoogle Scholar
Hoberg EP, Kutz SJ, Cook JA, Galaktionov K, Haukisalmi V, Henttonen H, et al. Parasites in terrestrial, freshwater and marine systems. In: Meltofte H, editor. Arctic Biodiversity Assessment- Status and Trends in Arctic Biodiversity. Akureyi, Iceland: Conservation of Arctic Floral and Fauna, Arctic Council; 2013. p. 476–505.Google Scholar
Orihel TC, Eberhard ML. Zoonotic filariasis. Clin Microbiol Rev. 1998;11:366–81.PubMed CentralPubMedGoogle Scholar
Copyright
© Laaksonen et al.; licensee BioMed Central. 2015
This is an Open Access article distributed under the terms of the Creative Commons Attribution License (http://creativecommons.org/licenses/by/4.0), which permits unrestricted use, distribution, and reproduction in any medium, provided the original work is properly credited. The Creative Commons Public Domain Dedication waiver (http://creativecommons.org/publicdomain/zero/1.0/) applies to the data made available in this article, unless otherwise stated.