Molecular analyses on host-seeking black flies (Diptera: Simuliidae) reveal a diverse assemblage of Leucocytozoon (Apicomplexa: Haemospororida) parasites in an alpine ecosystem
Parasites & Vectors
2015
8:343
Received: 25 February 2015
Accepted: 22 April 2015
Published: 25 June 2015
Abstract
Background
Molecular studies have suggested that the true diversity of Leucocytozoon (Apicomplexa: Haemospororida) species well exceeds the approximately 35 currently described taxa. Further, the degree of host-specificity may vary substantially among lineages. Parasite distribution can be influenced by the ability of the parasite to infect a host, vector preferences for certain avian hosts, or other factors such as microhabitat requirements that increase the probability that vertebrate hosts and vectors are in frequent contact with each other. Whereas most studies of haemosporidians have focused on passerine hosts, sampling vectors in the same habitats may allow the detection of other lineages affecting other hosts.
Methods
We sampled abundant, ornithophilic black flies (Simuliidae) across a variety of sites and habitats in the Colorado Rocky Mountains throughout the summer of 2007. Black flies were screened with PCR using Leucocytozoon-specific primers that amplify a portion of the cytochrome b gene, and the sequences were compared to the haplotypes in the MalAvi database. Infections of Leucocytozoon from birds sampled in the same area were also included.
Results
We recovered 33 unique haplotypes from the black flies in this study area, which represented a large phylogenetic diversity of Leucocytozoon parasites. However, there were no clear patterns of avian host species or geography for the distribution of Leucocytozoon haplotypes in the phylogeny.
Conclusions
Sampling host-seeking vectors is a useful way to obtain a wide variety of avian haemosporidian haplotypes from a given area and may prove useful for understanding the global patterns of host, parasite, and vector associations of these ubiquitous and diverse parasites.
Keywords
Haemosporidian Leucocytozoon Simulium cytb haplotypesBlack flyParasiteMalaria
Background
Members of the genus Leucocytozoon are globally distributed avian haemosporidian parasites [1, 2]. These parasites are transmitted among avian hosts by black fly vectors (Diptera: Simuliidae). Although at least 35 morphologically defined species have been described to date [1], molecular studies suggest that the true diversity well exceeds this number e.g. [2–4]. Several of the molecular lineages have demonstrated that the degree of host-specificity varies; some lineages are found consistently only in one bird species, whereas other lineages develop successfully in a wide range of taxonomically varied hosts [2, 3]. Further, species of Leucocytozoon can complete development across a large range of simuliid vectors [1, 5]. Because both the vertebrate host and dipteran vector are essential for the complete development of Leucocytozoon species [1], the distribution of parasites will be influenced by the ability of the parasite to infect a particular vertebrate host, active vector preferences for certain avian hosts, and other factors such as climatic variables and microhabitat requirements that place vertebrate hosts and vectors in frequent contact with each other [6].
The objective of this study was to sample a set of host-seeking black flies across a variety of sites and habitats in an alpine ecosystem and to use molecular methods to assess the diversity of Leucocytozoon parasites in these vectors. Our hypotheses were that the flies would contain a wider variety of parasite lineages than would be obtained by sampling the avian community, and parasite distributions would be structured by avian host or habitat type.
Results and discussion
Parasite prevalence and blood meal analysis
During the summer of 2007, we collected a total of 2921 black flies including 1929 ornithophilic species specimens belonging to six species/species complexes (Additional file 1). We subsampled from three of five genera and screened a total of 174 pools of black flies with PCR. We detected Leucocytozoon cytb amplicons from 67 out of 145 (46.2 %) pools of S. silvestre, two out of 14 (14.3 %) pools of Greniera denaria, one of the two Simulium exulatum pools and no positives from any of the 13 mammalophilic Prosimulium spp. pools. Twenty-one of the amplicons from the S. silvestre pools and one of the G. denaria pools yielded sequences with multiple peaks in the electropherograms. PCR products from these pools were subsequently cloned.
The majority of black flies sampled for Leucocytozoon parasites had not fed recently; no sampled black flies had visible blood in their abdomens and only four of the S. silvestre pools that were screened with vertebrate-specific primers showed any amplification. These results suggest that parasite amplification could reflect either of the following two scenarios: 1) established and potentially infectious parasite stages rather than parasites present in the blood meal that would not be transmitted, or 2) persisting parasite DNA from abortive sporogony [16]. Of the pools positive for vertebrate DNA, three (SS46d, SS42a, and SS39E) yielded sequences identified as Dusky Grouse (Dendragapus obscurus). The fourth pool (SS44A) yielded a sequence identified as an American Crow (Corvis brachyrhynchos).
Diversity of Leucocytozoon sequences in Colorado black flies
We obtained 33 unique cytb sequences from 60 of the 70 positive black fly pools that were successfully sequenced (Table 1, GenBank Accession Numbers KR052933-KR052965). Twenty-three of the 33 haplotypes were observed only from a single trapping event; however, the other 10 haplotypes occurred in more than one, with several haplotypes detected in different sites, in different habitat types (meadow, forest, or willow) and at different dates throughout the sampling period. Most notably, haplotype COLBF01 was detected in both S. silvestre and G. denaria and was present in the system from the first sampling period until the last sampling event. Figure 1 presents the full phylogeny of these sequences in the context of the MalAvi Leucocytozoon haplotypes from around the globe and from 13 different host orders, rooted with five Haemoproteus (Parahaemoproteus) sequences. The tips of this tree corresponding to sequences observed in the Colorado black flies are shown with large dots. Although we did not observe Colorado black fly-borne Leucocytozoon haplotypes in each of the major clades of the full Leucocytozoon tree, Fig. 1 demonstrates that there is a great diversity of Leucocytozoon parasites present in this particular vector community, with no evidence that limited in situ diversification has occurred.
Figure
2
shows a more detailed phylogeny of the 33
Leucocytozoon
haplotypes that we obtained from the black flies. This phylogeny was analyzed in the context of the nine sequences of
Leucocytozoon
from passerine birds captured at the same site [
14
]. Also included were the top BLAST matches for each of the black-fly-borne parasites in the MalAvi database and a set of MalAvi haplotypes that came from morphologically identified species of
Leucocytozoon
. Overall, the nodal support of this phylogeny is low, owing to the limited diversity and small fragment size analyzed. However, a few patterns from the analysis are worthy of mention. First, in no case, did any of the black-fly-borne
Leucocytozoon
haplotypes that we obtained exactly match haplotypes detected in birds from the same site; this suggests that the potential vector(s) feed(s) primarily on non-passerines, which comprise the majority of the birds sampled for blood parasites on these field sites. However, one haplotype (COLBF_10) did cluster with the parasites sequenced from a Mountain Bluebird at RMBL, and several of the fly-borne haplotypes (COLBF_11, COLBF_13, and COLBF_23) were part of a clade that included a haplotype isolated from a local Lincoln's Sparrow, as well as haplotypes detected in both Alaskan and Peruvian birds.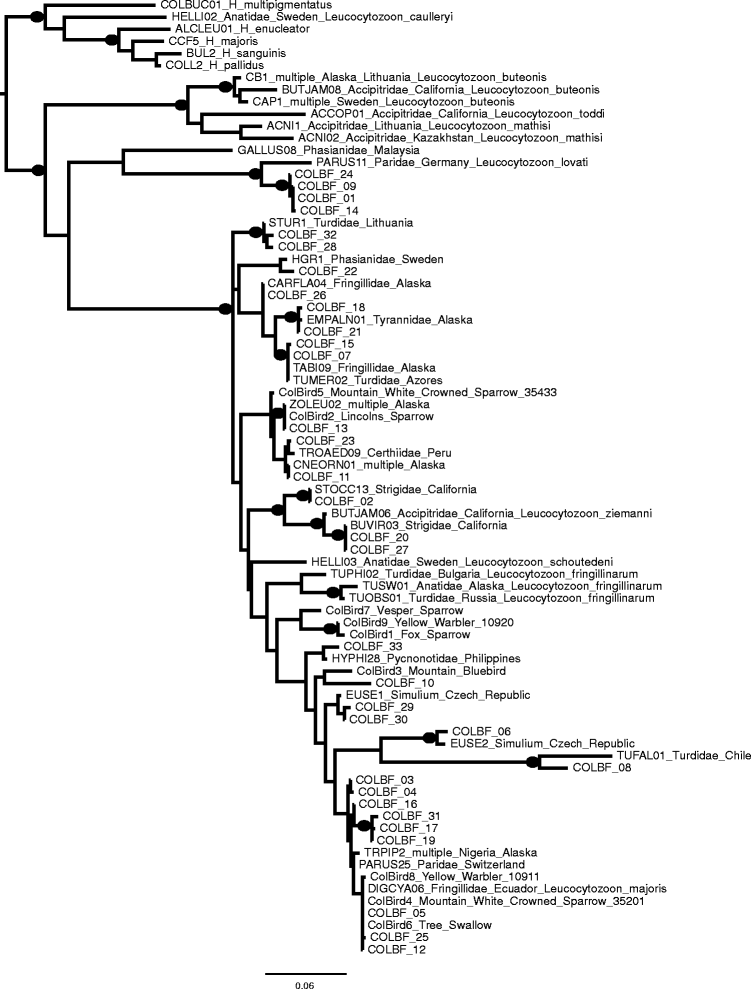 Several of our black fly-borne parasite sequences fell within clades that contained haplotypes of Leucocytozoon reported in a recent study that sampled four types of blood parasites in passerine birds over a latitudinal gradient in Alaska [17]. For example, COLBF_26 was extremely similar to haplotype CARFLA04 (Table 1), which was obtained from a Redpoll, a bird that is partially migratory. COLBF_07 and COLBF_15 were similar to a sequence from a parasite in a Two-barred Crossbill (Table 1), another bird that is a resident in both Alaska and Colorado. Although these results could suggest that parasite genotypes move between these locales in either migratory birds or spreading populations, there are also numerous cases where close relatives come from geographically distant locales, such as the clustering of COLBF_33 with a parasite sequence detected in the Philippines or two haplotypes (COLBF_28 and COLBF_32) with their closest relative in our tree being from a parasite in a bird sampled in Lithuania. Overall, these results suggest that some common haplotypes have wide geographic ranges and have turned up in locations where a large amount of sampling for avian haemosporidians has occurred (e.g. Lithuania, Sweden), a pattern that has also been observed for the other genera infecting birds, such as the GRW4 lineage of Plasmodium relictum [18].
Parasite-vector associations
We obtained a large diversity of Leucocytozoon haplotypes from S. silvestre, and the distribution of parasite haplotypes was not strongly affected by avian host, habitat, or time of season. The large diversity of parasite haplotypes recovered from S. silvestre suggests that it is probably an important vector for a multitude of Leucocytozoon species on our field sites. The degree of overlap in emergence of S. silvestre with bird breeding on these sites, its ornithophilic nature, and its abundance across all habitat types and throughout much of the summer season reinforce the vector potential of this black fly species and might explain why there were no strong effects of avian host, habitat, and time of season on the distribution of Leucocytozoon haplotypes. Both S. silvestre and S. craigi feed on a variety of avian hosts [reviewed in 7]. Based on the sheer number of individuals recovered from light traps, S. silvestre was the most abundant ornithophilic black fly on our field sites, and its abundance was not restricted by habitat type. Further, S. silvestre reaches peak abundance during the time of season (June 25 – July 14) when most bird species are hatching and feeding susceptible young of the year on our field sites [14]. Other studies have implicated S. silvestre as vectors for a number of Leucocytozoon species [summarized in 7].
The presence of parasite haplotypes amplified from G. denaria, a black fly species that reaches peak abundance early in the summer season [14], further indicates that these parasite haplotypes may come from non-passerine bird hosts we were unable to sample in the field (i.e. resident species or bird species in different orders). Hosts of Greniera species are poorly known; the only host record for the entire genus is the Black Grouse (Tetrao tetrix) from a study in northern Finland [19]. A wider sampling of the avian and ornithophilic black fly communities is needed to achieve a concrete understanding of how avian hosts, black fly vectors, and environmental factors may shape the distribution of Leucocytozoon species on our field sites and globally.
Conclusions
To our knowledge, this is the first study to amplify parasite DNA from non-engorged, host-seeking black flies. Previous studies on field-captured black flies amplified a diversity of Leucocytozoon DNA from blood-fed individuals [6]. However, parasite DNA amplified from the abdomens of blood-fed individuals does not provide proof of vector competence. Not all Leucocytozoon species ingested with a bloodmeal can develop infectious stages in the salivary glands of a given black fly species and successfully transmit to the next avian host. These results present only tentative links among S. silvestre, a variety of alpine birds, and potential transmission of Leucocytozoon parasites. The black flies in our study were collected in CO2-baited CDC light traps and were not blood engorged; therefore, most can be presumed to be host-seeking individuals. Thus, parasite sequences amplified from these individuals may potentially be generated from parasite transmission stages, indicating that S. silvestre is a competent vector for these Leucocytozoon strains. Thus, sampling avian haemosporidian parasites via the collection and screening of host-seeking vectors may provide a means of obtaining a broader sampling of the genetic diversity of these parasites within a locality.
Abbreviations
RMBL:

Rocky mountain biological labs
CDC:

Centers for disease control
PCR:

Polymerase chain reaction
Cytb:

Cytochrome oxidase subunit b
Declarations
Acknowledgments
We would like to thank Stanley Kovak, Morgan Graham, and Nathaniel Schafrick for assistance in the field, Ian Billick and the RMBL staff for lab space and support in the field, and Bryan Falk and Stephen Gaughran for assistance in the lab. We also would like to thank Betsy Foxman, Bobbi Low, Emily Silverman, and Johannes Foufopoulos, as well as the Low, Silverman, and Foufopoulos lab members, for advice on experimental design and analysis. Funding for this study comes from grants provided by the University of Michigan Rackham discretionary funds, Interdisciplinary Perspectives on Infectious Diseases Training Grant, and School of Natural Resources & Program in the Environment Alumni Incentive, and the Sackler Institute for Comparative Genomics.
Authors' Affiliations
(1)
Department of Infectious Diseases, College of Veterinary Medicine, Odum School of Ecology, University of Georgia, Athens, USA
(2)
Entomology Program, Clemson University, Clemson, USA
(3)
Sackler Institute for Comparative Genomics, American Museum of Natural History, New York, USA
Copyright
© Murdock et al. 2015
This is an Open Access article distributed under the terms of the Creative Commons Attribution License (http://creativecommons.org/licenses/by/4.0), which permits unrestricted use, distribution, and reproduction in any medium, provided the original work is properly credited. The Creative Commons Public Domain Dedication waiver (http://creativecommons.org/publicdomain/zero/1.0/) applies to the data made available in this article, unless otherwise stated.