Anthelmintic activity of selected ethno-medicinal plant extracts on parasitic stages of Haemonchus contortus
Parasites & Vectors
2016
9:187
Received: 27 November 2015
Accepted: 16 March 2016
Published: 1 April 2016
Abstract
Background
Parasitic roundworms (nematodes) cause substantial morbidity and mortality in livestock animals globally, and considerable productivity losses to farmers. The control of these nematodes has relied largely on the use of a limited number of anthelmintics. However, resistance to many of these these anthelmintics is now widespread, and, therefore, there is a need to find new drugs to ensure sustained and effective treatment and control into the future.
Methods
Recently, we developed a screening assay to test natural, plant extracts with known inhibitory effects against the free-living worm Caenorhabditis elegans. Using this assay, we assessed here the effects of the extracts on motility and development of parasitic larval stages of Haemonchus contortus, one of the most important nematodes of small ruminants worldwide.
Results
The study showed that two of five extracts from Picria fel-terrae Lour. have a significant inhibitory effect (at concentrations of 3–5 mg/ml) on the motility and development of H. contortus larvae. Although the two extracts originated from the same plant, they displayed different levels of inhibition on motility and development, which might relate to the presence of various active constituents in these extracts, or the same constituents at different concentrations in distinct parts of the plant.
Conclusions
These results suggest that extracts from P. fel-terrae Lour. have promising anthelmintic activity and that more broadly, plant extracts are a potential rich source of anthelmintics to combat helminthic diseases.
Keywords
Medicinal plant extractsAnthelmintic activityDevelopmental assay In vitro-assay
Background
Parasitic diseases cause major morbidity and mortality in animals globally, and considerable losses to food production. For instance, haemonchosis is one of the most significant parasitic diseases of livestock worldwide, affecting hundreds of millions of small ruminants (including sheep and goats) and causing substantial losses to the livestock industry estimated at tens of billions of dollars per annum [1, 2]. The causative agent, Haemonchus contortus (barber's pole worm; Nematoda: Strongylida), feeds on blood in the stomach (abomasum) and causes gastritis, anaemia and associated complications, leading to production losses and death in severely affected animals. This nematode is transmitted orally from contaminated pasture to the host through a complex life-cycle [3]: eggs are excreted in the host faeces and hatch into first-stage larva (L1) usually within 1 day and then develop through to the second (L2) and third (L3) larval stages in about one week. Infective L3s are then ingested by the host, exsheath (xL3) and, after a histotrophic phase, develop through fourth-stage larvae (L4) to dioecious adults (within 3 weeks) in the abomasum.
Although a vaccine (Barbervax®) was recently released in Australia to support anthelmintic treatment programs against haemonchosis, the control of H. contortus and related nematodes relies largely on the use of anthelmintic drugs. The excessive use of such drugs has led to widespread resistance in these nematodes to most classes of anthelmintics [4–10], seriously compromising the control of parasites in many countries. Although the development of the compounds monepantel [11, 12] and derquantel (2-deoxy-paraherquamide) [13] have provided fresh hope for the development of new classes of nematocides, success in discovering new drugs has been limited.
Natural compounds from plants provide a unique opportunity in the search for new, effective and safe anthelmintics [14, 15]. In China, for example, plant-derived medicines have been used (for centuries) to treat many disease conditions in humans [16, 17] and other animals, including parasitic diseases [18–20]. It is likely that many of these natural medicines may be acting on pathways in worms that differ from targets of currently used anthelmintic drugs [21, 22] and, therefore, might be able to kill nematodes that are resistant to one or more anthelmintics. However, for the vast majority of such natural compounds, there has been limited systematic, scientific evaluation of efficacy, mode of action and identity of their active component(s) [23–25], and no plant-based anthelmintic is yet commercially available.
Recently, we tested eight extracts (PE1 to PE8) from the plants
Picria fel-terrae
Lour.,
Linariantha bicolor
,
Lansium domesticum
and
Tetracera akara
for nematocidal activity against seven strains of the free-living nematode
Caenorhabditis elegans
(one wild-type and six strains with GFP-tagged stress response pathways), and characterised the stress responses caused by these extracts [
26
]. These plants are widely distributed throughout Asia and have been used by indigenous Malaysian healers to treat worm infections and gastrointestinal disorders in humans [
26
–
28
]. Five of the eight plant extracts (designated PE1, PE2, PE4, PE5 and PE7; Table
1
), had significant nematocidal activity against both larval and adult stages of
C. elegans
[
26
]. The most effective extracts were from
P. fel-terrae
[
26
], and triggered stress response pathways that were distinct from commercially available anthelmintics (doramectin and levamisole). This study showed that using traditional knowledge of plant medicinal properties, in combination with a
C. elegans in vitro
-screen, provided a practical and economical approach to search for nematocides. Despite this progress, these plant extracts had not been tested on any parasitic nematodes.
Table 1
Sources of the plant extracts used in this study
| Extract/origin | SBC specimen reference number | Plant species | Plant family |
| --- | --- | --- | --- |
| PE1/whole plant | A000423010301 | Picria fel-terrae Lour. | Scrophulariaceae |
| PE2/leaves | A000423020301 | Picria fel-terrae Lour. | Scrophulariaceae |
| PE4/roots | A001293020103 | Linariantha bicolor | Acanthaceae |
| PE5/leaves | A001293030103 | Linariantha bicolor | Acanthaceae |
| PE7/whole plant | A002698010103 | Lansium domesticum | Meliaceae |
The recent development of a new and inexpensive whole-organism assay for the rapid screening of chemical compounds against parasitic stages of H. contortus [29, 30] has provided a unique prospect to screen plant extracts for activity against one of the most important parasitic nematodes of small ruminants, as a starting point for future assessments on other nematodes. This screening assay, which relies on video-capture to measure the inhibitory properties of compounds on the motility of parasitic larval stages of H. contortus and subsequent, morphological assessment of larval development, was employed specifically to screen extracts PE1, PE2, PE4, PE5 and PE7 against this parasitic nematode.
Results
To test the effects of the five plant extracts on the motility of xL3 stage of
H. contortus,
PE1, PE2, PE4, PE5 and PE7 were each assessed at five concentrations (1, 2, 3, 4 and 5 mg/ml). Both PE1 and PE4 significantly reduced xL3 motility in a dose-dependent manner with reference to the negative-control. Although PE1 did not reduce motility significantly at 1 and 2 mg/ml, it did at 3, 4 and 5 mg/ml (Fig.
1
). PE4 significantly reduced xL3 motility at 4 mg/ml and 5 mg/ml, but did not affect motility at lower concentrations (Fig.
1
). PE2 had a significant, adverse effect on xL3 motility at all five concentrations tested, but this effect was not dose dependent (Fig.
1
). Neither PE5 nor PE7 significantly reduced xL3 motility with reference to negative-controls (Fig.
1
). Although PE1, PE2 and PE4 significantly inhibited xL3 motility after 48 h (PE1:
F
(5, 48)
 = 28.77; PE2:
F
(5, 48)
 = 27.24; PE4:
F
(5, 48)
 = 9.802; all
P
 ≤ 0.001), these extracts did not demonstrate statistically significant, time-dependent effects on these larvae, with no increased inhibition of motility at 72 h (Fig.
2
). Negative-controls showed a constant motility index (Mi) throughout all experiments.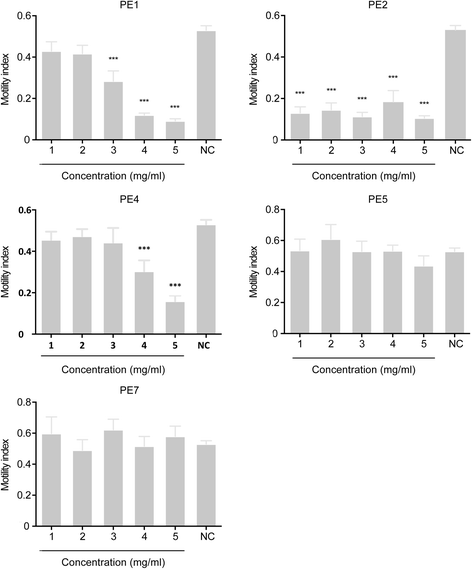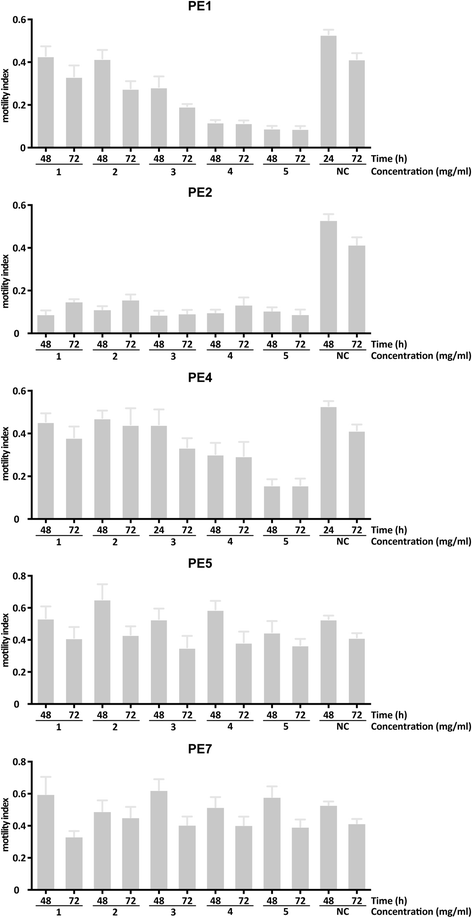 After seven days, the effects of individual extracts on L4 development were assessed (Fig.
3
). After this time, 76.7 % of untreated xL3s developed to L4s in negative-control wells. By contrast, 17.3 % and 5.9 % of xL3s exposed to 5 mg/ml of PE1 and PE4, respectively, developed to L4s after 7 days. Although PE2, PE5, PE7 and monepantel reduced the development of xL3 to L4, this reduction was not significant (Fig.
3a
). Approximately 80 % of untreated xL3s as well as xL3s exposed to extract PE2, PE4, PE5 or PE7 (5 mg/ml each) or monepantel (20 μM) developed to L4s following the addition of fresh LB*, after 72 h of incubation. By contrast, only 41.8 % of xL3s exposed to extract PE1 developed to L4s, even in the subsequent absence of PE1, after incubation for 72 h (Fig.
3b
).

Discussion
The present results show that extracts PE1 and PE2 from P. fel-terrae Lour. have considerable activity against the parasitic larval stages of H. contortus in vitro. Extract PE2 was the most effective inhibitor of xL3 motility at all concentrations tested, but with no observable dose-dependent effect. This latter extract reduced worm motility, even at the lowest concentration tested (1 mg/ml), which is consistent with its effect on C. elegans [26]. Although PE1 and PE2 originate from the same plant, they showed distinctive inhibitory characteristics on both xL3 motility and L4 development of H. contortus, which might relate to the presence of different active constituents in these extracts, or the same constituents at different concentrations in different parts of the plant. Interestingly, none of the plant extracts showed significant, time-dependent effects on the larvae at the time points tested. This finding may be due to: (i) the active constituents in plant extracts having a maximum effect on H. contortus within 48 h; (ii) the degradation of active constituents in the extracts during testing in the assay, such that they are no longer effective against xL3s or L4s; (iii) xL3s may have rapidly developed an acute "resistance" or used their defence mechanism to overcome some of the effect(s) of the active constituent(s), for instance, via a complex mechanism on the cuticle of the worm [34–36].
In larval development and recovery assays, only PE1 had an adverse impact on development from xL3 to L4. Even though both PE1 and PE4 had a remarkable, adverse effect on the development of xL3s to L4s, most PE4-treated larvae recovered and developed to L4s after the removal of the plant extract and replacement with LB*. This finding suggests that the effect of extract PE4 is reversible, whereas PE1 appears to irreversibly inhibit xL3 motility and larval development. Interestingly, a similar pattern to PE4 was observed for monepantel at a dose of 20 μM. Given that the nematodes can develop resistance rapidly (sometimes after as few as three generations; [37]), a similar situation might be the case for the active, natural compound PE4. Thus, resistance development in H. contortus should be evaluated.
The finding that three of the same five plant extracts shown previously to affect C. elegans [26] significantly reduced motility and development in xL3s of H. contortus indicates variation between the free-living and parasitic nematodes in targets and/or the pathways, which might relate to genomic differences and evolutionary distance between these worms [38–40]. However, it is also possible that the absorption of constituents from the plant extracts differs between the two worms [41], or that, from a biological/evolutionary perspective, the parasitic nematode (H. contortus) is perhaps more adapted to a plant extract-rich environment in the abomasum of its ruminant host compared with the soil nematode, C. elegans. These aspects and differences in susceptibility or efficacy need to be taken into consideration when the focus of screening is on extracts or compounds expected to have an effect on a relatively wide range of related nematodes
Conclusion
Significant activities previously identified for PE1 and PE2 in C. elegans in vitro [26] were also seen in H. contortus. These findings suggest that extracts from P. fel-terrae Lour. have promising anthelmintic effects. We propose that future work should focus on attempting to fractionate extract PE1, in order to identify and characterise the constituent(s) that are active against H. contortus, and then to explore which biological pathways are affected by these components/fractions.
Declarations
Acknowledgements
Funding from the National Health and Medical Research Council (NHMRC) of Australia is gratefully acknowledged. R.K. was awarded an Australian Postgraduate Award (APA) from the Australian Government via Monash University and Swinburne University of Technology.
Open AccessThis article is distributed under the terms of the Creative Commons Attribution 4.0 International License (http://creativecommons.org/licenses/by/4.0/), which permits unrestricted use, distribution, and reproduction in any medium, provided you give appropriate credit to the original author(s) and the source, provide a link to the Creative Commons license, and indicate if changes were made. The Creative Commons Public Domain Dedication waiver (http://creativecommons.org/publicdomain/zero/1.0/) applies to the data made available in this article, unless otherwise stated.
Authors' Affiliations
(1)
Development and Stem Cells Program, Monash Biomedicine Discovery Institute and Department of Biochemistry and Molecular Biology, Monash University, Melbourne, Australia
(2)
Faculty of Veterinary and Agricultural Sciences, The University of Melbourne, Parkville, Australia
(3)
Sarawak Biodiversity Centre (SBC), Kuching, Malaysia
(4)
Department of Chemistry and Biotechnology, Faculty of Science, Engineering and Technology, Swinburne University of Technology, Victoria, Australia
(5)
Department of Health and Medical Sciences, Faculty of Health, Arts and Design, Swinburne University of Technology, Victoria, Australia
Copyright
© Kumarasingha et al. 2016