Erratum to: Molecular detection and identification of piroplasms in sika deer (Cervus nippon) from Jilin Province, China
Parasites & Vectors
2016
9:188
Received: 23 March 2016
Accepted: 23 March 2016
Published: 1 April 2016
Unfortunately, the original version of this article [
1
] contained an error. Within the results section, and in Fig.
1
, the accession numbers KT683524-KT683536 should be KT863524-KT863536. The correct version of Fig.
1
can be found below.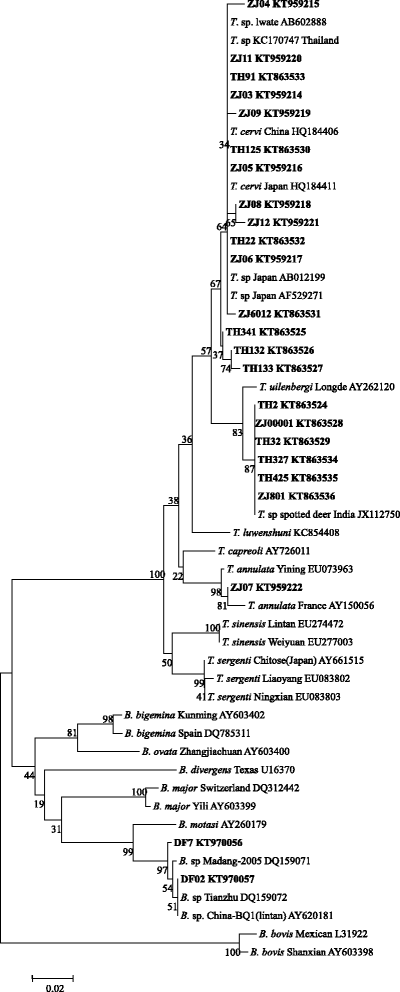 We would like to apologize for this error and for any inconvenience this may have caused.
Open AccessThis article is distributed under the terms of the Creative Commons Attribution 4.0 International License (http://creativecommons.org/licenses/by/4.0/), which permits unrestricted use, distribution, and reproduction in any medium, provided you give appropriate credit to the original author(s) and the source, provide a link to the Creative Commons license, and indicate if changes were made. The Creative Commons Public Domain Dedication waiver (http://creativecommons.org/publicdomain/zero/1.0/) applies to the data made available in this article, unless otherwise stated.
(1)
State Key Laboratory of Veterinary Etiological Biology, Key Laboratory of Veterinary Parasitology of Gansu Province, Lanzhou Veterinary Research Institute, Chinese Academy of Agricultural Science, Xujiaping 1, Lanzhou, Gansu, 730046, P. R. China
(2)
Jiangsu Co-innovation Center for Prevention and Control of Important Animal Infectious Diseases and Zoonoses, Yangzhou, 225009, P. R. China