New insights from Gorongosa National Park and Niassa National Reserve of Mozambique increasing the genetic diversity of Trypanosoma vivax and Trypanosoma vivax-like in tsetse flies, wild ungulates and livestock from East Africa
Parasites & Vectors
2017
10:337
Received: 18 March 2017
Accepted: 11 June 2017
Published: 17 July 2017
Abstract
Background
Trypanosoma (Duttonella) vivax is a major pathogen of livestock in Africa and South America (SA), and genetic studies limited to small sampling suggest greater diversity in East Africa (EA) compared to both West Africa (WA) and SA.
Methods
Multidimensional scaling and phylogenetic analyses of 112 sequences of the glycosomal glyceraldehyde phosphate dehydrogenase (gGAPDH) gene and 263 sequences of the internal transcribed spacer of rDNA (ITS rDNA) were performed to compare trypanosomes from tsetse flies from Gorongosa National Park and Niassa National Reserve of Mozambique (MZ), wild ungulates and livestock from EA, and livestock isolates from WA and SA.
Results
Multidimensional scaling (MDS) supported Tvv (T. vivax) and TvL (T. vivax-like) evolutionary lineages: 1) Tvv comprises two main groups, TvvA/B (all SA and WA isolates plus some isolates from EA) and TvvC/D (exclusively from EA). The network revealed five ITS-genotypes within Tvv: Tvv1 (WA/EA isolates), Tvv2 (SA) and Tvv3–5 (EA). EA genotypes of Tvv ranged from highly related to largely different from WA/SA genotypes. 2) TvL comprises two gGAPDH-groups formed exclusively by EA sequences, TvLA (Tanzania/Kenya) and TvLB-D (MZ). This lineage contains more than 11 ITS-genotypes, seven forming the lineage TvL-Gorongosa that diverged from T. vivax Y486 enough to be identified as another species of the subgenus Duttonella. While gGAPDH sequences were fundamental for classification at the subgenus, major evolutionary lineages and species levels, ITS rDNA sequences permitted identification of known and novel genotypes.
Conclusions
Our results corroborate a remarkable diversity of Duttonella trypanosomes in EA, especially in wildlife conservation areas, compared to the moderate diversity in WA. Surveys in wilderness areas in WA may reveal greater diversity. Biogeographical and phylogenetic data point to EA as the place of origin, diversification and spread of Duttonella trypanosomes across Africa, providing relevant insights towards the understanding of T. vivax evolutionary history.
Keywords
African animal trypanosomiasis
Wildlife
Tsetse fly
Diagnosis
Genotyping
Phylogeny
Taxonomy
Evolution
Background
Animal African trypanosomiasis (AAT) caused by Trypanosoma (Duttonella) vivax is a major challenge to livestock production in sub-Saharan Africa [1]. This species is a highly prevalent livestock pathogen across the tsetse belt (cyclical transmission) [2–5], as well as in tsetse-free areas [6, 7]. Mechanical transmission by other biting flies allows the spread of T. vivax across Africa and South America (SA) [8, 9].
Trypanosoma vivax infections vary in clinical signs and disease severity, and differences in pathogenicity have been linked to breeds of livestock, parasite strains, and geographical locations. In East Africa (EA), there is a wide variation in pathogenicity and lethality. While wild ruminants remain asymptomatic, thus acting as reservoirs, livestock species generally develop significant degrees of anaemia and a range of pathological changes. Severe hemorrhagic syndromes in cattle have been reported in Kenya and Uganda [10, 11]. Furthermore, pathological lesions in various organs and nervous signs were reported in cattle that were experimentally infected with Ethiopian isolates of unknown genotypes [6].
In West Africa (WA), T. vivax causes chronic and debilitating diseases in livestock [1, 12]. In endemic areas of SA, T. vivax infections are generally asymptomatic, with beef cattle and water buffalo usually developing chronic disease with very low parasitemia [8, 13]. However, we recently reported an outbreak in water buffaloes from the Venezuelan Llanos with high mortality, which is likely to have been induced by stressful conditions during a prolonged drought [13]. In the last decade, many outbreaks of acute disease have been reported in non-endemic SA regions, affecting naïve dairy cattle, sheep and horses, which exhibit signs of acute disease with high parasitemia, progressive haematological and neurological disorders, and often leading to death when left untreated [14–16].
Data from earlier studies revealed genetic similarities between SA (Colombian) and WA T. vivax [17, 18]. This finding was corroborated by phylogenetic studies suggesting that T. vivax was introduced into the New World via cattle imported from WA by European colonisers [8, 19, 20]. In contrast with the genetic homogeneity of isolates from SA [8, 13, 19, 21] and WA [4, 8, 22, 23], studies have unveiled greater genetic diversity among isolates from Tanzania, Mozambique (MZ), Kenya and Ethiopia [2, 7, 19, 24–27]. Sequences of gGAPDH from Tanzanian isolates obtained from tsetse flies diverged largely from those detected in cattle and nyala antelope from MZ, which were closer to WA/SA than to another EA T. vivax [25, 26]. In addition, ITS rDNA polymorphisms corroborated large polymorphism among isolates from Tanzania and MZ [2, 19, 24]. ITS sequences from Ethiopian T. vivax isolates from cattle clustered either with sequences of isolates from WA or other EA countries regardless of whether they were collected in areas infested by tsetse or not [7]. Despite the small genetic diversity, isolates of Nigerian cattle clustered with WA/SA genotypes [4]. Cathepsin L-like (CATL) sequences from T. vivax isolates from Zambia (South-Central Africa) clustered with either WA or divergent EA sequences while all isolates from Ghana clustered with those from WA [20, 21, 23].
Characterization of a limited sampling suggests a higher diversity of T. vivax in EA, and probable also in South-Central Africa than in WA/SA [2, 7, 19, 24–26]. However, the use of different markers and difficulty in obtaining DNA sequences from tsetse flies and wild animals that are suitable for phylogenetic analyses have hampered the evaluation of the extent of T. vivax diversity. To evaluate genetic repertoires, and any possible links between genotypes and geography, ungulate and vector species, outbreak and endemic areas, and clinical and pathological features, more comprehensive studies with larger sampling are still required. Data on trypanosome diversity in conservation areas are fundamental to wildlife conservation, to track the spread of parasites to bordering farming zones, and to monitor potential pathogenicity in livestock of trypanosome species/genotypes sustained by natural transmission cycles.
The present study aimed to assess the genetic repertoire of T. vivax in MZ and to infer phylogenetic relationships among EA, WA and SA T. vivax populations. To achieve this, we determined gGAPDH, and ITS rDNA sequences from a comprehensive sampling of T. vivax isolates from tsetse flies captured at the Gorongosa National Park (GNP) and Niassa National Reserve (NNR), and from wild ungulates and livestock from MZ. The sequences determined in the present study were then compared to those available from other EA countries, and with sequences obtained herein or in previous studies of T. vivax from livestock across WA and SA.
Results
Tsetse fly identification and prevalence of T. vivax and T. vivax-like determined by fluorescent fragment length barcoding (FFLB)
Barcoded tsetse flies from GNP and NNR were identified as Glossina morsitans morsitans, which was the predominant species in both studied areas accounting for 85.5% of all flies captured, plus lower frequency (14.5%) of Glossina pallidipes. Similar prevalence of T. vivax and T. vivax-like was found for the two species of tsetse flies (Garcia et al. in preparation).
Prevalence rates of T. vivax and T. vivax-like in 151 fly mouthparts examined by FFLB ranged from 19.2% (29 positive flies of 151 examined) in GNP to 28.6% (93 positive flies of 325 examined) in NNR, and was not significantly different between the two-tsetse species (Garcia et al. in preparation). Altogether, results from GNP and NNR surveys unveiled FFLB profiles that were compatible with T. vivax in the mouthparts of 122 flies (25.6%) out of 476 flies examined, including 12 (2.5%) flies positive for T. vivax and T. vivax-like in both mouthparts and guts, and 8 (1.6%) flies showing only positive guts. Detection of T. vivax in fly guts suggests that parasites can be detected using sensitive diagnostic methods from a fresh blood meal or from contamination during fly dissection. However, as expected, FFLB of most gut samples did not reveal T. vivax or T. vivax-like (Garcia et al. in preparation). Isolates considered positive for T. vivax differed in some peaks of the whole FFLB profiles. However, Duttonella exclusive fluorescent peaks were always present.
Diagnosis of T. vivax and T. vivax-like in tsetse flies and ungulates by TviCATL-PCR
Analysis of MZ tsetse flies using TviCATL-PCR revealed infections in 43 out of 235 tsetse flies (18.2%) tested using this method, demonstrating that the sensitivity of this PCR method is inferior, but rather comparable to FFLB (25.6%, 122 out of 476 flies tested). In addition, TviCATL-PCR detected infection in 10 Cape buffalo (out of 98 animals tested) and one wildebeest (out of 15 animals). In Sunni antelopes (n = 5), reedbuck (n = 2) and warthogs (n = 7) the results were negative.
Comparison of Duttonella trypanosomes from East, West and South America by MDS and phylogenetic analyses of gGAPDH sequences
In previous studies, only five gGAPDH sequences of
T. vivax
were compared. These were distributed into the former groups: A and B, comprising Tanzania isolates; and group C, formed by isolates from SA (Brazil), WA (Nigeria) and EA (MZ) [
25
,
26
]. In the present study, 65 out of 101 high-quality gGAPDH sequences (50 from GNP and 15 from NNR), obtained from 33 tsetse flies selected by FFLB and representative of the unveiled polymorphism, were compared by MDS. This analysis revealed a highly cohesive cluster, henceforward referred to as Tvv (the lineage including the reference
T. vivax
Y486), and a broader assemblage of sequences referred to as Tv-like (TvL) lineage, comprising a consistent cluster forward referred as TvL-Gorongosa, formed by groups A-D of isolates diverging from
T. vivax
Y486 by 4.8 to 5.7% (average of 5.2%) of gGAPDH sequence divergence. In addition, ~8.0% of sequences obtained from GNP and NNR tsetse flies remained unclustered, suggesting that they represent additional TvL lineages (Fig.
2a
).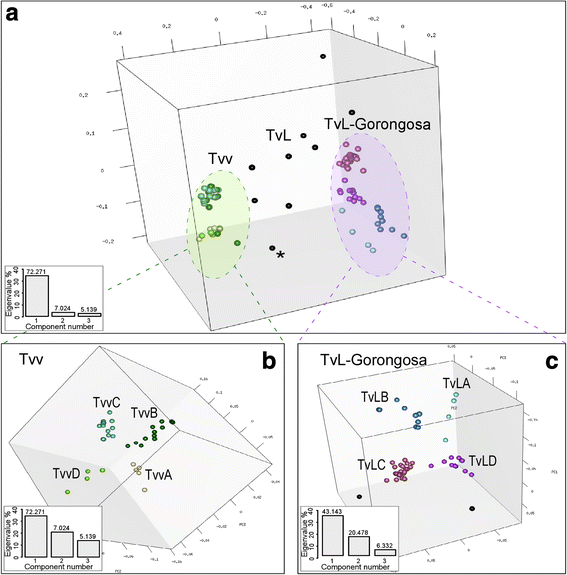 To obtain better resolved MDS clustering for the assessment of inter- and intra-cluster diversity, the dataset from each main cluster was analysed separately (Fig. 2b, c). Tvv unveiled four groups distributed in two major assemblages; one composed of TvvA clustered with TvvB, and the other composed of TvvC tightly related to TvvD (Fig. 2b). Average divergences of gGAPDH sequences were small: 0.2% for TvvA, 0.7% for TvvB, 0.5% for TvvC, and 0.8% for TvvD. TvvA (isolates from SA and WA livestock) diverged 0.7% from TvvB (WA and SA cattle isolates, and MZ cattle, buffalo and tsetse), 1.3% from TvvC (MZ tsetse), and 0.7% from TvvD (cattle, tsetse and nyala from MZ).
The highly divergent TvL sequences were arranged in four main clusters: TvLA (formerly referred to as "group A" [
25
] that clustered with the newly-identified group TvLB in addition to the cluster composed of TvLC and TvLD; altogether supporting TvL-Gorongosa lineage (Figs.
2
and
3
). TvLA was closely related (1.5% of gGAPDH divergence) to TvLB, while TvLC tightly clustered with TvLD (2.0% of divergence). TvLA encompasses isolates from Tanzania and Kenya, and TvLB-D isolates are exclusively from MZ. TvLC and TvLD represented the predominant genotypes in tsetse flies from GNP and NNR (Figs.
2
and
3
, Table
1
).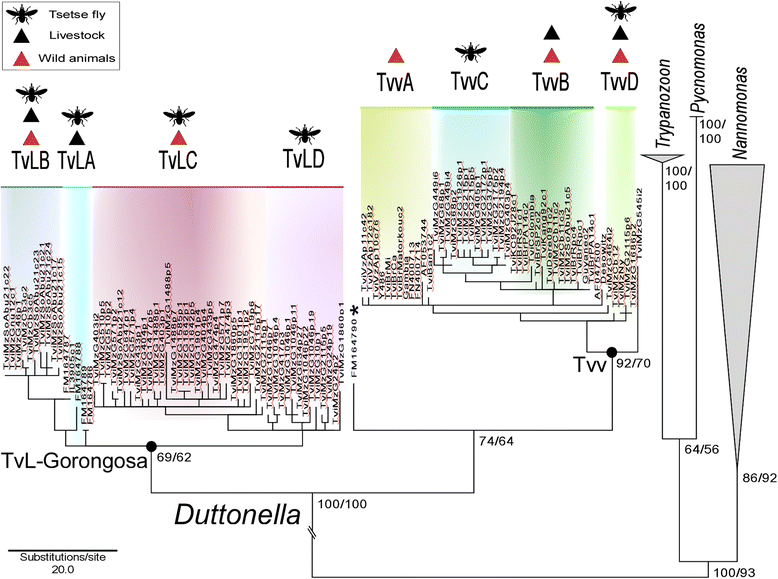 The two major clusters were not arranged by order of wild or domestic hosts, tsetse species or date of collection. However, TvL-Gorongosa exclusively included isolates from EA, and Tvv comprised all samples from WA and SA, as well as some sequences from MZ and Ethiopia (Fig. 1, Table 1). Despite consistent results and high correspondence between MDS clusters and evolutionary lineages uncovered by gGAPDH sequences, with moderate support, the relationships among trypanosomes within the two lineages were not well-resolved, neither in P (Fig. 3) nor ML (data not shown) phylogenetic inferences using gGAPDH sequences. However, taken together, MDS and phylogenetic analyses allowed for the general delineation of 8 gGAPDH genetic groups as summarised in Table 1 (detailed information of each sample, host species and geographical origin are presented in Additional file 1: Table S1 and Additional file 2: Table S2).
In addition to the sequences that clustered into TvL-Gorongosa, 8 sequences from MZ tsetse flies remained isolated, although they were consistently included into the broad TvL assemblage. Similarly, a single sequence from Tanzanian tsetse, which was assigned to "group B" [25], largely diverged from all other sequences, however, its closest relatives appear to be members of Tvv.
Our analyses corroborated gGAPDH sequences as valuable markers for the identification of species, lineages and major intraspecific groups, but were unable to distinguish between the very closely related T. vivax genotypes circulating in SA, WA and some EA countries.
Genotyping and relatedness of Trypanosoma vivax and Trypanosoma vivax-like ITS rDNA sequences assessed by MDS
To further assess intra-lineage genetic diversity, we compared 263 ITS rDNA sequences determined herein with all available GenBank sequences (17) from MZ, Kenya, Tanzania and Ethiopia. The analysis included a large set of ITS sequences from WA (59 sequences from cattle) and SA (91 sequences from cattle, sheep, water buffalo and horses), most of them determined in the present study (Table 1, Additional file 1: Table S1, Additional file 2: Table S2). Analysis of ITS sequences that were representative of the whole genetic diversity, as well as of the geographical and host-species ranges revealed an extensive polymorphism in EA compared to WA/SA. Although the alignment of ITS sequences from EA isolates showed many ambiguities due to the extensive polymorphisms, blocks of ITS1 and ITS2 rDNA nucleotides characteristic for each group/genotype were detected (Additional file 3: Figure S1).
To investigate relatedness among the isolates, ITS sequences were submitted to MDS (Fig.
4
). The results support a highly cohesive cluster of sequences representing Tvv, a broader arrangement of sequences supporting TvL-Gorongosa, and unclustered sequences representing other TvL lineages (Fig.
4a
). In contrast to quite conserved gGAPDH sequences, large polymorphisms of ITS rDNA supported the separation between Tvv1 and Tvv2 genotypes. Tvv1clustered all WA isolates, while Tvv2 was restricted to SA, as unveiled by 3D MDS restricted to the whole set of SA/WA sequences (Fig.
4b
) or comprising exclusively Tvv1 and Tvv2 (Fig.
4c
) datasets. More relevant polymorphisms were observed within Tvv1 compared to Tvv2. Nevertheless, Tvv1 and Tvv2, which are to date restricted to livestock, share a greater degree of similarity between themselves compared with Tvv3 and Tvv4 of EA isolates from livestock, tsetse and wild buffalo. Two sequences from Ethiopian cattle clustered with Tvv1 and a single sequence was assigned to the new Tvv5 genotype (Fig.
4b
). Tvv1 and Tvv2 are both genotypes of long-range dispersal linked to livestock: Tvv1 is the most geographically dispersed genotype occurring from the Gambia (WA) to Ethiopia (EA); Tvv2 is widespread in SA and was identified in Brazil, Venezuela, Colombia and French Guiana (Fig.
1
).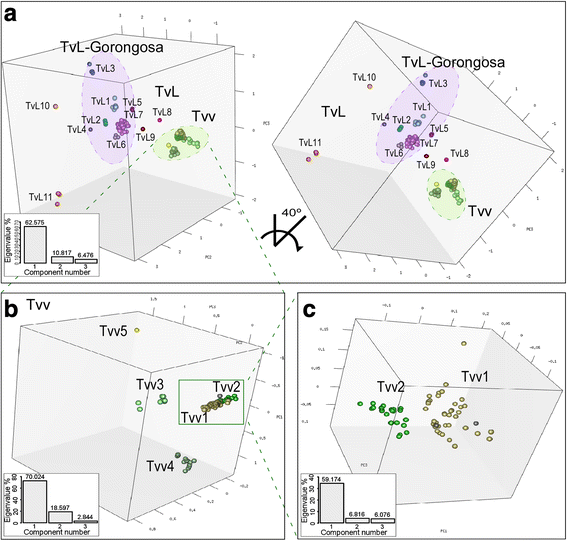 Clustering of TvL ITS sequences analysed by 3D MDS support the highly heterogeneous lineage TvL-Gorongosa as defined by gGAPDH sequences (Fig. 4c, Table 1). Furthermore, ~8.0% of EA sequences from tsetse flies did not consistently nest within any cluster (Fig. 4a).
ITS rDNA network of T. vivax and T. vivax-like isolates
To investigate both the relationships and the possibility of recombination generating the remarkable polymorphic ITS sequences, we submitted the dataset to network split decomposition. All sequences from WA and SA clustered tightly together, whereas EA sequences largely dispersed in a complex and reticulated network (Fig.
5a
).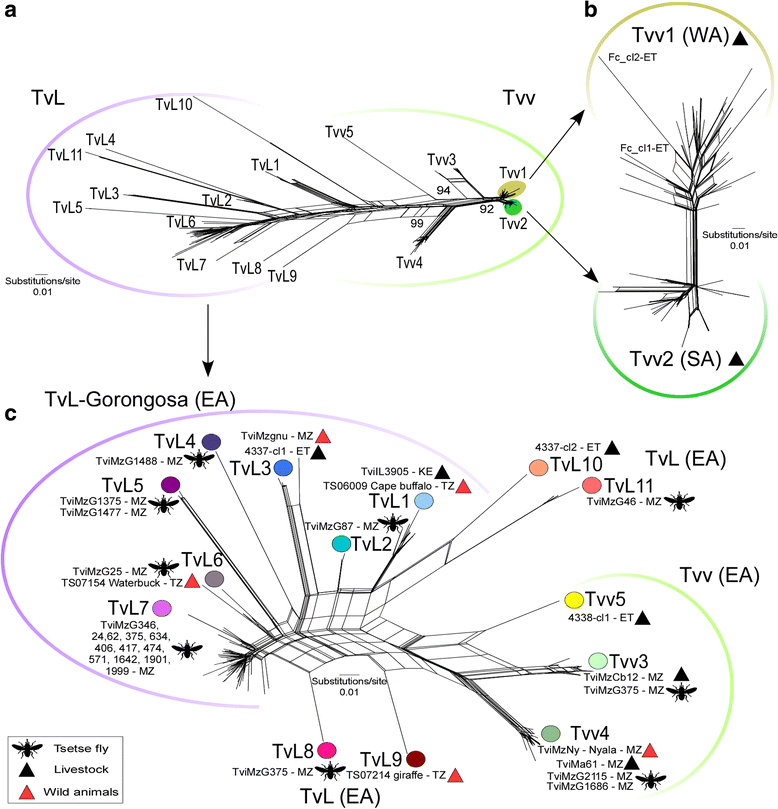 The split between SA and WA sequences corroborated the MDS results and showed more relevant polymorphisms in Tvv1 compared to Tvv2 (Fig. 5b). Each isolate from WA exhibited a unique ITS sequence. Ethiopian isolates were assigned to Tvv1 and Tvv5, which are closely related to Tvv3 and Tvv4 from MZ, and to Tvv2 from SA (Fig. 5c).
Consistent with MDS analysis (Fig. 4), split decomposition network of ITS sequences uncovered greater diversity within TvL compared to Tvv. MDS clustering, network patterns, and polymorphisms on the aligned ITS sequences (Additional file 3: Figure S1) were all consistent with the lineage TvL-Gorongosa and its genotypes (Fig. 5c).
There was a high concordance between groups/genotypes defined by gGAPDH and ITS rDNA (Table 1). Genotypes TvL1 and TvL2 include isolates from tsetse, livestock and wild animals from MZ, whereas TvL3 clustered isolates from Kenyan cattle and Tanzanian buffalo. TvL1-TvL3 belongs to TvLA/B assemblage defined by gGAPDH, and TvL4-TvL7 are likely of TvLC/D grouping. Taking into account their close relationships and small degrees of sequence divergences, TvL1–7 are all considered genotypes of TvL-Gorongosa. This lineage comprises most ITS sequences obtained from tsetse and from wild ungulates from MZ and Tanzania, in addition to cattle isolates from Kenya and Ethiopia (Fig. 5c). Long branches in the network correspond to EA sequences assigned to TvL8–11 genotypes.
Results from our comprehensive analysis corroborate the high discriminatory power of ITS rDNA sequences allowing for the identification of known and novel genotypes. However, deeper nodes within Tvv and TvL remain uncertain. The ITS network displayed noticeable reticulation of TvL sequences and a moderate degree of reticulation among Tvv genotypes from EA, suggesting that EA populations may undergo genetic recombination in tsetse flies, whereas the small degree of reticulation among Tvv sequences from WA and SA suggest clonal populations.
Conclusions
Our comparative study of a large sample of T. vivax and T. vivax-like gGAPDH and ITS rDNA sequences uncovered two major evolutionary lineages, constituted by several genotypes, within the subgenus Duttonella: T. vivax (Tvv) composed of five genotypes, and T. vivax-like (TvL) constituted by TvL-Gorongosa, an assemblage of seven genotypes, in addition to genotypes that likely belong to other TvL lineages. Phylogenetic inference supports the rising of TvL-Gorongosa to the species status. We detected TvL-Gorongosa in G. m. morsitans and G. pallidipes, as well as in wild and domestic ungulates, in MZ, Tanzania, Kenya and Ethiopia. However, before proposing any new species attempts to compare this new lineage with previously reported species and subspecies of Duttonella [42] are highly recommended. Our analyses point to many novel species/subspecies and genotypes remaining to be discovered in this subgenus. In addition, EA isolates must be genotyped and evaluated in experimental infections regarding differential behaviour, clinical signs, and pathological and immunological aspects. Data generated by comparison of phenotypic and genotypic (including multilocus and whole genome studies) characteristic are badly required to improve our understanding about Duttonella trypanosomes. Genetic diversity was noticeable in EA wildlife conservation areas, where wild ungulates serve as reservoirs for a large diversity of Tvv and TvL genotypes that are transmitted by a range of tsetse species. Not a single TvL isolate was identified in WA, where T. vivax population shown to be quite homogeneous, even though samples examined came from The Gambia to Cameroon, over several years. To date, a single genotype was common in livestock from WA and EA. Further studies on the genetic diversity of T. vivax in wild tsetse and ungulates in WA are required to evaluate whether the lower diversity found in WA was because all isolates examined were obtained from cattle. Data from this study provide additional support for the hypothesised bottlenecked SA population, recently imported from WA. The geographical origin of any pathogenic trypanosome is an issue of high interest, and information on the genetic diversity is fundamental to understand its distribution. We suggested an EA origin for Duttonella species, and hypothesised the spread of Tvv genotypes adapted to livestock, and transmitted either cyclically by tsetse or mechanically by other flies, following historical livestock dispersion routes. Any data on the genetic and spatial structure is valuable for assessing possible links between genotypes and vertebrate hosts, vector species, pathogenicity, and drug resistance of T. vivax and T. vivax-like.
Abbreviations
EA:

East Africa
FFLB:

fluorescent fragment length barcoding
gGAPDH:

glycosomal glyceraldehyde phosphate dehydrogenase
GNP:

Gorongosa National Park
ITS rDNA:

internal transcribed spacer of rDNA
MZ:

Mozambique
NNR:

Niassa National Reserve
SA:

South America
TviCATL-PCR:

T. vivax-specific PCR assay based on cathepsin L gene
Tvv:

T. vivax lineage

TvL

T. vivax-like lineage
WA:

West Africa
Declarations
Acknowledgments
We are indebted to many students for their invaluable help with the fieldwork performed in South America and Africa, and to José and Carmen Martins for their hospitality, generosity and inestimable support in MZ. We are grateful to Ministry of Science and Technology and Ministry of Tourism, Mozambique, to the wardens of GNP and NNR for the logistical support provided, and to the Mozambican people for assistance in fieldwork and hospitability. We are thankful to Carmen S. A. Takata and Tania E. Matsumoto for assistance with DNA sequencing.
Funding
Grants were awarded to MMGT and EPC from CNPq (PROAFRICA), CAPES (PNIPB) and FAPESP (Process 2016/07487–0) Brazilian agencies to support this research. CMFR was a postdoctoral fellowship from CAPES (PNIPB) and is currently supported by CNPq, ACR received postdoctoral fellowships from CAPES (PNPD and PNIPB), and HAG has been supported by fellowships from CNPq and FAPESP (Process 2016/03028–1).
Availability of data and materials
Reference-isolates of T. vivax from Brazil, and DNA from trypanosome infected ungulates and tsetse flies are deposited at the Trypanosomatid Collection of the University of São Paulo, Brazil. DNA sequences determined in this study are deposited in GenBank under acession numbers listed in Additional files 1 and 2.
Authors' contributions
DLP, CLP, ZB and LN assisted with sample collection and epidemiological studies in Africa. CMFR, HAG, ACR and AGCM performed molecular characterization and phylogenetic analyses. MMGT and EPC designed and coordinated the study. PHB contributed with analysis of molecular data and discussion. All authors read and approved the final manuscript.
Competing interests
The authors declare that they have no competing interests.
Consent for publication
Not applicable.
Ethics approval and consent to participate
Animals were handled according to global good animal practices, with all protocols approved by institutions involved in the study, and fieldwork performed by veterinarians and field technicians. The laboratory work was conducted in Brazil in accordance with the recommendations provided by the ethical committee of the Biomedical Institute of the University of São Paulo.
Publisher's Note
Springer Nature remains neutral with regard to jurisdictional claims in published maps and institutional affiliations.
Open AccessThis article is distributed under the terms of the Creative Commons Attribution 4.0 International License (http://creativecommons.org/licenses/by/4.0/), which permits unrestricted use, distribution, and reproduction in any medium, provided you give appropriate credit to the original author(s) and the source, provide a link to the Creative Commons license, and indicate if changes were made. The Creative Commons Public Domain Dedication waiver (http://creativecommons.org/publicdomain/zero/1.0/) applies to the data made available in this article, unless otherwise stated.
Authors' Affiliations
(1)
Departamento de Parasitologia, Instituto de Ciências Biomédicas, Universidade de São Paulo, São Paulo, Brazil
(2)
Departamento de Patología Veterinaria, Facultad de Ciencias Veterinarias, Universidad Central de Venezuela, Maracay, Venezuela
(3)
National Administration of Conservation Areas, Ministry of Tourism, Maputo, Mozambique
(4)
Wildlife Conservation Society, Niassa National Reserve, Maputo, Mozambique
(5)
Independent researcher, Maputo, Mozambique
(6)
Centre International de Recherche-Développement sur l'Elevage en zone Subhumide (CIRDES), Bobo-Dioulasso, Burkina Faso
(7)
Centro de Biotecnologia, Eduardo Mondlane University, Maputo, Mozambique
(8)
Department of Veterinary Tropical Diseases, Faculty of Veterinary Science, University of Pretoria, Pretoria, South Africa
(9)
Biosciences, College of Life and Environmental Sciences, University of Exeter, Exeter, UK