Abstract
Canine babesiosis is a disease caused by a parasite of the genus Babesia which destroys red blood cells. Previous studies have shown the presence of Babesia vogeli in rural areas in Costa Rica using molecular techniques. The objective of the present study was to determine the seroprevalence and prevalence of B. vogeli in clinically healthy dogs and their ticks at the national level, both within and outside the Central Valley. Blood samples and ticks from 482 dogs were collected between June 2011 and May 2014, and analyzed by immunofluorescence assay (IFA) and real-time polymerase chain reaction (qPCR); two protocols of endpoint PCR and sequencing were used to confirm qPCR-positive samples. Seroprevalence of canine babesiosis of 5.3% (24/453) was determined at the national level, specifically 2.0% (5/253) within and 9.5% (19/200) outside the Central Valley, respectively. Real-time PCR determined a global prevalence of B. vogeli of 31.3% (125/400): 21.4% (47/220) within the Central Valley and 43.3% (78/180) outside the Central Valley. The endpoint PCR amplified only 10 of the 125 blood samples identified as positive in qPCR. One sample amplified by endpoint PCR was sequenced and identified as B. vogeli. Twelve canines were identified with past infections, seven canines with active infection, and 111 canines with early infection. Two species of ticks were found with B. vogeli: Rhipicephalus sanguineus sensu lato (n = 40) and Amblyomma ovale (n = 1). The prevalence of canine babesiosis at the national level, both within and outside the Central Valley, is reported here for the first time, determining the presence of the piroplasmid throughout the country, with a higher circulation of the agent outside the Central Valley. Only one species, B. vogeli, was detected in the blood of dogs and their ticks. Therefore, veterinarians should consider using qPCR to determine the presence of the parasite in blood donors and before starting treatment of vector-borne disease in dogs.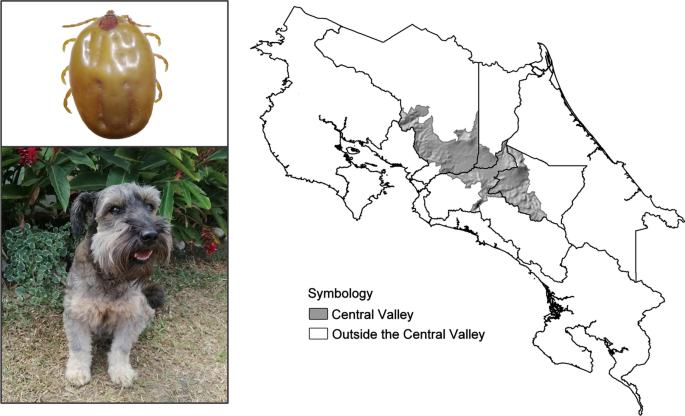 Availability of data and materials
The 18S rRNA sequence of B. canis vogeli obtained in this study was deposited in GenBank (accession number MT785903).
Abbreviations
IFA:

Indirect immunofluorescence assay

PCR:

Polymerase chain reaction

qPCR:

Real-time PCR

Ct:

Threshold cycle

NCBI:

National Center for Biotechnology Information

18S:

Small subunit ribosomal

rRNA:

Ribosomal ribonucleic acid
Funding
This investigation was supported by the Fondo Especial para el Financiamiento de la Educación Superior, Consejo Nacional de Rectores (FEES-CONARE) and Vicerrectoría de Investigación, Universidad Nacional, Costa Rica.
Ethics declarations
Ethics approval and consent to participate
The respective authorities of the School of Veterinary Medicine, Universidad Nacional, approved the study. Informed consent was obtained from the owners of the animals who decided to participate in the research. The sampling of the dogs was carried out in compliance with animal welfare standards.
Consent for publication
Not applicable.
Competing interests
The authors declare that they have no competing interests.
Additional information
Publisher's Note
Springer Nature remains neutral with regard to jurisdictional claims in published maps and institutional affiliations.
Rights and permissions
Open Access This article is licensed under a Creative Commons Attribution 4.0 International License, which permits use, sharing, adaptation, distribution and reproduction in any medium or format, as long as you give appropriate credit to the original author(s) and the source, provide a link to the Creative Commons licence, and indicate if changes were made. The images or other third party material in this article are included in the article's Creative Commons licence, unless indicated otherwise in a credit line to the material. If material is not included in the article's Creative Commons licence and your intended use is not permitted by statutory regulation or exceeds the permitted use, you will need to obtain permission directly from the copyright holder. To view a copy of this licence, visit http://creativecommons.org/licenses/by/4.0/. The Creative Commons Public Domain Dedication waiver (http://creativecommons.org/publicdomain/zero/1.0/) applies to the data made available in this article, unless otherwise stated in a credit line to the data.
About this article
Cite this article
García-Quesada, A., Jiménez-Rocha, A., Romero-Zuñiga, J.J. et al. Seroprevalence and prevalence of Babesia vogeli in clinically healthy dogs and their ticks in Costa Rica. Parasites Vectors 14, 468 (2021). https://doi.org/10.1186/s13071-021-04936-7
Received:

Accepted:

Published:

DOI: https://doi.org/10.1186/s13071-021-04936-7
Keywords
Tick-borne diseases

Serology

DNA

Piroplasmida