Abstract
Physical methods to control pest arthropods are increasing in importance, but detailed knowledge of the effects of some of these methods on the target organisms is lacking. The aim of this study was to use light sheet fluorescence microscopy (LSFM) in anatomical studies of blood-sucking arthropods in vivo to assess the suitability of this method to investigate the morphological structures of arthropods and changes in these structures over time, using the human louse Pediculus humanus (Phthiraptera: Pediculidae) as sample organism. Plasma treatment was used as an example of a procedure employed to control arthropods. The lice were prepared using an artificial membrane feeding method involving the ingestion of human blood alone and human blood with an added fluorescent dye in vitro. It was shown that such staining leads to a notable enhancement of the imaging contrast with respect to unstained whole lice and internal organs that can normally not be viewed by transmission microscopy but which become visible by this approach. Some lice were subjected to plasma treatment to inflict damage to the organisms, which were then compared to untreated lice. Using LSFM, a change in morphology due to plasma treatment was observed.
These results demonstrate that fluorescence staining coupled with LSFM represents a powerful and straightforward method enabling the investigation of the morphology—including anatomy—of blood-sucking lice and other arthropods.
Graphical Abstract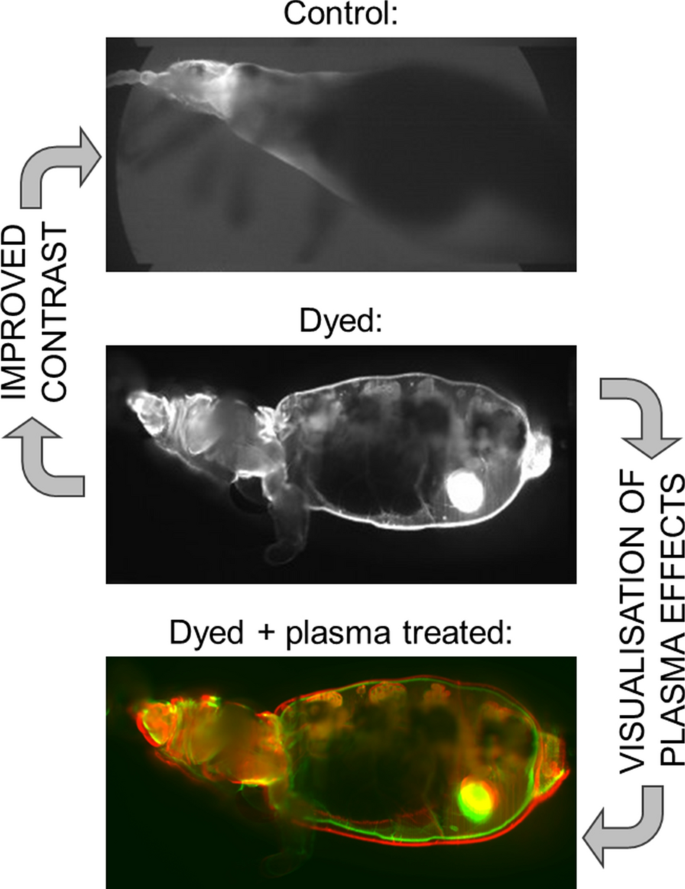 Availability of data and materials
The datasets used and/or analysed during the current study are available from the corresponding author on reasonable request.
Funding
Open Access funding enabled and organized by Projekt DEAL. No third-party funding was used to achieve the presented results.
Ethics declarations
Ethics approval and consent to participate
Not applicable.
Consent for publication
Not applicable.
Competing interests
The authors declare that they have no competing interests.
Additional information
Publisher's Note
Springer Nature remains neutral with regard to jurisdictional claims in published maps and institutional affiliations.
Rights and permissions
Open Access This article is licensed under a Creative Commons Attribution 4.0 International License, which permits use, sharing, adaptation, distribution and reproduction in any medium or format, as long as you give appropriate credit to the original author(s) and the source, provide a link to the Creative Commons licence, and indicate if changes were made. The images or other third party material in this article are included in the article's Creative Commons licence, unless indicated otherwise in a credit line to the material. If material is not included in the article's Creative Commons licence and your intended use is not permitted by statutory regulation or exceeds the permitted use, you will need to obtain permission directly from the copyright holder. To view a copy of this licence, visit http://creativecommons.org/licenses/by/4.0/. The Creative Commons Public Domain Dedication waiver (http://creativecommons.org/publicdomain/zero/1.0/) applies to the data made available in this article, unless otherwise stated in a credit line to the data.
About this article
Cite this article
ten Bosch, L., Habedank, B., Candeo, A. et al. Light sheet fluorescence microscopy for the investigation of blood-sucking arthropods dyed via artificial membrane feeding. Parasites Vectors 15, 52 (2022). https://doi.org/10.1186/s13071-022-05157-2
Received:

Accepted:

Published:

DOI: https://doi.org/10.1186/s13071-022-05157-2
Keywords
Light sheet fluorescence microscopy

Pediculus humanus

Haematophagous arthropods

Blood

In vivo

Artificial membrane feeding