Developing African arbovirus networks and capacity strengthening in arbovirus surveillance and response: findings from a virtual workshop
Parasites & Vectors volume 16, Article number: 129 (2023)
1835 Accesses

19 Altmetric
Abstract
This meeting report presents the key findings and discussion points of a 3-h virtual workshop, held on 21 September 2022, and organized by the "Resilience Against Future Threats through Vector Control (RAFT)" research consortium. The workshop aimed to identify priorities for advancing arbovirus research, network and capacity strengthening in Africa. Due to increasing human population growth, urbanization and global movement (trade, tourism, travel), mosquito-borne arboviral diseases, such as dengue, Chikungunya and Zika, are increasing globally in their distribution and prevalence. This report summarizes the presentations that reviewed the current status of arboviruses in Africa, including: (i) key findings from the recent WHO/Special Programme for Research & Training in Tropical Diseases (WHO/TDR) survey in 47 African countries that revealed deep and widespread shortfalls in the capacity to cope with arbovirus outbreak preparedness, surveillance and control; (ii) the value of networking in this context, with examples of African countries regarding arbovirus surveillance; and (iii) the main priorities identified by the breakout groups on "research gaps", "networks" and "capacity strengthening".
Graphical abstract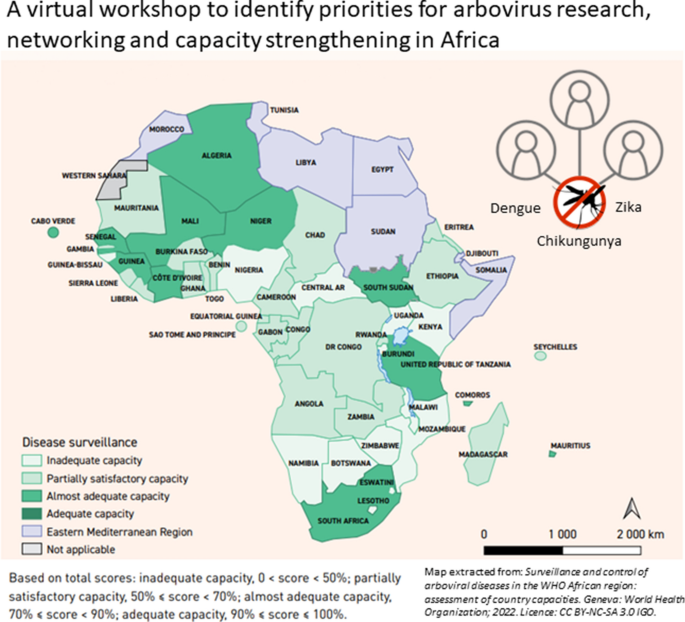 Background
Owing to its burden, much of the world's attention on vector-borne diseases is focused on malaria. However, the prevalence of another set of mosquito-borne diseases is increasing at a global scale, driven by anthropogenic factors, such as urbanization and globalization [1]. These diseases are caused by arboviruses (arthropod-borne viruses) and include dengue, Zika, chikungunya and yellow fever, and they have largely escaped public attention—except for the heightened media attention during the 2015–16 Zika virus epidemic in the Americas. Although mortality in infected people is lower with these diseases than with malaria, all of the aforementioned arboviruses can cause debilitating and sometimes life-threatening illnesses. For example, dengue alone results in 96 million overt cases among an estimated 390 million infected people each year and places a high economic burden on both households and governments [2,3,4,5]. Ironically, although many of these arboviruses were first identified in Africa, little is known about the prevalence and impact of these diseases on that continent. It would appear, however, that Africa is currently experiencing an increase in the spread of these viruses, and also in the spread of efficient mosquito vectors (from other continents). With growing populations, rapid urbanization, increasing global trade and movement of goods and people, Africa is a rich spawning ground for the advance of these arboviruses across the continent. Yet, historically overshadowed by malaria and vertical investments in its control, preparedness for arboviral diseases in Africa is comparatively underdeveloped.
To address this shortfall in the face of an emerging problem of arboviruses in Africa, the "Resilience Against Future Threats through Vector Control (RAFT)" research consortium held a virtual workshop on 21 September 2022. The aims of this workshop were to: (i) heighten awareness on arboviral threats among research and public health institutions in Africa; and (ii) initiate discussions on ways to strengthen institutional capacity to counter this threat. The 3-h workshop was attended by 326 participants from research/academic institutions (61%), the government sector (15%) and non-governmental organizations (NGOs, 15%). Most attendees were from Africa (63%), followed by Europe (17%) and Asia (13%) (Fig. 1).
Virtual workshop and breakout groups
Virtual workshop
The workshop opened with five presentations by international experts, which highlighted the following:
Breakout groups
Following the presentations, attendees were invited to join breakout groups to discuss one of three themes (research gaps, networking, capacity-strengthening) that can aid preparedness against arboviral threats in Africa. Guided by a series of pre-planned questions, participants in each group identified the key shortfalls, needs and priority actions for their theme (Tables 1, 2).
Breakout Group 1: research gaps and knowledge needs (76 participants: 83% were from research institutions, 10% from NGOs, 5% from government agencies and 2% from UN/WHO)
Improved understanding and monitoring of arbovirus epidemiology, transmission and vectors were ranked among the most important research gaps to fill (Table 1). To begin to address these gaps, collaboration with global and regional networks (Box 1) and other several follow-up actions were suggested (Table 2).
Breakout Group 2: networking needs (45 participants: 71% from research institutions, 21% from regional level and UN agencies and 8% from NGOs)
A total of 10 networks (4 global and 6 regional) that currently provide some level of support on arbovirus issues were identified (Box 1). Nonetheless, despite this proliferation of networks, participants identified several unmet needs. Requirements in networking that were not already covered by the named, existing networks are listed in Table 1. Respondents also indicated that funding was required to establish these networks, followed by a database of specialists and training opportunities. The group also defined the core objectives and activities that should be captured in an African research network for arboviruses (Box 2).
Breakout Group 3: capacity-Strengthening Needs (52 participants: 65% from research institutions, 19% from NGOs, 10% from UN/WHO and 6% from government agencies)
Respondents listed the top three capacity-strengthening needs most relevant to their countries and then ranked them according to priority (Table 1). Among these, the most urgent priority was training in vector surveillance and pathogen detection. However, with few participants from MoH departments of the various governments, which are generally responsible for arbovirus surveillance and response, the validity of responses from this group may be limited. A follow-up survey directed to government agencies may be required. When asked to identify institutions or sources of expertise in Africa that could provide relevant training, a total of 10 institutionsFootnote 2 located in five countries were listed. The distribution of expertise needs to be better distributed geographically across East (n = 2 institutions), West/Central (n = 8) and South (n = 0) Africa.
Finally, participants in each breakout group were asked to vote/rank a set of potential immediate follow-up actions to help support forward progress under each theme (Table 2). In a post-workshop evaluation form, a majority of participants (86%) were in favour of holding regular arbovirus information-sharing webinars, at quarterly intervals, demonstrating an urgent need for more interaction and learning opportunities available upon request.
In line with the Next Steps identified by webinar participants and listed in Table 2 above, the RAFT project has now brain-stormed and outlined a series of follow-up webinars to build on the foundation provided by this first exploratory webinar. The aim is to contribute not only to an increased understanding of arbovirus issues in Africa, but also create capacity for research institutions and implementation agencies to embrace this greater awareness of needs and opportunities to undertake prioritized research, surveillance, development of national and regional guidelines, establish collaborative networks for sharing information and responding to regional needs, and share expertise. Ultimately, each country should have a National Arbovirus Control Guidelines and Action Plan, supported by an appropriate policy framework, with the capacity to implement such a Plan. Subsequent to this webinar, the RAFT project has also initiated a series of South-South Exchange Visits to bring senior managers of vector-borne disease control agencies and also leading academics from African countries to meet colleagues in some Asian and South American countries where relevant policies, systems and procedures to confront arboviral disease are more advanced, with the overall aim to learn from the experience gained by these countries.
Conclusions
In conclusion, arboviruses are an emerging threat to Africa, but as the recent WHO/TDR survey and group discussions during this webinar demonstrate, the continent (at all levels) lacks the capacity to handle them. Not only is more research required to improve the understanding of arboviral vectors, transmission and epidemiology, but more networks (that involve training and data sharing) also need to be built to strengthen the capacity. Lessons can be learnt from the South African and Nigerian approaches to arbovirus surveillance and response.
Availability of data and materials
The datasets used and/or analysed during the current study are available from the corresponding author upon reasonable request.
Notes
Note that these responses were extracted directly from the break-out group. Thus, further detail about specific types or areas of burden, capacity strengthening or data-sharing was not provided. It is hoped that future surveys will provide this information.
Abbreviations
MoH:

Ministry of Health

NCDC:

Nigeria Centre for Disease Control

NGOs:

Non-Governmental Organizations

RAFT:

Resilience Against Future Threats through vector control

WHO/TDR:

WHO Special Programme for Research & Training in Tropical Diseases
Acknowledgements
This virtual workshop, organized by the Malaria Consortium on behalf of the RAFT research consortium, was moderated by Leo Braack with support from Sian Clarke, Jo Lines, Raman Velayudhan, Florence Fouque, Corinne Merle, Kallista Chan, Poe Poe Aung and Shobiechah Wulandhari. We thank Simon Cordery, Rachel Robinson and Olivia Carlin for essential technical support during the preparation and implementation of this workshop. We also thank all of the RAFT partners for their help and input. We are especially grateful to all our expert speakers for their contributions and also WHO NTD and TDR for sharing the results of the recent survey. These findings have now been published and can be accessed here (https://fctc.who.int/publications/i/item/9789240052918). The complete workshop recording can also be accessed here (https://www.youtube.com/watch?v=EFUiHyAOKNE&t=12s&ab_channel=MalariaConsortium)
Disclaimer
RM, FF, EC, AGY and CSM are staff members of the World Health Organization; the authors alone are responsible for the views expressed in this publication and they do not necessarily represent the decisions, policy or views of the WHO.
Funding
The "Resilience Against Future Threats" (RAFT) partnership is funded with UK aid from the UK government; however, the views expressed do not necessarily reflect the UK government's official policies.
Ethics declarations
Ethics approval and consent to participate
No ethics approval or consent required.
Consent for publication
All co-authors have provided written confirmation of consent for publication.
Competing interests
The authors declare that they have no competing interests.
Additional information
Publisher's Note
Springer Nature remains neutral with regard to jurisdictional claims in published maps and institutional affiliations.
Rights and permissions
Open Access This article is licensed under a Creative Commons Attribution 4.0 International License, which permits use, sharing, adaptation, distribution and reproduction in any medium or format, as long as you give appropriate credit to the original author(s) and the source, provide a link to the Creative Commons licence, and indicate if changes were made. The images or other third party material in this article are included in the article's Creative Commons licence, unless indicated otherwise in a credit line to the material. If material is not included in the article's Creative Commons licence and your intended use is not permitted by statutory regulation or exceeds the permitted use, you will need to obtain permission directly from the copyright holder. To view a copy of this licence, visit http://creativecommons.org/licenses/by/4.0/. The Creative Commons Public Domain Dedication waiver (http://creativecommons.org/publicdomain/zero/1.0/) applies to the data made available in this article, unless otherwise stated in a credit line to the data.
About this article
Cite this article
Braack, L., Wulandhari, S.A., Chanda, E. et al. Developing African arbovirus networks and capacity strengthening in arbovirus surveillance and response: findings from a virtual workshop. Parasites Vectors 16, 129 (2023). https://doi.org/10.1186/s13071-023-05748-7
Received:

Accepted:

Published:

DOI: https://doi.org/10.1186/s13071-023-05748-7
Keywords