How malaria models relate temperature to malaria transmission
Parasites & Vectors
2013
6:20
Received: 5 October 2012
Accepted: 15 January 2013
Published: 18 January 2013
Abstract
Background
It is well known that temperature has a major influence on the transmission of malaria parasites to their hosts. However, mathematical models do not always agree about the way in which temperature affects malaria transmission.
Methods
In this study, we compared six temperature dependent mortality models for the malaria vector Anopheles gambiae sensu stricto. The evaluation is based on a comparison between the models, and observations from semi-field and laboratory settings.
Results
Our results show how different mortality calculations can influence the predicted dynamics of malaria transmission.
Conclusions
With global warming a reality, the projected changes in malaria transmission will depend on which mortality model is used to make such predictions.
Keywords
Anopheles gambiae sensu stricto
Climate
Temperature
Mathematical model
Background
Since the 1950s, near-surface global temperatures have increased by about 0.5-0.6°C[1], and it is likely that temperatures will continue to increase over the next century [2]. Model predictions, reported widely in climate policy debates, project that a warmer climate could increase malaria caused by the parasites Plasmodium falciparum and P. vivax in parts of Africa [3]. Malaria is transmitted by mosquitoes of the Anopheles genus, with Anopheles gambiae s.s., An. arabiensis and An. funestus being the dominant vector species in Africa [4, 5].
These projections rely on knowledge about how the malaria parasite and anopheline vectors respond to changes in temperature. While a lot is known [6] about how parasite development is influenced by temperature [7], the same cannot be said for mosquitoes. In addition to temperature, humidity [8, 9], breeding site formation [10], and competition between mosquitoes [11, 12] are important factors controlling the number of vectors at any time.
Climate predictions about humidity and precipitation are more uncertain than temperature projections. Therefore, it is of interest to see if a consensus exists between different malaria models about how temperature alone influences malaria transmission. In the past, studies have suggested that the optimal temperature for malaria transmission is between 30 and 33°C[13–15].
Here, we compare six mortality models (Martens 1, Martens 2, Bayoh-Ermert, Bayoh-Parham, Bayoh-Mordecai and Bayoh-Lunde) to reference data (control) for Anopheles gambiae s.s., and show how these models can alter the expected consequences of higher temperatures. The main purpose of the study is to show if there are any discrepancies between the models, with consequences for the ability of projecting the impact of temperature changes on malaria transmission.
We have focused on models that have been designed to be used on a whole continent scale, rather than those that focus on local malaria transmission [10, 16, 17].
Results
Figure
1
shows the percentage of infectious mosquitoes plotted against time (days) (x) and temperature (y). The control shows that the most efficient transmission occurs at 25°
C
, while the maximum percentage of infectious mosquitoes at any time is 1.1. We found that the Martens 1 and 2 models both underestimate the fraction of infectious mosquitoes, while the Bayoh-Ermert and Bayoh-Lunde models had comparable values. While the Bayoh-Parham model affords similar values at 40% RH, it overestimates the fraction of infectious mosquitoes at higher RHs (Additional file
3
). There are also substantial differences at which the temperatures for transmission are most efficient.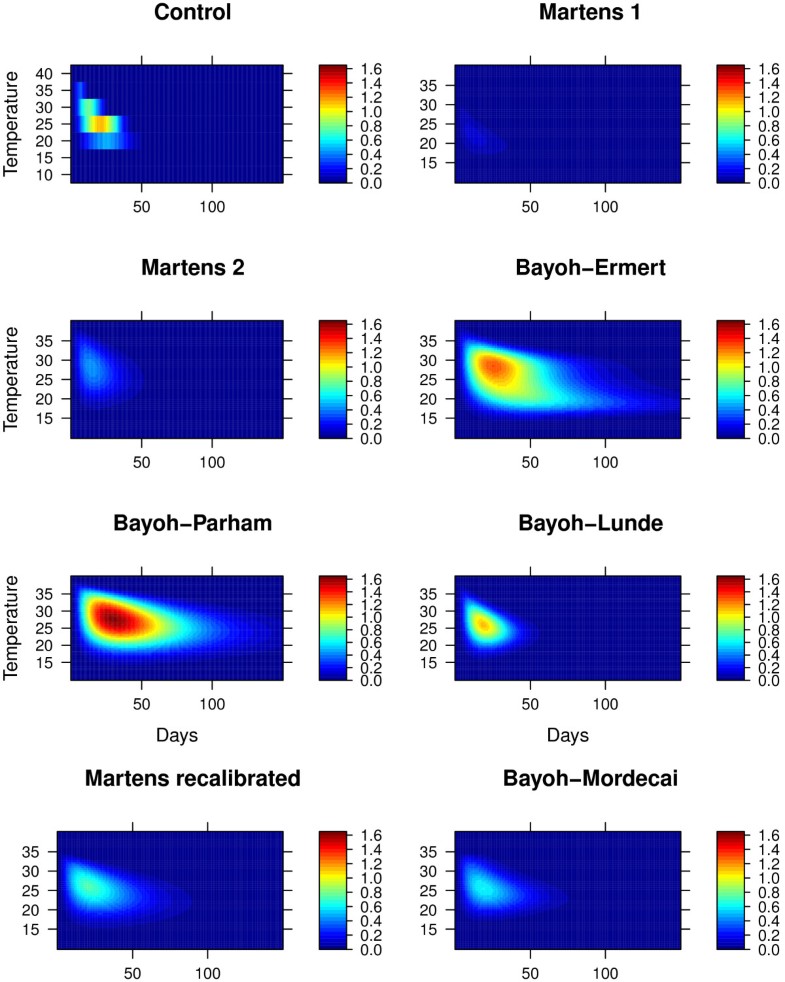 While Martens 1 has the most efficient transmission at 20.4°C, Martens 2 and Bayoh-Ermert show the transmission efficiency peaking at 26.8 and 27.5°
C
. Both the control and Bayoh-Lunde models peak at 25°
C
, as measured according to equation
12
, Bayoh-Parham peaks at 26.3°
C
, and Bayoh-Mordecai peaks at 24.4°
C
(Figure
2
).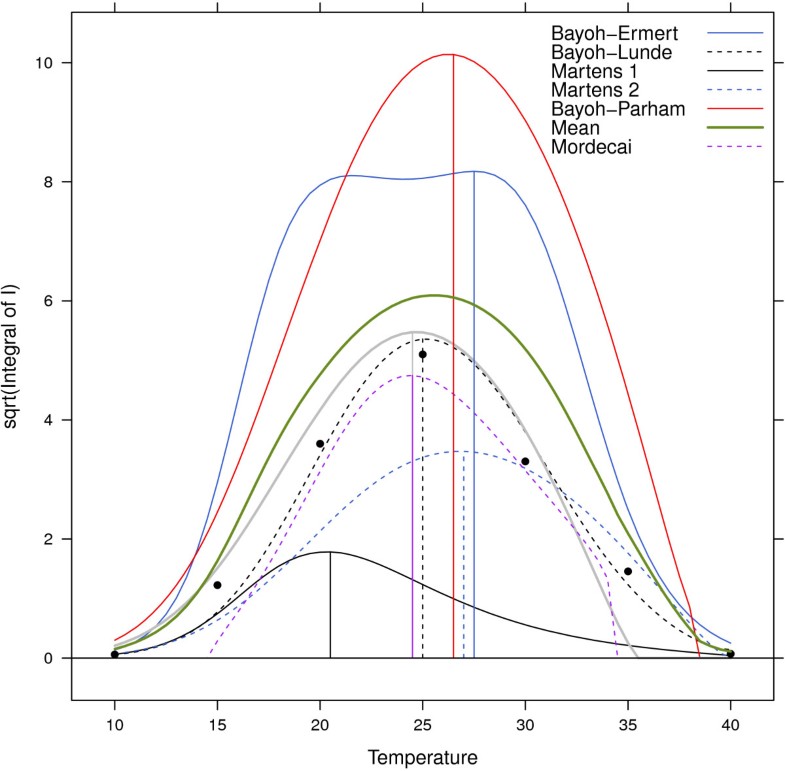 The numerical solution of the Bayoh-Ermert mortality model also reveals that it has problems related to enhanced mosquito longevity at all of the selected temperatures; this effect was especially pronounced around 20°C. We also found that the Bayoh-Parham model has issues with prolonged mosquito survival.
To evaluate the skill of the models, with emphasis on spatial patterns and variance, we investigated the skill score that was defined in equation
11
. The standard deviation, root mean square and correlation coefficient are summarized in a Taylor diagram (Figure
3
). Skill scores closer to 1 are a sign of better performance from a model (Table
1
).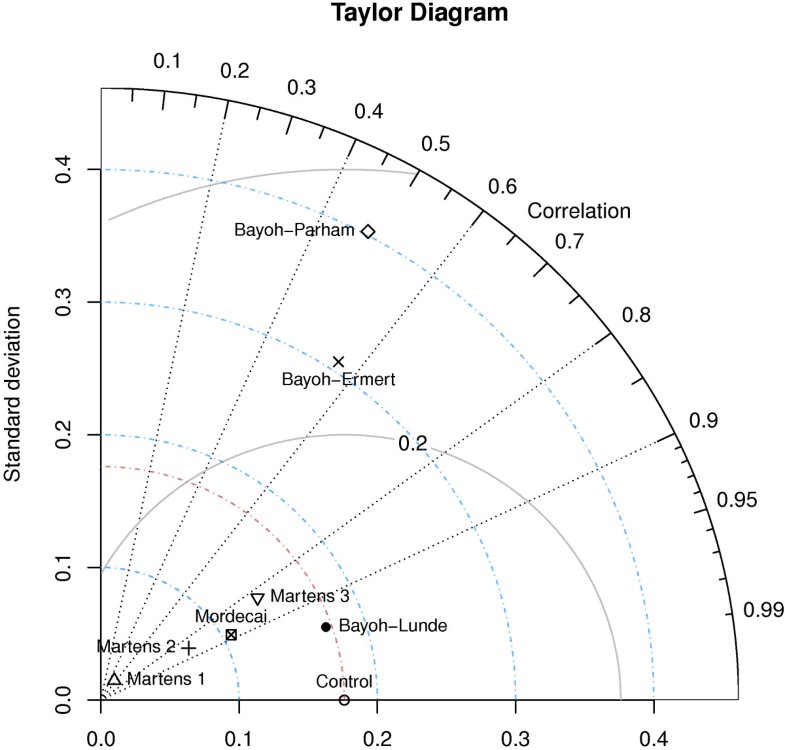 When validating the transmission process using the data from Bayoh and Lindsay (Table 1, column 1), the majority of the penalty for the Martens 1 and 2 models was due to the low variance, indicating that the mortality is set too high compared with the reference. Further analysis found that the Bayoh-Ermert model correlated poorly with the reference, and the variance, , was too high. The Bayoh-Parham model also suffered from low correlation, as well as too high variance. Overall, the Bayoh-Lunde model has the highest skill score, followed by the Bayoh-Mordecai model. The patterns are consistently independent of the data used to validate the models with respect to the malaria transmission process. Validation of the survival curves alone, and their relationship with the transmission process, is discussed in the next section.
The relatively simple Martens 2 model ranked third among the models. We re-calibrated [
37
,
38
] the model using the data from Bayoh and Lindsay. The re-calibrated model (equation 13) generated a skill score of 0.65 (for the transmission process). In addition, Martens 2 was most efficient at 24.5°
C
. The Martens 3 model can be used for temperatures between 5 and 35°
C
.
The newly calibrated Martens 2 model (hereafter called Martens 3), can be seen in Figure 2; the skill scores are reported in Table 1.
To investigate how sensitive the results of the Mordecai
et al.
[
26
] analysis are to the choice of mortality model, we calculated the optimal temperature for malaria transmission using their full temperature-sensitive malaria
R
0
model (equation 2 in [
26
]). The mortality rate,
μ
(
T
), was replaced with −
ln
(
p
(
T
)) from the exponential models. Population density (
N
), and recovery rate,
r
, were set to 1, since these do not influence the optimal temperature for malaria transmission. The results can be seen in Table
2
. Relative differences between the two methods is in the range from 1–11% (Table
2
). Figure
4
shows
R
0
according to temperature (with
N
=1,
r
=1) for the exponential models. The maximum
R
0
ranges from 10 (Martens 1) to 206 (Bayoh-Parham).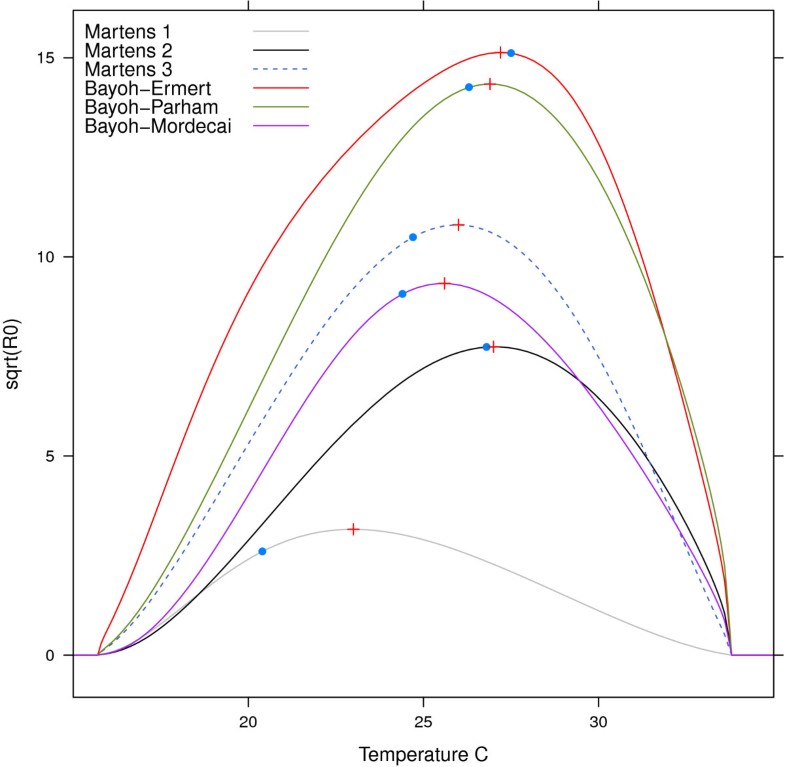 Table 2
Optimal temperature for malaria transmission
| | This paper | R0 from Mordecai | Relative |
| --- | --- | --- | --- |
| | | et al. | difference % |
| Martens 1 | 20.4 | 23.0 | 11.98 |
| Martens 2 | 26.8 | 27.0 | 0.74 |
| Martens 3 | 24.7 | 26.0 | 5.13 |
| Bayoh-Ermert | 27.5 | 27.2 | 1.10 |
| Bayoh-Parham | 26.3 | 26.9 | 2.26 |
| Bayoh-Lunde | 25.2 | | |
| Bayoh-Mordecai | 24.4 | 25.6 | 4.80 |
Discussion and conclusions
The relationship between sporozoite development and the survival of infectious mosquitoes at different temperatures is poorly understood; therefore, any model projections relating the two should be interpreted with care. The Martens 2 and Bayoh-Ermert models suggest that areas of the world where temperatures approach 27°C could experience more malaria. Martens 3, Bayoh-Mordecai, and our model (Bayoh-Lunde) suggests that transmission is most efficient at around 25°C. The Martens 1 model peaks at 20.4°C, and Bayoh-Parham at 26.3°C (Figure 1). None of the models, except Bayoh-Lunde, capture all of the characteristics of the reference data, however.
Table 1 also shows the skill score for the mortality model alone. Both the Bayoh-Parham and the Bayoh-Ermert models have good representations of the survival curves. However, the nature of the exponential mortality curves gives them the choice of rapid mortality giving a reasonable, but underestimated, transmission process (Martens 2), or a good fit to the survival curves, which in turn makes the mosquitoes live too long, resulting in a poor transmission process (Bayoh-Parham and Bayoh-Ermert). Because the Bayoh-Lunde model offers a fair description of the survival curves as well as an age structure in the differential equations, we consider that the transmission process is well described. The Martens 1 and 2, Bayoh-Ermert, Bayoh-Mordecai and Bayoh-Parham models all assume constant mortality rates with age, and would, therefore, not benefit from being solved in an age-structured framework.
The Martens 1 model has been used in several studies [19–21], with the latest appearance by Gething et al. in this journal [39]. Considering the poor skill of the Martens 1 model, the validity, or etiology, of results presented in these papers should be carefully considered.
It is likely that regions with temperatures below 18°C, as is typical for the highland areas of East and Southern Africa, which are too cold for malaria transmission, might experience more malaria if their temperatures increase. However, malaria transmission in the future will be dependent on many other factors such as poverty, housing, access to medical care, host immunity and malaria control measures.
Most countries in Sub-Saharan Africa have annual mean temperatures between 20 and 28°C. In these areas, linking past and future temperature fluctuations to changes in malaria transmission is challenging. Our data suggest that one way to reduce this uncertainty is to use age-structured mosquito models. These models produce results that agree with the observed data, and non-exponential mosquito mortality has been demonstrated in several studies [33, 40–42], although the true nature of mosquito survival in the field is not fully elucidated. The newly calibrated Martens 2 model described here also produces acceptable results. If simplicity is a goal in itself [43], models that assume exponential mortality will still have utility. To believe in projections of the potential impact of long-term, large-scale climate changes, it is crucial that models have an accurate representation of malaria transmission, even at the cost of complexity. For studies of malaria transmission at village level, other approaches might be more suitable [10, 16, 44, 45].
Abbreviations
BL:

Bayoh and Lindsay
EIP:

Extrinsic incubation period
ODEs:

Ordinary differential equations.
Declarations
Acknowledgements
This work was made possible by grants from The Norwegian Programme for Development, Research and Education (NUFU) and the University of Bergen. Our thanks go to Asgeir Sorteberg for commenting on the manuscript, and three anonymous reviewers for their constructive comments, which helped us to improve the manuscript.
Authors' Affiliations
(1)
Bjerknes Centre for Climate Research, University of Bergen, Norway
(2)
Centre for International Health, University of Bergen, Norway
(3)
KEMRI/CDC Research and Public Health Collaboration, Kisumu, Kenya
(4)
Bjerknes Centre for Climate Research, Uni Research, Norway
Copyright
© Lunde et al; licensee BioMed Central Ltd. 2013
This article is published under license to BioMed Central Ltd. This is an Open Access article distributed under the terms of the Creative Commons Attribution License (http://creativecommons.org/licenses/by/2.0), which permits unrestricted use, distribution, and reproduction in any medium, provided the original work is properly cited.