The Anopheles community and the role of Anopheles minimus on malaria transmission on the China-Myanmar border
Parasites & Vectors
2013
6:264
Received: 29 June 2013
Accepted: 7 September 2013
Published: 13 September 2013
Abstract
Background
Malaria around the China-Myanmar border is a serious health problem in the countries of South-East Asia. An. minimus is a principle malaria vector with a wide geographic distribution in this area. Malaria is endemic along the boundary between Yunnan province in China and the Kachin State of Myanmar where the local Anopheles community (species composition) and the malaria transmission vectors have never been clarified.
Methods
Adult Anopheles specimens were collected using CDC light traps in four villages along the border of China and Myanmar from May 2012 to April 2013. Morphological and molecular identification of mosquito adults confirmed the species of Anopheles. Blood-meal identification using the female abdomens was conducted using multiplex PCR. For sporozoite detection in An. minimus, sets of 10 female salivary glands were pooled and identified with SSU rDNA using nested PCR. Monthly abundance of An. minimus populations during the year was documented. The diversity of Anopheles and the role of An. minimus on malaria transmission in this border area were analyzed.
Results
4,833 adult mosquitoes in the genus Anopheles were collected and morphologically identified to species or species complex. The Anopheles community is comprised of 13 species, and 78.83% of our total specimens belonged to An. minimus s.l., followed by An. maculatus (5.55%) and the An. culicifacies complex (4.03%). The quantity of trapped An. minimus in the rainy season of malaria transmission was greater than during the non-malarial dry season, and a peak was found in May 2012. An. minimus fed on the blood of four animals: humans (79.8%), cattle (10.6%), pigs (5.8%) and dogs (3.8%). 1,500 females of An. minimus were pooled into 150 samples and tested for sporozoites: only 1 pooled sample was found to have sporozoites of Plasmodium vivax.
Conclusion
Anopheles is abundant with An. minimus being the dominant species and having a high human blood index along the China-Myanmar border. The sporozoites in An. minimus were determined to be Plasmodium vivax with a 0.07-0.7% infection rate.
Keywords
Anopheles community An. minimus Blood meal Plasmodium vivax China-Myanmar border
Background
According to the World Malaria Report 2012, the estimated annual malaria incidence in the World and in South-East Asia for 2010 were 219 million and 32 million cases, resulting in 660,000 and 43,000 deaths, respectively [1]. Within SE Asia, the Greater Mekong Subregion (GMS) has been one of the most dangerous foci for malaria [2]. Nabang town established in 1996 is located in the western part of Yingjiang prefecture in the Yunnan province of China. It is a burgeoning treaty port with a total permanent resident population of 1,622 in 2010 and has a shared border with Lazan city in the Kachin state of Myanmar. A total of 372 malaria cases were confirmed by microscopic blood examination from this GMS border region between April and December in 2011. 60.2% of these cases originated from Plasmodium vivax (unpublished) and the other 39.8% came from Plasmodium falciparum (39.3%) and P. ovale (0.5%). In 2010, the annual malaria incidence rate in Yingjiang county of Yunnan province was 14.25 cases per 10000 people [3]. In the Kachin State of Myanmar, the rate was 21.7 cases/1000 people in 2006, and this area also had a high malaria-related mortality rate of 7.8 deaths/1000 people in 2005 [4].
Due to the outbreak of malaria, seasonal migrant workers, forest-related workers, pregnant women, <5 year-old children and miners have become high risk groups [5]. They continually cross the border to visit their relatives, trade goods or do other activities. They often contact malaria while travelling, resulting in an increase in imported malaria cases. For instance, one-third of malaria cases in China came from Yunnan province in 2005, and approximately a quarter of these were initially infected in Myanmar during trips to visit relatives and conduct business [6]. Up to now, most villagers live in wood dwellings with a thatched roof that mosquitoes can freely pass through. Many villagers have a low economic status and suffer from malnutrition. Moreover, there have been many regional wars between the Kachin Independence Organization and the central Union Government resulting in poverty and lack of development for the local population. Controlling malaria and providing effective treatment is problematic. Thus, malaria is a severe social and health problem in this border area between China and Myanmar.
Malaria has always been a serious public health problem, and the An. minimus complex and An. dirus s.l. have been reported as the malaria vectors in other regions of Myanmar, Yunnan and Hainan provinces of China, and are widespread all over the South and South-East Asia and southern China including the Ryukyu archipelago of Japan [7–11]. Previous studies around the border region have been carried out in 2007 [12, 13]. Hardly any specific studies have focused on this area, and the local Anopheles community (species composition) and malaria vectors remained unknown.
The goals of the present research were to clarify the community of the local Anopheles community, survey the seasonality of predominant Anopheles species, investigate the preference of blood meal and the rate of infection with the Plasmodium parasite in Anopheles mosquitoes, and ultimately ascertain the main malaria vector and assess the significance of An. minimus s.l. for malaria transmission.
Results
Species composition and Anopheles minimus's seasonality
During the year, a total of 4,833 adult
Anopheles
mosquitoes were collected using CDC light traps in households throughout the four villages. Among the collected mosquitoes, 13 species were identified based on morphological characteristics (Table
2
).
An. minimus
s.l. was the predominant species representing 78.83% of the total number of trapped
Anopheles
mosquitoes, followed by
An. maculatus
(5.55%) and
An. culicifacies
complex (4.03%). Because of the small number of 37
An. minimus
specimens collected in Daonong village throughout the year, a total of 187 morphologically-identified
An. minimus
s.l. were randomly selected for species confirmation by multiplex PCR followed by sequencing; all detected
An. minimus
specimens were confirmed as
An. minimus
based on the 184 bp fragment (Figure
2
). Therefore,
An. minimus
was regarded as the only member of the complex in this region. This sequence was also blasted in NCBI for identification, and the result revealed a homology of 99% between the 184 bp fragment and the
An. minimus
sequence.
Table 2
Community composition and individual percentage of Anopheles species in China-Myanmar border area
| Species | Number of individuals | Individual percentage | Species | Number of individuals | Individual percentage |
| --- | --- | --- | --- | --- | --- |
| An. minimus | 3810 | 78.83 | An. peditaeniatus | 44 | 0.91 |
| An. maculatus | 268 | 5.55 | An. sinensis | 39 | 0.81 |
| An. culicifacies | 195 | 4.03 | An. kochi | 23 | 0.48 |
| An. jeyporiensis | 134 | 2.77 | An. tessellatus | 12 | 0.25 |
| An. vagus | 129 | 2.67 | An. messeae | 3 | 0.06 |
| An. splendidus | 104 | 2.15 | An. annularis | 2 | 0.04 |
| An. barbirostris | 70 | 1.45 | | | |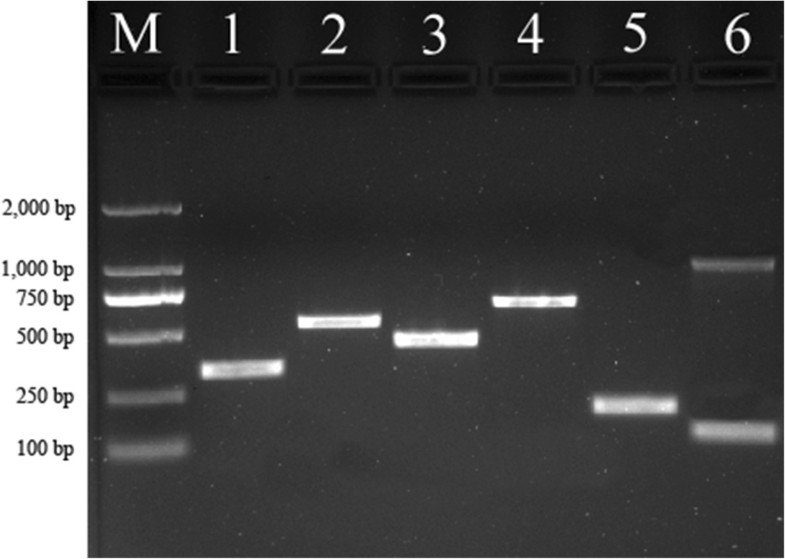 The relative abundance of
An. minimus
s.l. varied throughout the year (Figure
3
). Obviously the number of collected
An. minimus
in the rainy season of malaria transmission was greater than in the non-malarial dry season, and one high peak of abundance was found in May 2012 and the low peak period ranged from December 2012 to February 2013.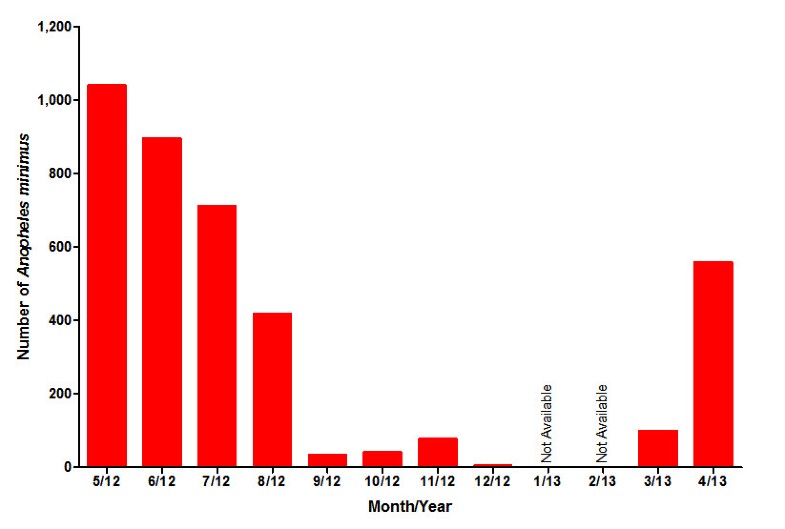 Blood meal origin of An. minimus
Unfortunately, we failed to obtain any blood-meal in
An. minimus
from Daonong using the light traps, and only 4 blood-meal
An. minimus
s.l. specimens were collected in Nabang in the present study. Overall, 104
An. minimus
specimens engorged with fresh blood from four villages were randomly selected to detect their blood meal source and identify the host species (Figure
2
). The results show that 104 specimens confirmed as
An. minimus
gave positive reactions against human, cow, pig, dog or multiple antibodies (Table
3
). Of all mosquitoes analysed, human beings were the primary host for blood meals accounting for 82.69% of the total number of detected specimens; this is significantly higher than other hosts. The proportion of cattle was 8.65%, pigs 4.81% and dogs 3.85%. In addition, 0.96% was discovered positive for blended blood meals of human and pig, and the mix of human and cow was also 0.96%. Therefore, the human blood index (HBI) of 82.69% for
An. minimus
, including mixed blood meals, was higher than the blood indices for cattle, pigs and dogs.
Table 3
The numbers of total and blood-meal individuals from 4 collecting sites for An. minimus
Collection sites

Total number

Number of blood-meal individuals

Total (HBI*,%)

Human (%)

Cow (%)

Pig (%)

Dog (%)

Human + Cow (%)

Human + Pig (%)

Daonong

37

0 (0)

0 (0)

0 (0)

0 (0)

0 (0)

0 (0)

0 (0)

Nabang

275

4 (25)

1 (25)

2 (50)

0 (0)

1 (25)

0 (0)

0 (0)

Meng Seng Yang

922

50 (86)

41 (82)

4 (8)

2 (4)

1 (2)

1 (2)

1 (2)

Ja Htu Kong

2576

50 (84)

42 (84)

3 (6)

3 (6)

2 (4)

0 (0)

0 (0)

Total

3810

104 (82.69§)

84 (80.77)

9 (8.65)

5 (4.81)

4 (3.85)

1 (0.96)

1 (0.96)
Sporozoite detection
A 121 bp fragment was amplified from one of the 150 pooled An. minimus samples (Figure 2). According to Snounou et al. [20] and Zakeri et al. [21], electrophoresis on a 1.5% agarose gel of the nested PCR products confirmed the existence of the P. vivax SSUrDNA fragment which was found to match with the previously reported result [20]. PCR analysis for detection of the Plasmodium genus and species determination established that the percentage of P. vivax infection was 0.07-0.7%.
Discussion
In this study, we report our investigation of the Anopheles community and the role of An. minimus in malaria transmission in a region along the Sino-Myanmar border. According to our results, the Anopheles community in this district consists mostly of the primary vector An. minimus s.s. (occupying 78.83%) with another 12 Anopheles species accounting for 21.17%. A previous study reported the mosquito community near the China-Myanmar border in the western Yunnan, which included 12 Anopheles species with An. sinensis (accounting for 25.9%) being the most abundant species but Culex tritaeniorhynchus (67.9%) in this investigation [12]. However, the right China-Myanmar border area has a different environment and consequently different mosquito community composition, and the blood-meal and sporozoite of Anopheles mosquitoes have never been investigated before. Although several reports had confirmed that An. sinensis and An. minimus were among the major malaria vectors in China and Myanmar [22–25], there was no prior direct evidence for malaria transmission by the two species in this malaria prone area. The An. dirus complex has been reported in Myanmar [24] but it was not collected during this year-long study in this border region. Thus, An. minimus was regarded as the dominant endemic vector.
Because of the spread of the war between the KIO and the Central Union Government in this area between January and February 2013, work on mosquito collection was compelled to stop. Thus, complete data on seasonal variation during these two months was absent (Figure 3). Clearly An. minimus was seasonal in this border region where the warm and wet months of May-October were the peak season and the cold and dry months of November-April were the off season. The quantity of An. minimus in the rainy season far outstripped that in dry season. Meanwhile, An. minimus's seasonality positively correlated with malaria occurrence in this district. Thus, effective preventive measures including free provision of bed nets and insecticide spray for each family must be available and implemented in a timely manner during the rainy period.
The research further indicates that An. minimus shows a variable behavior on blood meal. An. minimus s.l. comprised three sibling species, namely An. minimus, An. harrisoni Harbach & Manguin and An. yaeyamaensis Somboon & Harbach [26–28]. An. minimus and An. harrisoni have a broad distribution in much of Southeast Asia and Southern China [7]. However, most studies did not differentiate An. minimus and An. harrisoni on blood source detection. More investigations are required on An. minimus and An. harrisoni throughout an extensive geographical area where the An. minimus complex has existed. The An. minimus complex is either zoophilic or anthropophilic, depending on the local host availability. In this study, An. minimus fed on four animal's (humans, cattle, pigs and dogs) distinguished by multiplex PCR. This population of An. minimus showed a greater bias for humans. The results of the high HBI for An. minimus is in line with previous research [11]. The high human preference of 82.69% suggests that malaria transmission tends to occur in this malaria epidemic region. The numbers for sites Daonong (37 individuals) and Nabang (275) are quite small, mainly because both are located in south-western Yunnan, where insecticide spray for each family was timely carried out and different economic crop planting resulted in adverse ecological environments for mosquitoes.
The identification of Plasmodium parasites in the salivary glands of An. minimus s.l. conclusively identified them as malaria vectors. Sporozoite infection rates were traditionally detected by dissection and inspection of the salivary glands of each mosquito under a light microscope. Molecular methods have been established in recent years, including the PCR method [29, 30] aiming at amplifying specific DNA sequences for detection and CSP-ELISA detecting the circum sporozoite protein [11, 31, 32]. They have both advantages and disadvantages. In this study, a nested PCR method based on the amplification of the SSUrDNA of P. vivax sporozoites was selected to identify malaria vectors. This is a highly sensitive, conventional and effective approach. One of 150 pooled samples was confirmed positive in mosquito salivary glands by using this tool. It appears that An. minimus is the predominant malaria vector in this region.
In view of the findings of this study, An. maculatus, An. jeyporiensis, An. culicifacis complex and An. sinensis, the major malaria vectors reported in Thailand [33, 34], India and Sri Lanka [35, 36], and central China [37], respectively, are less abundant. That is not to say that these minor Anopheles populations do not have a potential vectorial role in the transmission of malaria in this boundary region. For instance, An. maculatus complex was infected by Plasmodium and also detected in Yunnan Province in south-west China [38]. They may be potential secondary malaria vectors and further research is required to understand the relationship between these Anopheline mosquitoes and malaria outbreaks. Malaria transmission will continue to be influenced by environmental changes, wars, dwelling conditions and human activities including visiting families and conducting making trade. Ultimately, this study provides baseline information for local evidence-based malaria control programmes, reveals valuable information necessary for the implementation of prospective control strategies, and will be useful to other regions or countries dealing with similar high burdens of malaria.
Conclusion
The diversity of Anopheles mosquitoes on the China-Myanmar border area was abundant with 13 Anopheles species being identified based on morphological and/or molecular characteristics. An. minimus was the dominant species with a much higher human blood index compared to other animals in this area. Additionally, An. minimus was confirmed as the local malaria vector but with low sporozoite infection detected.
Declarations
Acknowledgements
This work was supported by grants from The National Natural Science Foundation of China (31071968 and 31372265), grants from the National Institute of Health (R01 AI095184 and R03 TW008237), Key Scientific and Technological Project of Chongqing (CSTC2012GG-YYJSB80002) and Par-Eu Scholars Program. Many thanks to Prof. John Richard Schrock of Emporia State University, USA for English revision.
Authors' Affiliations
(1)
Institute of Entomology and Molecular Biology, College of Life Sciences, Chongqing Normal University, Chongqing, P.R. China
(2)
Program in Public Health, College of Health Sciences, University of California, Irvine, USA
(3)
Department of Pathogenic Biology, College of Medicine, Third Military Medical University, Chongqing, China
Copyright
© Yu et al.; licensee BioMed Central Ltd. 2013
This article is published under license to BioMed Central Ltd. This is an Open Access article distributed under the terms of the Creative Commons Attribution License (http://creativecommons.org/licenses/by/2.0), which permits unrestricted use, distribution, and reproduction in any medium, provided the original work is properly cited.