Paratransgenesis to control malaria vectors: a semi-field pilot study
Parasites & Vectors
2016
9:140
Received: 21 December 2015
Accepted: 5 March 2016
Published: 10 March 2016
Abstract
Background
Malaria still remains a serious health burden in developing countries, causing more than 1 million deaths annually. Given the lack of an effective vaccine against its major etiological agent, Plasmodium falciparum, and the growing resistance of this parasite to the currently available drugs repertoire and of Anopheles mosquitoes to insecticides, the development of innovative control measures is an imperative to reduce malaria transmission. Paratransgenesis, the modification of symbiotic organisms to deliver anti-pathogen effector molecules, represents a novel strategy against Plasmodium development in mosquito vectors, showing the potential to reduce parasite development. However, the field application of laboratory-based evidence of paratransgenesis imposes the use of more realistic confined semi-field environments.
Methods
Large cages were used to evaluate the ability of bacteria of the genus Asaia expressing green fluorescent protein (Asaia gfp), to diffuse in Anopheles stephensi and Anopheles gambiae target mosquito populations. Asaia gfp was introduced in large cages through the release of paratransgenic males or by sugar feeding stations. Recombinant bacteria transmission was directly detected by fluorescent microscopy, and further assessed by molecular analysis.
Results
Here we show the first known trial in semi-field condition on paratransgenic anophelines. Modified bacteria were able to spread at high rate in different populations of An. stephensi and An. gambiae, dominant malaria vectors, exploring horizontal ways and successfully colonising mosquito midguts. Moreover, in An. gambiae, vertical and trans-stadial diffusion mechanisms were demonstrated.
Conclusions
Our results demonstrate the considerable ability of modified Asaia to colonise different populations of malaria vectors, including pecies where its association is not primary, in large environments. The data support the potential to employ transgenic Asaia as a tool for malaria control, disclosing promising perspective for its field application with suitable effector molecules.
Keywords
Asaia
Anopheles
Paratransgenesis
Large cages trials
Background
The emergence of drug resistant parasites and insecticide resistant mosquito strains, together with several eco-environmental concerns related to the use of most chemicals, require the development of additional control methods for mosquito-borne diseases [1]. In addition to transgenic mosquitoes engineered to replace or suppress wild vector populations [2–4], a parallel approach aimed at producing paratransgenic tools to control vector-borne diseases has been developed, providing concrete possibilities for innovative control strategies [5–7].
Paratransgenesis is commonly defined as the use of symbiotic organisms, naturally inhabiting mosquito midgut and rapidly spreading among vector population, to deliver anti-pathogen effector molecules [8–10]. In the last decade several studies focusing on effective paratransgenic-based malaria control protocols have been published and a few bacterial symbionts have been already selected as potentially useful tools, although all related studies have been performed in small laboratory cages [11–15]. The transition from small laboratory cages to open field trials is a critical step to effectively set-up an in-depth control approach [16]. In this context, the intermediate step of confined semi-field conditions represents an ideal tool to evaluate the potential of paratransgenesis technology to be employed to counteract malaria and other mosquito-borne diseases. At the same time, it gives the possibility to develop predictive models and comprehensive risk assessment related to the use of paratransgenic mosquitoes. The use of large cages allows a wider picture of the actual transmission potential of selected symbiont(s), together with preliminary behavioural ecology insights of paratransgenic mosquitoes, in a specifically arranged environment, simulating the near-natural ecosystem conditions [17]. To our knowledge, no complete surveys in large cages have been yet performed for paratransgenesis.
The acetic acid bacterium Asaia is one of the most promising mosquito symbionts for paratransgenic approach. Asaia investigations in Anopheles stephensi, where it represents the dominant commensal genus, disclosed its ability to spread with high efficiency in recipient populations and throughout following generations, as demonstrated in small laboratory cages [18]. Moreover, the association between Asaia and field collected An. gambiae was reported [19]. Its intrinsic biological characteristics, easy transformability and capability to be transmitted through horizontal and vertical transmission routes in small cages, together with its colonisation throughout the mosquito life-cycle, as well as its co-localisation in Plasmodium invasion hot-spots, are invaluable features that make this bacterium a suitable candidate for symbiotic control strategies [20, 21].
Here we report the first known confined semi-field pilot trial with paratransgenic anopheline mosquitoes, carrying an
Asaia
expressing the Green Fluorescent Protein (
Asaia
gfp
) [
13
], aimed to investigate the potential of this bacterium in paratransgenic approaches to control malaria and other mosquito borne diseases. The large cages present at University of Perugia (Italy), specifically equipped with clay brick resting sites, visual stimuli and mating areas for male swarming has already been proved to be suitable to perform behavioural and fitness studies of transgenic
An. gambiae
mosquitoes (Fig.
1
) [
22
].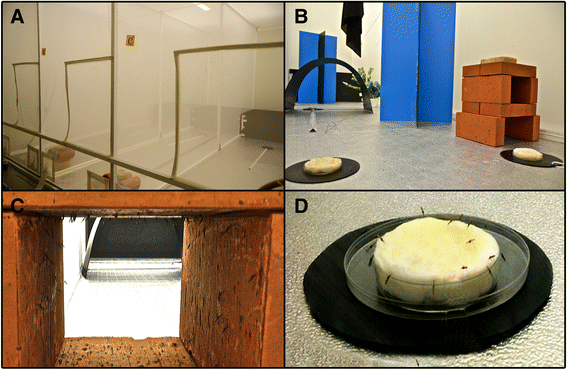 Results and discussion
Confined semi-field conditions were used to evaluate horizontal and vertical transmission of
Asaia
expressing the green fluorescent protein (
Asaia
gfp
) in
Anopheles
mosquitoes by the release in the large cages of paratransgenic males or infected feeding stations.
Asaia
gfp
spreading by paratransgenic males was evaluated in
An. stephensi
and for the first time in
An. gambiae
mosquitoes
.
The diffusion of the recombinant
Asaia
strain was evaluated by fluorescent microscopy for the presence of
Asaia
gfp
in the mosquito midgut (Fig.
2a
). The results showed that in
An. stephensi
the percentage of mosquitoes infected with
Asaia
gfp
increased markedly over time and reached on average 64 % and 73 % after 20 days from the release of 12 and 36 paratransgenic males, respectively (G = 44.9, 2 d.f.,
P
 = 1.7e-10); Fig.
2b
). The ability of
Asaia
gfp
to spread through the mosquito population shows a higher impact on females (G = 8.9, 1 d.f.,
P
 = 0.002). Similar results were obtained also in
An. gambiae
where on average 98 % of
Asaia
gfp
positivity was reached in just 12 days after the release of only 12 paratransgenic males (G = 113.78, 1 d.f.,
P
 < 2.2e-16) with no significant difference in the infection rate between male and female mosquitoes (G = 1.33, 1 d.f.,
P
 = 0.24) (Fig.
3a
).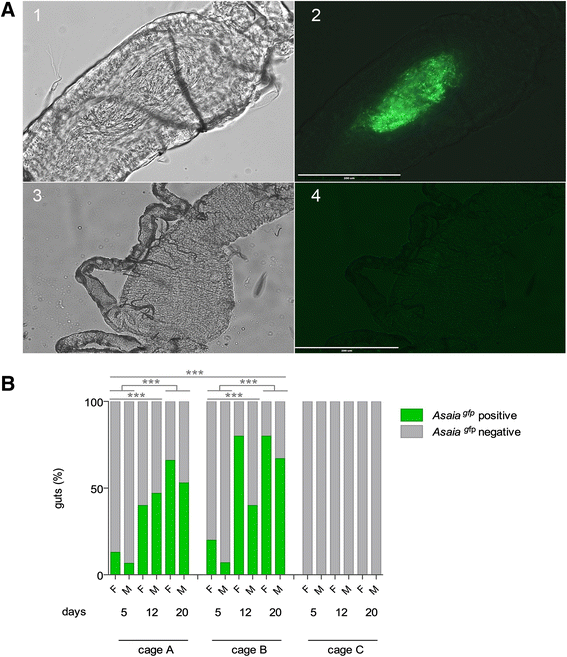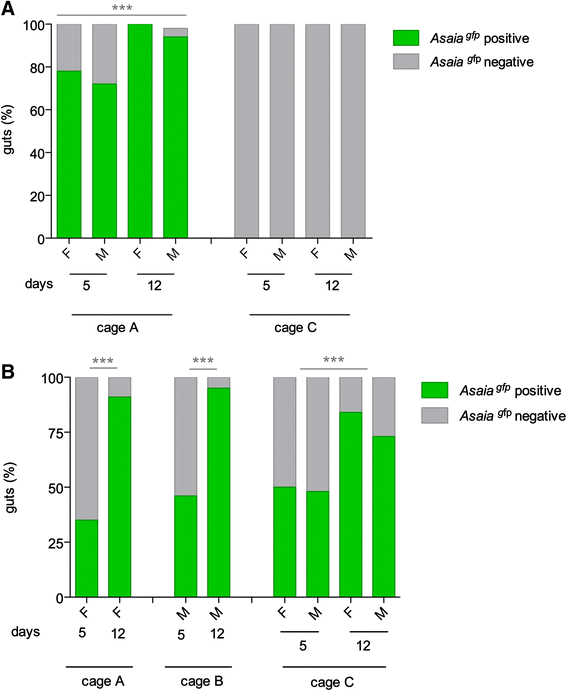 The trial involving horizontal bacterial transmission through sugar feeding station provided outcomes of a notable diffusion rate of Asaia in An. gambiae population and in the environment. Two uninfected and one Asaia gfp-infected feeding stations were introduced in each large cage. After two days all the feeding stations were screened for Asaia gfp infection, resulting all positive (data not shown). Cages A, B and C were populated with only females, males or assorted stable-age mosquito population, respectively. The rate of Asaia gfp-infected mosquitoes increased over time and reached 91 %, 95 % and on average 79 % respectively, at 12 days post-release, thus indicating a successful horizontal transmission within the recipient population (G = 15.1, 1 d.f., P = 9.71 e-05) (Fig. 3b).
In
An. gambiae
, the efficiency of
Asaia
gfp
to spread vertically and trans-stadially was additionally evaluated. Offspring of
An. gambiae
females infected in large cages by means of paratransgenic males was analysed for
Asaia
gfp
presence. Recombinant
Asaia
was detected in 78 % of the 4th instar larvae and in 44 % on average of the newly emerged male and female adults with respect to the control (G = 235.78, 1 d.f.,
P
 < 2.2e-16) (Fig.
4a
). Additionally, the paternal and maternal contributions in the experimental set-up with feeding stations soaked with
Asaia
gfp
was investigated. In order to do this, infected mosquitoes from each cage were allowed to mate with 5 day-old uninfected mosquitoes of the opposite sex for 24 h and then to lay eggs. Fourth instar larvae were screened, reporting
Asaia
gfp
positivity of 50 %, 40 % and 40 % from cage A, B and C, respectively. Moreover, on average 64 %, 66 % and 59 % of adults were colonised by
Asaia
gfp
. Differences among female and males adults were analysed, reporting a significant difference of
Asaia
gfp
presence (G = 8.9, 1 d.f.,
P
 = 0.002) (Fig.
4b
).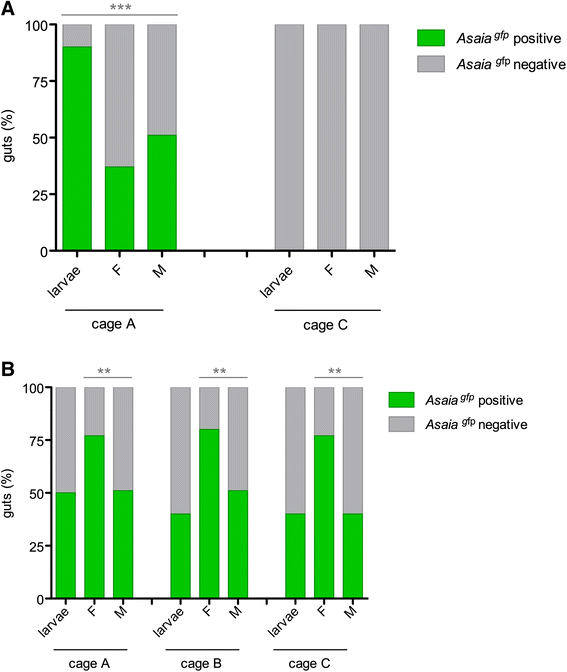 Overall, our data are consistent with the preliminary observations obtained in previous studies performed in small cages with An. stephensi [18]. Additionally, this study contributes to a better understanding transmission routes and employed vectors. The strong ability of modified Asaia to be horizontally spread in different populations, through the release of previously infected males or through feeding stations in populations of both An. stephensi and An. gambiae is demonstrated. At the same time, our data suggest intrinsic behavioural and ecological differences between the two vector systems. The slightly lower and delayed rate of infection of An. stephensi compared to An. gambiae has been addressed to the internal arrangement of the large cages, optimised for swarming and mating behaviour of An. gambiae. Thus, since horizontal spreading of Asaia gfp mainly relies on co-feeding and mating, the behaviour of the mosquitoes in this semi-field condition may have limited the second route of infection. For these reasons, the analysis of the first generation of An. stephensi has been prevented.
The possibility to release non-biting paratransgenic males in open field will circumvent the concerns of releasing bacteria-transmitting females, being consistent with safety requirements related to the use of paratransgenesis to reduce vector competence. Nevertheless, complexities could still arise given the fact that this practice may result in the overall increase of the mosquito population density in a given area. Therefore, we also propose an alternative approach for Asaia gfp transmission assessment, whose introduction does not imply the release of mosquitoes, and recombinant bacteria were introduced in large cages by means of feeding stations. Both pathways definitely demonstrate the high efficiency of Asaia to diffuse and colonise mosquito populations in large environment with respect to small cages. This effectiveness explores both horizontal, mainly by synergistic co-feeding and mating, and vertical diffusion pathways of both paternal and maternal contribution, despite the introduction procedures applied. Our data, obtained by exploiting fluorescence marked bacteria, lay the foundation for further applications of Asaia as paratransgenic tool.
Finally, we have also addressed the question related to the use of antibiotic in the feeding stations for the maintenance of recombinant bacteria. To determine whether or not the use of kanamycin in feeding stations affects the ability of
Asaia
gfp
to colonise mosquito populations by altering the native microbiota, we performed a 16S rRNA gene pyrosequencing of mosquitoes kept under antibiotic selection. The metagenomic analysis clearly showed that kanamycin partially affects mosquito microbiota at both family and genus taxonomic levels (Fig.
5
, Additional file
1
: Table S1 and Additional file
2
: Figure S1). Nevertheless, out of several tens of bacteria genera investigated, only species of the family Flavobacteriaceae and, specifically of the genus
Elizabethkingia
, seem to have a notable bloom mainly in female mosquitoes kept under antibiotic selection (Fig.
5a, b
and Additional file
1
: Table S1). This is in agreement with a previous report describing
Elizabethkinghia
sp. as a dominant bacteria species present in the gut of the malaria vector
An. gambiae
with a broad antibiotic resistance [
31
]. Our data, although showing that the mosquito microbiota is partially affected by the antibiotic selection, clearly indicate that kanamycin treatment does not account for the success of
Asaia
transmission, whose persistence is constant and clearly demonstrated.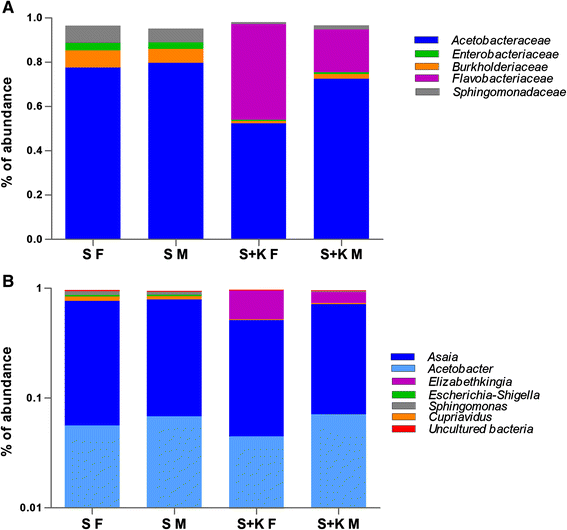 Conclusions
The ability of paratransgenic approaches to control malaria and other mosquito-borne diseases is very promising, disclosing a concrete applicative prospect. We report here results from the first known paratransgenic trial performed in large cages aimed at testing the feasibility of this approach. The success of paratransgenesis obviously depends on a variety of factors. Nevertheless, our findings support the applied perspective involving the use of Asaia as a promising tool and further demonstrate the great utility of confined environments to define the most efficient methodologies for an in-depth evaluation of technologies transition from laboratory to field employment. The field release of paratransgenic mosquitoes imposes a rigorous risk assessment framework coherent with a strict regulatory system, appropriate to national and international guidelines. Evaluation of the risks and benefits of this strategy is required. Investigation of hazards and safety related concerns [32], together with implementation of authorised ongoing projects (transgenic and/or Wolbachia-transinfected mosquitoes [33]) will lay the basis for a solid regulatory oversight of the paratransgenic program, and ultimately, to allow its field trials. Since Asaia has been recently detected in several insect vectors [34–37], these data provide crucial clues applicable toward multiple paratransgenic targets in the control of a wide spectrum of vector borne diseases.
Declarations
Acknowledgements
This paper is dedicated to our friend and colleague Thanasis Loukeris, who died on 30 May 2014. We would like to thank Sheila Beatty for editing the English of the manuscript. The work was supported by grants (to GF) from the Italian Ministry of Education, University and Research (MIUR) (Prin 2012 protocol 2012T85B3R), the EU-FP7 Capacities-Infrastructure 2008 (grant 228421) and (to IR) from the European Union Seventh Framework Programme ([FP7/2007-2013] under grant agreement n. 281222. The funders had no role in study design, data collection and analysis, decision to publish, or preparation of the manuscript.
Open AccessThis article is distributed under the terms of the Creative Commons Attribution 4.0 International License (http://creativecommons.org/licenses/by/4.0/), which permits unrestricted use, distribution, and reproduction in any medium, provided you give appropriate credit to the original author(s) and the source, provide a link to the Creative Commons license, and indicate if changes were made. The Creative Commons Public Domain Dedication waiver (http://creativecommons.org/publicdomain/zero/1.0/) applies to the data made available in this article, unless otherwise stated.
Authors' Affiliations
(1)
Scuola di Bioscienze e Medicina Veterinaria, Università di Camerino, Camerino, Italy
(2)
Department of Experimental Medicine, Centro di Genomica Funzionale, University of Perugia, Perugia, Italy
(3)
Institut de Recherche en Sciences de la Sante (IRSS), Direction Regionale de l'Ouest (DRO), Bobo Dioulasso, Burkina Faso