Molecular phylogeny of Anopheles hyrcanus group members based on ITS2 rDNA
Parasites & Vectors
2017
10:417
Received: 8 April 2017
Accepted: 29 August 2017
Published: 7 September 2017
Abstract
Background
The Anopheles hyrcanus group includes 25 species, and is widely distributed in the Oriental and Palaearctic regions. Several species within this group are vectors of malaria, lymphatic filariasis and Japanese encephalitis. It is difficult or impossible to identify cryptic species based on their morphological characteristics, with some closely related species of the Hyrcanus Group have similar adult morphological characteristics. Thus, their molecular identification has been an important complementary method to traditional morphological taxonomy.
Methods
We used 461 ribosomal DNA (rDNA) internal transcribed spacer 2 (ITS2) sequences relating to 19 species to reconstruct the molecular phylogeny of the Hyrcanus Group across its range. In addition, we compared the performance of rDNA ITS2 to that of mitochondrial DNA (mtDNA) cytochrome c oxidase subunit 1 gene (cox1) to assess the genetic divergence of Hyrcanus Group sibling species.
Results
Based on Kimura's 2-parameter (K2P) distance model, the average conspecific ITS2 divergence was 0.003, whereas sequence divergence between species averaged 0.480. Average ITS2 sequence divergences were almost 160 times higher among the Hyrcanus Group members than within each species. Two sets of sibling species, An. lesteri Baisas & Hu, 1936 and An. paraliae Sandosham, 1959; and An. sinensis Wiedemann, 1828, An. belenrae Rueda, 2005, and An. kleini Rueda, 2005, were resolved by ITS2. Each of these species was represented as an independent lineage in the phylogenetic tree. Results suggest that An. pseudopictus Grassi, 1899 and An. hyrcanus (Pallas, 1771) are most likely a single species. We uncovered two new ITS2 lineages that require further study before resolving their true taxonomic status, and designed a diagnostic polymerase chain reaction (PCR) assay to distinguish five morphologically similar species.
Conclusions
Nuclear and mitochondrial genes generally provided consistent results for subgroup division. Compared to cox1, ITS2 is a more reliable tool for studying phylogenetic relationships among closely related mosquito taxa. Based on species-specific differences in ITS2 sequences, the multiplex PCR assay developed here can be used to improve the efficiency of vector identification. Thus, this research will promote the progress of malaria vector surveillance in both epidemic and non-epidemic areas of South and East Asia.
Keywords
Anopheles
Malaria
DNA barcoding
Background
The Anopheles hyrcanus group (hereinafter Hyrcanus Group) includes (at least) 25 species and belongs to the Anopheles Myzorhynchus Series, with one provisionally designated member [1, 2]. The group is widely distributed in Oriental and Palaearctic regions. Anopheles sinensis and An. lesteri are the main malaria vectors in China [3], An. hyrcanus is a potential malaria vector in southern France [4, 5], An. kleini and An. pullus Yamada, 1937 are primary vectors of malaria in the Republic of Korea [6], and An. sinensis, An. nigerrimus Giles, 1900, and An. peditaeniatus (Leicester, 1908) are potential vectors of malaria in Thailand [7, 8].
Because many of the primary malaria vectors belong to the Hyrcanus Group, accurate species identification and phylogenetic relationship evaluation in this group are essential for understanding malaria transmission and its relationship with the evolution of Plasmodium spp. However, species within the Hyrcanus Group are difficult or impossible to be accurately distinguished using only morphological characteristics, even for trained taxonomists [9, 10], due to highly variable morphologies and to adults of some species possessing almost identical adult morphological features, as is the case of the most closely related species [11, 12].
DNA barcoding is an important addition to traditional morphology-based methods and a highly useful tool for species recognition, regardless of life stage [13–15]. The mitochondrial cytochrome c oxidase subunit 1 gene (cox1) is the standard barcode for species identification in a wide range of animal taxa, and is approximately 658 bp long [16, 17]. However, genomic introgression frequently involves mitochondrial DNA (mtDNA), because of recent hybridization events between species [18, 19]. Recent hybridization transfers mtDNA from one species to another and can lead to mtDNA variation [18, 20, 21]. In our previous study [22], cox1 failed to distinguish between recently diverged taxa, suggesting that mtDNA may not be appropriate for investigating the molecular phylogeny of the Hyrcanus Group.
A DNA marker that evolves at a species-level rate would be able to accurately reconstruct phylogenetic relationships within the Hyrcanus Group, and elucidate the ambiguity that has arisen from improper classification [23, 24]. Internal transcribed spacer 2 (ITS2) has been used for addressing taxonomic issues within the Hyrcanus Group because it has high interspecific, and low intraspecific variability [11, 12, 16, 25–27]. Using this marker, three newly proposed lineages have been revealed: two separated from An. sinensis, namely An. belenrae and An. kleini [28], and one closely related to An. hyrcanus, provisionally designated as An. hyrcanus spIR [16]. In addition, based on interspecific comparisons of ITS2, An. yatsushiroensis was synonymized with An. pullus [29, 30], An. kunmingensis and An. liangshanensis Kang, Tan, Cao, Cheng, Yang & Huang, 1984 were found to be synonymous [31, 32], An. paraliae was considered a synonym of An. lesteri [33], An. anthropophagus and An. lesteri were classified as conspecific [34, 35], and An. kleini was presumed a synonym of An. engarensis Kanda & Oguma, 1978 [12].
To reconstruct the molecular phylogeny of the Hyrcanus Group, the barcoding gap of ITS2 should be identified. Therefore, it is necessary to include specimens of the same species collected from different geographical locations [17, 36], in order to calculate the intra- and interspecific variation of ITS2 within the group. The ITS2 sequence database in GenBank (http://www.ncbi.nlm.nih.gov/genbank) permits the use of reference sequences for Hyrcanus Group species identification across a relatively wide geographical distribution [33]. Thus, in the present study, GenBank sequences and our original data were used to reconstruct a phylogeny for the Hyrcanus Group based on ITS2, to resolve phylogenetic relationships between closely related taxa. In addition, we compared rDNA ITS2 and mtDNA cox1 in terms of genetic divergence and distinction efficiency among Hyrcanus Group species. Using conserved ITS2 fragments from Hyrcanus Group species, we also designed a diagnostic polymerase chain reaction (PCR) assay for distinguishing five morphologically similar species. The present study will help improve the efficiency of mosquito molecular identification in malaria vector surveillance.
Discussion
Subdivision of the Hyrcanus group
Morphological features separate the Hyrcanus Group into three subgroups [52, 53]. Anopheles nigerrimus, An. nitidus Harrison, Scanlon & Reid, 1973, An. pursati and An. pseudosinensis Baisas, 1935 were placed in the Nigerrimus Subgroup, and An. lesteri, An. paraliae, An. peditaeniatus, An. crawfordi and An. vietnamensis Nguyen, Tran & Nguyen, 1993 were assigned to the Lesteri Subgroup. The remaining species were unassigned. Unfortunately, DNA barcoding has not been conducted for every Hyrcanus Group member. Until now, no ITS2 sequence data were known for the following seven species: An. pseudosinensis, An. vietnamensis, An. chodukini Martini, 1929, An. hailarensis Xu & Luo, 1998, An. heiheensis Ma, 1981, An. pursati and An. nimpe Nguyen, Tran & Harbach, 2000. The present study included all the ITS2 sequences available for Hyrcanus Group members deposited in GenBank, including 461 individuals from 19 species. The NJ tree obtained supports the monophyly of the Hyrcanus Group; however, the subgroup arrangement did not match that based on morphological characteristics. We could recognize two main subgroups, one consisting of An. argyropus, An. nigerrimus, An. pursati and An. nitidus, and the other containing An. peditaeniatus, An. pullus, An. hyrcanus spIR, An. hyrcanus, An. pseudopictus, An. kleini, An. engarensis, An. belenrae, An. sinensis, An. sineroides, An. kweiyangensis, An. liangshanensis, An. crawfordi, An. lesteri and An. paraliae. This arrangement suggested that the morphology-based Lesteri Subgroup is not monophyletic. Anopheles lesteri, An. paraliae and An. crawfordi formed a single clade, but An. peditaeniatus was far from these species in the NJ tree. In addition, the ITS2 sequences of An. hyrcanus and An. pseudopictus were almost identical, with an extremely low genetic distance (0.001). As in the results based on the cox1 gene [22], the interspecific was only 0.008, which is far below the maximum intraspecific distance, i.e. 0.017. Anopheles pseudopictus individuals were embedded in the An. hyrcanus lineage, in both ITS2 and cox1 trees [22], in agreement with previous findings comparing morphological characters and molecular markers between the two species and morphologically-intermediate forms [4]. Thus, An. hyrcanus and An. pseudopictus are most likely the same species, although further studies including crossing experiments are needed to confirm this hypothesis.
Results of the present and previous studies on genetic relationships among Hyrcanus Group members do not entirely coincide. In previous studies [11, 12, 16, 25, 26], both the number of species and the number of sequences used were far lower than those used in the present study. In addition, some species have been confirmed as synonymous within the Hyrcanus Group [1, 2]. Because previous studies did not include an appropriate number of species, particularly of the Nigerrimus Subgroup, it has been difficult to detect subgroups in the phylogenetic tree. Hwang [12] classified the Hyrcanus Group into four subgroups, based on ITS2 data; however, in his maximum likelihood tree topology, the four subgroups were not on the same phylogenetic level. It should be noted that the above study [12], and two related studies [11, 16], used the same An. crawfordi ITS2 sequence (AF261949) to reconstruct the molecular phylogeny of the Hyrcanus Group. However, in our analysis, this sequence belongs to an originally misidentified specimen. In these three studies [11, 12, 16], the tree topologies suggested that An. crawfordi is closest to An. peditaeniatus, in contrast to the results of the present study and those of another recent study [26], in which An. crawfordi is distant from An. peditaeniatus but close to An. lesteri.
Deep ITS2 intraspecific divergence in An. lesteri and An. crawfordi
As shown in Table 2, deep intraspecific differences were detected in An. lesteri and An. crawfordi (0.0142 and 0.0143, respectively), while all other species analysed presented intraspecific divergences below 0.005. Deep ITS2 divergences within species might be due to hidden diversity. Hwang [12] stated that An. lesteri could be divided into at least three types: A (the dominant type), B (AJ620899 and AJ620902) and C (AJ620900 and AJ620901). He also suggested that the Philippines type (AY375469) of An. lesteri proposed by Rueda et al. [54] should belong to type A. However, in the current study nucleotide substitution and insertions of AY375469 were not as frequent close to type A as to types B and C sequences, although this accession still represented a separate branch from An. lesteri type A in the tree. Therefore, the Philippines type is probably an independent An. lesteri type. For An. crawfordi, sequences could generally be differentiated into Cambodia and Thailand types, with support values of 98 and 79%, respectively. This genetic divergence probably resulted from geographical isolation [55].
Phylogenetic reconstructions using cox1 and ITS2
Based on the results of the present study and our previous study using
cox
1 [
22
], we compared the effectiveness of the nuclear ITS2 and mitochondrial
cox
1 as markers for Hyrcanus Group members. We found that the
cox
1 barcoding gap was 0.016–0.026, whereas that of ITS2 was 0.014–0.081. The ITS2 sequence divergences were, on average, almost 160 times higher among groups of species than within a species, whereas the average
cox
1 divergence between congroup species was only eight times higher than that within species. An effective DNA marker should have a small intraspecific distance and a large interspecific distance [
56
]. In Fig.
4
, each dot represents a species, with intraspecific distance on the x-axis and interspecific distance on the y-axis. It is obvious that there are more ITS2 than
cox
1 dots close to the top left-hand corner of the graph. The main disadvantage of using
cox
1 in phylogenetic studies of the Hyrcanus Group is that it cannot differentiate between the closely related:
An. lesteri
and
An. paraliae
; and
An. sinensis
,
An. belenrae
and
An. kleini
[
22
]. In the ITS2 tree, each of the above species belonged to an independent lineage, which form monoclades with their sister species. In addition, two other pairs of sibling species,
An. hyrcanus
and
An. hyrcanus
sp
IR
, and
An. kleini
and
An. engarensis
, were also differentiated by ITS2. Currently, there are no
cox
1 records of
An. hyrcanus
sp
IR
or
An. engarensis
in GenBank. Thus, rDNA ITS2 seems more reliable than mtDNA
cox
1 for resolving evolutionary issues of the Hyrcanus Group, including recently diverged taxa, such as cryptic species of mosquitoes. Although
cox
1 may be useful in barcoding information, and particularly for inferring the possibility of ancient hybridization, in mosquito molecular phylogeny, nuclear ITS2 can establish species boundaries in cases that cannot be resolved by mitochondrial
cox
1. In fact, ITS2 sequences have been most frequently used in species identification and phylogenetic reconstruction of the Hyrcanus Group [
11
,
12
,
16
,
25
,
26
]. In the animal kingdom, the evolutionary rate of the mitochondrial genome is about 5–10 times faster than that of the nuclear genome, making
cox
1 potentially more useful than ITS2 for correctly identifying recently diverged species [
57
,
58
]. However, the opposite seems to occur within the Hyrcanus Group, which might be explained by the male-biased dispersal [
59
]. In the field, females usually mate only once, and store sufficient sperms to fertilize all eggs they produce in their lifetime, whereas males mate repeatedly. Consequently, male mosquitoes occupy a dominant position during population expansions. Because mtDNA is typically maternally inherited, any hybrid or offspring would only have the maternal species' mtDNA. Therefore, hybridization can result in shared or very similar sequences in the mitochondrial genome. The divergent mtDNA of
An. belenrae
,
An. kleini
and
An. paraliae
suggests that the mitochondrial genomes of incipient sibling species have been sympatrically replaced by those of
An. sinensis
and
An. lesteri
over wide areas. In the Hyrcanus Group, nuclear markers are less introgressed, and hence more diagnostic, than mtDNA markers.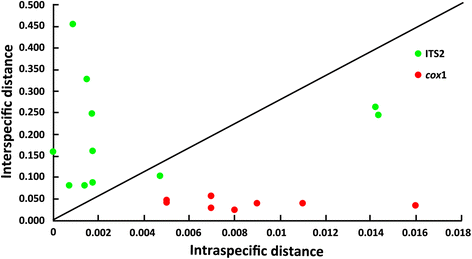 Conclusions
This study used ITS2 sequences of Hyrcanus Group members distributed worldwide, providing a systematic basis for future studies on malaria transmission and its relationship with the evolution of Plasmodium spp. We found that the topology of the Hyrcanus Group ITS2 tree was generally consistent with the morphology-based taxonomy in terms of species classification, but not in terms of subgroup divisions. Nuclear and mitochondrial gene data were generally consistent in subgroup classification; however, cox1 failed to elucidate the phylogenetic status of the incipient sibling species An. belenrae, An. kleini and An. paraliae, suggesting that cox1 might be unable to resolve the molecular phylogeny of the Hyrcanus Group, unlike ITS2. ITS2 is a reliable tool for the study of phylogenetic relationships between closely related mosquito taxa, and cox1 may be a useful supplement to barcoding information, particularly for inferring interspecific hybridization. Both cox1 and ITS2 results suggested that An. pseudopictus and An. hyrcanus might be the same species. Two new ITS2 lineages, namely accessions AF261949 and KC769647, were uncovered, and require further sampling and detailed morphological, genetic, and ecological studies before resolving their true taxonomic status. In addition, unambiguous ITS2 sequence differences among Hyrcanus Group members facilitated the design of species-specific primers for identifying five species within this group that are the most frequently implicated in disease transmission in China. Thus, this method can identify members of the Hyrcanus Group in a simple, fast, and reliable manner during malaria-vector surveillance procedures.
Abbreviations
China CDC:

Chinese Center for Disease Control and Prevention
cox1:

Cytochrome c oxidase subunit 1 gene
ITS2:

Internal transcribed spacer 2
K2P:

Kimura's 2-parameter
NIPD:

National Institute of Parasitic Diseases
Declarations
Acknowledgements
Not applicable.
Funding
This work was supported by the National Key Research and Development Program of China (Grant No. 2016YFC1202000, 2016YFC1202002, 2016YFC1202003).
Availability of data and materials
All data generated or analyzed during this study are included in this published article and its additional files. The newly generated sequences were submitted in the GenBank database under the accession numbers KU312198–KU312221, KU682193–KU682195, MF498513–MF498558 and MF535198–MF535239.
Authors' contributions
YF, WS and YZ designed the study; YF carried out laboratory experiments, performed phylogenetic analyses, and wrote the manuscript; WS and YZ revised the manuscript and gave approval of the version to be published. All authors read and approved the final manuscript.
Ethics approval and consent to participate
No specific permits were required for this study. The study did not involve endangered or protected species. Therefore, the local ethics committee deemed that approval was unnecessary.
Consent for publication
Not applicable.
Competing interests
The authors declare that they have no competing interests.
Publisher's Note
Springer Nature remains neutral with regard to jurisdictional claims in published maps and institutional affiliations.
Open AccessThis article is distributed under the terms of the Creative Commons Attribution 4.0 International License (http://creativecommons.org/licenses/by/4.0/), which permits unrestricted use, distribution, and reproduction in any medium, provided you give appropriate credit to the original author(s) and the source, provide a link to the Creative Commons license, and indicate if changes were made. The Creative Commons Public Domain Dedication waiver (http://creativecommons.org/publicdomain/zero/1.0/) applies to the data made available in this article, unless otherwise stated.
Authors' Affiliations
(1)
National Institute of Parasitic Diseases, Chinese Center for Disease Control and Prevention; WHO Collaborating Centre for Tropical Diseases; National Center for International Research on Tropical Diseases, Ministry of Science and Technology; Key Laboratory of Parasite and Vector Biology, Ministry of Health, Shanghai, People's Republic of China