Fresh insights into the pyrimidine metabolism in the trypanosomatids
Parasites & Vectors
2018
11:87
Received: 19 September 2017
Accepted: 18 January 2018
Published: 8 February 2018
Abstract
The trypanosomatid parasites continue their killing spree resulting in significant annual mortality due to the lack of effective treatments and the prominence of these diseases in poorer countries. These dimorphic parasites thrive unchecked in the host system, outsmarting the immune mechanisms. An understanding of biology of these parasitic forms will help in the management and elimination of these fatal diseases. Investigation of various metabolic pathways in these parasites has shed light in the understanding of the unique biology of the trypansomatids. An understanding of these pathways have helped in tracing the soft targets in the metabolic pathways, which could be used as effective drug targets which would further impact the therupeutic implications. Pyrimidine pathway is a vital metabolic pathway which yields in the formation of pyrimidines, which are then integrated in nucleic acids (DNA and RNA) in sugars (UDP sugars) and lipids (CDP lipids). A wealth of data and information has been generated in the past decades by in-depth analyses of pyrimidine pathway in the trypanosomatid parasites, which can aid in the identification of anomalies between the parasitic and host counterpart which could be further harnessed to develop therapeutic interventions for the treatment of parasitic diseases. This review presents an updated and comprehensive detailing of the pyrimidine metabolism in the trypansomatids, their uniqueness and their distinctions, and its possible outcomes that would aid in the eradication of these parasitic diseases.
Keywords
Trypanosomatids
Trypanosoma
Leishmania
Crithidia
Pyrimidine
Background
Trypanosomatids are a group of parasites which are the causative agents of deadly diseases such as African sleeping sickness, chagas disease and visceral leishmaniasis, and have been inflicting huge morbidities especially in third world countries [1–3]. Although the past few years has seen mild success in decreasing cases of these deadly parasitic infections, especially African sleeping sickness, but efforts are on the way to improve the current situation. Some new targets in these parasites have been identified and exploited in the past for the broadening of current treatment options. Basic understanding of the metabolic pathways of these parasites is of paramount importance for novel drug/drug target discovery. Pyrimidine pathway has been investigated in great detail in the past decades, which has delineated its regulation in the trypanosomatids [4, 5]. Although little intervention has been sought based on the understanding of the pyrimidine metabolism in the trypansomatids, but large dataset and key differences between the host and parasite would aid in future developments. A range of biochemical, genetic and structural studies have detailed the intricacies of pyrimidine metabolism in the trypanosomatids and the present review aims at analyzing pyrimidine metabolism in the trypansomatids which would help understanding this ancient pathway and scope of drug discovery. Morover, crucial differences and contribution of these metabolic pathways in the growth and infectivity of the parasites is also delineated. Overall, the review gives a snapshot of the current status of pyrimidine metabolism in the trypansomatids.
Synteny of pyrimidine pathway genes in trypanosomatids
All the genes coding for the de novo pyrimidine biosynthetic enzymes are arranged in an operon-like manner suggesting their retrieval in a lateral manner [6]. The clustering of genes encoding the de novo pyrimidine biosynthesis enzymes in the trypanosomes was first noted by Aoki et al. [7]. The genes coding for all the six enzymes of de novo pyrimidine biosynthesis pathway in the T. cruzi genome are arranged in the following order: pyr1-pyr3-pyr6/5-pyr2(ATC)-pyr4, thus reflecting the syntenic arrangement of de novo pyrimidine pathway genes in the trypanosomatids. Similar clustering or synteny has also been observed in other related trypanosomatids [5]. This syntenic arrangement of the pathway genes represents an early evolution and common ancestry of trypanosomatids, as many genes of the same pathway are usually found to be clustered in the trypanosomatids. Although Trypanosoma brucei exhibited a loss of synteny at the dihydroorotase (DHOase) locus [8], a similar clustering of genes was not observed in the case of uracil phosphoribosyltransferase (UPRT) gene and other genes coding for the interconversion enzymes of the pyrimidine pathway. This signifies that the observed synteny was specific to the de novo pyrimidine pathway enzymes. A hypothetical protein-coding gene and several histone coding genes have also been found to be clustered along with the de novo pyrimidine pathway genes in Leishmania major, Leishmania mexicana and Leishmania infantum, but its functional relevance has not been deduced [9].
Enzymes of the pyrimidine pathway of trypanosomatids
Pyrimidine transport in trypanosomatids
Uracil uptake in the
T. brucei
procyclic forms is mediated by a high affinity uracil transporter U1 (a proton symporter) which uptakes uracil following Michaelis-Menten kinetics with a
K
m
and
V
max
of 0.46 ± 0.09 μM and 0.65 ± 0.08 pmol/s, respectively (Fig.
1a
). Two uridine transporters U1 and U2 with moderate affinity have been implicated in
T. brucei
but primarily U1 is a uracil carrier. A variation in the salvaging capacity of
T. brucei
procyclic and bloodstream forms has been reported where procyclic and bloodstream forms display distinct transporters especially in the case of uridine and uracil transport. In the procyclic forms of
T. brucei
TbU1 is the uracil carrier, while in the bloodstream forms TbU3 is the uracil carrier.
Trypanosoma brucei
is equipped with three kinds of pyrimidine transporters (U1, U2 and C1) along with a uracil transporter (U3), which is active in the mammalian stage of infection. U3 exhibited higher affinity for uracil than for uridine and deoxyuridine [
79
].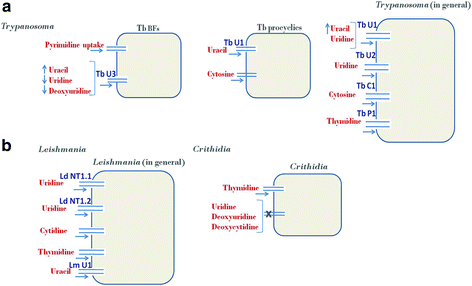 Uptake of uracil was preferred, even in the presence of uracil analogues such as 5-chlorouracil, 3-deazauracil, and 2-thiouracil, which demonstrated the high affinity and specificity of the uracil transporter U1. However, uracil uptake was inhibited in the presence of 5-fluorouracil (Ki = 3.2 ± 0.4 μM) and uridine (K i  = 48 ± 15 μM) [80]. Furthemore, in another study uridine uptake by same uracil transporter (U1) was demonstrated with a K m of 33 ± 5 μM, although a high affinity uridine transporter (U2) with a K m of 4.1 ± 2.1 μM and a V max of 0.019 ± 0.0086 pmol/s has also been described [81] and is inhibited by thymidine (Ki: 0.38 ± 0.07 μM) and cytidine (Ki: 0.041 ± 0.023 μM). Cytosine uptake was demonstrated by high affinity C1 transporter (K m : 0.048 ± 0.009 μM) and its uptake was inhibited by cytidine (Ki: 0.42 ± 0.16 μM) and uracil (Ki: 0.36 ± 0.06 μM) [81]. Availability of thymine, thymidine and cytidine in T. brucei seems to be made out by synthesis from UMP but not by specific transporters [81]. However, another report suggests that uptake of thymidine is done inefficiently by a P1 type nucleoside transporter.
A high affinity uracil transporter (TbU3) in the bloodstream forms of T. brucei was also characterized. The TbU3 transporter had high affinity towards uracil and a lower affinity towards uridine and 2′-deoxyuridine. However, 5-fluorouracil was found to be good substrate for TbU3 transporter and exhibited trypanocidal activity. The uracil uptake in the bloodstream T. brucei forms proceeded at a K m and V max of 0.54 μM and 0.14 ± 0.01 μM/s. V max values imply that a lower uptake rate of uracil is being observed in the bloodstream forms then in the procyclic forms of T. brucei. Trypanosoma brucei bloodstream forms were also found to be inefficient in the uptake of cytidine [79]. Bloodstream forms of T. brucei rely solely on CTP synthase for the cytidine pool, as they lack cytidine transport activity, while the same is being observed in the procyclics as they possess a cytosine transporter [21]. All these studies have pointed towards the fact that pyrimidine salvage pathway primarily relies on the transport of uracil. These studies also highlight that different morphological forms of T. brucei express different pyrimidine transporters, but how this differential expression of transporters in T. brucei morphological forms is regulated remains to be elucidated. Among the various pyrimidine analogs used, 5-fluorouracil was found to be more effective on T. brucei. The conversion of 5-FOA to 5-UMP was found to be more efficient than the conversion of 5-FU by phosphoribosylation.
Purine transport has been dealt in great details in L. donovani but the importance of pyrimidines has not been investigated in detail. Few studies have indicated the presence of high affinity uracil transporters in the Leishmania parasite [80, 82]. Nucleoside transporters have been identified in L. donovani, which enables the parasite to take up uridine, cytidine and thymidine. Uridine at a concentration of 1 μM was transported in linear fashion by LdNT1.1 (5.6 ± 1.8 μM) and LdNT 1.2 (40 ± 11 μM), respectively. The two permeases (LdNT1.1 and LdNT1.2) have a difference of only six amino acid residues, which may account for their differing affinities for uridine (Fig. 1b). Uridine uptake was inhibited in a non-competitive manner by carbonyl cyanide m-chlorophenylhydrazone (CCCP), a proton gradient uncoupler [82]. Leishmania donovani also had the limited ability to salvage thymidine and orotic acid [83]. The presence of pyrimidine transporters have also been demonstrated by Vasudevan et al. [84].
LmU1, a L. major transporter, has been shown to be responsible for the uptake of uracil. The transporter mediated the uptake of uracil obeying the Michelis-Menten kinetics with a K m and V max of 0.32 ± 0.07 μM and 0.68 ± 0.15 pmol/s, respectively. The LmU1 transporter displayed high specificity as no uptake of other pyrimidines such as cytosine or thymine was reported. 5-fluorouracil also displayed high affinity for the LmU1 transporter. Various uracil analogs, such as 5-fluorouracil, 5-chlorouracil, 5-carboxyuracil and 5-methyluracil, were tested for deducing the mechanism of uracil transport by LmU1; it appears that LmU1 forms hydrogen bonds with the keto groups of uracil, thus mediating its uptake [12].
To gain more insights into the pyrimidine metabolism and the transport activities in L. infantum, a pyrimidine analog 5-Fluorouracil (5-FU) was employed and L. infantum mutants resistant to the antimetabolite 5-FU were analyzed. It was identified that the mutants had point mutations in uracil phosphoribosyl transferase (UPRT), uridine phosphorylase (UP) and thymidine kinase (TK), which was also confirmed by complementation studies. Also, one mutant had a deficiency in uracil and 5-Fluorouracil uptake. The 5-FU resistant mutants were generated by gradually increasing the concentrations of 5FU over several passages and the mutants obtained were genetically analyzed to identify any modifications. An increase in the copy number of DHFR-TS gene was observed in few mutants. Single nucleotide polymorphism (SNP) analysis in the 5-FU mutant L. infantum lines revealed point mutations in UPRT, UP and TK genes, which encode key enzymes of the pyrimidine salvage pathway. The sensitivity of the mutants was restored when they were transfected with the wild versions of the above mentioned enzymes, thus confirming that the resistant phenotype was due to the point mutations in the mentioned enzymes of the pyrimidine pathway. Uracil and 5-FU transport was also found to be defective in these mutants [85].
Nucleoside transport activities in C. luciliae were assessed by a rapid sampling technique, which revealed the presence of two nucleoside transporters, one of which transported thymidine along with purine nucleosides. The other nucleoside transporter was specific to the purine nucleosides only. Thymidine transport exhibited a 50% lesser rate compared to the transport of purine nucleosides. No uptake of uridine, deoxyuridine and deoxycytidine was demonstrated by C. luciliae [86].
Conclusions
Understanding biochemistry of parasites is key for the development of novel drug candidates [
87
–
90
]. Enzymes of pyrimidine metabolism, because of their function, can be a potential target for drug development. A multitude of techniques involving gel filtration chromatography, crosslinking studies and dynamic light scattering, along with crystallographic evidences, have revealed the oligomeric states of a plethora of enzymes involved in the pyrimidine pathway across trypanosomatids (species of
Trypanosoma
,
Leishmania
and
Crithidia
). As the enzymatic homologs of this ancient pathway in trypanosomatids are conserved at the genetic and proteomic level, a similar degree of relatedness has been reflected at the oligomeric states of the enzymes (Fig.
2
). This notion has been exemplified by the enzymes like dihydroorotate dehydrogenase (DHODH), as the enzymatic homologs of this enzyme like TcDHODH, TbDHODH and LmDHODH are all dimers while the salvage pathway enzymes like uridine phosphorylase (UPase) and dUTPase are dimers too. These similarities at the genetic and structural level may strengthen the evolutionary relatedness of the trypanosomatid species and may be exploited in therapeutic interventions. Displaying closedness in terms of genetic and proteomic level is altered by a significant finding in the
Trypansoma
species in the first three steps of the
de novo
pyrimidine pathway. It has been the general consensus that there are three independent enzymes catalyzing the first three steps of the
de novo
route of pyrimidine synthesis in trypanosomatids, supported by the presence of leader sequences and splice sites in their mRNA sequences. But
Trypanosoma
has proved to be an exception, as the first three enzymes of the
de novo
pyrimidine pathway form a multifunctional enzyme complex in a manner similar to the host cells, which has been supported by co-immunoprecipitation studies.
Leishmania
and
Crithidia
still catalyze the first three steps of the
de novo
pyrimidine pathway by the three independent enzymes, as shown by gel filtration chromatography experiments. On the contrary, however, many enzymatic homologs exhibited differing behavioral attributes in different trypanosomatid species, despite of the fact that they trace their evolutionary lineage from the same group, i.e. trypansomatids. This fact is exemplified in the case of aspartate transcarbamoylase (ATCase) enzymes from
T. cruzi
and
L. donovani
as PALA, a specific inhibitor of ATCase, failed to inhibit TcATCase but was a good inhibitor of LdATCase. While
Leishmania
poses a tough front, with efficient salvaging (transporters) at one end, the same is posed by the
Trypanosoma
in the first three steps of the
de novo
pathway by the formation of the multifunctional enzyme complex, rendering it untargetable. While in
Leishmania
and
Crithidia
, this aspect is lenient because the existence of independent enzymes in the first three steps makes it vulnerable at these steps. Bloodstream forms of
Trypanosoma
instill some hope, as they are weak in the salvaging of pyrimidines.

Various morphological forms of Trypanosoma seem to regulate the differential expression of various transporters responsible for salvaging pyrimidines from the outside environment. Although all pyrimidines including uracil, uridine, cytosine and thymidine are transported by Tryapansoma, there is a tight control at the transport of these metabolites by the different morphological forms of Trypanosoma. How this control is being exerted by the Trypanosoma remains to be deduced. Thus, few morphological forms of Trypanosoma which are defunct or weak in the salvaging of pyrimidines from the extracellular environment can be exploited to design interventions for their removal from the host. How evolutionary selective pressure has yielded the differential modulation of these transporters in Trypanosoma needs to be explained, and an understanding of this aspect may bring out fresh insights in the control of these parasites. Leishmania is also equipped with various transporters (uracil, uridine, cytidine and thymidine) to aid in its survival in the host via salvage pathway. The salvage route of pyrimidine synthesis is well supported by a variety of pyrimidine transporters. Thus, contrary to Trypanosoma, Leishmania pose tough competition regarding their removal from the host, because of strongly developed routes of pyrimidine synthesis (de novo and salvage). Some sort of morphological bias is also being presented by the Leishmania group of parasites, as exemplified in the case of L. major thymidine kinase (LmTK), a salvage pathway enzyme whose expression is higher in the amastigote stage, and L. mexicana UMPS, a de novo pathway enzyme whose activity is 40 times lower in the amastigote stage of the parasite, signifying a shift towards the salvage pathway in the amastigote stage of the parasite. Despite of deep exploration of the pyrimidine metabolism in the trypanosomatids, a lot of factors remain elusive. A better understanding of the pyrimidine transport activities, along with characterization of some salvage pathway enzymes in the parasites, would aid in a better understanding of the biological circuitry of these group of parasites. There is an urgent need to exploit the vast amount of information available in pyrimidine metabolism in the trypanosomatids, which will further aid in the development of effective cures for the treatment of the deadly diseases caused by trypansomatids.
Abbreviations
ACS:

Analytical centrifugation studies
ATCase:

Aspartate carbamoyl transferase
Cf:

Crithidia fasciculata
Cl:

Crithidia luciliae
CLS:

Cross linking studies
CPSII:

Carbamoyl-phosphate synthase
DHFR-TS:

Dihydrofolate reductase-thymidylate synthase
DHOase:

Dihydroorotase
DHODH:

Dihydroorotate dehydrogenase
DLS:

Dynamic light scattering
dUTPase:

Deoxyuridine-triphosphatase
GEMMA:

Gas phase electrophoretic mobility macromolecule/nanoparticle analysis
GFC:

Gel filtration chromatography
Ld:

Leishmania donovani
Lm:

Leishmania major
Lmx:

Leishmania mexicana
NDPK:

Nucleoside-diphosphate kinase
Tb:

Trypanosoma brucei
TbBFs:

Trypansosoma blood stream forms
Tc:

Trypanosoma cruzi
TK:

Thymidine kinase
Ukase:

Uridine kinase
UMPS:

Uridine monophosphate synthetase
UPase:

Uridine phosphorylase
UPRT:

Uracil phospho ribosyl transferase
Declarations
Acknowledgments
Research fellowships to KT by IIT Guwahati are acknowledged.
Funding
Department of Biotechnoloy reseach funding to VKD (project No. BT/PR12260/MED/29/889/2014 and BT/555/NE/U-Excel/2014).
Availability of data and materials
Not applicable.
Authors' contributions
KT wrote the manuscript. VKD edited the draft. Both authors read and approved the final manuscript.
Ethics approval and consent to participate
Not applicable.
Consent for publication
Not applicable.
Competing interests
The authors declare that they have no competing interests.
Publisher's Note
Springer Nature remains neutral with regard to jurisdictional claims in published maps and institutional affiliations.
Open AccessThis article is distributed under the terms of the Creative Commons Attribution 4.0 International License (http://creativecommons.org/licenses/by/4.0/), which permits unrestricted use, distribution, and reproduction in any medium, provided you give appropriate credit to the original author(s) and the source, provide a link to the Creative Commons license, and indicate if changes were made. The Creative Commons Public Domain Dedication waiver (http://creativecommons.org/publicdomain/zero/1.0/) applies to the data made available in this article, unless otherwise stated.
Authors' Affiliations
(1)
Department of Biosciences and Bioengineering, Indian Institute of Technology Guwahati, Guwahati, India