Model-based analysis of experimental data from interconnected, row-configured huts elucidates multifaceted effects of a volatile chemical on Aedes aegypti mosquitoes
Parasites & Vectors
2018
11:365
Received: 18 July 2017
Accepted: 27 May 2018
Published: 26 June 2018
Abstract
Background
Insecticides used against Aedes aegypti and other disease vectors can elicit a multitude of dose-dependent effects on behavioral and bionomic traits. Estimating the potential epidemiological impact of a product requires thorough understanding of these effects and their interplay at different dosages. Volatile spatial repellent (SR) products come with an additional layer of complexity due to the potential for altered movement of affected mosquitoes and diffusion of volatile particles of the product beyond the treated house. Here, we propose a paired experimental design and statistical inference framework for estimating these nuanced effects of volatile SRs.
Method
We fitted a continuous-time Markov chain model in a Bayesian framework to data on marked mosquitoes released in interconnected experimental huts conducted in Iquitos, Peru. We estimated the effects of two dosages of transfluthrin on Ae. aegypti behaviors associated with human-vector contact: repellency, exiting and knockdown in the treated space and in connected, adjacent huts. We validated the framework using simulated data.
Results
The odds of a female Ae. aegypti being repelled, and thus prevented from entering a treated hut (HT), increased at both dosages (low dosage: odds = 1.64, 95% highest density interval (HDI) = 1.30–2.09; high dosage: odds = 1.35, HDI = 1.04–1.67). The relative risk of exiting from the treated hut was reduced (low: RR = 0.70, HDI = 0.62–1.09; high: RR = 0.70, HDI = 0.40–1.06), with this effect carrying over to untreated spaces two huts away from the treated hut (H2) (low: RR = 0.79, HDI = 0.59–1.01; high: RR = 0.66, HDI = 0.50–0.87). Knockdown rates were increased in both treated and downstream huts, particularly under high dosage (HT: RR = 8.37, HDI = 2.11–17.35; H1: RR = 1.39, HDI = 0.52–2.69; H2: RR = 2.22, HDI = 0.96–3.86).
Conclusions
Our framework is effective at elucidating multiple effects of volatile chemicals used in SR products, as well as their downstream effects. For the examined formulations of transfluthrin, we found notable dose-dependent effects on repellency, movement and knockdown that carry over to adjacent, untreated spaces.
Keywords
Aedes aegypti Bayesian parameter estimationContinuous-time Markov-chain modelsDengueSpatial repellentTransfluthrinVector controlZika
Background
Insecticidal strategies against adult mosquitoes have been used extensively in the control of mosquito-borne diseases [1]. However, certain mosquito behaviors, such as outdoor and daytime biting, challenge the efficacy of traditional control tools like insecticide treated nets (ITNs) and indoor residual spraying (IRS) [2]. The evolution of physiological resistance to insecticides [3] and behavioral adaptation of mosquitoes [4, 5] also pose limitations to the effectiveness of such products.
The effect of vector control products often goes beyond their acute lethal effects. For example, ITNs can elicit knockdown with potential for mosquito recovery and can divert mosquitoes away from a protected human to alternate hosts [6–8]. Volatile chemicals such as transfluthrin and metofluthrin can be delivered in high dosages and result in high lethality or can be formulated at lower dosages where acute toxicity is attenuated and other sublethal effects, such as incapacitated host-attraction and/or blood-feeding, are elicited instead, as was described previously for residual pyrethroids [9, 10]. Currently, the term "spatial repellency" is used to describe a range of behaviors that products with volatile chemicals, including spatial repellents (SR), may invoke [11], including repellency (reduced entry), diversion (product-induced movement to an untreated space), knockdown, mortality, irritancy (increase in exiting), attraction-inhibition and reduced biting [12–14]. These modes of action can have a concerted impact on disease transmission on an individual and community level [15–18].
Mark-release-recapture-type (MRR) experimental hut studies, in which marked mosquitoes are released in or outside an experimental hut system and monitored using traps and knockdown rates, offer unique opportunities to elucidate dosage and behavioral effects of SRs by measuring lethality, repellency and irritancy of a target vector species [10, 19–21]. However, studies such as these have not yet provided the granularity required to disentangle distinct behavioral and bionomic effects. The primary challenge associated with the design and interpretation of these studies is that each mosquito is only observed once: when knocked down or when trapped in entry or exit traps. This leaves movement trajectories in between release and recapture locations unobserved, making it challenging to quantify the relative contributions of multiple competing effects that could account for observed individual-level outcomes under a multitude of equally plausible scenarios. One recent study [22] showed that even short periods of transient exposure to volatile SRs can have significant, and sometimes delayed, effects on vectors. Such unobserved effects may compromise traditional statistical analyses.
Models used for the analysis of MRR data have a long history in ecology [23–27]. Originally developed to estimate survival probabilities and population sizes [28], they are now increasingly being used to inform spatial processes [29]. These models partition animal movement trajectories into states (e.g. breeding or foraging), with multi-state MRR models accounting for the probability of the animal occupying any of the possible states at a given time. Given sufficient information from sampling at multiple points in time and appropriate model constraints, these models can be extended for parameter estimation in the presence of unobserved states [30]. Bayesian methods are increasingly being applied to these types of problems given their treatment of all quantities as random variables [31–33]. These methods allow for formal treatment and quantification of parameter uncertainty and they allow researchers to explicitly build on previous studies.
Here, we present a new approach to infer effects of SR products on adult female Ae. aegypti by developing a hierarchical Bayesian model and applying it to a MRR study uniquely designed to measure SR product-induced effects resulting from a single treated home amongst a series of adjacent, untreated homes. The design mimicking an anticipated SR operational scenario in a typical semi-urban, dengue-endemic environment whereby product is implemented at < 100% household coverage and houses are adjoined, thereby forming shared interior spaces. This analytical approach was necessitated by the fact that the MRR study was conducted in a set of five interconnected huts, meaning that the time spent by individual mosquitoes in each of the five huts could not be directly observed. We first demonstrate the accuracy of this approach using data simulated under the same design as in our field experiments. We then demonstrate the dose-dependency of knockdown, repellency and exiting effects of the SR in both treated and untreated huts. We discuss the potential use of this framework to inform the projected impact and implementation of SRs and other vector control tools with volatile chemicals.
Methods
The study was performed at the Instituto Veterinario de Investigaciones in Iquitos, Peru (73.2°W, 7.3°S) during May-June, 2011.
Results
Validating the inference methodology
We first validated the inference framework against data simulated with the system of ordinary differential equations described in eqn. (3), with an observation process that mimicked the field experiment and with parameters reflecting the range of values in the prior distributions.
Large sample size scenario
In the large sample size scenario (five replicates with 1000 released mosquitoes each), we accurately estimated the values of all parameters used in the simulations. All true parameter values fell within the 95% highest density interval (HDI) of the estimated posterior distributions (Fig.
4
). Most posterior medians approximated the true parameter well (Pearson's
r
> 0.98), but somewhat less so for knockdown in the treated hut (Pearson's
r
= 0.74). Posterior distributions were relatively wider for rate parameters associated with the treated hut (
x
T
and
k
T
). Standard deviations of these parameters were a fraction (i.e. 11% and 12%) of their respective medians, whereas the s.d.:median ratio was below 3.5% for all other parameters. This reduced precision may be a consequence of the fact that rate parameters associated with huts other than the treated hut were informed by twice as much data as were the rate parameters associated with the treated hut, which derives from our assumption of shared parameters for huts a given distance from the treated hut (Fig.
3
). GR statistics were below 1.1 for most simulation sets (average 1.04). When simulation sets resulted in parameters with GR statistics above 1.1, these were related to mosquito movement (
q
i
,
r
i
and
p
1
) and were most commonly associated with the untreated huts (Additional file
1
: Table S1). This indicates that those parameters may be among the most difficult to estimate.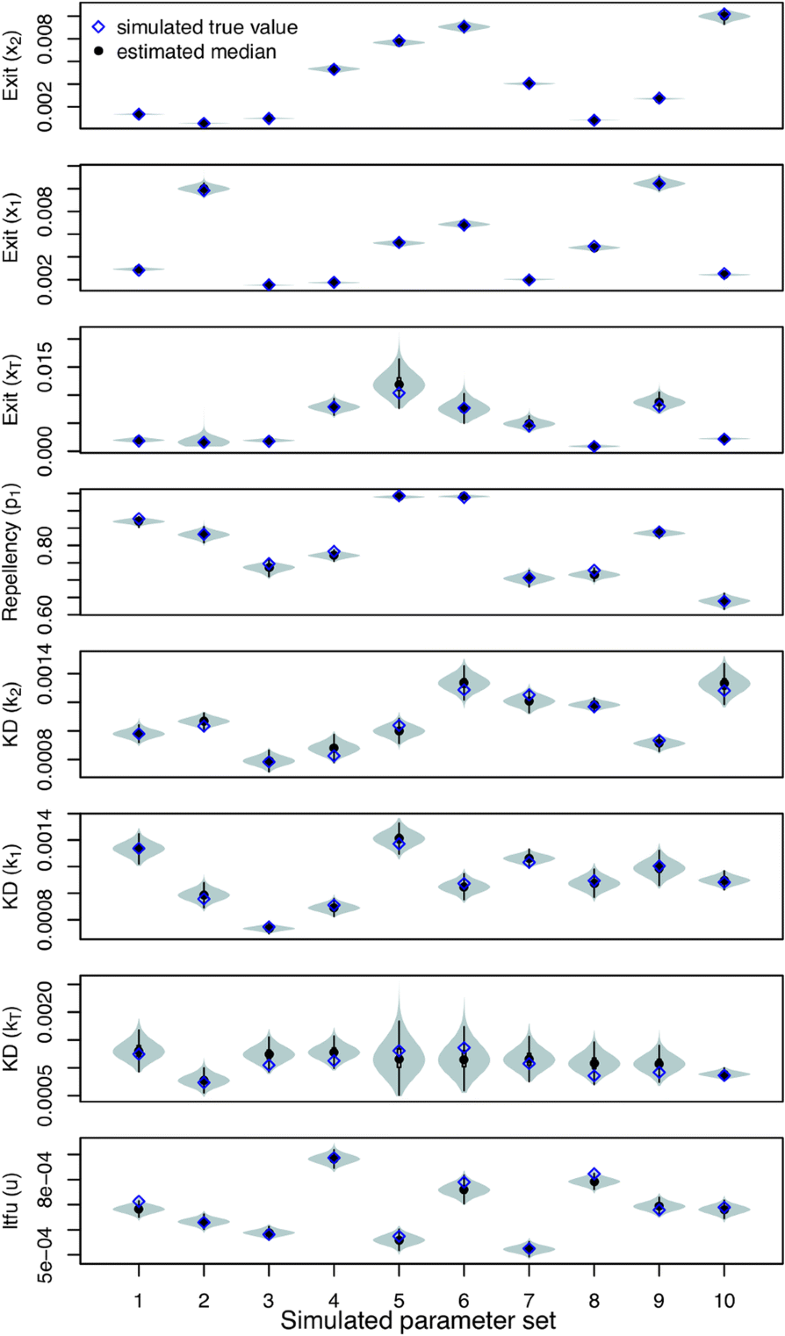 Field scenario
We also tested the performance of the inference framework on data simulated with the same number of mosquitoes as were released in the experiments (Fig.
5
). All true parameter values fell within the 95% HDI, but the posterior medians were less consistent with the simulated values (
r
> 0.8 for all but
x
T
: 0.68;
k
2
:0.03;
k
T
: -0.29) than under the large sample size scenario (Fig.
5
). No systematic underestimation or overestimation was observed based on these simulations, suggesting that the additional discrepancy between simulated and inferred parameter values in the field scenario relative to the large sample size scenario was due to stochasticity associated with the smaller sample size in the field scenario (i.e.
n
= 25
vs n
= 1000). GR statistics were, across all parameters and simulation sets, close to 1 (average GR 1.01) (Additional file
1
: Table S1).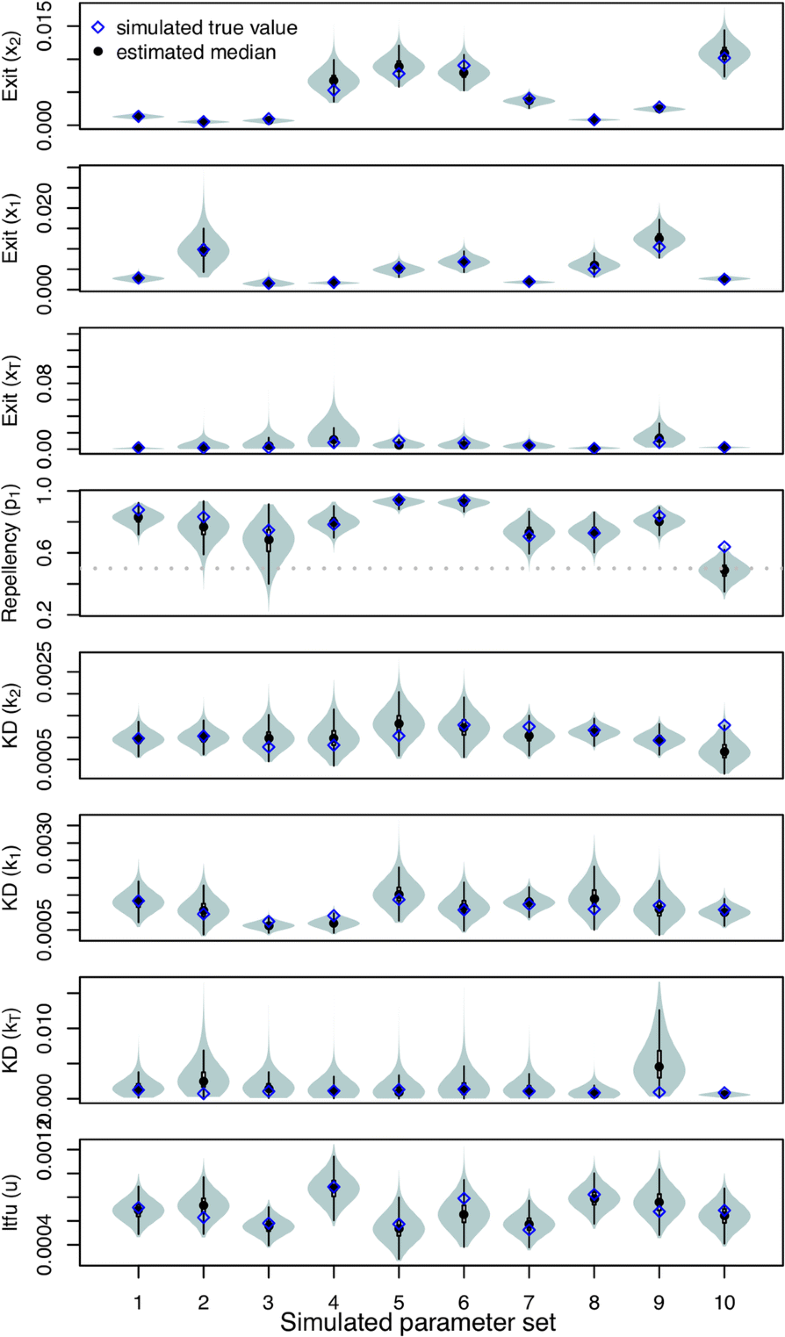 Product effects on mosquito behavior
We first fitted the Markov chain model to the experimental hut data allowing all parameters to vary. Strong correlations between r i , q i and p i indicated that these parameters were not identifiable given that a wide range of combinations of values of these parameters explained the data equally well (Additional file 1: Figure S1). To resolve this identifiability issue, we fitted the exit rate x i as a single composite parameter (q i r i ). The rate of movement between huts is directly related to the exit rate; namely, it is a proportion (1-ri) of the overall movement rate out of a specific hut (q i ). In doing so, we fixed the values of r i at the medians of the posterior marginal density of the r i corresponding to each hut that was obtained from the full parameter fit on the baseline data set (rT: 0.040, r1:0.036 , r2: 0.088) (Additional file 1: Figure S1). This reduced the amount of cross-correlation from Pearson's r as high as 0.86 in the original (Additional file 1: Figure S1) to as low as 0.72 upon fixing r i (Additional file 1: Figure S2, Figure S3 and Figure S4). Most importantly, it markedly improved convergence from GR statistics as high as 1.38 (q 2 , low dosage) to as low as 1.00 for all parameters after fixing r i , indicating that other parameters became identifiable once this adjustment was made (Additional file 1: Figure S7, Figure S8, Figure S9). Choosing either the 2.5th (rT: 0.031, r1:0.027, r2: 0.065) or 97.5th (rT: 0.054, r1:0.040 , r2: 0.11) percentile of r i instead did not affect this conclusion (Additional file 1: Figure S5 and Figure S6). Acceptance rates for each chain tended to remain relatively constant following a 'burn-in' period and varied across chains and parameters within the range of 21–54%.
Discussion
Novel Ae. aegypti vector control strategies are currently being evaluated to address challenges related to dengue transmission expansion [2]. Spatial repellent (SR) products, which release volatile chemicals into treated spaces to interrupt host-vector contact, are among these [14]. One challenge for evaluating the efficacy of SRs, and other products that may include non-lethal outcomes, is characterizing the multifaceted, incapacitating effects of a given product on mosquito behavior under field conditions and across a dosage gradient, which is critical for identifying opportunities to exploit new mechanisms of action and guiding product formulation and implementation under operational conditions. To quantify concurrent and downstream (i.e. untreated spaces adjacent to the treated space) effects of a transfluthrin-based SR product on Ae. aegypti behavior, we used a continuous-time Markov chain model informed by experimental data under a Bayesian inference framework.
Examination of posterior estimates of model parameters showed that test mosquitoes were deterred from entering the experimental hut where the product was located and that this effect was stronger for the lower dosage SR, an effect of transfluthrin consistent with other studies [43, 44]. Posterior estimates of model parameters also indicated lower movement rates out of the treatment hut (either to a neighboring hut or out of the hut system) under both treatments, presumably due to confusion effects, similar to previously demonstrated effects of metofluthrin [13]. Under the higher SR dosage, the reduced out-of-hut movement was noticeable in adjacent untreated huts as far as two huts away from the SR application. This dose-dependent effect may be a result of irritancy and disorientation, as reviewed in Bibbs & Kaufman [45]. Similarly strong effects in adjacent connected huts were observed on knockdown rates, which were markedly increased in all huts in the presence of the higher SR dosage, yet little effect on knockdown was observed at the lower dosage. These results are in agreement with dose- and distance-dependent effects on knockdown observed upon metofluthrin exposure in Ae. aegypti [46].
While metrics of repellency and exit rates from traditional experimental hut studies are often affected by treatment effects on mosquito knockdown, our inference framework explicitly accounts for such confounding effects. We found knockdown and loss to follow-up rates to be small relative to mosquito movement rates, indicating that for the formulations considered, effects on repellency and exit rates could have meaningful impacts on mosquito-human contact rates.
We validated our inference method by demonstrating its ability to accurately estimate the model's parameters given simulated data. This assessment was conditional, however, on the assumption that the model is a realistic representation of reality. Some of the known limiting assumptions of our analysis include (i) effects that depend on distance from the treated hut rather than on each hut individually; (ii) equal loss to follow-up across huts; and (iii) time-invariant parameters. Of these, the first may be most problematic when considering that air flow within the hut system could result in asymmetric effects of transfluthrin dispersion to huts of the same distance from the treated hut but on different sides of it [47]. In principle, it would be possible to account for such factors in future studies by measuring air flow and incorporating its effect on the data through an appropriate modification of the model. For example, repellency (p 1 ) could be allowed to vary across huts and treated as a function of readings from a wind gauge. Posterior estimates of the parameters governing the relationship between wind and p 1 would then allow for inferences about the repellency of the product under varying airflow conditions and beyond those observed in the current experiment. Planning for required sample sizes and sampling schemes for such experiments would benefit from our model and results by using our posterior distributions to inform prior distributions in those future studies [48].
Repellency (i.e. reduced entry into the treated hut from adjacent connected huts) and increased knockdown reduced the overall time that mosquitoes spent transiently in the treated hut, whereas decreased movement rates have the potential to offset this effect. The result of the SR's impact on the time mosquitoes spent transiently in the treated hut indicates potential for such a product to limit human-vector contact (and thereby reduce the probability of pathogen transmission) in the treated hut. Furthermore, the reduced exit rates that we observed may be a result of confusion and disorientation and may be accompanied by impaired host-seeking [45]. However, because blood-feeding was prohibited in our study, it is uncertain to what extent host-seeking and blood-feeding behaviors of these mosquitoes exposed to the SR may have been affected in the current study. Other studies using similar volatile products have shown these effects to also be associated with reduced human landing [13, 49, 50]. The inclusion of blood-feeding metrics in experiments with volatile pyrethroid products using anophelines under field conditions [51] and against the topical repellent DEET using Ae. aegypti in the laboratory [52] have been valuable in establishing expectations of such synergistic chemical effects.
The effect of SR products on untreated neighboring premises has been a consistent and critical question to the public health value of these products [14, 53]. Three aspects of our results suggest that the risk of diversion (i.e. movement of mosquitoes from a treated space to an adjacent untreated space) may be limited for the formulation used in our experiments. First, SR exposure reduced movement rates between huts. Secondly, there was a marked increase in knockdown in untreated huts at the high SR dosage. At the same time, there was also a marked reduction in exit rates out of untreated huts, which resulted in prolonged time spent in adjacent huts. Evaluating the overall potential for diversion based on these effects will require pairing experimental results such as ours with theory that is capable of translating this range of behavioral effects into estimates of their epidemiological consequences [15, 54, 55].
Under our experimental design, we cannot distinguish between downstream effects caused by volatile particles dispersed into untreated huts or by a residual, post-exposure effect of transfluthrin on mosquitoes that are exposed in the treated hut and move elsewhere. Indeed, this highlights that SR post-exposure effects remain understudied. A mosquito that remains alive in a treated space, and/or does not exit after being exposed to a SR product, may exhibit attraction-inhibition to human hosts inside the space or may be inhibited to blood-feed due to being chemically incapacitated. Underlying physiological mechanisms causing these responses are yet to be characterized. Correlations between air sampling measurements in experimental huts and mosquito behavior responses have been explored in previous studies using spatial repellents but with limited success due to limits of chemical detection and quantification [56–58]. Combining air chemistry inferences of specific active ingredients (i.e. vapor pressure or particle weight) with environmental data (i.e. air current or flow rate) into our new inference framework is therefore warranted and could enable quantification of the extent to which downstream effects result from movement of the volatile chemical or movement of exposed mosquitoes with lingering post-exposure effects. The latter possibility has been indicated in other studies to have potential for innovative applications of SRs [59].
Conclusions
The need for development and efficient testing of new vector control products and innovative formulations of existing tools is evident [2, 60]. Advancing the characterization of SRs and other volatile vector control products must include understanding how all product-induced effects, independent or in combination, contribute to potential impact on pathogen transmission. Here, we advance SR product characterization methods by integrating multiple aspects of the complexity of assumed product-induced responses. The complementary experimental design and inferential framework we introduce provides a flexible approach for estimating a product's effects on mosquito behavior in a quantitative and probabilistic fashion. Using this framework, we disentangled complex, dose-dependent effects of transfluthrin on mosquito behavior. While a low-dosage treatment resulted in notable repellency and minor knockdown in Ae. aegypti mosquitoes, higher dosages presented with much higher knockdown rates yet minor repellency effects. Exposure to transfluthrin has the potential to diminish mosquito movement, host attraction-inhibition and/or blood-feeding inhibition, possibly due to confusion or disorientation of the mosquito. The use of an experimental row-house hut design allowed for the estimation of transfluthrin effects beyond a treated space, which is of particular interest as adjacent, inter-connected houses are common in semi-urban environments where SR products are under evaluation as a tool against arbovirus transmission. These findings highlight the need to estimate context and dosage-specific diversion (product-induced movement to an untreated space) and downstream (adjacent spaces) effects under scenarios similar to operational settings for which the product is intended to be used.
Abbreviations
GR:

Gelman-Rubin
HDI:

Highest density interval
IRS:

Indoor residual spraying
ITN:

Insecticide-treated net
MCMC:

Markov chain Monte Carlo
MRR:

Mark-release-recapture
RR:

Relative risk
SR:

Spatial repellent
Declarations
Acknowledgements
We express our gratitude to Carlos Ique, Director of the Institute Veterinario de Investigaciones (IVITA), Iquitos, Peru for the use of land for experimental hut studies. Thanks to Roxanne Burrus, Kirk Mundal and Victor Lopez (NAMRU-6) for their logistic support during the experiments and to Neil Lobo for valuable insights. Special thanks to Edwin Requena, Hugo Jaba and to the team of mosquito collectors for their dedicated effort and to reviewers for valuable comments.
Funding
This work was supported and funded by the Bill & Melinda Gates Foundation (Grant #48513): "A push-pull strategy for Aedes aegypti control." The funders had no role in study design, data collection and analysis, decision to publish or preparation of the manuscript. QAtB was supported by a graduate student fellowship from the Eck Institute for Global Health at the University of Notre Dame.
Disclaimer
The views expressed in this work are those of the authors and do not reflect the official policy or position of the Department of the Navy, Department of Defense or U.S. Government.
Copyright statement
FCL and ACM are employees of the U.S. Government. This work was prepared as part of their official duties (PJTNMRCD 0.24). Title 17 U.S.C. § 105 provides that 'Copyright protection under this title is not available for any work of the United States Government'. Title 17 U.S.C. § 101 defines a U.S. Government work as a work prepared by a military service member or employee of the U.S. Government as part of that person's official duties.
Authors' contributions
FCL, HM, ACM, JPG and NLA designed the hut experiments. FCL and HM performed the experiments. QAtB and TAP developed the modeling and simulation framework. QAtB performed the analyses. QAtB, JPG, NLA and TAP interpreted the results. QAtB, NLA and TAP wrote the manuscript. All authors read and approved the final manuscript.
Ethics approval and consent to participate
Not applicable.
Competing interests
The authors declare that they have no competing interests.
Publisher's Note
Springer Nature remains neutral with regard to jurisdictional claims in published maps and institutional affiliations.
Open AccessThis article is distributed under the terms of the Creative Commons Attribution 4.0 International License (http://creativecommons.org/licenses/by/4.0/), which permits unrestricted use, distribution, and reproduction in any medium, provided you give appropriate credit to the original author(s) and the source, provide a link to the Creative Commons license, and indicate if changes were made. The Creative Commons Public Domain Dedication waiver (http://creativecommons.org/publicdomain/zero/1.0/) applies to the data made available in this article, unless otherwise stated.
Authors' Affiliations
(1)
Department of Biological Sciences and Eck Institute for Global Health, University of Notre Dame, Notre Dame, USA
(2)
Mathematical Modelling of Infectious Disease Unit, Institut Pasteur, Paris, France
(3)
United States Naval Medical Research Unit No. 6, Callao, Peru
(4)
Department of Preventive Medicine and Biometrics, Uniformed Services University of the Health Sciences, Bethesda, USA
(5)
Department of Entomology and Nematology, University of California, Davis, USA