Abstract
Background
An epitope, Galα1-3Galβ1-4GlcNAc-R, termed α-gal, is present in glycoconjugates of New World monkeys (platyrrhines) and other mammals but not in hominoids and Old World monkeys (catarrhines). The difference is due to the inactivation of α1-3 galactosyl transferase (α1-3 GT) genes in catarrhines. Natural antibodies to α-gal are therefore developed in catarrhines but not platyrrhines and other mammals. Hypersensitivity reactions are commonly elicited by mosquito and tick vector bites. IgE antibodies against α-gal cause food allergy to red meat in persons who have been exposed to tick bites. Three enzymes synthesising the terminal α1-3-linked galactose in α-gal, that are homologous to mammalian α and β1-4 GTs but not mammalian α1-3 GTs, were recently identified in the tick vector Ixodes scapularis. IgG and IgM antibodies to α-gal are reported to protect against malaria because mosquito-derived sporozoites of malaria parasites express α-gal on their surface. This article explores the possibility that the α-gal in sporozoites are acquired from glycoconjugates synthesised by mosquitoes rather than through de novo synthesis by sporozoites.
Methods
The presence of proteins homologous to the three identified tick α1-3 GTs and mammalian α1-3 GTs in two important mosquito vectors, Aedes aegypti and Anopheles gambiae, as well as Plasmodium malaria parasites, was investigated by BLASTp analysis to help clarify the source of the α-gal on sporozoite surfaces.
Results
Anopheles gambiae and Ae. aegypti possessed several different proteins homologous to the three I. scapularis proteins with α1-3 GT activity, but not mammalian α1-3 GTs. The putative mosquito α1-3 GTs possessed conserved protein domains characteristic of glycosyl transferases. However, the genus Plasmodium lacked proteins homologous to the three I. scapularis proteins with α1-3 GT activity and mammalian α1-3 GTs.
Conclusions
The putative α1-3 GTs identified in the two mosquito vectors may synthesise glycoconjugates containing α-gal that can be transferred to sporozoite surfaces before they are inoculated into skin during blood feeding. The findings merit further investigation because of their implications for immunity against malaria, hypersensitivity to mosquito bites, primate evolution, and proposals for immunisation against α-gal.
Graphical Abstract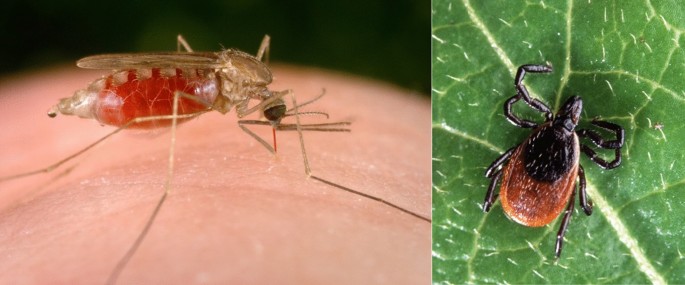 Availability of data and materials
All data generated or analysed during this study are included in this published article and its Additional file 1.
Abbreviations
α-gal:

Galα1-3Galβ1-4GlcNAc-R

AGS:

α-Gal syndrome

BLASTp:

Basic Local Alignment Search Tool for proteins

Gal:

Galactose

Gb:

Globoside

GlcNAc:

N-Acetyl glucosamine

GT:

Galactosyl transferase

NCBI:

National Center for Biotechnology Information

SARS-CoV-2:

Severe acute respiratory syndrome coronavirus 2

TH2:

T helper type 2 lymphocyte
Ethics declarations
Ethics approval and consent to participate
Not applicable.
Consent for publication
Not applicable.
Competing interests
The author declares no competing interests.
Additional information
Publisher's Note
Springer Nature remains neutral with regard to jurisdictional claims in published maps and institutional affiliations.
Supplementary Information
Rights and permissions
Open Access This article is licensed under a Creative Commons Attribution 4.0 International License, which permits use, sharing, adaptation, distribution and reproduction in any medium or format, as long as you give appropriate credit to the original author(s) and the source, provide a link to the Creative Commons licence, and indicate if changes were made. The images or other third party material in this article are included in the article's Creative Commons licence, unless indicated otherwise in a credit line to the material. If material is not included in the article's Creative Commons licence and your intended use is not permitted by statutory regulation or exceeds the permitted use, you will need to obtain permission directly from the copyright holder. To view a copy of this licence, visit http://creativecommons.org/licenses/by/4.0/. The Creative Commons Public Domain Dedication waiver (http://creativecommons.org/publicdomain/zero/1.0/) applies to the data made available in this article, unless otherwise stated in a credit line to the data.
About this article
Cite this article
Ramasamy, R. Mosquito vector proteins homologous to α1-3 galactosyl transferases of tick vectors in the context of protective immunity against malaria and hypersensitivity to vector bites. Parasites Vectors 14, 303 (2021). https://doi.org/10.1186/s13071-021-04801-7
Received:

Accepted:

Published:

DOI: https://doi.org/10.1186/s13071-021-04801-7
Keywords
α-Gal

α-Gal syndrome

α1-3 Galactosyl epitopes

Antibodies to α-gal

Galactosyl transferases

Hypersensitivity

Immune protection

Malaria

Mosquito vectors

Tick vectors