Abstract
Background
Due to the lack of vaccines, malaria control mainly involves the control of anopheline vectors (Anopheles spp.) using chemical insecticides. However, the prolonged and indiscriminate use of these compounds has led to the emergence of resistance in Anopheles populations in Africa. Insecticide resistance surveillance programs are less frequent in Cabo Verde than in other African countries. This study aimed to investigate the circulation of the L1014F and L1014S alleles in natural populations of Anopheles arabiensis collected from two sampling sites in the city of Praia, Cabo Verde.
Methods
Anopheles larvae were collected from the two sampling sites and reared in the laboratory until the adult stage. Mosquitoes were first morphologically identified by classical taxonomy and then by molecular species identification using molecular markers. All Anopheles arabiensis were subjected to PCR analysis to screen for mutations associated to resistance in the Nav gene.
Results
A total of 105 mosquitoes, all belonging to the Anopheles gambiae complex, were identified by classical taxonomy as well as by molecular taxonomy. Molecular identification showed that 100% of the An. gambiae senso lato specimens analyzed corresponded to An. arabiensis. Analysis of the Nav gene revealed the presence of L1014S and L1014F alleles with frequencies of 0.10 and 0.19, respectively.
Conclusions
Our data demonstrated, for the first time, the presence of the L1014F allele in the An. arabiensis population from Cabo Verde, as well as an increase in the frequency of the kdr L1014S allele reported in a previous study. The results of this study demonstrate the need to establish new approaches in vector control programs in Cabo Verde.
Graphical Abstract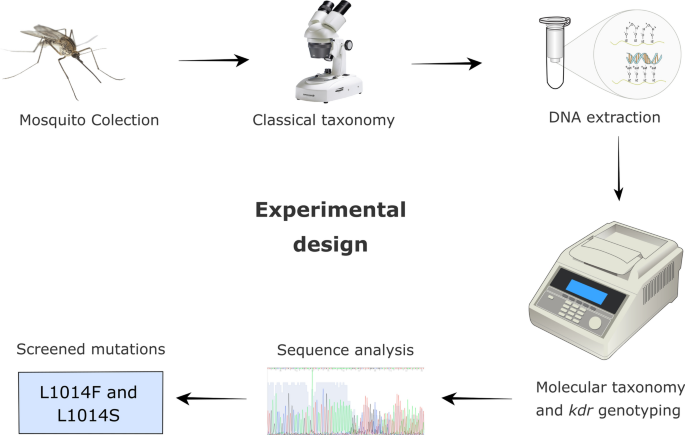 Availability of data and materials
All data generated or analyzed during this study are included in this published article. The DNA sequences obtained here for each mutation were submitted to GenBank with the following access codes: RR (MW577186) and RS (MW577187) for the L1014F allele; and RR (MW577183) and RS (MW577184) for the L1014S allele. For the susceptible genotype (SS) the access code is MW577185.
Abbreviations
AGT:

Achada Grande Trás

IRS:

Indoor residual spraying

kdr :

Knockdown resistance

LLINs:

Long-lasting insecticide nets

Na v :

Voltage-gated sodium channel

RR:

Homozygous individuals for L1014F/S mutations

RS:

Heterozygous individuals

SS:

Homozygous individuals

WHO:

World Health Organization
Acknowledgements
The authors would like to thank the Technological Platform of Aggeu Magalhães Institute for helping with the sequencing. The GIDTPiaget group, in particular Sílvia Gonçalves Pires, is thanked for helping with mosquito collections. The authors would like to thank Rodrigo Loyo for producing the maps.
Funding
This research was funded by Capes (Coordenação de Aperfeiçoamento de Pessoal de Nível Superior—Brasil, Grant Number: 0021/13), Fundação de Amparo à Ciência e Tecnologia do Estado de Pernambuco (APQ-0085-2.13/16) and Fiocruz.
Ethics declarations
Ethics approval and consent to participate
Not applicable.
Consent for publication
Not applicable.
Competing interests
The authors declare that they have no competing interests.
Additional information
Publisher's Note
Springer Nature remains neutral with regard to jurisdictional claims in published maps and institutional affiliations.
Rights and permissions
Open Access This article is licensed under a Creative Commons Attribution 4.0 International License, which permits use, sharing, adaptation, distribution and reproduction in any medium or format, as long as you give appropriate credit to the original author(s) and the source, provide a link to the Creative Commons licence, and indicate if changes were made. The images or other third party material in this article are included in the article's Creative Commons licence, unless indicated otherwise in a credit line to the material. If material is not included in the article's Creative Commons licence and your intended use is not permitted by statutory regulation or exceeds the permitted use, you will need to obtain permission directly from the copyright holder. To view a copy of this licence, visit http://creativecommons.org/licenses/by/4.0/. The Creative Commons Public Domain Dedication waiver (http://creativecommons.org/publicdomain/zero/1.0/) applies to the data made available in this article, unless otherwise stated in a credit line to the data.
About this article
Cite this article
da Cruz, D.L., Paiva, M.H.S., Guedes, D.R.D. et al. First report of the L1014F kdr mutation in wild populations of Anopheles arabiensis in Cabo Verde, West Africa. Parasites Vectors 14, 582 (2021). https://doi.org/10.1186/s13071-021-05088-4
Received:

Accepted:

Published:

DOI: https://doi.org/10.1186/s13071-021-05088-4
Keywords
Malaria

Anopheles arabiensis

Knockdown resistance

Kdr mutation