Abstract
Background
Bats (Mammalia: Chiroptera) serve as natural reservoirs for many zoonotic pathogens worldwide, including vector-borne pathogens. However, bat-associated parasitic arthropods and their microbiota are thus far not thoroughly described in many regions across the globe, nor is their role in the spillover of pathogens to other vertebrate species well understood. Basic epidemiological research is needed to disentangle the complex ecological interactions among bats, their specific ectoparasites and microorganisms they harbor. Some countries, such as Ukraine, are particularly data-deficient in this respect as the ectoparasitic fauna is poorly documented there and has never been screened for the presence of medically important microorganisms. Therefore, the aims of this study were to provide first data on this topic.
Methods
A total of 239 arthropod specimens were collected from bats. They belonged to several major groups of external parasites, including soft ticks, fleas, and nycteribiid flies from six chiropteran species in Northeastern Ukraine. The ectoparasites were individually screened for the presence of DNA of Rickettsia spp., Anaplasma/Ehrlichia spp., Bartonella spp., Borrelia spp., and Babesia spp. with conventional PCRs. Positive samples were amplified at several loci, sequenced for species identification, and subjected to phylogenetic analysis.
Results
Rickettsia DNA was detected exclusively in specimens of the soft tick, Carios vespertilionis (7 out of 43 or 16.3%). Sequencing and phylogenetic analysis revealed high similarity to sequences from Rickettsia parkeri and several other Rickettsia species. Bacteria from the family Anaplasmataceae were detected in all groups of the ectoparasites (51%, 122/239 samples), belonging to the genera Anaplasma, Ehrlichia, and Wolbachia. The detection of Bartonella spp. was successful only in fleas (Nycteridopsylla eusarca) and bat flies (Nycteribia koleantii, N. pedicularia), representing 12.1% (29/239) of the collected ectoparasites. No DNA of Babesia or Borrelia species was identified in the samples.
Conclusions
We report for the first time in Ukraine the molecular detection of several bacterial agents in bat ectoparasites collected from six species of bats. The data presented extend the knowledge on the distribution of ectoparasite species in bats and their involvement in potentially circulating agents pathogenic for humans and vertebrate animals.
Graphical Abstract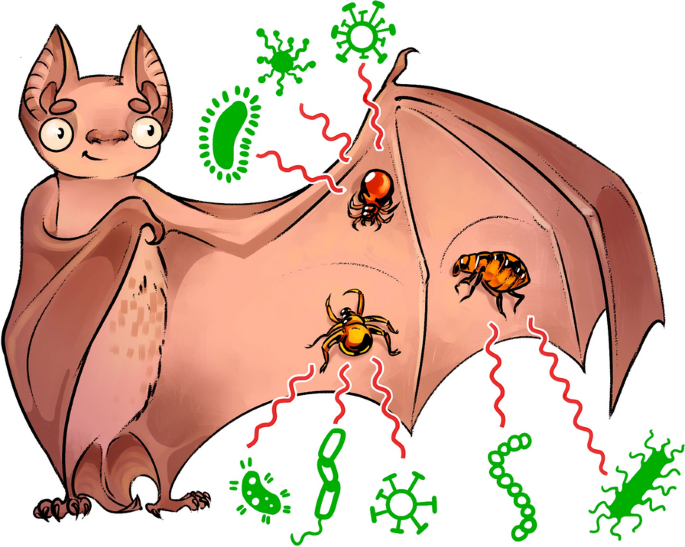 Availability of data and materials
The datasets supporting the conclusions of this article are included within the article and its additional files. Newly generated sequences used for the phylogenetic analysis were submitted to the GenBank database. All sequence data and accession nos. are shown in Table S3.
Acknowledgements
The authors dedicate this work to the truth, which will never die in a free world with free and free-thinking people. Furthermore, the authors thank Dr. Alona Prylutska, Oleksii Parfilov, Vitaliy Hukov, Marharyta Moiseienko, and other employees and volunteers of The Bat Rehabilitation Center of Feldman Ecopark for field and laboratory assistance in this study. A special thank you goes to Natalie Shanyuk, illustrator of Bat Rehabilitation Center, Kharkiv, Ukraine, for providing the visual abstract to this article.
Funding
This research was partly supported (2019) by grant of The Youth Activity Fund of The Explorers Club "Where worlds encounter—searching for zoonotic pathogen exchange between bats and other vertebrates," project leader Olena Rodenko. The regular activities of The Bat Rehabilitation Center of Feldman Ecopark were supported by the International Charitable Foundation "Oleksandr Feldman Foundation."
Ethics declarations
Ethics approval and consent to participate
The Bat Rehabilitation Center of Feldman Ecopark works under the general permission of the Kharkiv Oblast Authority of Ecology and Natural Resources.
Consent for publication
Not applicable.
Competing interests
The authors declare that they have no competing interests.
Additional information
Publisher's Note
Springer Nature remains neutral with regard to jurisdictional claims in published maps and institutional affiliations.
Supplementary Information
. Locations and roosting sites of bats collected for the purpose of this study. Table S2. Primers used for pathogen screening of ectoparasites. Table S3. GenBank accession numbers for sequences obtained in this study.
Rights and permissions
Open Access This article is licensed under a Creative Commons Attribution 4.0 International License, which permits use, sharing, adaptation, distribution and reproduction in any medium or format, as long as you give appropriate credit to the original author(s) and the source, provide a link to the Creative Commons licence, and indicate if changes were made. The images or other third party material in this article are included in the article's Creative Commons licence, unless indicated otherwise in a credit line to the material. If material is not included in the article's Creative Commons licence and your intended use is not permitted by statutory regulation or exceeds the permitted use, you will need to obtain permission directly from the copyright holder. To view a copy of this licence, visit http://creativecommons.org/licenses/by/4.0/. The Creative Commons Public Domain Dedication waiver (http://creativecommons.org/publicdomain/zero/1.0/) applies to the data made available in this article, unless otherwise stated in a credit line to the data.
About this article
Cite this article
Vlaschenko, A., Răileanu, C., Tauchmann, O. et al. First data on bacteria associated with bat ectoparasites collected in Kharkiv oblast, Northeastern Ukraine. Parasites Vectors 15, 443 (2022). https://doi.org/10.1186/s13071-022-05582-3
Received:

Accepted:

Published:

DOI: https://doi.org/10.1186/s13071-022-05582-3
Keywords
Chiroptera

Microbiota

Ectoparasites

Zoonoses

vector-borne

Ukraine