Climate and environmental change drives Ixodes ricinus geographical expansion at the northern range margin
Parasites & Vectors
2014
7:11
Received: 7 November 2013
Accepted: 31 December 2013
Published: 8 January 2014
Abstract
Background
Global environmental change is causing spatial and temporal shifts in the distribution of species and the associated diseases of humans, domesticated animals and wildlife. In the on-going debate on the influence of climate change on vectors and vector-borne diseases, there is a lack of a comprehensive interdisciplinary multi-factorial approach utilizing high quality spatial and temporal data.
Methods
We explored biotic and abiotic factors associated with the latitudinal and altitudinal shifts in the distribution of Ixodes ricinus observed during the last three decades in Norway using antibodies against Anaplasma phagocytophilum in sheep as indicators for tick presence. Samples obtained from 2963 sheep from 90 farms in 3 ecologically different districts during 1978 – 2008 were analysed. We modelled the presence of antibodies against A. phagocytophilum to climatic-, environmental and demographic variables, and abundance of wild cervids and domestic animals, using mixed effect logistic regressions.
Results
Significant predictors were large diurnal fluctuations in ground surface temperature, spring precipitation, duration of snow cover, abundance of red deer and farm animals and bush encroachment/ecotones. The length of the growth season, mean temperature and the abundance of roe deer were not significant in the model.
Conclusions
Our results highlight the need to consider climatic variables year-round to disentangle important seasonal variation, climatic threshold changes, climate variability and to consider the broader environmental change, including abiotic and biotic factors. The results offer novel insight in how tick and tick-borne disease distribution might be modified by future climate and environmental change.
Keywords
Tick
Range expansion
Climate change
Climatic variability
Ixodes ricinus
Anaplasma phagocytophilum
Bush encroachment
Ecotones
Global environmental change
Remote sensing
Background
Ticks, currently the main vectors of arthropod-borne pathogens in Europe and a major threat to human and animal health [1], are increasing in abundance and expanding their distribution limits [2]. Identifying the multiple factors that may influence vector distribution is a prerequisite in predicting health risks for humans and animals. The limits of the range, as is found in Norway, are ideal grounds to unravel factors delineating population persistence or extinction. However, the factors and/or scale of changes at these extreme limits might not reflect the changes at the core distribution of the vector or pathogen [3].
Ixodes ricinus, a three-host tick species which is free-living with brief feeding periods between the different tick stages (larvae, nymph and adult) [4] transmits protozoal, viral and bacterial pathogens, several of which are zoonotic. As I. ricinus is ectothermic, its fitness is strongly temperature dependent [5], but its activity and survival are also closely related to the degree of relative humidity [6, 7]. Global climate change is affecting overall mean temperatures and factors such as precipitation, rainfall, and vegetation, which in turn might affect the geographic distribution of ticks and other arthropods [2, 8]. Beyond changes in the absolute levels of environmental variables, the probable changes in variability between seasons have also been highlighted [9, 10]. Although these climatic changes could influence the life cycle of I. ricinus, we lack clear evidence for a consistent association between tick abundance and a warmer and wetter climate [11]. Other environmental variables such as landscape characteristics and abundance of hosts are also important drivers of tick population dynamics [12, 13] and might therefore modify or mask climatic factor effects [14, 15].
Landscape and hosts are also subject to climatic factors, as well as to agriculture, forestry and wildlife management practices [16]. Indeed, because of the multiplicity of interactions between factors influencing the tick abundance and dynamics, the effects of climate change on ticks and tick-borne diseases are often controversial and subject of debate [17]. A recent distribution map of I. ricinus in Norway [18] shows a shift in latitudinal and altitudinal distribution. During the last three decades there have been considerable changes in temperature, landscape, vegetation, demography, agricultural/forestry practice and the density of host animals in Norway.
The aim of the present interdisciplinary study was to explore the multi-factorial influence of biotic and abiotic factors in driving the expansion of I. ricinus. While spatially and temporally detailed tick distribution data is unavailable for the past, the prevailing distribution of I. ricinus in Norway corresponds to the distribution of Anaplasma phagocytophilum[19]. The bacterium A. phagocytophilum causes Tick-borne fever (TBF), which is the most common vector-borne pathogen of sheep and cattle in northern Europe [20]. Recent studies indicate that different strains of A. phagocytophilum may affect different host species and there may be variation in the pathogenicity of strains, even those affecting the same species of host [20]. A. phagocytophilum also causes human granulocytic anaplasmosis (HGA), which is now widely recognised as an emerging zoonotic tick-borne disease [21, 22].
Changes in tick exposure can be indirectly measured by detecting infections or evidence of infection in hosts susceptible to tick-borne pathogens. As sheep are susceptible hosts to A. phagocytophilum[23], antibodies to A. phagocytophilum should be good indicators of the presence of I. ricinus, the only known vector of TBF in northern Europe [20]. Even though the prevalence of A. phagocytophilum in sheep also could be influenced by the rates of infection in the tick vector, density of hosts and the strains of A. phagocytophilum found within a geographic area, changes in the prevalence of A. phagocytophilum in sheep should reflect changes in tick exposure [24, 25]. We studied changes in exposure to I. ricinus as proxied by the number of sheep seropositive for TBF.
All the explanatory variables were smoothed on a decadal basis to even out year to year variation. We focused on factors affecting survival and reproduction success of ticks, namely climate, bush encroachment, demography, abundance of cervids and farm animals.
Results
Antibodies against Anaplasma phagocytophilum
A total of 1543 samples (52%) were positive for antibodies against
A. phagocytophilum
(Figure
1
). Seropositive sheep were detected in all areas and during all timespans (Additional file
1
: Table S1 and Table S2). There was an increase in the number of positive animals over time for FJORD, an increase for the last time span in COAST whilst there was a decrease over time in positive samples collected from INLAND (Table
2
). FJORD showed the highest number of positive animals (Table
2
).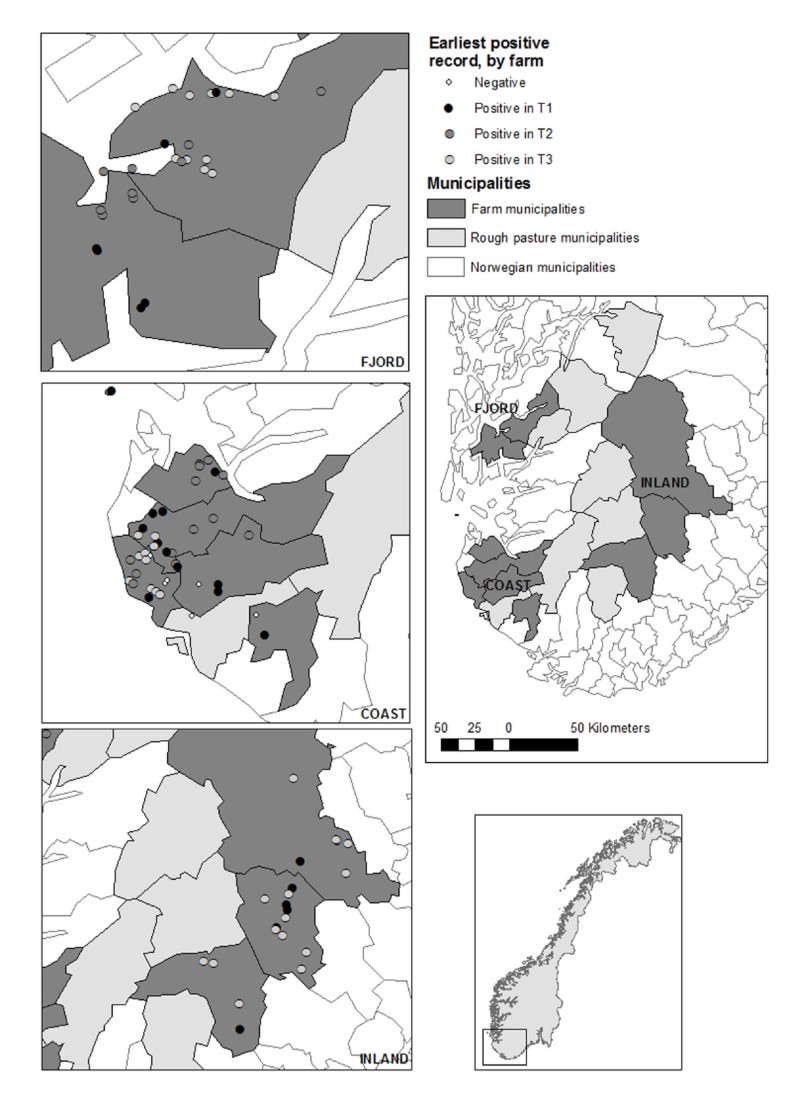 Table 2
Changes in the prevalence of antibodies against A. phagocytophilum in sheep and farms
| District | Timespan | Farms tested (n) | Sheep tested (n) | Positive sheep (n) | Proportion positive sheep [95%CI]* | Mean farm prevalence [90% range] |
| --- | --- | --- | --- | --- | --- | --- |
| INLAND | 1 | 6 | 379 | 139 | 0.37 [0.32-0.42] | 0.33 [0.18 – 0.46] |
| | 2 | 0 | 0 | n.a | n.a | n.a |
| | 3 | 16 | 436 | 124 | 0.28 [0.24-0.33] | 0.26 [0.06 – 0.52] |
| COAST | 1 | 12 | 520 | 252 | 0.48 [0.44-0.53] | 0.59 [0.34 – 0.92] |
| | 2 | 20 | 403 | 117 | 0.29 [0.26-0.35] | 0.39 [0.00 – 1.00] |
| | 3 | 12 | 339 | 210 | 0.62 [0.57-0.67] | 0.61 [0.13 – 1.00] |
| FJORD | 1 | 6 | 240 | 151 | 0.63 [0.56-0.69] | 0.72 [0.14 – 1.00] |
| | 2 | 9 | 326 | 249 | 0.76 [0.71-0.81] | 0.78 [0.47 – 1.00] |
| | 3 | 11 | 320 | 301 | 0.94 [0.91-0.96] | 0.94 [0.80 – 1.00] |
Climatic variables
The general trends in essential climatic variables for period 1981–2010 are described in Additional file
1
: Figure S1. Figure
2
displays some variables significant in the multivariable model (Table
3
). INLAND is characterized by higher inter-annual and decadal climate variability and shows more variations between the timespans. COAST had the most prominent and homogenous changes. The greatest increase was in the number of days per year with high day-to-day fluctuations in ground surface temperature (TDecr÷5 < Days
Jan-Dec
, definitions in Table
1
). FJORD had the least prominent changes over time compared to INLAND/COAST, but still at a level of > 20% change for several variables.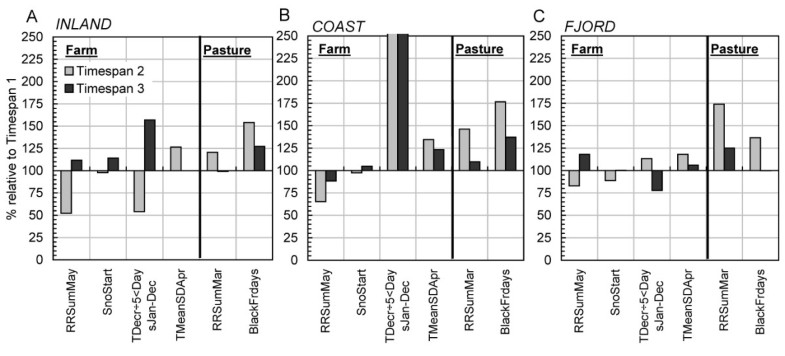 Table 3
The output (parameter estimates, standard errors and p-values) of the mixed effect logistic regression (see Table 1 for definitions)
Variable

Estimate

Std. error

Exp(est)

P-value

Δ AIC

Intercept

2.30

0.84

0.006

Area shrubi 1 vs. 0*

1.05

0.27

2.86

<0.001

14

Area shrubi 2 vs. 0*

0.85

0.23

2.35

<0.001

Area shrubi 3 vs. 0*

0.79

0.23

2.21

<0.001

Meanarea_ p

0.45

0.12

1.40

<0.001

9

Meanarea _p2

−0.11

0.03

<0.001

RHmean Oct-Mar

1.21

0.13

3.34

<0.001

88

BlackFrdays

0.92

0.16

2.50

<0.001

55

SnoStartDays

1.17

0.20

3.23

<0.001

34

NuFarms

2.67

0.31

2.27

<0.001

94

NuFarms2

−1.85

0.21

<0.001

Red deer

1.28

0.22

3.59

<0.001

29

Pasture

−1.36

0.30

0.25

<0.001

18

RRSum May

−0.18

0.15

0.59

0.224

46

−0.35

0.06

<0.001

RRSum Mar

−0.40

0.14

0.67

0.004

6

TIncr + 5 < Days Jun

−1.11

0.21

0.40

<0.001

27

0.19

0.04

<0.001

TMeanSD Apr

0.43

0.22

1.93

0.047

5

0.22

0.08

0.004

TDecr ÷ 5 < DaysJan − Dec

0.22

0.10

1.25

0.035

2
Vegetation changes
Bush encroachment was observed in all study areas. INLAND had the most pronounced bush encroachment of farm surroundings and rough grazing. On average 10 patches of bush encroachments intersected a 500 m radius around the farm, totalling on average about 5ha (6.4% of the buffer area). On the other hand, 500 m radii around rough grazing locations intersected on average 8 patches of bush encroachment, totalling an average 3.5 ha (4.5%). INLAND also had the largest mean size of encroached patches, with 0.5 ha near farms and 0.3 ha in rough grazing locations. COAST, a more intensively used region where agricultural land covers most of the area, had on average 2 patches of bush encroachment intersecting a 500 m radius, totalling less than 1ha (1.3%) on average in both farm and pasture locations. COAST also had the smallest average mean size of patches, below 0.2 ha both around farms and in pastures. FJORD presented an intermediate situation, with 4 and 6 patches intersected on average in farms and on rough grazing respectively, totalling just over 1ha (1.3%) around farms and just over 2 ha (2.5%) in rough grazing locations.
Results for multivariable regression
The model that best predicted
A. phagocytophilum-
prevalence in the three districts over time included large daily fluctuations in temperature in general, and in certain months of the year, seasonal precipitation changes, duration of snow cover, bush encroachment, abundance of red deer and density of farms with animals (Table
3
). The six variables explaining most of the variation (as assessed by the AIC value), were the density of farms, relative humidity from October–March, yearly number of days with black frost, precipitations in May, duration of snow cover and abundance of red deer. The model predicts the observed farm prevalence very well (Figure
3
). The AUC of the resulting model was 0.85.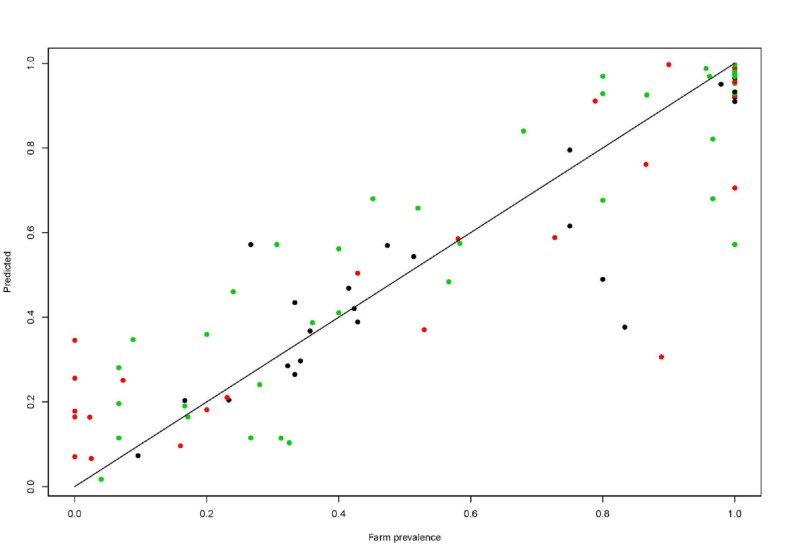 At farm/infield
The mean patch area of bush encroachment, density of livestock farms, abundance of red deer, number of days per year with day-to-day fluctuation in ground surface temperature (GST) >5°C, number of days with snow depth of ≤ 2 cm (SnoStartDays), standard deviation of mean air temperature in April and relative humidity during October-March were positively associated with the outcome. Of these variables, the highest impacts on the probability of a positive outcome were found by one unit increase in red deer abundance, SnoStartDays, and relative humidity during October–March (Table 3). The numbers of days in June with day-to-day increase in GST of >5°C was negatively associated with the outcome. The amount of precipitation in May had a positive significant association with increased prevalence of TBF in sheep at lower values, and a negative relationship at higher values (> 90 mm). An increase by 1 standard deviation from the mean amount of May precipitation (from 93 mm to 113 mm) decreased the probability of a positive outcome by 0.6 (95% CI: 0.4, 0.9).
At rough grazing
The total area of bush encroachment and the number of days with black frost during the year were positively associated with the outcome. The probability of a positive outcome was approximately 2.5 times higher for the three bush encroachment categories with more bush encroachment than the lowest category defined by the first quartile of the variable "Area shrubi". An increase by one unit in the black frost variable increased the probability of a positive outcome by 2.5 times (95% CI: 1.8, 3.4). The amount of precipitation in March was negatively associated with the outcome.
Discussion
Understanding the response of populations to environmental change requires detailed spatial and temporal data, and also consideration of the variability in conditions and of non-climatic factors along with the climate [34, 35]. Many disease distribution models use means, ignoring fluctuations, and will probably not be able to predict the diversity of animal responses. Incorporation of non-climatic factors, such as biotic interactions, is especially important [36, 37]. Our models covered climate and its variability, habitat alteration, and changes in host animal populations, agricultural practices and demography through three decades.
Distribution of Ixodes ricinus
The upslope shift of I. ricinus is even greater than documented previously [18], with a positive INLAND farm at 748 masl. Sheep serum positive for A. phagocytophilum in INLAND and parts of the COAST districts (Figure 1) in the early 1980's did not correspond with published distribution maps [26, 27]. This might be caused by different data resolution [18].
FJORD had higher numbers of positive sheep compared to COAST, probably indicating that ticks were relatively more abundant in FJORD. The number of positive sheep increased in FJORD, and more recently in COAST, indicating an increased sheep-tick exposure over time. It might also indicate that as A. phagocytophilum, which causes persistent infections in sheep [38] gets established in an area, there will be more reservoir hosts for more ticks to be infected and spread the disease. It is more difficult to explain why in INLAND the number of positive sheep decreased over time. One possible explanation is that a reduction in the number of sheep farms in INLAND might have resulted in less contact between herds during summertime, possibly lowering the infection risk for sheep coming from areas where ticks are uncommon. In addition, climate change was less pronounced and the INLAND-farms/rough grazing were at higher altitudes, however, INLAND had the most pronounced degree of bush encroachment. The prevalence of A. phagocytophilum in sheep could also be influenced by the tick infection prevalence rate, the tick life cycle and the density of sheep, cattle and wildlife hosts. The specific strains of A. phagocytophilum circulating might also be of importance as some may not be infective to sheep.
As whole cell bacterial antigens were used, it is expected that the method will detect antibodies against all strains of A. phagocytophilum that infect sheep. However, as not all strains of A. phagocytophilum infect sheep, the results could underestimate the distribution of ticks. Using prevalence of A. phagocytophilum in sheep as a proxy to establish temporal changes in the range and density of ticks could potentially miss tick populations which do not harbour A. phagocytophilum or strains of the organism that do not infect sheep, and thus underestimate the range and density of tick populations.
One possible weakness of the present study is that it did not investigate the prevalence of A. phagocytophilum in I. ricinus during the study period. There is, however, a problem of inference since prevalence in questing and feeding ticks can differ vastly; e.g. a Belgian study found only an A. phagocytophilum prevalence of 3% in questing ticks, whilst a prevalence of 21.7% in feeding ticks [39]. Thus low prevalence in questing ticks might not be indicative of infection rates.
Conclusion
Tick distribution and tick bite exposure are associated with a complex combination of climatic and environmental factors, including those related to human activities, which operate at diverse spatial and temporal scale. This multifactorial interdisciplinary study contributes to a more comprehensive understanding of the intricacies and interactions of the drivers of shifts in I. ricinus distribution, and represents an advance by considering biotic and abiotic factors simultaneously. The study also integrates seasonality, short-term temperature dynamics and possible climatic threshold effects, which appeared essential even though interpretation remains challenging. Expected climate changes accentuate the importance of our finding, and the need for considering climate variability effects upon ticks and tick-borne pathogens. The relative importance of the different factors studied here might change as the global environment continues to change, including the respective role of abiotic/biotic factors and those related to human land use.
Declarations
Acknowledgements
This study was funded by seed money from the Norwegian Veterinary Institute (NVI). Sincere thanks to Richard Ostfeld (Cary Institute of Ecosystem Studies, USA) for discussions around the paper, valuable advice upon modeling and for helpful review and comments on the manuscript. Thanks to Matthew Thomas (Center for Infectious Disease Dynamics and Department of Entomology, Penn State, USA) for guidance in the complex field of temperature fluctuations and transmission. Gratitude to Anita Verpe Dyrrdal (The Norwegian Meteorological Institute (met.no)) who provided the gridded data on air temperature, precipitation and snow depth; Jan Erik Haugen (met.no) and Hilde Haakenstad (met.no) which provided the hindcast data; and Hans Olav Hygen (met.no) which made a data aggregation of the climate data to provide the climate variables used in further analyses. Special thanks to farmers and people employed at the agricultural offices in the municipalities which helped tracing historical information about grazing areas for the sheep. Thanks to Preben Ottesen (Norwegian Public Health Institute) and Petter Hopp (NVI) for discussions around the study, Bruce David for language help with the paper, John Odden and Henrik Brøseth at Norwegian Institute for Nature Research for providing the number of bagged roe deer per municipality, Attila Tarpai (NVI) for GIS assistance, and Gry Grøneng (NVI) for generating sample overview.
Authors' Affiliations
(1)
Norwegian Veterinary Institute, Oslo, Norway
(2)
Georges Lemaître Centre for Earth and Climate Research, Earth & Life Institute, Université Catholique de Louvain, Louvain-la-Neuve, Belgium
(3)
Centre for Ecological and Evolutionary Synthesis (CEES), Department of Bioscience, University of Oslo, Oslo, Norway
(4)
The Norwegian Meteorological Institute, Research and Development Department, Division for Model and Climate Analysis, Oslo, Norway
(5)
Department of Informatics, University of Oslo, Oslo, Norway
(6)
Department of Infection Biology, Institute of Infection & Global Health, University of Liverpool, Neston, UK
(7)
Northern Research Institute, Forskningsparken, Norway
(8)
Norwegian School of Veterinary Science, Oslo, Norway
(9)
Department of Geosciences, University of Oslo, Oslo, Norway
Copyright
© Jore et al.; licensee BioMed Central Ltd. 2014
This article is published under license to BioMed Central Ltd. This is an Open Access article distributed under the terms of the Creative Commons Attribution License (http://creativecommons.org/licenses/by/2.0), which permits unrestricted use, distribution, and reproduction in any medium, provided the original work is properly cited. The Creative Commons Public Domain Dedication waiver (http://creativecommons.org/publicdomain/zero/1.0/) applies to the data made available in this article, unless otherwise stated.