Dogs, cats, parasites, and humans in Brazil: opening the black box
Parasites & Vectors
2014
7:22
Received: 13 November 2013
Accepted: 21 December 2013
Published: 14 January 2014
The Erratum to this article has been published in Parasites & Vectors 2016 9:298
Abstract
Dogs and cats in Brazil serve as primary hosts for a considerable number of parasites, which may affect their health and wellbeing. These may include endoparasites (e.g., protozoa, cestodes, trematodes, and nematodes) and ectoparasites (i.e., fleas, lice, mites, and ticks). While some dog and cat parasites are highly host-specific (e.g., Aelurostrongylus abstrusus and Felicola subrostratus for cats, and Angiostrongylus vasorum and Trichodectes canis for dogs), others may easily switch to other hosts, including humans. In fact, several dog and cat parasites (e.g., Toxoplasma gondii, Dipylidium caninum, Ancylostoma caninum, Strongyloides stercoralis, and Toxocara canis) are important not only from a veterinary perspective but also from a medical standpoint. In addition, some of them (e.g., Lynxacarus radovskyi on cats and Rangelia vitalii in dogs) are little known to most veterinary practitioners working in Brazil. This article is a compendium on dog and cat parasites in Brazil and a call for a One Health approach towards a better management of some of these parasites, which may potentially affect humans. Practical aspects related to the diagnosis, treatment, and control of parasitic diseases of dogs and cats in Brazil are discussed.
Keywords
DogsCatsHumansZoonosisControlSouth America
Introduction
The word "parasite" (from Ancient Greek, parasitos: para = beside, sitos = food) means literally a person that eats at the table of another. In the figurative sense, corrupt politicians that make the use their political power and public resources for their own benefit may be called parasites of society. But in parasitology, a parasite is an organism that takes benefit from another (the host), without giving something back and usually causing some damage to it. Incidentally, parasites constitute a diverse group of organisms that may affect a wide range of animal hosts, including amphibians, birds, fishes, mammals, and reptiles. They may be generally subdivided as endoparasites (=internal) and ectoparasites (=external), according to their location in the host. Ectoparasites may also be classified as permanent (e.g., lice and mites) or non-permanent (e.g., ticks and mosquitoes), depending on the relationship with their host; i.e., whether their life cycle takes place solely on their hosts or also in the environment.
Dogs and cats are the most popular pet animals worldwide. Nowadays, dogs for example have assumed many functions as guides for blind people, as therapeutic agents, as guard and hunting dogs. Moreover, in many developing countries, both dogs and cats have become part of human families, regardless of the social class (Figure
1
). The benefits of having a pet animal are undisputed [
1
], but both dogs and cats may harbour many parasites potentially transmissible to humans, which may represent a health risk, especially to children, the elderly and the immunocompromised [
2
]. For instance,
Toxoplasma gondii
,
Dipylidium caninum
,
Echinococcus granulosus
,
Ancylostoma braziliense
,
Toxocara canis
,
Onchocerca lupi
, and
Thelazia callipaeda
are common parasites of dogs and cats that can affect humans in different countries around the world. This fact emphasizes the need for a One Health approach towards a more efficient management and control of these parasites [
3
,
4
].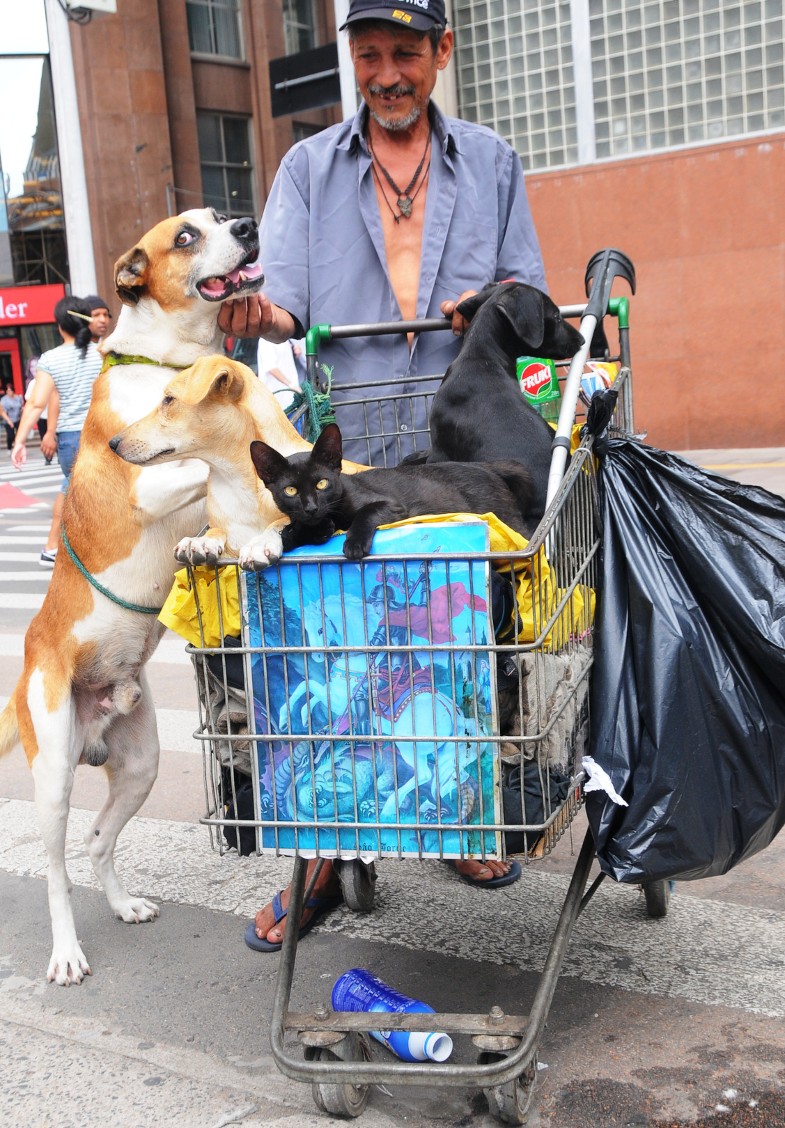 At the beginning of the 21st century, parasitic diseases are still causing a severe burden on animal and human populations in tropical and subtropical regions around the world [
5
–
7
]. Furthermore, the impact of some of these diseases is disproportionally higher in developing countries such as Brazil, because the living conditions of the populations often favour the exposure to certain parasites, whose transmission may be associated with poor housing and sanitary conditions (Figure
2
), as well as with inequities in the access to education and primary healthcare services.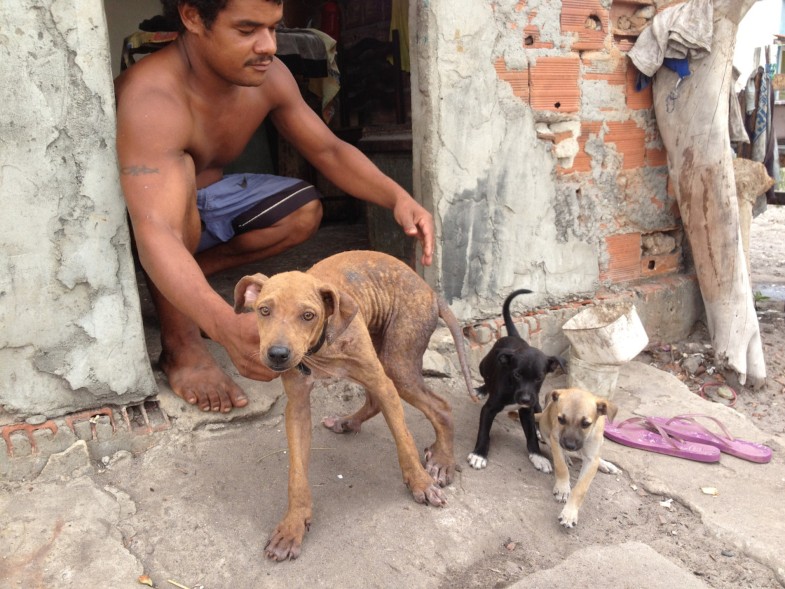 Brazil is a country with continental dimensions (i.e., 8,515,767 km2), occupying most of the land area of South America and representing the largest economy in the region. Despite the persistent social and economic inequalities (e.g., unequal access to education, health care and sanitation, safe drinking water and decent housing), which have become the dark side of the Brazilian history, the importance of dogs and cats as pets, as well as the demand for high standard veterinary services, has increased over the last decades in Brazil. Impressively, according to the Associação Brasileira da Indústria de Produtos para Animais de Estimação (Abinpet), Brazil currently holds the world's second largest dog and cat populations, with over 37 million dogs and 21 million cats (http://abinpet.org.br/imprensa/mercado-pet-deve-faturar-r-154-bilhoes-em-2013). Apropos, the growing number of dogs and cats in urban areas in Brazil has been accompanied by substantial increases in the animal feed and pet care markets. According to Abinpet, the Brazilian pet market will earn 15.4 billion Brazilian real (approximately 7 billion US dollars) in 2013, with an overall increase of 8.3% in comparison with 2012. Specifically, it has been estimated that in 2013 the pet service sector (services related to animal care, including bath and hair cut) will increase in 24.5%, pet food (animal feed) in 4.9%, pet care (equipments, accessories and products for animal hygiene and care) in 5.2%, and pet vet (medicines) in 6.7%. These numbers pose Brazil as the world's second largest pet market, behind only the United States.
The diversity of natural environments present in Brazil is outstanding, as is its biodiversity. By the bye, dogs and cats living in Brazil may harbour a long list of parasites that may affect their wellbeing and eventually pose a risk to the health of their owners [8, 9]. Information on their distribution, epidemiology, and impact on human health is fragmentary and mainly published in Brazilian journals. In this sense, this article is a compendium on dog and cat parasites in Brazil and a call for a One Health approach towards a better management of some of these parasites, which may potentially affect humans. Practical aspects related to the diagnosis, treatment, and control of parasitic diseases of dogs and cats in Brazil are discussed.
Conclusions
In conclusion, the benefits of having a dog or a cat as a pet are undisputed, but the limit between benefit and prejudice is subtle. Indeed, the close contact between pets and humans may involuntarily represent a hazard for humans. Therefore, to avoid the potential risks associated to owning a pet dog or cat, it is fundamental to maintain them in good health and protected from zoonotic pathogens. Beyond the shadow of a doubt, it is our job as veterinarians to ensure that pets and their owners may live in harmony without representing a menace to each other. But from a holistic perspective, veterinary practitioners and medical physicians should work together towards improving the wellbeing and general health of both animals and humans. Paraphrasing a famous American singer, a One Health approach could help us to "heal the world" and "make it a better place" for dogs, cats, and humans.
Declarations
Acknowledgements
Novartis Animal Health supported the preparation of this review. Thanks to Vinícius Roratto (Figure 1), Thiago André S. de Andrade (Figure 2), Fernando Silva and Pietra Lemos Costa (Figure 4), and Carlos A. P. Parchen (Figure 5) for sharing their photos. Thanks also to Viviana D. Tarallo for preparing the line drawings used in Figure 3, which were adapted from textbooks (e.g., Ref. [13]) and from photos kindly provided by Prof. Marcelo de Campos Pereira (http://www.icb.usp.br/~marcelcp/Default.htm).
Authors' Affiliations
(1)
Department of Immunology, Aggeu Magalhães Research Centre, Oswaldo Cruz Foundation, Recife, Brazil
(2)
Department of Veterinary Medicine, University of Bari, Valenzano, Italy
Copyright
© Dantas-Torres and Otranto; licensee BioMed Central Ltd. 2014
This article is published under license to BioMed Central Ltd. This is an Open Access article distributed under the terms of the Creative Commons Attribution License (http://creativecommons.org/licenses/by/2.0), which permits unrestricted use, distribution, and reproduction in any medium, provided the original work is properly cited. The Creative Commons Public Domain Dedication waiver (http://creativecommons.org/publicdomain/zero/1.0/) applies to the data made available in this article, unless otherwise stated.