Mosquito cell lines: history, isolation, availability and application to assess the threat of arboviral transmission in the United Kingdom
Parasites & Vectors
2014
7:382
Received: 8 April 2014
Accepted: 6 August 2014
Published: 20 August 2014
Abstract
Mosquitoes are highly effective vectors for transmission of human and animal pathogens. Understanding the relationship between pathogen and vector is vital in developing strategies to predict and prevent transmission. Cell lines derived from appropriate mosquito hosts provide a relatively simple tool for investigating the interaction between the host and viruses transmitted by mosquitoes. This review provides a brief overview of the development of mosquito cell lines, methods of isolation, their availability and application for investigating insect-virus interactions.
Keywords
Mosquitoes
Cell lines
Arboviruses
Vector competence
Background
Mosquitoes are responsible for the transmission of numerous infectious diseases including malaria, dengue fever, West Nile fever and Japanese encephalitis. Malaria is transmitted by
Anopheles
mosquitoes and results in the greatest mortality predominantly in Sub-Saharan Africa. In 2010, the World Health Organization estimated that there were 219 million cases (660,000 deaths) of malaria with 3.3 billion people at risk. Dengue is transmitted by
Aedes
mosquitoes and the incidence has grown dramatically with 50–100 million cases/year and 2.5 billion people at risk. Significant outbreaks of other mosquito-borne diseases such as Chikungunya, Japanese encephalitis and lymphatic filariasis impose a substantial burden on global health and economics in developing countries. Arboviral diseases transmitted by mosquitoes are a driver for poverty in much of the developing world and have shown an increase in incidence in the past few decades with major outbreaks occurring in previously non-endemic areas [
1
]. The geographical range of mosquito vector species, through changing environmental factors and international trade, has contributed to the increase in arboviral epidemics [
2
,
3
]. Cost-effective treatment and prevention of mosquito-borne diseases is complicated by the diversity of pathogens, mosquito vector species and disease pathology. Strategies for prevention include vaccination, prophylaxis and vector control, although for some diseases such as dengue fever and West Nile fever, vector control is currently the only available strategy to prevent transmission.The mosquito lifecycle in its simplest form is composed of a series of life stages beginning with eggs laid on or near water that hatch after a number of days into larvae. The larvae obtain nutrition predominantly through filter-feeding but predation on other larvae and small invertebrates also occurs for certain species. Mosquitoes develop through four instar phases, to form non-feeding pupae, which metamorphose into adults (Figure
1
). Adult males emerge first, followed by females and mating occurs when females are 2-3 days old. Whilst both males and females can derive nutrition from nectar, in most species females require a blood meal to promote egg development through the acquisition of protein and iron from blood. This provides the opportunity for pathogen transmission, particularly as female mosquitoes take multiple feeds during their lifecycle. Cells can be obtained from each of these developmental stages to generate cell lines appropriate for each experimental approach.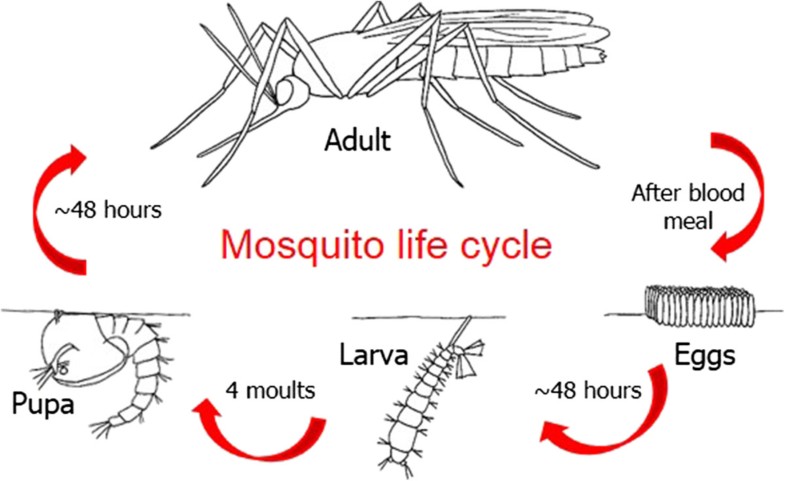 In recent years, interest has developed in a number of areas associated with virus-mosquito interactions. One key area of research has been elucidation of the immune response of insects against pathogens, and viruses in particular. In contrast to vertebrates, which have developed the interferon system to suppress virus replication, insects have an alternative innate immune mechanism commonly referred to as RNA interference (RNAi). This immune mechanism in mosquitoes has been reviewed extensively in recent years [4, 5]. Briefly, this virus control mechanism is stimulated by the presence of double-stranded RNA (an intermediary of virus replication) and leads to the recognition of specific sequences of single-stranded RNA (i.e. virus genomes) that are degraded by a cytoplasmic protein complex. Another area of research on mosquito-borne pathogens is to determine whether a given mosquito species is a potential vector for disease transmission. Vector competence studies can be undertaken in which infectious blood containing a pathogen is provided for the mosquito's blood meal, followed by an assessment of pathogen development within the mosquito. Transmission of mosquito-borne diseases requires the pathogen to undergo a significant period of time within the mosquito vector called the extrinsic incubation period (EIP). When a female mosquito bites an infectious human or animal, the pathogen is ingested with the blood meal and disseminates from the mosquito midgut, eventually reaching the mosquito's salivary glands for transmission to a new host. The time between ingestion of a blood meal and the ability to transmit virus is the EIP. The vectorial capacity of mosquitoes to transmit infectious pathogens depends on several factors including the EIP. For arboviruses such as dengue virus (DENV), the EIP is typically 7-14 days and external factors such as temperature can influence the EIP [6]. This experimental approach requires a range of skills and facilities including the ability to raise large numbers of mosquitoes (either colonised or wild caught), containment facilities for handling both the insect vector and the pathogen and expertise in both subjects. Therefore, alternative models to investigate vector-pathogen interactions are needed. In vitro studies using mosquito cell lines can be carried out to provide valuable information on aspects of these interactions. Here we review the history, isolation, availability and application of mosquito cell lines, and how cell lines can be used to contribute to understanding of the potential vector competence of UK mosquitoes for arboviruses.
Conclusions
Experiments to determine virus-host interactions, with an appropriate cell line of UK genetic background, are necessary to assess the likely impact of the introduction of arboviral transmission in a new area and the ability of the pathogens to become established in the local mosquito population. The presence of insect-specific flaviviruses, particularly in mosquito populations, may also influence transmission of arboviruses to humans. For example, a laboratory colony of Cx. pipiens established from Colorado, USA, has been shown to be infected with a Culex flavivirus (CxFV) and early suppression of WNV replication was observed [70]. However, another study demonstrated that CxFV had no significant impact on WNV replication, infection, dissemination or transmission in Cx. quinquefasciatus mosquitoes [71]. Establishment of cell lines from native UK Cx. pipiens and Ae. vexans mosquitoes would provide suitable models to investigate insect-specific flaviviruses that are present in UK populations. Infection of cell lines with arboviruses such as WNV would provide valuable information to inform vector competence studies of these native mosquito species.
Abbreviations
RNAi:

RNA interference
EIP:

extrinsic incubation period
DENV:

dengue virus
An. :

Anopheles
Ae. :

Aedes
Cx. :

Culex
WNV:

West Nile virus
JEV:

Japanese encephalitis virus
EEEV:

Eastern equine encephalitis virus
LACV:

La Crosse virus
RVFV:

Rift Valley fever virus
Bti:

Bacillus thuringiensis israelensis
MOFs:

Mosquito-only flaviviruses
AEFV:

Aedes flavivirus
OCFV:

Ochlerotatus flavivirus
BTV:

Bluetongue virus
CCHFV:

Crimean-Congo hemorrhagic fever virus
CxFV:

Culex flavivirus.
Declarations
Acknowledgements
This review was funded through grant SE4112 from the Department of Environment Food and Rural Affairs (Defra, UK). We would like to thank Dr Colin Malcolm (Queen Mary University of London) for providing us with Ae. vexans colony eggs of UK origin. We would also like to thank Fiona McCracken (AHVLA) for her assistance in mosquito cell line experiments.
Authors' Affiliations
(1)
Animal Health and Veterinary Laboratories Agency, Woodham Lane, New Haw, Addlestone, UK
(2)
London School of Hygiene and Tropical Medicine, London, UK
Copyright
© Walker et al.; licensee BioMed Central Ltd. 2014
This article is published under license to BioMed Central Ltd. This is an Open Access article distributed under the terms of the Creative Commons Attribution License (http://creativecommons.org/licenses/by/4.0), which permits unrestricted use, distribution, and reproduction in any medium, provided the original work is properly credited. The Creative Commons Public Domain Dedication waiver (http://creativecommons.org/publicdomain/zero/1.0/) applies to the data made available in this article, unless otherwise stated.