Search for blood or water is influenced by Borrelia burgdorferi in Ixodes ricinus
Parasites & Vectors
2015
8:6
Received: 2 July 2014
Accepted: 5 November 2014
Published: 6 January 2015
Abstract
An increasing number of studies suggest that vector-borne parasites are able to alter phenotypic traits in their arthropod vectors so that microorganism transmission is enhanced. This review documents this phenomenon, which occurs between Borrelia burgdorferi bacteria, the causative agents of Lyme borreliosis, and their tick vectors belonging to the Ixodes ricinus complex. It also reviews the influence of other tick-borne pathogens on these ticks. Ticks belonging to the Ixodes ricinus complex benefit from Borrelia infection by an increased lifespan (more fat and more resistance to desiccation) and by an increased questing period (less need to move to the litter zone to rehydrate), which enhances tick chances to find a host and to subsequently transmit the pathogens.
Keywords
Ixodes ticksPhenotypic traits modificationVector manipulationWater balanceBlood meal Borrelia burgdorferi
Background
The idea that a parasite can modify the phenotype of its host by changing the host perception of the environment and/or behaviour in order to complete its transmission cycle is intriguing. This phenomenon is well established and documented in hundreds of distinct host-parasite associations in all major phyla of living organisms [
1
,
2
]. While most of the known cases involve only subtle modifications in host phenotypes, some are doubtlessly spectacular. For vector-borne pathogens, the best-known examples involve pathogens transmitted by blood-sucking insects taking short blood meals on multiple hosts such as mosquitoes, sand flies, or tsetse flies. In such cases, manipulation usually consists of modifying vector behaviour so that the number of bitten hosts (and thereby infected hosts) is increased using strategies such as higher biting rates, shortened blood meals, a longer lifespan, etc. [
3
-
5
]. Unlike haematophagous insects, hard ticks feed for days (Figure
1
) [
6
] and transmission of tick-borne parasites often needs some time after the beginning of tick attachment to occur (i.e. several hours), as for example the transmission of the agents of Lyme borreliosis (
Borrelia burgdorferi sensu lato
(s.l.)) by the European vector
Ixodes ricinus
[
7
,
8
]. Unlike insect-borne parasites, tick-borne parasites cannot increase the number of hosts encountered by their vectors during their life cycle (Figure
1
) and other mechanisms have to intervene. Moreover, although finding a host is crucial for any haematophagous arthropod, ticks such as
I. ricinus
have an additional need that governs their behaviour and life cycle: maintaining their water balance. This need is particularly important for ticks because their parasitic life is very short (three blood meals, each of them taken over a few days) compared to their lifespan that extends over many years, spent in the environment (Figure
1
). Maintaining a water balance is not compatible with host-finding behaviour and is even detrimental to host-finding success. Therefore tick-borne parasites could be expected to influence tick behaviour in such a way as to maximise host-finding success in order to be transmitted.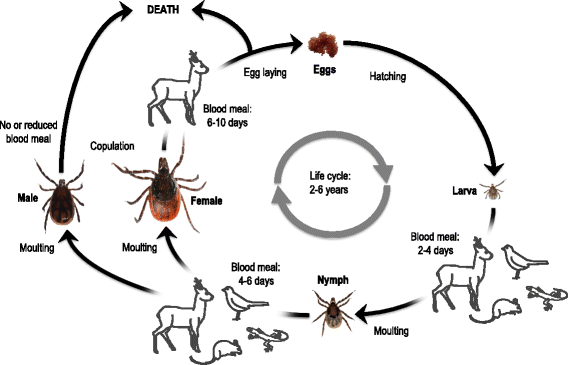 Conclusions
The idea that B. burgdorferi s.l. infection increases the opportunities that I. ricinus has to find a vertebrate host due to modified questing activity is particularly interesting. Faulde and Robbins [68] have reported that host-finding efficacy is increased in female I. ricinus ticks harbouring B. burgdorferi spirochetes. These authors have observed that Borrelia infection prevalence is higher in unfed ticks collected from clothing of volunteers than in unfed ticks collected directly from vegetation in the same forest in Germany. In the context of climate change, if weather conditions become warmer and drier (which is expected to favour Borrelia-infected I. ricinus ticks according to these findings), it can be surmised that the risk for human population to encounter ticks harbouring B. burgdorferi spirochetes, and therefore to be bitten by such individuals, might increase. As Lyme borreliosis is to date the most frequent tick-borne disease in the Northern hemisphere, accounting for approximately 85,500 new human cases annually, among which roughly 65,500 occur in Europe [69], we might expect this disease to become a greater public health concern if desiccating conditions become more pronounced and Borrelia-infected ticks are more likely to find hosts under such conditions. However, such suppositions might prove to be inaccurate in the future since Lyme borreliosis epidemiology does not depend solely on I. ricinus but rather on multiple parameters, notably Borrelia reservoir-host populations, which might be negatively influenced by climate change.
Declarations
Acknowledgements
The authors are thankful to Jonathan Hamley for proof reading the manuscript and to the two reviewers for their comments.
Authors' Affiliations
(1)
Institute of Biology, Eco-Epidemiology Laboratory, University of Neuchâtel, Neuchâtel, Switzerland
Copyright
© Herrmann and Gern; licensee BioMed Central. 2014
This is an Open Access article distributed under the terms of the Creative Commons Attribution License (http://creativecommons.org/licenses/by/4.0), which permits unrestricted use, distribution, and reproduction in any medium, provided the original work is properly credited. The Creative Commons Public Domain Dedication waiver (http://creativecommons.org/publicdomain/zero/1.0/) applies to the data made available in this article, unless otherwise stated.