Intestinal parasites, growth and physical fitness of schoolchildren in poor neighbourhoods of Port Elizabeth, South Africa: a cross-sectional survey
Parasites & Vectors
2016
9:488
Received: 23 April 2016
Accepted: 16 August 2016
Published: 5 September 2016
Abstract
Background
As traditional lifestyle and diets change with social and economic development, disadvantaged communities in low- and middle-income countries increasingly face a double burden of communicable and non-communicable diseases. We studied the relationship between physical fitness and infections with soil-transmitted helminths (STHs), intestinal protozoa and Helicobacter pylori among schoolchildren in Port Elizabeth, South Africa.
Methods
We conducted a cross-sectional survey among 1009 children, aged 9 to 12 years, from eight primary schools in socioeconomically disadvantaged neighbourhoods of Port Elizabeth. Physical fitness was determined using field-deployable tests of the Eurofit fitness test battery. Stool samples were analysed with the Kato-Katz thick smear technique to diagnose STHs and with rapid diagnostic tests (RDTs) to detect intestinal protozoa and H. pylori infections. Haemoglobin (Hb) levels were assessed and anthropometric indicators determined.
Results
Complete data were available for 934 children (92 %). In two schools, high STH prevalences were found (Ascaris lumbricoides 60 and 72 %; Trichuris trichiura 65 % each). For boys and girls co-infected with A. lumbricoides and T. trichiura (n = 155) the maximal oxygen uptake (VO2 max) was estimated to be 50.1 and 47.2 ml kg-1 min-1, compared to 51.5 and 47.4 ml kg-1 min-1 for their non-infected peers (n = 278), respectively. On average, children without helminth infections had greater body mass (P = 0.011), height (P = 0.009) and a higher body mass index (P = 0.024) and were less often stunted (P = 0.006), but not significantly less wasted compared to their peers with a single or dual species infection. Among 9-year-old boys, a negative correlation between helminth infections and VO2 max, grip strength and standing broad jump distance was observed (P = 0.038). The overall mean Hb level was 122.2 g l-1. In the two schools with the highest prevalence of STHs the Hb means were 119.7 and 120.5 g l-1, respectively.
Conclusions
Intestinal parasite infections appear to have a small but significant negative effect on the physical fitness of infected children, as expressed by their maximal oxygen uptake. We observed a clear impact on anthropometric indicators.
Keywords
Anthropometric indicatorsHaemoglobinIntestinal polyparasitismIntestinal protozoaPhysical fitnessSoil-transmitted helminthsSouth Africa
Background
Globally, more than 1 billion people are infected with soil-transmitted helminths (STHs; Ascaris lumbricoides, hookworms and Trichuris trichiura) and Schistosoma spp. [1–3]. The symptoms most frequently associated with these parasitic worm infections include abdominal pain, diarrhoea, anaemia, growth retardation and cognitive impairment [4], ultimately resulting in reduced physical fitness and work productivity [5]. Important risk factors for STH and Schistosoma spp. infections are a lack of clean water, sanitation and hygiene (WASH) [6, 7]. Permissive conditions are commonly found in socioeconomically deprived neighbourhoods in low- and middle-income countries, including in South Africa [8]. Intestinal protozoa such as Cryptosporidium parvum, Entamoeba spp. and Giardia intestinalis are associated with poor living conditions [9]. Their transmission mostly occurs through faecal contamination of food and water [10]. They may lead to symptoms such as abdominal pain, diarrhoea and nausea. Many low- and middle-income countries struggle to control such infectious diseases stemming from traditional challenges [11]. In South Africa, a country that shows considerable health inequity in global terms (e.g. Gini index of 0.63 in 2011 [12]), socioeconomically deprived communities with a high burden of infectious diseases live in close proximity to affluent ones with a disease burden profile typical of western societies. Among both populations, non-communicable diseases (e.g. diabetes, cardiovascular- and obesity-related conditions and cancers) are rapidly increasing, fuelled by unhealthy lifestyles including poor nutritional habits and sedentary lifestyles [13]. South Africa's 2014 Report Card on Physical Activity for Children and Youth [14] highlights the current concerns for the health and well-being of children and youth in relation to declining physical activity levels and increasing rates of consumption of soft-drinks and fast food.
Low levels of in-school physical activity have been documented for children in Port Elizabeth in the frame of a study by Walter et al. [15] who focused on primary schoolchildren in disadvantaged schools. Low quality and often inaccessible sport and recreation facilities, a lack of qualified teachers and an irregular physical education schedule complicate the promotion of age-appropriate physical activity among schoolchildren at disadvantaged schools. The resulting dual burden of diseases (i.e. non-communicable chronic conditions and infectious diseases) puts children at an increased risk of compromised health that may hamper their development, wellbeing and future prospects [13, 16, 17]. Moreover, this dual burden is a challenge for the health system.
The "Disease, Activity and Schoolchildren's Health" (DASH) study in Port Elizabeth, South Africa, aims to investigate this dual disease burden (i.e. non-communicable chronic conditions and infectious diseases) among children in selected primary schools located in disadvantaged neighbourhoods [18]. Here, we report the findings pertaining to parasite infections and physical activity from a cross-sectional survey among 9- to 12-year-old children. The objectives of this cross-sectional survey were (i) to determine the prevalences of intestinal parasite infections and Helicobacter pylori; (ii) to assess the haemoglobin (Hb) levels and anthropometric indicators; (iii) to comprehensively measure the physical fitness levels; and (iv) to investigate possible associations between infection status and other measured variables.
Discussion
We found notable levels of helminth and intestinal protozoa infections in 9- to 12-year-old children in eight schools of poor neighbourhoods in Port Elizabeth, South Africa. Children infected with T. trichiura had significantly lower body weight, were less tall and had a lower BMI compared to their non-infected peers (all P < 0.05). The same trend was observed for A. lumbricoides-infected children.
Helicobacter pylori
infections were classified by World Health Organization (WHO) as a carcinogen of class 1 (definite carcinogen) in 1994 [
30
]. Non-significant associations between an infection with this bacterium and the growth of children were noted, confirming findings by Abdelrazak and Richter et al. [
31
,
32
]. Boys, but not girls, with a
T. trichiura
or
A. lumbricoides
infection had significantly lower mean VO
2
max estimates than non-infected peers (Fig.
5
). Grip strength and standing broad jump test results were also statistically significantly lower in 9- to 10-year-old boys, whereas in girls no difference was seen.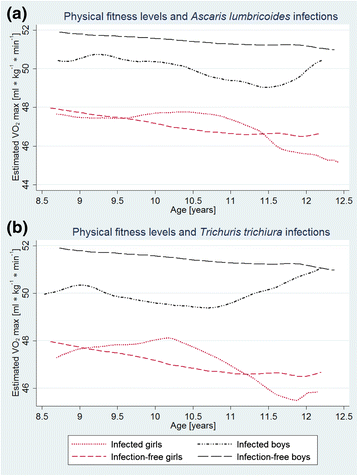 The mean number of completed levels/stages of the 20 m shuttle run test corresponds closely to the mean results reported from other studies in different settings, e.g. the KISS- or the Sportcheck-study with Swiss primary schoolchildren of similar age [33–35]. Yap et al. reported slightly lower VO2 max results, 45.6 ml kg-1 min-1 for boys and 44.7 ml kg-1 min-1 for girls, from 194 children aged 9-12 years and living in south-west Yunnan province in the People's Republic of China [3]. With regard to T. trichiura infections, Yap et al. [5] found more pronounced impacts on weight, height and BMI than the present study.
The 20 m shuttle run test was the selected measurement method for the assessment of cardio-respiratory fitness in a resource-constrained setting due to its ease of application [25]. An alternative test, though with smaller samples, is the Harvard step test (HST) [36, 37]. However, using different and technically more elaborated methods such as the cycle ergometer test used by Aandstad et al. [38], the estimated maximal oxygen uptake in 9- and 10-year-old children in Tanzania and Norway is significantly higher compared to the VO2 max of the 20 m shuttle run test (P < 0.001), namely for boys 58.6 ml kg-1 min-1 (95 % CI: 57.3–60.0 ml kg-1 min-1) and for girls 54.7 ml kg-1 min-1 (95 % CI: 52.9–56.5 ml kg-1 min-1) [38]. The estimated VO2 max values generated from the 20 m shuttle run test tend to be high in relation to other direct VO2 max measurement methods, such as maximal watt cycle ergometer test, treadmill or spirometry in laboratory settings. This shift in absolute level of VO2 max is not expected to influence the association signals with infection status, though.
Comparing calculated standing broad jump result means of 118 cm for girls and 132 cm for boys of the present survey with results of the Armstrong et al. study [39], also conducted in South Africa with 2819 girls and 3573 boys of the same age, Armstrong and colleagues measured noticeably longer standing broad jump distances, namely 152 cm for girls and 164 cm for boys.
The highest prevalence of stunting was observed in schools in the region of Hillcrest (22 %) and Helenvale (19 %), where also the highest prevalences of A. lumbricoides and T. trichiura were detected. However, these observations need to be interpreted with caution since current infection status is correlated with long-term growth indicators. Potentially, systematic differences in socioeconomic status and malnutrition levels exist between the study schools.
Only few studies have investigated the distribution of STHs in South Africa. Higher prevalences of hookworm and schistosome infections have been reported from warmer KwaZulu-Natal, located further north than Port Elizabeth [40, 41] compared to the results from our study. In our cohort of primary schoolchildren, heavy T. trichiura and A. lumbricoides intensities were observed in areas built in the 1950s to accommodate 6000 predominantly coloured people but where a recent survey estimated that more than 30,000 people are living in the area [39]. The area is characterised by unhygienic living conditions (poor sanitation and litter), high unemployment and gangsterism. Based on our results, biannual mass deworming should be implemented in the Hillcrest and Helenvale region in order to reduce STH prevalences and thus lower the risk of morbidity, complemented by interventions focusing on WASH [7].
Our study has several limitations. First, results reported here stemmed from a cross-sectional survey and as such we only identified associations rather than causality. Also, current infection status and current effects of past, long-term effects such as stunting are not directly linked. Secondly, it is still debated whether cardiorespiratory performance of children, measured here as maximal oxygen uptake (VO2 max), is receptive enough for change [42] due to varying personal living conditions. Thirdly, only single stool samples were collected from each participant. Hence, some infections, particularly those of light intensity, were possibly missed, as seen in other studies where multiple biological samples and a combination of diagnostic methods were employed [22, 43, 44]. Despite these limitations, the study confirms the practicability of the methods employed as suggested by previous experiences in different African and Asian settings, where school-aged children liked to perform physical fitness tests [45–47].
In the 2004 Global Burden of Disease (GBD) study, heavy A. lumbricoides and T. trichiura infections have both been assigned a zero disability weight (DW) as each of the two infections for itself alone is very rarely fatal, whereas the cognitive impairment resulting from both infections clearly differ, namely 0.463 for A. lumbricoides and 0.024 for T. trichiura on a scale from 0 (no disability) to 1 (death) [48]. In the GBD update 2013, a disease burden of 14.2 disability-adjusted life years (DALYs) per 100,000 person-years is estimated for children below the age of 15 years in South Africa who are infected with A. lumbricoides, while the respective estimate for children infected with T. trichiura is almost 10-fold higher (140 DALYs per 100,000 person-years) [49]. As we observed similar prevalences for A. lumbricoides and T. trichiura [41, 50], it appears that the disease burden of the latter helminth infection in under 15-year-old South African children is higher.
Conclusions
This cross-sectional survey of the DASH study provides new insight into helminth and intestinal protozoa infections, physical fitness and growth of Grade 4 children in quintile three primary schools from disadvantaged communities in Port Elizabeth. Our results indicate that boys who are infected with multiple intestinal parasite species have lower physical fitness levels than their non-infected counterparts, as expressed by the maximal oxygen uptake (VO2 max). A significantly higher T. trichiura prevalence was noted in stunted children and those with a significantly lower Hb level, compared to children not infected with this species. Biannual mass deworming in order to control the morbidity due to STH infections is recommended in school B in Hillcrest and school A in Helenvale.
Abbreviations
BMI:

Body mass index
BMIZ:

BMI-for-age Z-score
CI:

Confidence interval
DALY:

Disability-adjusted life year
DASH:

Disease, Activity and Schoolchildren's Health
DW:

Disability weight
EKNZ:

Ethics committee of Northwest and Central Switzerland
EPG:

Eggs per gram (of stool)
GBD:

Global Burden of Disease (study)
HAZ:

Height-for-age Z-score
Hb:

Haemoglobin
HST:

Harvard step test
IDW:

Inverse distance weighting
ISRCTN:

International standard randomised controlled trial number
NMMU:

Nelson Mandela Metropolitan University
NRF:

National Research Foundation
POC-CCA:

Point-of-care circulating cathodic antigen
RDT:

Rapid diagnostic test
SD:

Standard deviation
SNSF:

Swiss National Science Foundation
SSAJRP:

Swiss-South African joint research programme
STH:

Soil-transmitted helminth
VO2 max:

Maximal oxygen uptake
WASH:

Water, sanitation and hygiene
WHO:

World Health Organization
Declarations
Acknowledgements
We are grateful to Mrs. Leyli Zondie, Head of the Department of Medical Laboratory Sciences at the Nelson Mandela Metropolitan University, and her team, Mrs. Lindsey Beyleveld, Deverdene Finnis, Cindy Ackers, Anja Montgomery and Jessica Theron for providing diagnostic support in the laboratory. We thank Danielle Smith, Dominique Bänninger, Stefanie Gall and Thomas Hager for their contribution to data collection. Many thanks go to Mr. Chantel Lamon at ICT International, for the donation of the point-of-care circulation cathodic antigen (POC-CCA) urine cassette tests. In addition, in the name of all the study children, we would like to thank Mr. Joel Huber on behalf of CURAPROX for the donation of the toothbrushes and toothpaste (for an ancillary oral health programme).
Funding
This study is conducted within the scope of the Swiss-South African joint research programme (SSAJRP), financially supported by the Swiss National Science Foundation (SNSF, project no. IZLSZ3 149015) and the National Research Foundation (NRF, project no. 87397) in South Africa. The funders had no role in the study design, data collection and analysis, preparation of the manuscript or decision to publish.
Availability of data and material
The datasets are available from the corresponding author on request.
Authors' contributions
IM, PY, PS, NP-H, MG, RdR, UP, CW and JU designed the study, established the methods and questionnaires and wrote the original study protocol. All other authors contributed to the development of the study protocol. IM, PY, BPD, NSNH, MG, RdR, UP and CW conducted the study. CW was responsible for community sensitisation. IM managed data entry, cleaning and preparation of the database for statistical analysis, supported by CS and HS. IM wrote the first draft of the manuscript. All authors read and provided comments on the drafts and approved the final version of the paper prior to submission.
Competing interests
The authors declare that they have no competing interest.
Consent for publication
Not applicable.
Ethics approval and consent to participate
This study was cleared by the ethics committees of Northwest and Central Switzerland (EKNZ; reference no. 2014-179, approval date: 17 June 2014), the Nelson Mandela Metropolitan University (NMMU; study number H14-HEA-HMS-002, approval date: 4 July 2014), the Eastern Cape Department of Education (approval date: 3 August 2014) and the Eastern Cape Department of Health (approval date: 7 November 2014). The study is registered at ISRCTN registry under controlled-trials.com (unique identifier: ISRCTN68411960, registration date: 1 October 2014).
The school principals, teaching staff and potential participants were briefed on the purpose, procedures, potential risks and benefits of the study. Meetings with parents or guardians were held to explain the project. Children who were absent from school on the clinical examination day or suffering from any chronic illness were excluded from the physical fitness testing prior to the 20 m shuttle run test. Oral assent from each participating child was sought and individual written informed consent was obtained from parents/guardians. For illiterate parents/guardians, the information sheet available in English, Xhosa and Afrikaans was read aloud in the appropriate language or, if needed, an oral translation of the information sheet into another local language was provided. Participation was voluntary, and hence, children could withdraw from the study at any time without further obligations. To ensure confidentiality, each study participant was given a unique identification number. Children with serious health problems were referred to the local clinic. STH infections were managed free of charge according to WHO and national treatment guidelines.
Open AccessThis article is distributed under the terms of the Creative Commons Attribution 4.0 International License (http://creativecommons.org/licenses/by/4.0/), which permits unrestricted use, distribution, and reproduction in any medium, provided you give appropriate credit to the original author(s) and the source, provide a link to the Creative Commons license, and indicate if changes were made. The Creative Commons Public Domain Dedication waiver (http://creativecommons.org/publicdomain/zero/1.0/) applies to the data made available in this article, unless otherwise stated.
Authors' Affiliations
(1)
Swiss Tropical and Public Health Institute, Basel, Switzerland
(2)
University of Basel, Basel, Switzerland
(3)
Department of Sport, Exercise and Health, University of Basel, Basel, Switzerland
(4)
Institute of Infectious Disease and Epidemiology, Tan Tock Seng Hospital, Singapore, Singapore
(5)
Faculty of Education, Nelson Mandela Metropolitan University, Port Elizabeth, South Africa
(6)
Department of Human Movement Science, Nelson Mandela Metropolitan University, Port Elizabeth, South Africa