Crosstalk between purinergic receptors and lipid mediators in leishmaniasis
Parasites & Vectors
2016
9:489
Received: 27 January 2016
Accepted: 29 August 2016
Published: 5 September 2016
Abstract
Leishmaniasis is a neglected tropical disease affecting millions of people around the world caused by organisms of the genus Leishmania. Parasite escape mechanisms of the immune system confer the possibility of resistance and dissemination of the disease. A group of molecules that has become a target for Leishmania survival strategies are lipid mediators. Among them, leukotriene B4 (LTB4) has been described as a pro-inflammatory molecule capable of activating cells of the immune system to combat Leishmania. In an opposite way, prostaglandin E2 (PGE2) is a lipid mediator described as a deactivator of macrophages and neutrophils. The balance of these two molecules can be generated by extracellular nucleotides, such as adenosine 5'-triphosphate (ATP) and adenosine (Ado), which activate the purinergic receptors system. Herein, we discuss the role of extracellular nucleotides and the resulting balance of LTB4 and PGE2 in Leishmania fate, survival or death.
Keywords
P2X7 Receptor
Visceral Leishmaniasis
Leishmaniasis
Cutaneous Leishmaniasis
Lipid Mediator
Conclusion
The establishment of
Leishmania
infection can be due to the balance of several factors. Extracellular nucleotides can modulate the balance of pro- and anti-inflammatory factors such as PGs and LTs. To ensure their survival,
Leishmania
spp. developed strategies throughout its evolution to guarantee its perpetuation (Fig.
2a
). The ability of
Leishmania
spp. to modulate extracellular concentrations of ATP and Ado, and consequently the balance of LTB
4
and PGE
2
shows how organisms can subvert the immune system of the host (Fig.
2b
). Thus, the importance of knowledge of these strategies of evasion is essential in order to develop drugs capable to counterbalance
Leishmania
evasion.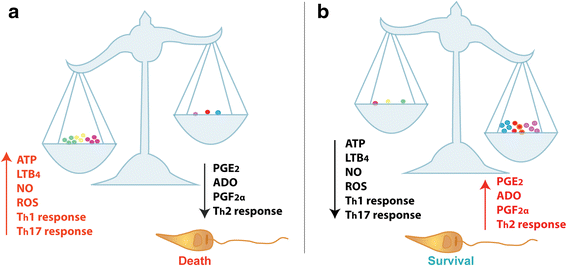 Abbreviations
ATP:

5′-adenosine triphosphate
eATP:

extracellular ATP
Ado:

Adenosine
DC:

Dermal dendritic cells
LCs:

Langerhans cells
LPG:

Lipophosphoglyca
GP63:

Glycoprotein 63
CR:

Complement receptor
MR:

Mannose receptor
FcγRs:

Fc gamma receptors
FNRS:

Fibronectin receptors
TLR:

Toll-like receptor
DAMP:

Damage-associated molecular pattern; cytosolic phospholipase A2
COX:

Cicloxygenase
5-LO:

5-lipoxygenase
LTB4 :

Leukotriene B4
NO:

Nitric oxide
ROS:

Reactive oxygen species
PGE2 :

Prostaglandin E2
AMP:

5′-adenosine mono-phosphate
TNF:

Tumor necrosis factor
UTP:

Uridine triphosphate
PAMPs:

Pathogen-associated molecular patterns
Declarations
Acknowledgments
We thank Ludmilla Dellatorre for help in preparing the figures, Dr Larry Johnson for revision of English language and CNPq, CAPES and FAPERJ for financial support.
Funding
This work was supported by the Conselho Nacional de Deselvimento Científico e Tecnológico (CNPq), Coordenação de Aperfeiçoamento de Nível Superior (CAPES) and Fundação de Amparo à Pesquisa do Estado do Rio de Janeiro (FAPERJ) (grant number E-26/111.182/2011).
Availability of data and material
Not applicable.
Authors' contributions
MMC carried out the literature search, prepared the draft of the manuscript and wrote the paper. CC contributed to writing the paper and critically revised the manuscript. RCS contributed to writing the paper and critically revised the manuscript. All authors read and approved the final manuscript.
Consent for publication
Not applicable.
Ethics approval and consent to participate
Not applicable.
Disclosures
The authors have no financial conflicts of interest.
Open AccessThis article is distributed under the terms of the Creative Commons Attribution 4.0 International License (http://creativecommons.org/licenses/by/4.0/), which permits unrestricted use, distribution, and reproduction in any medium, provided you give appropriate credit to the original author(s) and the source, provide a link to the Creative Commons license, and indicate if changes were made. The Creative Commons Public Domain Dedication waiver (http://creativecommons.org/publicdomain/zero/1.0/) applies to the data made available in this article, unless otherwise stated.
Authors' Affiliations
(1)
Laboratory of Immunophysiology, Biophysics Institute Carlos Chagas Filho, Federal University of Rio de Janeiro, Rio de Janeiro, Brazil
(2)
Laboratory of Inflammation, Biophysics Institute Carlos Chagas Filho, Federal University of Rio de Janeiro, Rio de Janeiro, Brazil
(3)
National Institute of Translational Research in Health and Environment in the Amazon Region, Biophysics Institute Carlos Chagas Filho, Federal University of Rio de Janeiro, Rio de Janeiro, Brazil