Multiflora rose invasion amplifies prevalence of Lyme disease pathogen, but not necessarily Lyme disease risk
Parasites & Vectors
2018
11:54
Received: 24 March 2017
Accepted: 5 January 2018
Published: 23 January 2018
Abstract
Background
Forests in urban landscapes differ from their rural counterparts in ways that may alter vector-borne disease dynamics. In urban forest fragments, tick-borne pathogen prevalence is not well characterized; mitigating disease risk in densely-populated urban landscapes requires understanding ecological factors that affect pathogen prevalence. We trapped blacklegged tick (Ixodes scapularis) nymphs in urban forest fragments on the East Coast of the United States and used multiplex real-time PCR assays to quantify the prevalence of four zoonotic, tick-borne pathogens. We used Bayesian logistic regression and WAIC model selection to understand how vegetation, habitat, and landscape features of urban forests relate to the prevalence of B. burgdorferi (the causative agent of Lyme disease) among blacklegged ticks.
Results
In the 258 nymphs tested, we detected Borrelia burgdorferi (11.2% of ticks), Borrelia miyamotoi (0.8%) and Anaplasma phagocytophilum (1.9%), but we did not find Babesia microti (0%). Ticks collected from forests invaded by non-native multiflora rose (Rosa multiflora) had greater B. burgdorferi infection rates (mean = 15.9%) than ticks collected from uninvaded forests (mean = 7.9%). Overall, B. burgdorferi prevalence among ticks was positively related to habitat features (e.g. coarse woody debris and total understory cover) favorable for competent reservoir host species.
Conclusions
Understory structure provided by non-native, invasive shrubs appears to aggregate ticks and reservoir hosts, increasing opportunities for pathogen transmission. However, when we consider pathogen prevalence among nymphs in context with relative abundance of questing nymphs, invasive plants do not necessarily increase disease risk. Although pathogen prevalence is greater among ticks in invaded forests, the probability of encountering an infected tick remains greater in uninvaded forests characterized by thick litter layers, sparse understories, and relatively greater questing tick abundance in urban landscapes.
Keywords
Lyme disease
Borrelia burgdorferi
Borrelia miyamotoi
Anaplasma phagocytophilum
Babesia microti
Invasive species
Urbanization
Forest fragment
Background
Urbanization affects many aspects of vector-borne disease ecology [1]. In the case of tick-borne disease systems such as Lyme disease (caused by Borrelia burgdorferi) in forested ecosystems, urbanization alters habitat suitability for vectors (i.e. ticks), vertebrate hosts, and as a result, pathogens. Human development in the Lyme disease endemic, mid-Atlantic region of the United States reduces overall forest cover and average patch size while increasing the area of edge and impervious surface. Reduced forest patch size, in particular, results in predictable changes to host community composition that increase acarological risk in terms of nymphal infection prevalence and density of infected nymphs [2–5]. Yet in human-dominated landscapes, patch size may have a smaller or perhaps unpredictable influence on host community relative to other effects of urbanization on forested ecosystems. How ecological characteristics of urban forest fragments affect acarological risk has not been well explored.
Complex land use histories in human-dominated landscapes form networks of diverse, heterogeneous forest fragments. In the urban mid-Atlantic region, clear-cutting, intensive agriculture, and urban sprawl have created a variety of forest fragment types on a spectrum between remnants of mature (> 100 yr. old) forests and forest fragments that have regrown from fallow agricultural land set aside while surrounding areas were developed [6]. In the latter case, native tree species have competed with and grown alongside non-native species that were part of the agricultural landscape or subsequent development. As a result, regrown urban forest patches have closed canopies of mostly native trees with thick understories composed of non-native, invasive species [7]. These two extremes of urban forest fragment types both face serious ecological problems (e.g. loss of native understory or reduced regeneration), with implications for tick-borne disease risk.
Due to changes to below-ground processes and browsing pressure from high density white-tailed deer (Odocoileus virginianus) populations (in Delaware, recent county surveys estimate between 18 and 52 deer/km2 [8]), mature forests may have sparse or no woody understories and cannot replace many species of dead or dying trees [9]. Although they maintain a thick litter layer and low soil pH, which may help buffer mature forests from invasion by non-native plants [10], many native woody plants cannot regenerate. The thick litter layer maintained in these forests provides suitable habitat for blacklegged ticks (Ixodes scapularis), which are found in greater abundance in mature forests relative to other urbanized forest fragment types [11]. In contrast, forest fragments with significant non-native plant invasion in the understory have high densities of invasive earthworms and very little leaf litter [12–15], which constrains tick abundance [11, 16, 17]. However, the dense understory structure provided by invasive plants may aggregate immature ticks and infective hosts, potentially amplifying acarological risk in invaded forest fragments [18–21].
Recent studies have identified greater pathogen prevalence in ticks and reservoir hosts associated with invasive shrubs [18–20, 22]. However, because leaf litter loss, which constrains tick abundance, is also associated with non-native plant invasion, it is unclear how tick-borne disease risk differs in regrown, invaded forest fragments compared to mature, uninvaded fragments. To contribute to our understanding of tick-borne disease ecology in urbanized landscapes, we designed a study in urban forest fragments with three objectives: (i) characterize B. burgdorferi and emerging tick-borne pathogen prevalence among questing ticks; (ii) test for differences in pathogen prevalence between forests invaded by non-native understory plants and uninvaded forests; and (iii) determine which habitat and landscape features influence pathogen prevalence.
Results
We tested 258
I. scapularis
nymphs, from which we successfully extracted DNA (determined through NanoDrop and PCR methods). Twenty-nine ticks (11.2%) were positive for
B. burgdorferi
, five (1.9%) were positive for
Anaplasma phagocytophilum
, and two (0.8%) were positive for
Borrelia miyamotoi.
Only one tick was co-infected with
B. burgdorferi
and
A. phagocytophilum.
We did not find any
Babesia microti
-positive ticks. Spatial autocorrelation in
B. burgdorferi
prevalence across forest fragments was not significant at any distance; at 0 m, the correlation coefficient was -0.61 (95% CI: -1.79–0.72). Within invaded forests, 11 of 75 ticks (14.6%) captured within
R. multiflora
and 6 of 32 ticks (18.7%) captured outside of
R. multiflora
were
B. burgdorferi-
positive. Of 151 ticks tested from uninvaded sites, 12 (7.9%) were positive for
B. burgdorferi
. Based on differences between posterior distributions, we estimated that there was a 64% probability that infection prevalence was greater outside of
R. multiflora
patches within invaded sites. However, there was a 97% probability that infection prevalence was higher among nymphs from invaded sites compared to nymphs from uninvaded sites (Fig.
2
).

Among the 50 models tested, the best models for
B. burgdorferi
infection prevalence (Table
3
) included woody debris, leaf litter, distance to road, mouse abundance, tick abundance (all at trap-scale), and total cover (fragment-scale). Woody debris, distance to road, mouse abundance, and total cover were positively related to infection prevalence. Leaf litter and tick abundance were negatively related to infection prevalence (Fig.
3
).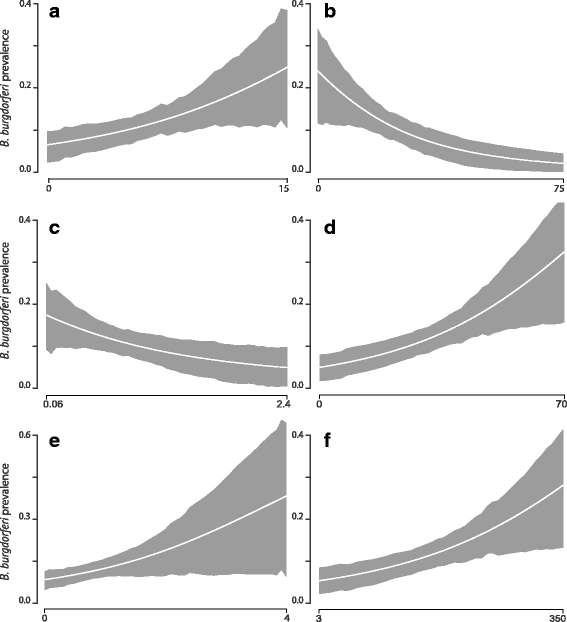 Discussion
In our comparison of invaded and uninvaded forest fragments, we found that B. burgdorferi prevalence among questing ticks did not differ within invaded forests, but that the infection prevalence in ticks from invaded forests was almost double that in ticks from uninvaded forests. Borrelia burgdorferi was the most common pathogen detected in nymphal I. scapularis from our study sites, followed by A. phagocytophilum and B. miyamotoi. Only one I. scapularis nymph was co-infected with B. burgdorferi and A. phagocytophilum, and we did not detect Ba. microti in any of the ticks tested. At finer scales within both invaded and uninvaded sites, infection prevalence was positively related to coarse woody debris, distance to the nearest road, mouse abundance, and extent of understory cover within the forest fragment. We found a negative relationship between infection prevalence and both leaf litter and tick abundance. Rosa multiflora invasion and the additional factors positively influencing pathogen prevalence point to suitable habitat characteristics for small mammal and bird hosts that are competent pathogen reservoirs.
Invaded and uninvaded fragments represent two extremes of different, degraded habitat fragment types that can be separated by the presence/absence of R. multiflora invasion in our landscape. Uninvaded sites have deep litter layers, sparse understory, high densities of questing nymphs, and relatively low infection prevalence (mean = 0.079). Invaded sites have very little leaf litter, dense understory structure, fewer questing nymphs, and roughly double the infection prevalence (mean = 0.159). Our modeling results showed that the total understory cover in a forest fragment positively influences pathogen prevalence. Understory structure, which is provided almost exclusively by invasive plants, may aggregate immature ticks and infective hosts, resulting in increased pathogen prevalence among ticks in invaded forest fragments [19–21]. Because B. burgdorferi is not transmitted transovarially [44], infected free-living nymphs acquire the bacteria by feeding on an infected host during their larval stage. Similarly, potential pathogen hosts must acquire B. burgdorferi by being fed upon by an infected nymph. Therefore, both immature stages of ticks must interact with infected hosts to elevate pathogen prevalence among nymphs [45].
Understory structure facilitates interactions between immature ticks and competent B. burgdorferi reservoir hosts [22, 46, 47], but see [48]. White-footed mouse (Peromyscus leucopus) and breeding bird densities are positively correlated with understory structure [47, 49–51] [i.e. invasive plants, in our landscape (unpublished data)]. Within invaded forests, immature ticks are aggregated in stands of invasive shrubs [11, 20, 21]. We hypothesize that larval ticks in uninvaded sites derive a greater proportion of blood meals from larger-bodied hosts that are less-competent B. burgdorferi reservoirs [52, 53]. We expect that this is in contrast to larval tick blood meals in invaded sites, which we predict are composed of a greater proportion of small-bodied hosts that are positively affected by understory structure [46] and are competent B. burgdorferi reservoirs [53–55]. Future work should use blood meal analysis or identification of ospC types in B. burgdorferi-positive ticks to understand how non-native plant invasion affects the interaction between specific hosts and ticks, and the resulting implications for transmission of human-invasive B. burgdorferi strains [56–58].
An additional hypothesis to explain greater nymphal infection prevalence in invaded sites concerns tick overwinter survival. Invaded habitats lack the litter layer that comprises suitable off-host tick habitat [11, 16, 17]. Ticks depend on the high humidity microclimate within the litter to conserve moisture and to buffer themselves from environmental fluctuations [59]. However, saturated soils coupled with extremely low temperatures may also lead to decreased overwinter survival [60]. Recent studies show that ixodid ticks infected with B. burgdorferi have greater energy reserves and are more robust to desiccation [61–64]. Therefore, the harsh litter-free environment of invaded forests may exert stronger pressure against over-winter survival of uninfected ticks, thus increasing overall infection prevalence.
The negative relationships of nymphal infection prevalence with leaf litter and tick abundance raise questions about our understanding of Lyme disease ecology in over-browsed, mature forest fragments. Uninvaded, mature forest fragments that lack understory structure have greater litter volumes and questing tick abundance than invaded forests. We hypothesize that the lack of understory structure in uninvaded fragments shifts the composition of blood meal hosts toward reservoir-incompetent species such as white-tailed deer or other large-bodied hosts [53, 65]. Talleklint & Jaenson [66] also detected a negative relationship between tick density and infection prevalence at high tick densities (> 20 nymphs/m2), which they attributed to greater roe deer (Capreolus capreolus) densities. Elevated deer densities could account for both greater tick density and lesser infection prevalence if deer act as both reproductive hosts and the dominant blood meal source [66, 67]. The close proximity among our study sites suggests that deer do not account for differences in tick abundance; most sites are close enough to be within a single deer's home range [68–70] (Additional file 1: Figure S1). However, deer may reduce infection prevalence by shifting blood meals away from reservoir competent hosts that do not find suitable understory cover in over-browsed, uninvaded fragments.
The importance of invasion, habitat, and landscape variables from our models suggest that understory structure and woody debris aggregate infectious hosts and larval ticks, increasing pathogen transmission. Coarse woody debris, total understory cover, distance to road, and white-footed mouse abundance, variables that directly or indirectly represent the distribution of reservoir hosts, were positively related to infection prevalence. Coarse woody debris provides cover, nest sites, movement corridors, and foraging opportunities for immature tick hosts such as white-footed mice, Sorex and Blarina shrews, and ground-foraging birds [71–75]. Shrews, in particular, are often overlooked in terms of their importance in the Lyme disease system, despite evidence that they can feed and infect more ticks than white-footed mice [76]. Outside of the Pacific Northwest and southern Appalachian regions of the USA, there is a dearth of studies on habitat associations of shrews [74]; in regions where shrews have been well studied, coarse woody debris appears to be an important habitat component [77–80]. Similarly, total understory cover represents the structure available to white-footed mice and shrub-nesting birds [47, 49, 50]. The importance of distance to road suggests that perhaps small mammals and birds avoid hard edges near roads in our landscape, or at least that larval ticks encounter infectious hosts farther from roads.
Conclusions
Although nymphal infection prevalence was greater in invaded forests, acarological risk in terms of density of infected nymphs may be higher in uninvaded sites; the uninvaded sites examined in this study supported ~3 times as many questing nymphs compared to invaded sites [11]. Although uninvaded sites lack understory structure and therefore support lower densities of immature tick hosts, their relatively intact litter layers may allow nymphal ticks to survive longer [81] and quest more often [82], creating more opportunities to attach to humans than in invaded forests. Perhaps in uninvaded fragments, restoration of native understory structure [83] that promotes greater host diversity could reduce densities of questing infected nymphs.
Declarations
Acknowledgements
We are grateful for the cooperation of land agencies involved in this study: Newark City Parks, New Castle County Parks, Delaware State Parks, and Mt. Cuba Center. We thank the following individuals who helped collect field data: Z. Ladin, K. Handley, J. Nimmerichter, A. Lutto, K. Serno, J. Bondi, C. Piazza, L. Newton, and J. Curry. We are grateful for advice on DNA extraction protocols from S. Seifert, E. Stromdahl, and R. Nadolny, and for laboratory assistance from M. Brown. We also wish to thank C. Graham for assisting in the development of the Borrelia miyamotoi PCR assay.
Funding
The University of Delaware, USDA McIntire Stennis, and the Aeroecology Program at University of Delaware supported this work. DB was supported by a grant from the National Science Foundation (DEB 1354184).
Availability of data and materials
The datasets used and/or analysed during the current study are available from the corresponding author upon reasonable request.
Authors' contributions
SAA, WGS, JJB, VD and DB designed the study. SAA trapped ticks, collected field data, and extracted DNA from ticks. JLB obtained permits to collect vertebrate data. WGS, JJB and VD contributed habitat and landscape data. AH performed PCR assays on DNA samples from the ticks. SAA analyzed the data. SAA, WGS and JJB wrote the paper. All authors read and approved the final manuscript.
Ethics approval and consent to participate
Data on white-footed mice was collected under Delaware State Scientific Collecting Permit #2013-007 W and with approval from University of Delaware's Institutional Animal Care and Use Committee under protocol #1249, both of which were issued to JLB.
Consent for publication
Not applicable.
Competing interests
The authors declare that they have no competing interests.
Publisher's Note
Springer Nature remains neutral with regard to jurisdictional claims in published maps and institutional affiliations.
Open AccessThis article is distributed under the terms of the Creative Commons Attribution 4.0 International License (http://creativecommons.org/licenses/by/4.0/), which permits unrestricted use, distribution, and reproduction in any medium, provided you give appropriate credit to the original author(s) and the source, provide a link to the Creative Commons license, and indicate if changes were made. The Creative Commons Public Domain Dedication waiver (http://creativecommons.org/publicdomain/zero/1.0/) applies to the data made available in this article, unless otherwise stated.
Authors' Affiliations
(1)
Department of Entomology and Wildlife Ecology, University of Delaware, Newark, USA
(2)
Tyson Research Center, Washington University in St. Louis, St. Louis, USA
(3)
Division of Vector-Borne Diseases, Centers for Disease Control and Prevention, Fort Collins, USA
(4)
Department of Biology, University of Pennsylvania, Philadelphia, USA
(5)
Northern Research Station, USDA Forest Service, Newark, USA