Abstract
Background
Leishmania infantum is the most important etiological agent of visceral leishmaniasis in the Americas and Mediterranean region, and the dog is the main host. Miltefosine was authorized to treat canine leishmaniasis (CanL) in Brazil in 2017, but there is a persistent fear of the emergence of parasites resistant not only to this drug but, through cross-resistance mechanisms, also to meglumine antimoniate and amphotericin B. Additionally, the literature shows that acquisition of resistance is followed by increased parasite fitness, with higher rates of proliferation, infectivity and metacyclogenesis, which are drivers of parasite virulence. In this context, the aim of this study was to analyze the impact of treating a dog with miltefosine and allopurinol on the generation of parasites resistant to miltefosine, amphotericin B and meglumine antimoniate.
Methods
In vitro susceptibility tests were conducted against miltefosine, amphotericin B and meglumine antimoniate with T0 (parasites isolated from a dog before treatment with miltefosine plus allopurinol), T1 (after 1 course of treatment) and T2 (after 2 courses of treatment) isolates. The rates of cell proliferation, infectivity and metacyclogenesis of the isolates were also evaluated.
Results
The results indicate a gradual increase in parasite resistance to miltefosine and amphotericin B with increasing the number of treatment courses. An increasing trend in the metacyclogenesis rate of the parasites was also observed as drug resistance increased.
Conclusion
The data indicates an increased L. infantum resistance to miltefosine and amphotericin B after the treatment of a dog with miltefosine plus allopurinol. Further studies with a larger number of L. infantum strains isolated from dogs with varied immune response profiles and undergoing different treatment regimes, are advocated.
Graphical Abstract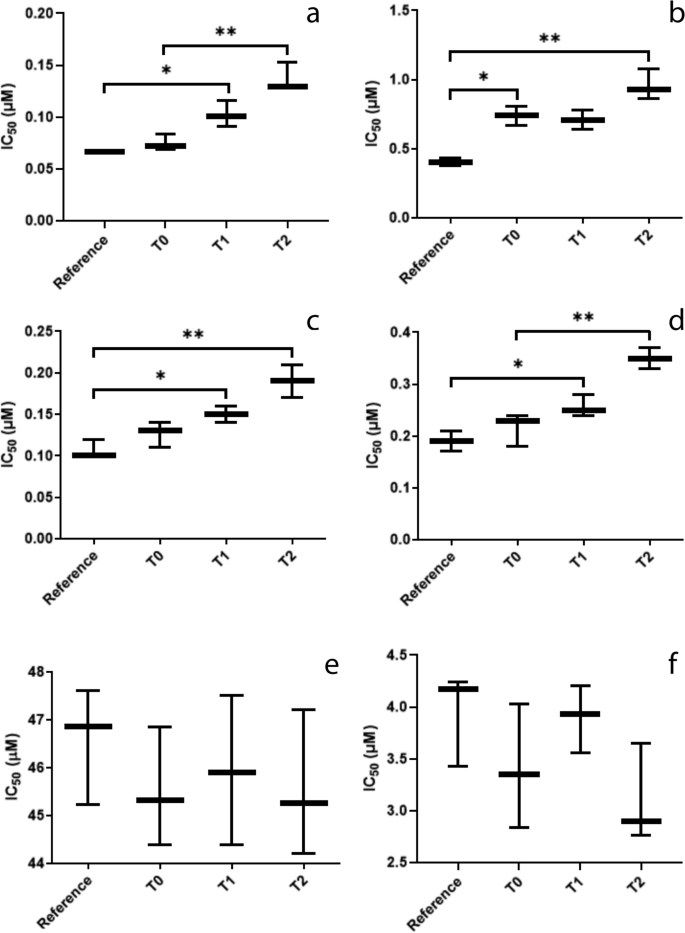 Availability of data and materials
Abbreviations
CanL:

Canine leishmaniasis

VL:

Visceral leishmaniasis
Acknowledgements
We thank the Carlos Chagas Institute (FIOCRUZ Paraná) for use of its facilities and technological platforms.
Funding
This study was funded by Conselho Nacional de Pesquisa e Desenvolvimento (CNPq) by the Grant for Productivity in Research (309862/2015-9) and Professional Education Expansion Program (Proep; Grant no. 442055/2019-6). This study also was supported by Instituto Carlos Chagas and Fundação Oswaldo Cruz (FIOCRUZ). The funders played no role in the decision to publish nor in the preparation of the manuscript.
Ethics declarations
Ethics approval and consent to participate
The study was approved by the Ethics Committee on Animal Use of FIOCRUZ under protocol no. LW-14/21.
Consent for publication
Not applicable.
Competing interests
The authors declare that they have no competing interests.
Additional information
Publisher's Note
Springer Nature remains neutral with regard to jurisdictional claims in published maps and institutional affiliations.
Rights and permissions
Open Access This article is licensed under a Creative Commons Attribution 4.0 International License, which permits use, sharing, adaptation, distribution and reproduction in any medium or format, as long as you give appropriate credit to the original author(s) and the source, provide a link to the Creative Commons licence, and indicate if changes were made. The images or other third party material in this article are included in the article's Creative Commons licence, unless indicated otherwise in a credit line to the material. If material is not included in the article's Creative Commons licence and your intended use is not permitted by statutory regulation or exceeds the permitted use, you will need to obtain permission directly from the copyright holder. To view a copy of this licence, visit http://creativecommons.org/licenses/by/4.0/. The Creative Commons Public Domain Dedication waiver (http://creativecommons.org/publicdomain/zero/1.0/) applies to the data made available in this article, unless otherwise stated in a credit line to the data.
About this article
Cite this article
Gonçalves, G., Campos, M.P., Gonçalves, A.S. et al. Increased Leishmania infantum resistance to miltefosine and amphotericin B after treatment of a dog with miltefosine and allopurinol. Parasites Vectors 14, 599 (2021). https://doi.org/10.1186/s13071-021-05100-x
Received:

Accepted:

Published:

DOI: https://doi.org/10.1186/s13071-021-05100-x
Keywords
Amastigote

Clinical isolate

In vitro test

Promastigote