Semi-artificial mouse skin membrane feeding technique for adult tick, Haemaphysalis longicornis
Parasites & Vectors
2012
5:263
Received: 26 June 2012
Accepted: 11 October 2012
Published: 15 November 2012
Abstract
Background
An in vitro artificial feeding technique for hard ticks is quite useful for studying the tick-pathogen interactions. Here, we report a novel semi-artificial feeding technique for the adult parthenogenetic tick, Haemaphysalis longicornis, using mouse skin membrane.
Findings
Skin with attached adult ticks was removed from the mouse body at 4 to 5 days post-infestation for the construction of the feeding system. This system supplied with rabbit blood was kept in >95% relative humidity at 30°C during the feeding, and ticks were fully engorged (artificially engorged, AE) within 12 to 48 h. For comparison, ticks were fed to engorgement solely on rabbit or mouse for 5 days as controls (naturally engorged on rabbit, NEr, or mouse, NEm). Blood digestion-related gene expression in the midgut and reproductive fitness were compared. Body weight, egg mass weight, egg conversion ratio, and hatchability of eggs did not show any significant differences. We analyzed transcription profiles of selected genes assayed by quantitative RT-PCR and revealed similar patterns of expression between NEr and AE but some differences between NEm and AE or NEm and NEr.
Conclusions
Our results demonstrate that this semi-artificial feeding technique mimics natural feeding processes of ticks and can be utilized as a standardized method to inoculate pathogens, especially Babesia protozoa, into H. longicornis and possibly other tick species as well.
Keywords
Haemaphysalis longicornis Mouse skin membrane systemSemi-artificial feeding techniqueTick
Findings
As vectors of pathogens, ticks transmit viruses, rickettsia and protozoan parasites to both animals and humans. Artificial feeding systems are attractive tools for investigating the mechanisms of pathogen transmission as well as for studying the tick-pathogen interactions. First, artificial feeding systems can reduce variation within a given treatment group because the blood meal is supplied from the same donor, which reduces the variation that arises from individual host-tick relationships [1]. Second, an animal experimental model is assumed to have a potent difficulty to control the infection in attached ticks with known numbers of pathogens, because pathogen load in ticks might be affected by the immune system of the hosts targeting tick molecules, such as protective antigen, subolesin [2]. In this model using artificial feeding, the effects of the host's immune responses against ticks are removed, and pathogens can be introduced into vectors in a controlled manner. So far, artificial feeding techniques have been used to feed a number of tick species of the family Ixodidae, including Rhipicephalus spp., Dermacentor spp., Amblyomma spp., Hyalomma spp., and Ixodes spp. using capillary tubes or membranes (briefly reviewed in [3]). Recently, Kröber and Guerin [1, 4, 5] established a method using a silicone membrane to engorge Ixodes ricinus. Tajeri and Razmi [3] also attempted to use this membrane for Hy. anatolicum anatolicum and Hy. dromedarii. These tick species have a long hypostome and fine palps with a wide range of motion and can reasonably be expected to completely penetrate the artificial membrane.
On the other hand,
Haemaphysalis longicornis
, another ixodid tick, has a short hypostome and trigonal palps projecting laterally with very limited motion (Figure
1
). Additionally, its hypostome and chelicerae are not thrust deeply into the host's dermis (Figure
2
A) [
6
], therefore, it is quite difficult for
H. longicornis
to feed using capillary tube or silicone membrane-based
in vitro
feeding systems. To overcome these limitations, here, ticks were first fed on a mouse for 4 to 5 days, and then, the skin with the attached ticks was removed from the mouse for construction of a feeding system. This technique is a semi-artificial feeding technique and ticks were fed with supplied rabbit blood, and here, designated as artificially engorged (AE) ticks. To evaluate the physiological effects of this technique, post-engorgement phenotype, including blood feeding (engorgement body weight), reproductive fitness (egg mass weight and egg conversion ratio), and hatchability of eggs to larvae, as well as transcription profiles of selected genes expressed in midgut were compared to those of naturally engorged ticks fed on tick-naïve SPF rabbit (NEr) or mouse (NEm).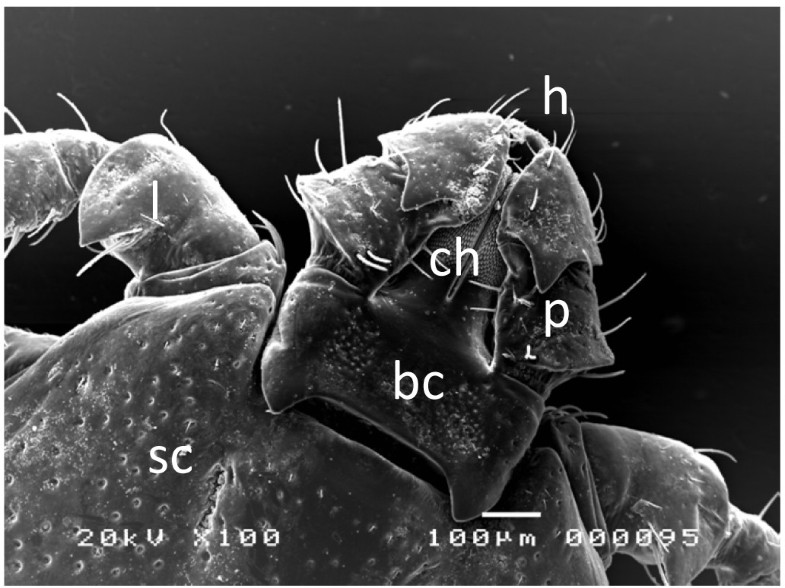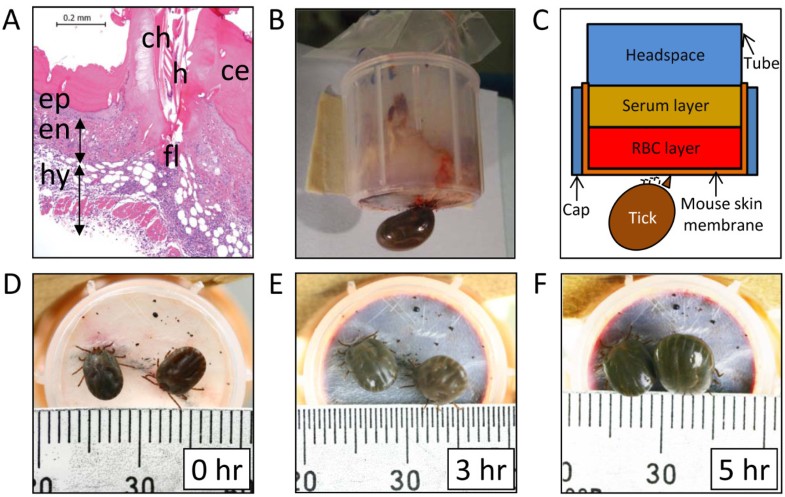 Conclusions
In conclusion, our findings suggest that the semi-artificial feeding technique for H. longicornis is very effective and may be used for all tick species, especially those with short hypostomes that do not penetrate deeply in the dermal layer of the host, such as Rhipicephalus ticks [24]. Additionally, the technique is quite simple and cost effective since it does not require thinner artificial membrane [3], odorant (cow hair extracts), and/or feeding stimuli (adenosine triphosphate, ATP) [1, 4, 5] to enhance tick attachment. Although it is necessary to sacrifice mice in order to construct the device, the technique bears great promise for conducting in vitro assays, including the inoculation of pathogens, especially Babesia protozoa, based on results reported by Callow [25] that Rhipicephalus (Boophilus) microplus tick infection with one of the tick-borne bovine pathogens, Babesia bigemina, takes place during the rapid phase of feeding corresponding to the final stage (last 24 h) of the blood feeding. We expect that this technique will be useful in studies of tick physiology, tick-pathogen interactions, and tick-host interactions regarding novel tick genes that respond to the host defense mechanisms such as coagulation, inflammation, and immune responses.
Abbreviations
AE:

Artificially engorged
ATP:

Adenosine triphosphate
DPI:

Days post-infestation
DPO:

Days post-oviposition
HE:

Hematoxylin and eosin
HlSP:

H. longicornis serine proteinase
HlSCP1:

H. longicornis serine carboxypeptidase 1
HlLgm:

H. longicornis legumain
HlLAP:

H. longicornis leucine aminopeptidase
NE:

Naturally engorged
NIAH:

National Institute of Animal Health
PBS:

Phosphate-buffered saline
RBC:

Red blood cells
RT-PCR:

Reverse transcription polymerase chain reaction.
Declarations
Acknowledgements
This work was supported by the Grant-in-Aids (to TH, NT and KF) from the Ministry of Education, Culture, Sports, Science and Technology of Japan. This work was also supported by a grant (to NT and KF) for Promotion of Basic Research Activities for Innovative Biosciences from the Bio-oriented Technology Research Advancement Institution. We thank M. Shimada and M. Kobayashi for their generous help in preparing histological sections. We also thank Forte Science Communications (L. Gudex) for language editing of the manuscript.
Authors' Affiliations
(1)
Laboratory of Parasitic Diseases, National Institute of Animal Health, National Agricultural and Food Research Organization, Ibaraki, Japan
(2)
Laboratory of Emerging Infectious Diseases, School of Frontier Veterinary Medicine, Kagoshima University, Korimoto, Kagoshima, Japan
Copyright
© Hatta et al.; licensee BioMed Central Ltd. 2012
This article is published under license to BioMed Central Ltd. This is an Open Access article distributed under the terms of the Creative Commons Attribution License (http://creativecommons.org/licenses/by/2.0), which permits unrestricted use, distribution, and reproduction in any medium, provided the original work is properly cited.