Identification of novel arthropod vector G protein-coupled receptors
Parasites & Vectors
2013
6:150
Received: 23 January 2013
Accepted: 18 May 2013
Published: 24 May 2013
Abstract
Background
The control of vector-borne diseases, such as malaria, dengue fever, and typhus fever is often achieved with the use of insecticides. Unfortunately, insecticide resistance is becoming common among different vector species. There are currently no chemical alternatives to these insecticides because new human-safe classes of molecules have yet to be brought to the vector-control market. The identification of novel targets offer opportunities for rational design of new chemistries to control vector populations. One target family, G protein-coupled receptors (GPCRs), has remained relatively under explored in terms of insecticide development.
Methods
A novel classifier, Ensemble*, for vector GPCRs was developed. Ensemble* was validated and compared to existing classifiers using a set of all known GPCRs from Aedes aegypti, Anopheles gambiae, Apis Mellifera, Drosophila melanogaster, Homo sapiens, and Pediculus humanus. Predictions for unidentified sequences from Ae. aegypti, An. gambiae, and Pe. humanus were validated. Quantitative RT-PCR expression analysis was performed on previously-known and newly discovered Ae. aegypti GPCR genes.
Results
We present a new analysis of GPCRs in the genomes of Ae, aegypti, a vector of dengue fever, An. gambiae, a primary vector of Plasmodium falciparum that causes malaria, and Pe. humanus, a vector of epidemic typhus fever, using a novel GPCR classifier, Ensemble*, designed for insect vector species. We identified 30 additional putative GPCRs, 19 of which we validated. Expression of the newly discovered Ae. aegypti GPCR genes was confirmed via quantitative RT-PCR.
Conclusion
A novel GPCR classifier for insect vectors, Ensemble*, was developed and GPCR predictions were validated. Ensemble* and the validation pipeline were applied to the genomes of three insect vectors (Ae. aegypti, An. gambiae, and Pe. humanus), resulting in the identification of 52 GPCRs not previously identified, of which 11 are predicted GPCRs, and 19 are predicted and confirmed GPCRs.
Keywords
Hide Markov ModelGlobal ScoreLikelihood ScoreGPCR SequenceGPCR Classifier
Background
G protein-coupled receptors (GPCRs) are a class of seven transmembrane (7TM) proteins involved in signal transduction [1, 2] that respond to a diverse assemblage of stimuli. These proteins play roles in essential invertebrate functions and are highly "drugable", being targets for roughly 30% of drugs on the human pharmaceutical market [3]. The relative specificity of ligand binding combined with their abundance in metazoan genomes (1% of Drosophila melanogaster genome, 1.6% of Anopheles gambiae genome [4, 5]) makes these proteins attractive targets for insecticide development. The availability of insect genomes enables the identification of novel targets such as GPCRs and rational drug design processes which can produce insecticides, repellents, and other products for the control of vectors such as An. gambiae[6, 7].
We present a new genome-wide search for GPCRs in three important insect vectors responsible for the spread of diseases such as malaria (An. gambiae), dengue and yellow fever (Aedes aegypti) and typhoid fever (Pediculus humanus) [6, 8, 9]. Fredrikkson, et al. and Hill, et al. have identified GPCRs in the proteome of An. gambiae[5, 10], Nene, et al. studied the GPCRs in Ae. aegypti[11], and Kirkness, et al. performed an initial analysis of the GPCRs in Pe. humanus as part of sequencing the genome [12]. Our analysis resulted in the identification of 52 additional GPCRs.
There are multiple in silico strategies for identifying potential GPCRs. Similarity based searches (e.g., BLAST) are limited in their ability to identify seven transmembrane (7TM) proteins, GPCRs included, due to the low degree of sequence conservation [1, 13]. GPCRs have also been identified using short conserved sub-sequences, or motifs [13]. These GPCR "fingerprints" are defined by sets of motifs localized to transmembrane helices and intra and extracellular loops [14–16]. Fingerprints have been useful in identifying GPCRs and their associated classes and subfamilies. In addition, fingerprints can be used for screening out false positive GPCR predictions by requiring that an identified sequence contains all of the appropriate GPCR motifs. However, GPCR fingerprints have proven difficult to identify due to low sequence conservation as more GPCRs in each family are discovered and tend to be poor at identifying atypical or novel GPCRs with low homology to known GPCR family members.
Methods that rely on predicted sequence topology have proven more useful in the identification of GPCRs than those relying on primary sequence alone. Classifiers such as HMMTOP [17] and TMHMM [18] predict transmembrane helices and intracellular and extracellular loops using Hidden Markov Models (HMM) and filter sequences based on the number of predicted transmembrane helices to identify potential 7TM proteins. Phobius [19, 20] offers more functionality than either HMMTOP or TMHMM by including the identification of signal peptides for use in screening out false positive predictions. Signal peptides are composed of a hydrophobic region flanked by hydrophilic regions followed by a cleavage site motif and are often incorrectly categorized as membrane spanning regions when not taken explicitly into account [18–21]. Although these 7TM protein classifiers have been used to identify GPCRs, they are not able to distinguish between GPCRs and other types of 7TM proteins, such as ion channels, aquaporins, and ATPases [22].
GPCRHMM uses an HMM specific to GPCRs [21]. In addition to predicting the topology and number of transmembrane helices, GPCRHMM uses the predicted loop lengths (it assumes a median of 22-24 amino acids per loop) and amino acid composition as additional filters. GPCRHMM produces two numbers, a global score and a local score, and a Boolean
prediction based on default cutoffs for each score. Whereas the global score is based on the HMM match of the entire protein, the local score excludes the signal peptide and N- and C-termini models and is used to improve discrimination between GPCRs and false positives such as cysteine-rich proteins. By utilizing these characteristics specific to GPCRs to distinguish between GPCRs and other 7TM proteins, GPCRHMM is able to more accurately classify input sequences than HMMTOP, TMHMM, and Phobius.
PredCouple was originally designed to predict the family of G-proteins with which a given GPCR will bind [23, 24]. PredCouple utilizes a preliminary step based on HMMs from the Pfam database [25, 26] to screen out non-GPCRs, a filtering capability on par with other methods such as GPCRHMM, thus making PredCouple useful as a GPCR classifier.
Several "alignment-free" methods exist that do not depend on comparing the primary sequence or the topology to known GPCRs [27]. One such example is the Quasi-periodic Feature Classifier (QFC) that utilizes a sliding window approach to scan the entire proteome and identify membrane-associated proteins based on quasi-periodic physiochemical properties of amino acids [28]. Lapinsh and colleagues also developed an alignment-free method that utilizes physiochemical properties of proteins [29].
The performance of individual classifiers has been improved by combining multiple classifiers into a pipeline or ensemble. The whole-proteome and subset GPCR repertoires of multiple organisms including Homo sapiens (human), Mus musculus (mouse), Danio rerio (zebra fish), Ratus norvegicus (rat), Canis familiaris (dog), Gallus gallus (chicken), and Tetraodon nigroviridis (puffer fish) have been identified or extended using a combination of BLAST with known GPCRs (often from Ho. sapiens or Dr. melanogaster) or HMMs trained from known GPCRs or from the Pfam database [10, 30–40]. Inoue, et al. demonstrated that the combination of the HMMTOP and TMHMM 7TM classifiers can be used to more accurately distinguish between GPCRs and the larger class of 7TM proteins than either classifier individually [22]. Moriyama, et al. identified 394 7TM proteins in the Arabidopsis thaliana proteome by combining multiple 7TM classification methods, including alignment-based and alignment-free methods [41]. Gookin, et al. developed and applied a pipeline utilizing the classifiers QFC, HMMTOP, Phobius, TMHMM, and GPCRHMM to perform a proteome-wide computational analysis of GPCRs in Ar. thaliana, Oryza sativa, and Populus trichocarpa[42]. Previous studies have identified GPCRs in the An. gambiae proteome using QFC [5] and a combination of BLAST against known GPCRS and HMMs derived from GPCRs [10]. GPCRs in the Ae. aegypti proteome have been identified with a combination of QFC and tBLASTn queries against known GPCRs from An. gambiae, Dr. melanogaster, and Bombyx mori[11]. In the Pe. humanus proteome, GPCRs were identified using tBLASTn queries against known GPCRs from Ae. aegypti, An. gambiae, and Dr. melanogaster[12].
We began by evaluating existing GPCR classifiers such as GPCRHMM [21] and PredCouple [23, 24]. The sensitivity and accuracy of these classifiers was reduced for vector species, which was expected considering they were not trained on these organisms. We developed a novel ensemble classifier, Ensemble*, for insect vector GPCRs that combines and improves upon the prediction capabilities of GPCRHMM and the Pfam A GPCR Clan Hidden Markov Models (HMMs) [26]. When evaluated against GPCRHMM and PredCouple, Ensemble* demonstrated higher sensitivity and accuracy. Putative GPCRs were identified in the vector predicted proteomes using Ensemble*, while a novel pipeline was used to validate and confirm the predictions. Expression of the newly discovered Ae. aegypti GPCR genes was confirmed in head and body tissues via quantitative RT-PCR.
These results will be of interest to the research community due to their potential applicability to insect vector population control via insecticide development [43]. Furthermore, Ensemble* identified a high number of previously unidentified GPCRs in vector species. The availability of better tools for the identification of signal transduction proteins such as GPCRs will be valuable as more insect genomes are sequenced.
Results and discussion
Multiple classification methods exist for identifying GPCRs. Two particular classification methods, GPCRHMM and the Pfam A GPCR clan hidden Markov models (HMMs), are both accurate and sensitive on their own but do not necessarily predict the same set of sequences as GPCRs. We developed a new classifier, Ensemble*, that combines the prediction capabilities of GPCRHMM and the Pfam A GPCR clan Hidden Markov Models (HMMs) to improve the accuracy and sensitivity of predicting GPCRs from
in silico
peptide translations of vector genomes. Discrete likelihood score functions were developed incorporating likelihood scores from the GPCRHMM global scores and logarithms of Pfam HMM e-values. The discrete likelihood scores were combined using a linear weighting to produce an overall likelihood score (Figure
1
).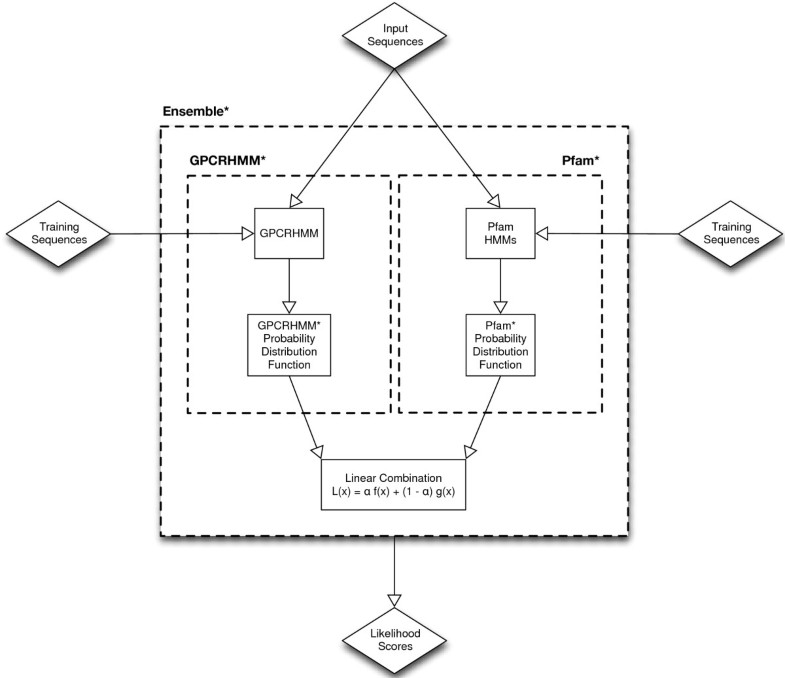 Conclusions
Ensemble*, a novel GPCR classifier for insect vectors, was developed. A validation pipeline was described and used to validate the predictions of Ensemble*. As the genomes of more vector species are sequenced, the availability of better tools for predicting and validating GPCRs such as the Ensemble* classifier and the validation pipepline presented here will continue to be of great interest.
We also provided a new analysis of the GPCR repertoires of the three vector species, Ae. aegypti, An. gambiae, and Pe. Humanus, which resulted in the discovery of 30 new vector GPCRs. Annotations for newly-discovered GPCRs were submitted to VectorBase. EST expression analysis were used to demonstrate that the sequences predicted by Ensemble* and validated by the pipeline corresponded with expressed genes. Given the importance of arthropod vectors to human health, we believe the identification of these additional vector GPCRs should be useful to the research community.
Declarations
Acknowledgements
We would like to thank Dr. Nitesh Chawla for his suggestions related to the Ensemble* classifier. This project was supported by an award from the Department of Defense Telemedicine and Advanced Technology Research Center (#W81XWH-10-1-0085).
Authors' Affiliations
(1)
Department of Computer Science & Engineering, University of Notre Dame, Notre Dame, USA
(2)
Department of Biological Sciences, University of Notre Dame, Notre Dame, USA
(3)
Eck Institute of Global Health, University of Notre Dame, Notre Dame, USA
Copyright
© Nowling et al.; licensee BioMed Central Ltd. 2013
This article is published under license to BioMed Central Ltd. This is an Open Access article distributed under the terms of the Creative Commons Attribution License (http://creativecommons.org/licenses/by/2.0), which permits unrestricted use, distribution, and reproduction in any medium, provided the original work is properly cited.