Two biochemically distinct lipophosphoglycans from Leishmania braziliensis and Leishmania infantum trigger different innate immune responses in murine macrophages
Parasites & Vectors
2013
6:54
Received: 31 October 2012
Accepted: 19 February 2013
Published: 7 March 2013
Abstract
Background
The dominant, cell surface lipophosphoglycan (LPG) of Leishmania is a multifunctional molecule involved in the interaction with vertebrate and invertebrate hosts. Although the role of LPG on infection has been extensively studied, it is not known if LPG interspecies variations contribute to the different immunopathologies of leishmaniases. To investigate the issue of interspecies polymorphisms, two Leishmania species from the New World that express structural variations of side chains of LPG repeat units were examined. In this context, the procyclic form of L. braziliensis LPG (strain M2903), is devoid of side chains, while the L. infantum LPG (strain BH46) has up to three glucoses residues in the repeat units.
Methods
Mice peritoneal macrophages from Balb/c, C57BL/6 and knock-out (TLR2 −/−, TLR4 −/−) were primed with IFN-γ and stimulated with purified LPG from both species. Nitric oxide and cytokine production, MAPKs (ERK, p38 and JNK) and NF-kB activation were evaluated.
Results
Macrophages stimulated with L. braziliensis LPG, had a higher TNF-α, IL-1β, IL-6 and NO production than those stimulated with that of L. infantum. Furthermore, the LPGs from the two species resulted in differential kinetics of signaling via MAPK activation. L. infantum LPG exhibited a gradual activation profile, whereas L. braziliensis LPG showed a sharp but transient activation. L. braziliensis LPG was able to activate NF-kB.
Conclusion
These data suggest that two biochemically distinct LPGs were able to differentially modulate macrophage functions.
Keywords
Leishmania infantum Leishmania braziliensis Lipophosphoglycan (LPG)Macrophage modulation
Background
Leishmaniases are a spectrum of diseases widely distributed in the Americas [1]. In Brazil, Leishmania braziliensis and Leishmania infantum are the causative agents of cutaneous (CL) and visceral leishmaniasis (VL), respectively [2]. At the early steps of infection in the vertebrate host, the parasite must survive the production of inflammatory mediators such as reactive oxygen intermediates (ROI), reactive nitrogen intermediates (RNI), and cytokines [3, 4].
In trypanosomatids, many GPI-anchored molecules are known to be closely associated with cell signaling, acting as agonists and second messengers in response to cytokines and other stimuli [5–9]. In Leishmania, lipophosphoglycan (LPG) has been extensively studied and is known to be a multifunctional virulence factor with functions that include: attachment to the sand fly vector midgut [10], attachment and entry into macrophages [11], induction of neutrophil extracellular traps (NETs) [12], inhibition of protein kinase C (PKC) [13, 14], retardation of phagosome maturation [15], disruption of NADPH oxidase assembly at the phagosome membrane [16] modulation of NO production [17] and induction of protein kinase R and heme oxigenase-1 [18, 19]. Although the lipid anchor is conserved, previous studies have shown that changes in the carbohydrate structure of procyclic LPG and GIPLs can account for variations in macrophage modulation [20–22].
Structurally, LPG has four distinct domains: (i) a well conserved GPI anchor composed of 1-
O
-alkyl-2-
lyso
-phosphatydylinositol (PI); (ii) a core composed of Gal(α1-6)Gal(α1-3)Gal
f
(β1-3)[Glc(α1)PO
4
]Man(α1-3)Man(α1-4)-GlcN(α-1) heptasaccharide; (iii) a portion of disaccharide repeats of the Gal(β1-4)Man(α1)PO
4
units and (iv) a terminal neutral oligosaccharide ("cap") [
11
]. In
L. infantum
, the repeat units of LPG display the addition of βGlc to the C3 carbon in the Gal residues [
23
]. These side chain substitutions can vary between different strains of
L. infantum
which can have three different sets of side chains: Type I which has no side chain substitutions; Type II which has only one βGlc addition to the Gal residue of the repeat units and Type III which contains two or three βGlc residue substitutions on the Gal residue [
21
] (Figure
1
). Interestingly, in the metacyclic promastigote form of LPG in this species there are no sugar substitutions in the repeat unit backbone [
23
]. Elucidation of the
L. braziliensis
LPG structure showed that procyclic promastigote forms are devoid of side-chains, whereas metacyclic LPG displays up to two βGlc residues linked to the Gal residue of the repeat unit backbone [
24
]. It is not known to what extent interspecies variations in New World species of
Leishmania
can differentially activate the host's immune system. Recently, the structural composition of
L. braziliensis
and
L. infantum
GIPLs revealed that the former are galactose rich and its structure is suggestive for the predominance of type II GIPLs having a Manα1-3 substitution to the proximal mannose and are mainly galactose terminating structures. On the other hand,
L. infantum
GIPLs are mainly of type I and/or Hybrid GIPLs possessing Manα1-6 and Manα1-3[Manα6] substitutions to the proximal mannose, respectively [
22
,
25
]. Those variations were implicated in a higher inhibitory activity in NO and cytokine production by
L. braziliensis
GIPLs compared to
L. infantum
. However, the role of LPGs from those species in this process has not been investigated.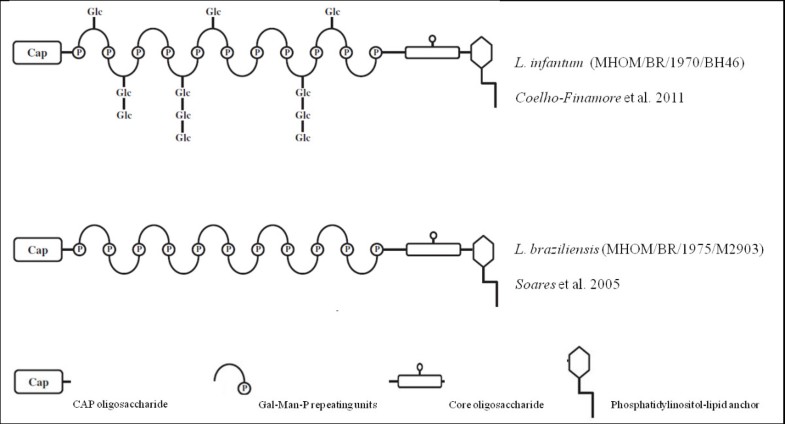 This work is part of a wider study on the glycobiology of New World species of Leishmania. In previous studies, we reported on the LPG and GIPLs biochemical structures of L. braziliensis and L. infantum[22–24] and showed that the differences in GIPLs structures were relevant in the parasite biology [22]. In this study, we expanded those findings and show that the LPG of these two New World Leishmania species also differentially modulated the activation of mouse peritoneal macrophages.
Discussion
Leishmaniasis is considered by the World Health Organization as one of the six major infectious diseases in the whole world [33] and affects over 1.5 million people every year worldwide. In Brazil, the majority of visceral and tegumentary cases are due to L. infantum and L. braziliensis, respectively. Parasite glycoconjugates have long being incriminated in a variety of events during parasite-host interactions modulating important host cell functions [11, 22, 34, 35]. Among these glycoconjugates, LPG is the best studied especially in Old World species of Leishmania. In this study, the role of the LPGs, from two epidemiologic important Leishmania species in Brazil, in interfering in signaling mechanisms was assessed in murine macrophages.
Since it has been reported that there is no significant difference between procyclic and metacyclic L. major LPG NK cell activation [36] and that the conserved GPI anchor is important for LPG activity [32] this work used stationary phase LPG. Although metacyclic promastigotes can be readily prepared from culture by several methods, only a small percentage of parasites, less than 5% [37], differentiate into these forms. For this reason, all experiments described here could not have been done with metacyclic LPG.
One of the most important events in the initial steps of Leishmania infection is the production of NO by macrophages. In many models, its production is dependent on a combination of IFN-γ and TNF-α via TLR-dependent mechanisms [38]. Our results indicated that LPG from both species could induce the production of NO in IFN-γ-primed macrophages. Its production was higher in macrophages stimulated with L. braziliensis LPG than that of L. infantum. C57BL/6 macrophages incubated with both LPGs showed a higher production of NO, IL-1β and IL-6 than BALB/c. On the other hand, TNF-α production after stimulation by L. braziliensis LPG was higher in BALB/c macrophages (Figures 2, 3, 4). Similar results were also observed for GIPLs [22], these differences of activation between C57BL/6 and BALB/C mice may be due to the genetic background of mouse strains [37, 39]. In the present study, no macrophage activation was observed in WT, TLR2−/− and TLR4−/− murine cells after incubation with live promastigotes.
Previous reports have shown that in vivo, pro-inflammatory cytokines such as IL-1β, IL-6 and TNF-α, as well as chemokines, are induced in the initial events of L. major and L. donovani, causative agents of cutaneous and visceral leishmaniasis infection in the Old World, respectively. Similar results were observed here using L. braziliensis and L. infantum LPGs since macrophages stimulated with L. braziliensis LPG exhibited higher cytokine and NO production compared to that of the visceral form L. infantum (Figures 2 and 3). This finding was confirmed after incubation of the LPGs with CHO cells demonstrating that L. braziliensis LPG was able to induce NF-kB translocation. These data reflect a similar stimulation pattern between Old World and New World species that causes similar disease outcomes. More importantly, the lack of IL-10, IL-12 production, persistent MAPKs activation and the lack of NF-kB translocation via TLR4 ensure that no traces of endotoxins were present in our preparations.
Because most Leishmania glycoconjugates are on the external surface of the cell plasma membrane or secreted, they are able to modulate important functions in cell biology [22]. The interspecies variations observed in L. infantum and L. braziliensis may be dependent on the action and specificity of glycosyltransferases [23, 24]. For example, in L. donovani (MONGI strain) critical glycosyltransferases are down regulated in the metacyclic phase [40]. Such intra and interspecies variability is likely to have implications in antigenicity enabling carbohydrates to be important sources of biological diversity [36]. In this work, the differential pattern of macrophage activation might be due to carbohydrate polymorphisms in the LPG of these two species. Our results with the two New World species of Leishmania are consistent with the reports from many Old World Leishmania species and strains which showed that LPG with its varied structural polymorphisms induced different levels of NO and TNF-α in murine macrophages [20, 21, 34].
No IFN-gamma, IL-10 or IL-12 production was observed by cells stimulated with LPGs from both New World species. Similar observations can be made in the human visceral leishmaniasis where immune suppression and a mixed Th1/Th2 profile modulate most of the immune response [33]. The lack of IL-12 production by cells stimulated with Leishmania GPI-anchored glycoconjugates was also observed elsewhere, where mouse peritoneal macrophages failed to produce IL-12 when co-incubated with L. braziliensis or L. infantum GIPLs and when also stimulated with IFN-γ or LPS [41]. It is also important to note that the lack of IL-12 production was not due to IL-10 release, since we did not observe any production of this cytokine (Figure 2A). This is similar to that observed when macrophages were treated with synthetic L. major LPG [7] and L. braziliensis and L. infantum GIPLs [22].
In the present work we also evaluated the role of TLRs on the recognition and signaling of LPG. TLR2 was first incriminated as the LPG receptor in macrophages and NK cells [34, 42]. Additional in vivo experiments demonstrated the importance of TLR3, TLR4 and TLR9 in different Leishmania species [43]. By using RNA interference methodologies, it was shown that both TLR2 and TLR3 were implicated in the recognition of L. donovani LPG in IFN-γ primed macrophages [44]. In vivo, it was shown that TLR4 deficient mice are more susceptible to Leishmania infection, failing to efficiently resolve the lesions [45] while TLR2 shows a more regulatory role in L. braziliensis-infected dendritic cells [41]. Here, we demonstrated in vitro with macrophages and CHO cells that TLR2 and, to a lesser extent, TLR4 were recognized by LPGs from both species clearly suggesting their participation in the LPG signalling. The inability of L. infantum LPG to activate NF-kB and ERK could be suggested as an evasion mechanism compared to L. braziliensis LPG.
Given that the LPGs were able to induce NO and cytokine production, we investigated whether activation of MAPK signalling was affected. In contrast to GIPLs (which fail to activate MAPKs) [22], LPG from both species activated MAPKs, but with different kinetics. L. infantum LPG was not able to activate ERK1/2. In contrast, L. braziliensis LPG strongly activated MAPK activity after 15 min. Interestingly, p38 and JNK activation exhibited a gradual and transient profile in L. infantum and L. braziliensis, respectively (Figure 5). Although a punctual MAPK activation was observed for L. braziliensis LPG after 5 min, this may not be a sufficient stimulus for IL-12 production. Activation of p38 appears to be important for controlling Leishmania infection since anisomycin reduced parasite survival upon p38 activation [46]. Feng et al. [7] reported that ERK1/2 and p38 are important for NO and TNF-α production by macrophages stimulated with LPS. Consistent with those observations, our data suggests that the LPGs from New World species are also able to differentially activate MAPKs.
The data presented here demonstrated a differential production of NO, cytokines and MAPK activation profile by L. braziliensis and L. infantum LPG stimulated macrophages. The LPG from these species have a limited proinflammatory potential since they fail to activate important proinflammatory cytokines such as IL-12 and only activate low amounts of IL-1β while inducing activation of early inflammatory cytokines such as TNF-α and IL-6. Additionally, as seen in Figure 7, preincubation with LPG prior to stimulation with LPS reduced the nitrite production to basal levels, indicating that the dynamics of infection must be well regulated and consistent with the long-known proposal that LPG acts as a multifunctional virulence factor for Leishmania.
Conclusion
Together with the complex interface of interaction between parasite and host, glycoconjugate interspecies polymorphisms, not only in the LPG, but also in GIPLs, gp63 and other GPI-anchored molecules, are important for differential regulation of initial events of the immune response as well as establishment of infection. Our results with New World species are consistent with this issue of the importance of LPG polymorphisms; structural variations in LPG resulted in differential activation of macrophages (NO, cytokines and MAPKs). Those polymorphisms could result in different clinical outcomes, such as those shown by L. infantum and L. braziliensis, causative agents of visceral and tegumentary forms, respectively [47].
Declarations
Acknowledgements
I. C. Ibraim and R. R. Assis have contributed equally for the manuscript. We thank Douglas T. Golenbock (University of Massachusetts Medical School, Worcester, Mass.) for providing us with the CHO stably transfected cell lines and the Program for Technological Development in Tools for Health-PDTIS-FIOCRUZ for use of its facilities. R. P. Soares, M. N. Melo (#305042/2010-6 and #471465/2009-7) and M. A. Campos are research fellows supported by Conselho Nacional de Pesquisa e Desenvolvimento (CNPq). This work was supported by Tropical Diseases Research-World Health Organization (ID A50880), by the Fundação de Amparo à Pesquisa do Estado de Minas Gerais (FAPEMIG), by CNPq, by the Instituto Nacional de Ciência e Tecnologia de Vacinas/CNPq/FAPEMIG (INCTV/CNPq/FAPEMIG) and the Programa Estratégico de Pesquisa em Saúde V/VI (PAPES)/FIOCRUZ/CNPq. R. R. Assis is supported by FAPEMIG. S. J. Turco is supported by National Institutes of Health (NIH), USA (AI31078). I. C. Ibraim is supported by Coordenação de Aperfeiçoamento de Pessoal de Nível Superior (CAPES). N. L. Pessoa is supported by CNPq.
Authors' Affiliations
(1)
Centro de Pesquisas René Rachou, Fundação Oswaldo Cruz - FIOCRUZ, Belo Horizonte, Brazil
(2)
Departamento de Parasitologia, Universidade Federal de Minas Gerais, Belo Horizonte, MG, Brazil
(3)
Department of Biochemistry, University of Kentucky Medical Center, Lexington, USA
Copyright
© Ibraim et al; licensee BioMed Central Ltd. 2013
This article is published under license to BioMed Central Ltd. This is an Open Access article distributed under the terms of the Creative Commons Attribution License (http://creativecommons.org/licenses/by/2.0), which permits unrestricted use, distribution, and reproduction in any medium, provided the original work is properly cited.