Abstract
Background
Immunotherapeutic drugs, such as domperidone, have been shown to be promising treatments against canine leishmaniosis (CanL), but limited data are available. The aim of this pilot study (therapeutic, prospective and non-controlled) was to evaluate the effect of domperidone on serum antibody titers of Leishmania infantum, globulins, gamma globulins, acute-phase proteins (e.g. C-reactive protein [CRP]), big endothelin-1 (big ET-1), serum creatinine (SC) and proteinuria in dogs with leishmaniosis affected by chronic kidney disease (CKD).
Methods
Dogs were recruited if "exposed" to or "infected" with L. infantum and affected by CKD (IRIS stage 1 [proteinuric] or IRIS stage 2–3a [SC < 3.5 mg/dl; proteinuric or non-proteinuric]). After inclusion, an oral suspension of domperidone was administered, and the dogs were followed up for 180 days, with checks at 30, 60, 90 and 180 days after initial treatment.
Results
Of the 14 recruited dogs, nine showed a statistically significant reduction in SC (χ2 = 9.1, df = 3, P = 0.028), but not in the urine protein/creatinine ratio (χ2 = 6.43, df = 3, P = 0.092). All dogs showed a significant reduction in antibody titers for L. infantum (χ2 = 9.56, df = 2, P = 0.008), globulins (χ2 = 11.08, df = 3, P = 0.011) and gamma globulins (χ2 = 12.38, df = 3, P = 0.006) during the study period. There was also a statistically significant reduction in CRP (χ2 = 16.7, df = 3, P = 0.001), but not in big ET-1 (χ2 = 2.04, df = 3, P = 0.563).
Conclusions
This study provides preliminary results on the ability of domperidone to improve SC and reduce anti-L. infantum antibody titers, globulins, gamma globulins and CRP in dogs with leishmaniosis and CKD.
Graphical abstract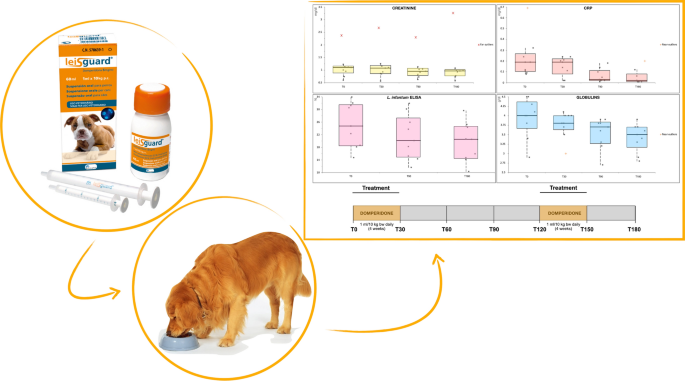 Availability of data and materials
The datasets generated and/or analyzed during the current study are available from the corresponding author on reasonable request.
Abbreviations
APPs:

Acute-phase proteins

BCS:

Body condition score

big ET-1:

Big endothelin-1

CanL:

Canine leishmaniosis

CBC:

Complete blood count

CIC:

Circulating immune complexes

CKD:

Chronic kidney disease

CRP:

C-reactive protein

DA2 :

Dopamine 2

GFR:

Glomerular filtration rate

IFN:

Interferon

IL:

Interleukin

PU/PD:

Polyuria and polydipsia

RPF:

Renal plasma flow

SC:

Serum creatinine

TFN:

Tumor necrosis factor

UPC:

Urinary protein/creatinine ratio

USG:

Urine specific gravity
Funding
This research and the APC were funded by Ecuphar Italia srl, viale Francesco Restelli n 3/7 piano 1, 20124 Milan (Italy), grant number IT0189/2018-PRVPRO-IP00.
Ethics declarations
Ethics approval and consent to participate
A written informed consent form was signed by each owner before the enrollment of their dog in the study. The administered product has been used according to the manufacturer's instructions as stated in the package leaflet.
Consent for publication
Not applicable.
Competing interests
The sponsors had no role in the design, execution, interpretation, or writing of the study.
Additional information
Publisher's Note
Springer Nature remains neutral with regard to jurisdictional claims in published maps and institutional affiliations.
Rights and permissions
Open Access This article is licensed under a Creative Commons Attribution 4.0 International License, which permits use, sharing, adaptation, distribution and reproduction in any medium or format, as long as you give appropriate credit to the original author(s) and the source, provide a link to the Creative Commons licence, and indicate if changes were made. The images or other third party material in this article are included in the article's Creative Commons licence, unless indicated otherwise in a credit line to the material. If material is not included in the article's Creative Commons licence and your intended use is not permitted by statutory regulation or exceeds the permitted use, you will need to obtain permission directly from the copyright holder. To view a copy of this licence, visit http://creativecommons.org/licenses/by/4.0/. The Creative Commons Public Domain Dedication waiver (http://creativecommons.org/publicdomain/zero/1.0/) applies to the data made available in this article, unless otherwise stated in a credit line to the data.
About this article
Cite this article
Cavalera, M.A., Gernone, F., Uva, A. et al. Effect of domperidone (leisguard®) on antibody titers, inflammatory markers and creatinine in dogs with leishmaniosis and chronic kidney disease. Parasites Vectors 14, 525 (2021). https://doi.org/10.1186/s13071-021-05030-8
Received:

Accepted:

Published:

DOI: https://doi.org/10.1186/s13071-021-05030-8
Keywords
Antibody titer

Creatinine

CRP

Dog

Domperidone

Gamma globulins

Globulins

Leishmaniosis