Abstract
Several studies have described the effects of human tumor necrosis factor alpha (hTNF-α) on Schistosoma mansoni. hTNF-α affects the worm's development, metabolism, egg-laying, gene expression and protein phosphorylation. The available data on the influence of hTNF-α on egg-laying in S. mansoni are controversial, but understanding the mechanism of egg-laying regulation in this species is essential in combating schistosomiasis. We characterized the effects of in vitro treatment of S. mansoni adult worms with different doses of hTNF-α (5, 20 and 40 ng/ml) for 5 days. We explored the effects on egg-laying rate, glucose levels, ATP metabolism, and messenger RNA (mRNA) expression levels of lactate dehydrogenase, glucose transporters and the parasite gene which acts as an hTNF-α receptor, SmTNFR. hTNF-α influenced egg-laying in a time- and dose-dependent manner: at a dose of 40 ng/ml, egg-laying increased on day 2 and decreased on days 3 and 4; at 20 ng/ml, egg-laying decreased on day 3; while at 5 ng/ml, egg-laying decreased on day 4. The total number of eggs produced was not affected by the different treatments, but the egg-laying dynamics were: the median egg-laying time decreased significantly with treatment, and egg developmental stages and size were also affected. At 5 and 20 ng/ml hTNF-α, lactate production diminished on day 3 up to day 5, while glucose uptake increased on day 5. At 40 ng/ml, glucose uptake diminished on day 1 up to day 3, while ATP accumulation was detected on day 5. No significant changes in mRNA expression were detected in any of the treatments. We found that crosstalk involving hTNF-α and parasite signaling plays a role in the fine-scale regulation of the worm's metabolism and physiology, and points to new strategies for disease control.
Graphical abstract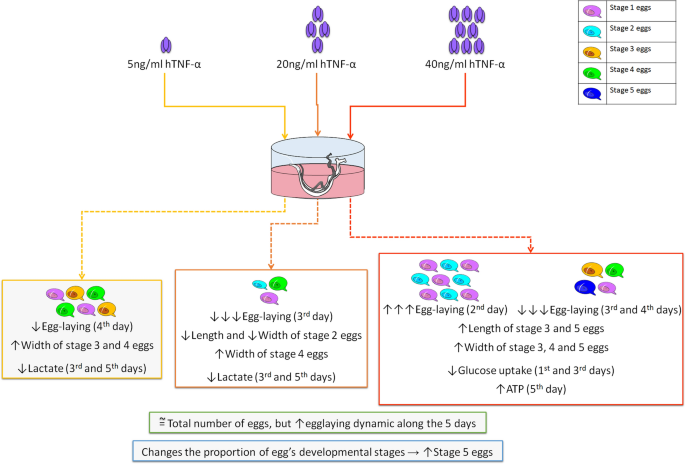 Availability of data and materials
All data generated during this study are included in this published article and its additional files.
Abbreviations
ATP:

Adenosine triphosphate

HEp-2:

Human epithelial type 2

hTNF-α:

Human tumor necrosis factor alpha

LDH:

Lactate dehydrogenase

RPMI:

Roswell Park Memorial Institute medium

RT-qPCR:

Reverse transcription–quantitative polymerase chain reaction

SCID:

Severe combined immunodeficiency

SGTP:

Schistosoma mansoni glucose transporter protein

SmTNFR:

Schistosoma mansoni tumor necrosis factor receptor
Acknowledgements
We thank the staff of the Central Laboratory of São Paulo Hospital (UNIFESP), Prof. Alexandre Keller (Departamento de Microbiologia, Imunologia e Parasitologia, Escola Paulista de Medicina, UNIFESP), Silvia Gabriel and Anderson da Silva (Instituto Adolfo Lutz) for providing equipment, supplies and technical support.
Funding
This work was supported by the Fundação de Amparo à Pesquisa do Estado de São Paulo (grant 2012/50115-6).
Ethics declarations
Ethics approval and consent to participate
All the procedures carried out on vertebrates were performed according to the established principals of the International Council for Laboratory Animal Science with the approval of the Animal Ethical Committee of UNIFESP (process 2252221119).
Competing interests
The authors declare that they have no competing interests.
Additional information
Publisher's Note
Springer Nature remains neutral with regard to jurisdictional claims in published maps and institutional affiliations.
Supplementary Information
Rights and permissions
Open Access This article is licensed under a Creative Commons Attribution 4.0 International License, which permits use, sharing, adaptation, distribution and reproduction in any medium or format, as long as you give appropriate credit to the original author(s) and the source, provide a link to the Creative Commons licence, and indicate if changes were made. The images or other third party material in this article are included in the article's Creative Commons licence, unless indicated otherwise in a credit line to the material. If material is not included in the article's Creative Commons licence and your intended use is not permitted by statutory regulation or exceeds the permitted use, you will need to obtain permission directly from the copyright holder. To view a copy of this licence, visit http://creativecommons.org/licenses/by/4.0/. The Creative Commons Public Domain Dedication waiver (http://creativecommons.org/publicdomain/zero/1.0/) applies to the data made available in this article, unless otherwise stated in a credit line to the data.
About this article
Cite this article
Lopes-Junior, E.H., Bertevello, C.R., de Oliveira Silveira, G. et al. Human tumor necrosis factor alpha affects the egg-laying dynamics and glucose metabolism of Schistosoma mansoni adult worms in vitro. Parasites Vectors 15, 176 (2022). https://doi.org/10.1186/s13071-022-05278-8
Received:

Accepted:

Published:

DOI: https://doi.org/10.1186/s13071-022-05278-8
Keywords
Schistosoma mansoni

Human tumor necrosis factor alpha

Egg-laying

Glucose metabolism

Cell signaling

Host–parasite interaction